What are your family's trademark Filipino Practices on Christmas? Check out if any of your food, traditions, and activities match our list.
---
Did you know that the Philippines has one of the longest Christmas celebrations in the world? Filipinos are known for having the holiday mood as soon as the "ber" months begin.
It is the most awaited time when family, friends, or companies celebrate Christmas. Filipinos are known for having unique Christmas practices. They are making the holidays even more joyful and meaningful!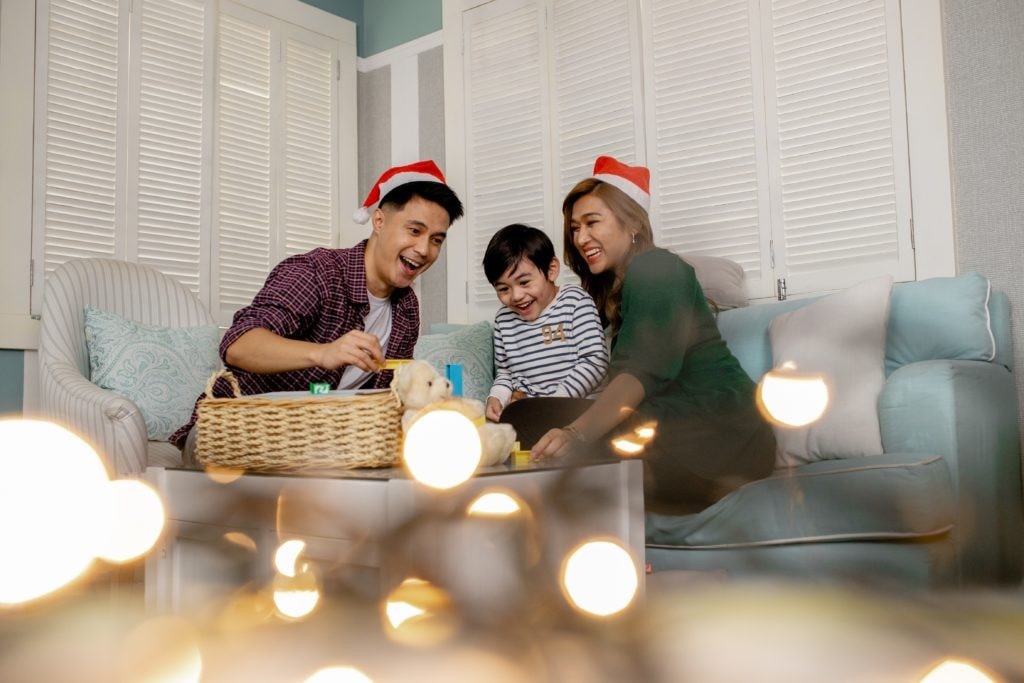 Filipinos welcome the Christmas season uniquely with different practices that make this holiday even more special. Homes are now brimming with Christmas lights, parols, and Christmas trees.
Suggested Read: Six Best Christmas Destinations in Rizal
Here are the top 10 trademark practices on Christmas here in the Philippines.
Simbang Gabi or Misa de Gallo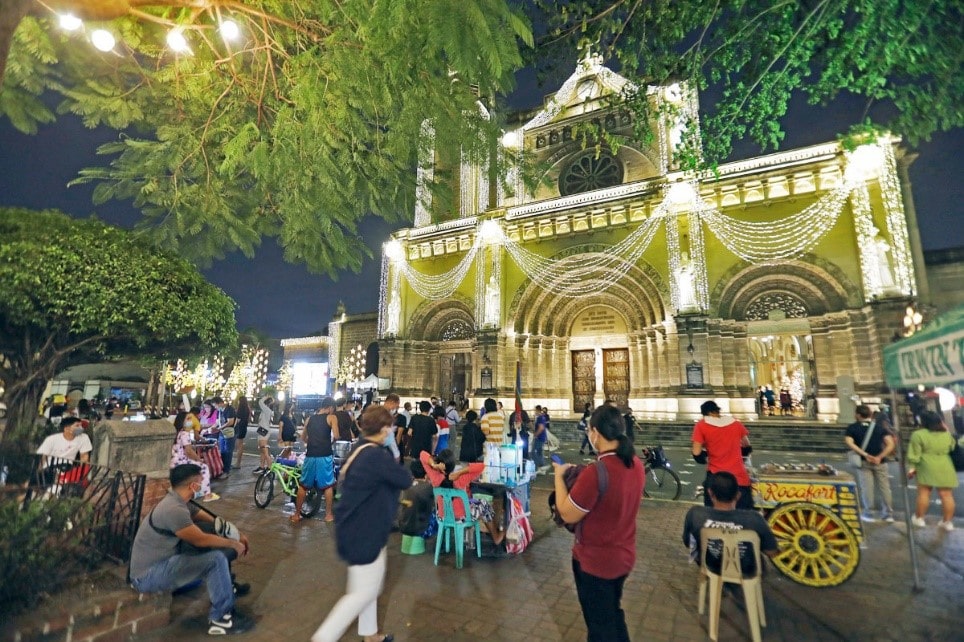 Simbang Gabi is one of the most observed practices during the Christmas season. Filipinos get up early as four o'clock in the morning to feel the cold breeze of December going to church with family or friends.
Simbang Gabi usually starts on December 16th and ends on December 24th. Filipinos believe that completing the nine consecutive masses grants anything you wish.
After the mass, it is also tradition to enjoy the food. Outside the churches, vendors wait with their steaming bibingka and puto bumbong.
Christmas Carols
Nothing says Christmas more than the voices of kids singing Christmas carols outside our homes. Kids (and even adults) would go from house to house singing classic Filipino Christmas songs like Ang Pasko ay Sumapit or Sa May Bahay in exchange for "pamasko" or Christmas tokens. These usually come in coins or candies.
When the carolers are delighted, they will sing their thanks in return. Caroling in the Philippines is also more creative, with kids using indigenous materials for their musical instruments. Metal bottle caps can become tambourines, and milk cans become drums.
Suggested Read: Top Filipino Movies to Include in Your Christmas Watchlist
Christmas with Filipino Food
Filipino food is already unique on its own. But Christmas showcases the range of Filipino cuisine. First on the Christmas food list is the favorite puto bumbong abundant outside churches during Simbang Gabi. Puto bumbong is a purple rice cake steamed in a short, thin bamboo tube with coconut strips or cheese.
Next on the list is bibingka, another popular staple during this season. It is a sweet-smelling delicacy made from glutinous rice, coconut milk, eggs, and sugar. Traditionally, it is made on a clay pot with banana leaves, with charcoal over and under the pot.
It is topped with niyog, salted eggs, and cheese to make it more delicious.
Lastly, Christmas would not be complete without the favorite lechon manok, Filipino-style spaghetti, queso de bola, fruit salad, and ham on the table.
Suggested Read: Christmas Traditions You Can Find In The Philippines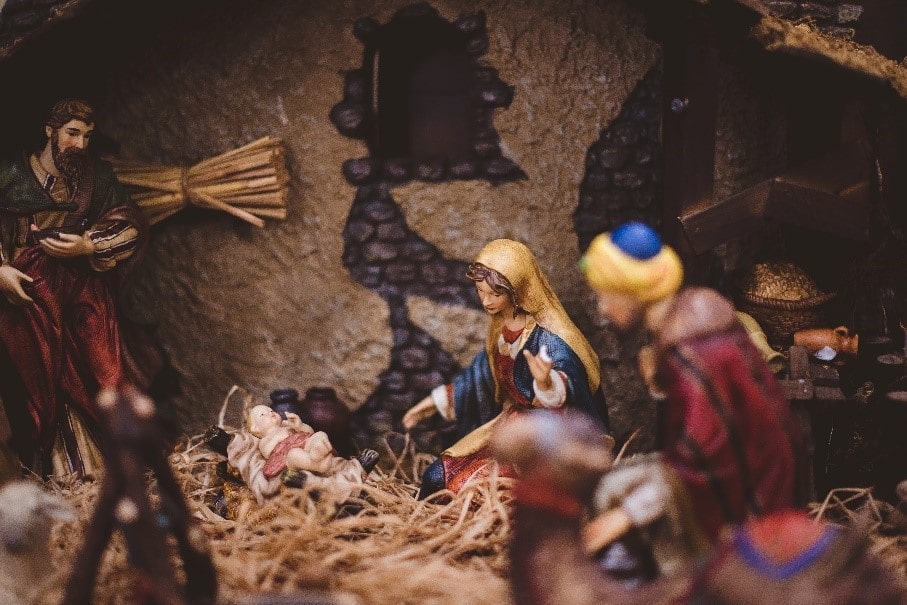 Belen
Most churches in the Philippines transform their altars into a Belen. It is a part of Filipinos' tradition to set up a Belen during Christmas. The Belen plays a significant role because it symbolizes miracle, hope, and love. It is composed of the infant Jesus, Mary, Joseph, animals, the angels, and the three kings. Considered one of the core decorations during Christmas, it is common both in churches and households.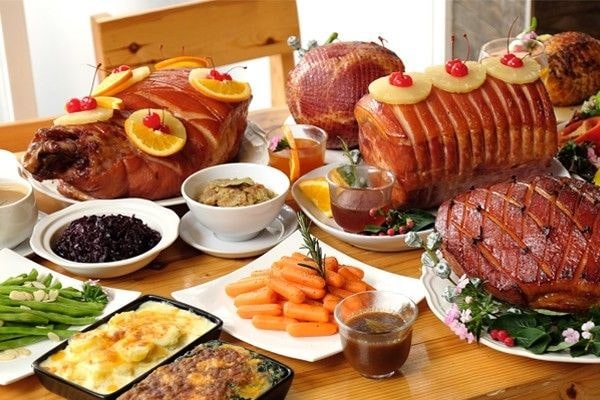 Noche Buena
Noche Buena is the much-awaited part of Christmas Day. Filipino families get together to share food. At home, we design our dining tables for this feast and Media Noche to make it more festive and memorable with your family. Some families cook and eat together, and the preparation for this feast has become a tradition of itself.
Suggested Read: How to Design your Dining Room for Christmas
Monito and Monita
The Christmas season isn't complete without Christmas parties. It's one of the most awaited gatherings of every Filipino holiday celebration. And every party in December is not complete without Monito or Monita, or the Filipino version of exchanging gifts.
Every participant randomly picks a name in advance of a person to receive their gift. To make it more fun and exciting, Filipino's would assign themes for choosing gifts—something like "soft, sweet, red, and many more." It will be secret until the revelation day.
Suggested Reads: 10 Exchange Gift Ideas for Adults this Christmas, Best Christmas Gifts for Kids
Aguinaldo
During our baptism, we have our godparents. Traditionally, here in the Philippines, you can have as many ninong and ninang as you want. During Christmas day, it is a Filipino practice to bring your children to visit their godparents (Ninong and Ninangs) to ask for "Aguinaldo" or gifts. Kids usually hunt their ninongs and ninangs for Aguinaldo.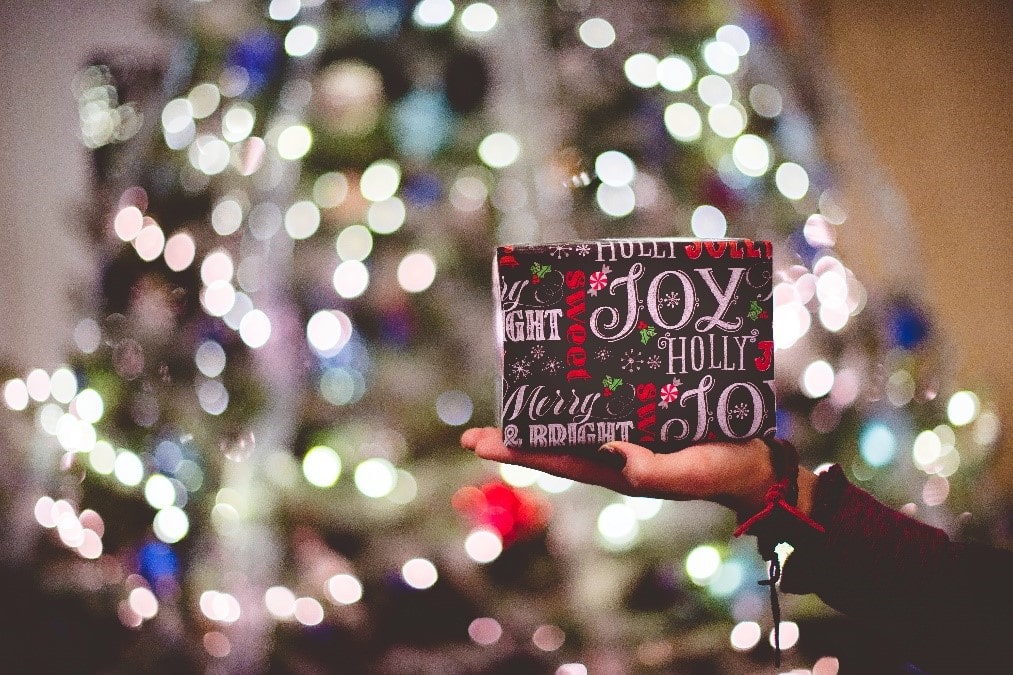 Christmas Parties
Filipino love to have a good time with their family and friends. Throwing a party makes Christmas more exciting. You'll find Christmas parties everywhere during this season in the Philippines. We prepare delicious food, wear our best outfits, showcase our talents, and play many fun games. Christmas parties also almost always include lumpia, spaghetti, and other Filipino food on the Christmas table.
Parol (Filipino Christmas Lantern)
In the Philippines, the Christmas lantern also has its unique shape in a parol. The parol is one of the most iconic trademarks of Filipino during the Christmas season. You would find them hanging outside the houses or the streets and highways. For the Filipinos, it serves as a representation of hope or goodwill. Traditional parols are from Japanese paper, but as time went by, Filipinos have learned to make parols out of wood, shells, metals, or plastics and illuminated by electric lights.
Trivia: Did you know that Pampanga is the parol-making center of the Philippines?
Holiday Music Playlist
Is it your family's practice to blast out the Christmas classics as soon as September 1st hits? Indeed, music is an essential part of every Filipino lifestyle. These tunes are replaced by songs about holidays, celebrations, and coming home during Christmas.
Doesn't it feel good to wake up and hear Jose Marie Chan's hits fill your home? For some, this is the best way to feel the holidays. Add other classics to the list like Christmas in Our Hearts, Malamig ang Simoy ng Hangin, and many more.
Check out Camella's Christmas Playlist:
Seasons may have changed, but Christmas will always be the best part of our year. Filipino knows how to see hope, love, and joy at Christmas. Indeed, nothing beats Christmas in the Philippines! Christmas is when Filipinos unite and celebrate the true meaning of Christmas.
And if you are looking for house and lot this Christmas, come home to warmth and love this Christmas. Come home to Camella.