Discover the favorite Christmas destinations in Rizal and what you can do in each of them to complete your holidays.
---
The Philippines celebrates the most festive and longest Christmas in the world. As soon as the clock stirkes midnight on September 1, you can already see the colors green or red or a simple addition of a Santa hat making their way into many homes and establishments.
Suggested Read: Filipino Traditions to Welcome the Ber Months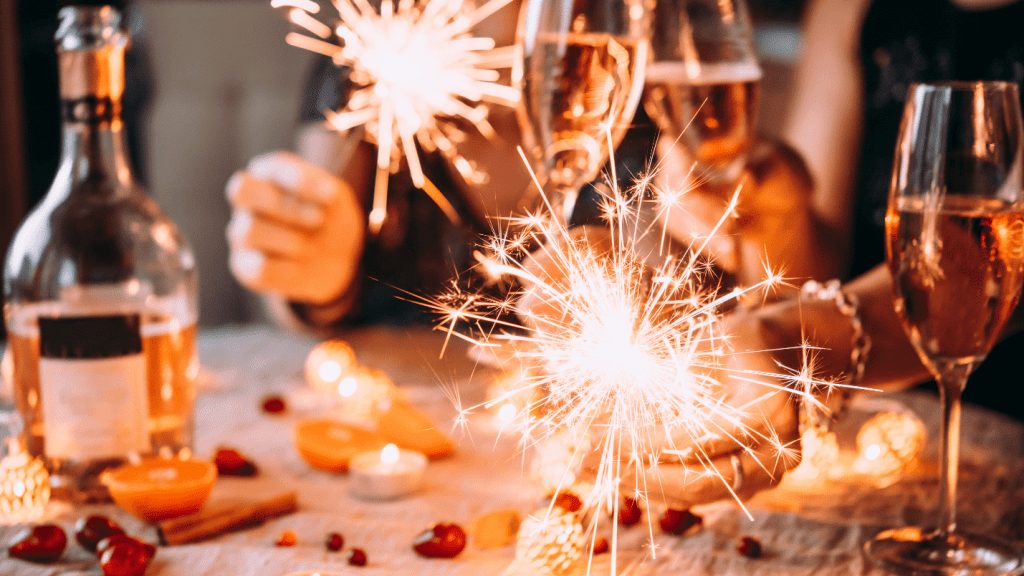 One personality who always goes viral during the holidays is none other than the iconic artist Jose Mari Chan. This time, you will likely catch his popular songs in every advertisement you see anywhere you go. Many jingles have also found their way across different social media platforms that may have left with you that last song syndrome.
Another thing to watch out for during Christmas are tourist destinations bringing the north pole inside their establishments. But what we really look forward to during this season is the time off and the opportunity to bond with our loved ones.
If you are considering going north this holiday season, here are the best Christmas destinations in Rizal that are worth checking out with your family, loved ones, or friends!
Top Christmas destinations in Rizal that you can easily reach from Metro Manila
We've rounded up these Christmas destinations in Rizal that you can easily visit this Christmas season. (Bonus: They are close to Metro Manila!)
Suggested Read: Best Restaurants in Rizal: 10 Must-Try Cafés and Restaurants
Casa Santa Museum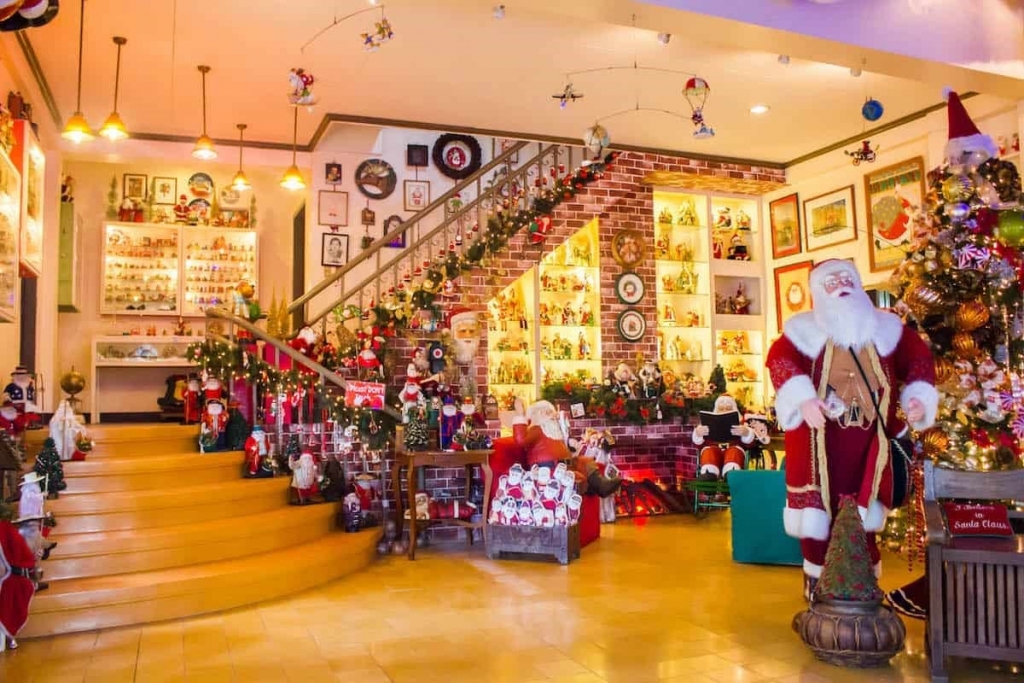 Located east of Metro Manila, just a 30-minute trip from Ortigas, you'll find the Casa Santa Museum. This place is a gem that showcases the different Christmas traditions across the globe with its 3,700-strong collection.
The Toy Factory, Santa's Bedroom, the Balay Belen, and the Grinch's Room are some of the notable sections inside the museum. This is where you can bring your kids for fun and an educational day.
This museum is open from Mondays to Sundays from 10:00 am to 6:00 pm. If you want to join their special Christmas event, mark your calendars starting December 26, 2021, for Casa Santa Museum's 5-day family fun day, where you can also bring your pets and enjoy alfresco dining!
Address: 276 San Jose Ext., San Isidro, Antipolo City
Entrance Fee: P325 per head
Sumulong Park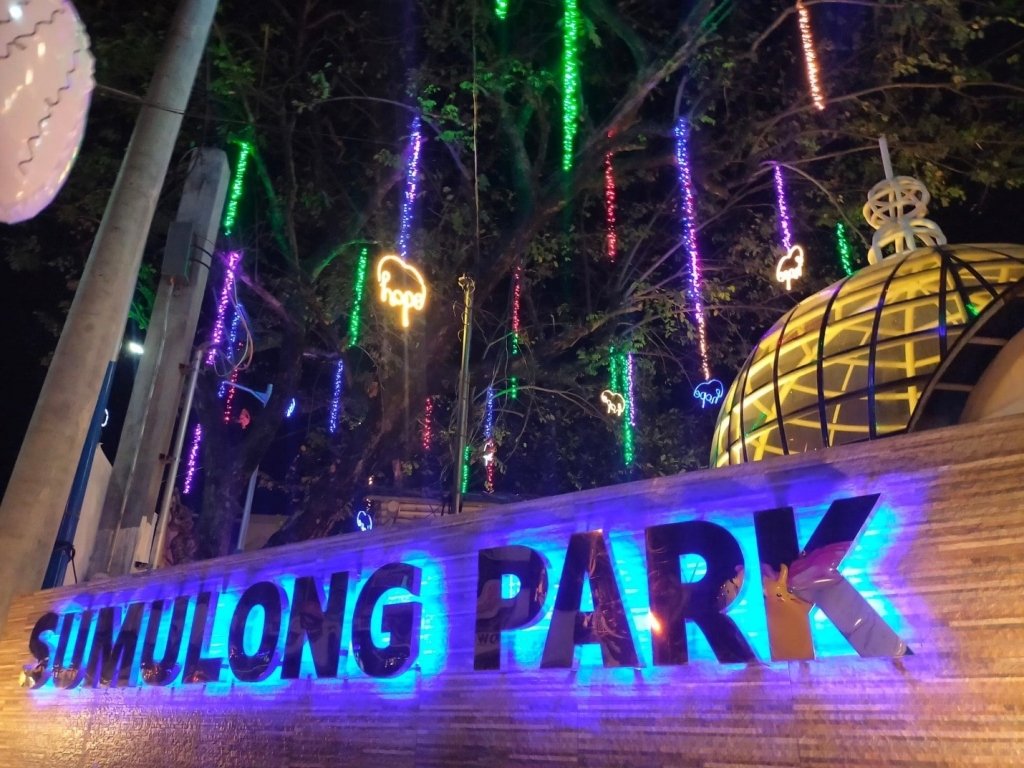 Be enchanted by the 44-feet Christmas Tree made of recycled materials, colorful figures with lights, and an LED fountain at Sumulong Park right outside Antipolo Cathedral.
You and your friends will surely love taking snapshots along the street and tasting Antipolo's kakanin by the church. The streets of Antipolo light up at night, and wherever you go is a place worth discovering. You may also check out other free spots where you can admire the overlooking view of the city, such as along Hill Top and Sumulong Highway.
Address: M.L. Quezon Street, Antipolo City
Entrance Fee: None, open to all
Pinto Art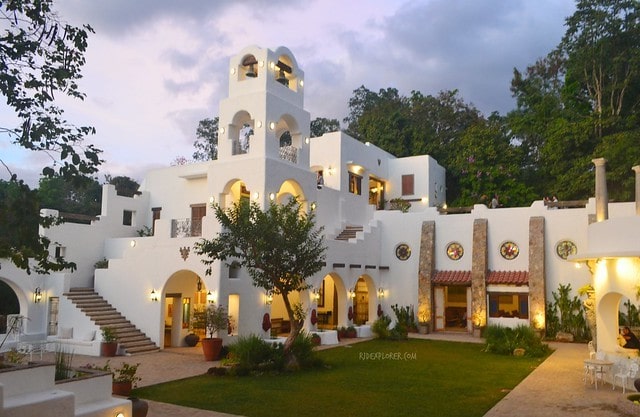 A popular destination all year round among locals and tourists of any age is the Pinto Art Museum, located in Antipolo. This is the perfect spot if you are looking for a place of quiet that is close to nature to reflect and unwind.
Are you craving inspiration this holiday season? There is good news for you as Pinto Art will hold a yearend exhibition called "20|21." The said exhibit is an offshoot of last years' show if you weren't able to view it.
20|21 showcases artworks of over 100 artists conveying contemporary moments "in a visual language reflecting a unique combination of material, thematic and stylistic preoccupations."
The exhibit is curated by Ferdie Montemayor, filling the halls of Ilustrado I and II of Gallery 7, and is open until January 2, 2022. Beyond the exhibit, visitors also get to enjoy taking photos of the Museum's beautiful architecture. And if you are hungry, delicious food is also available in the area via Café Rizal.
Address: 1 Sierra Madre Street Grand Heights Subdivision, Antipolo, Philippines
Entrance Fee: P250 (adults), P200 (senior/PWD), P125 (students)
Art Sector Gallery and Chimney Café 360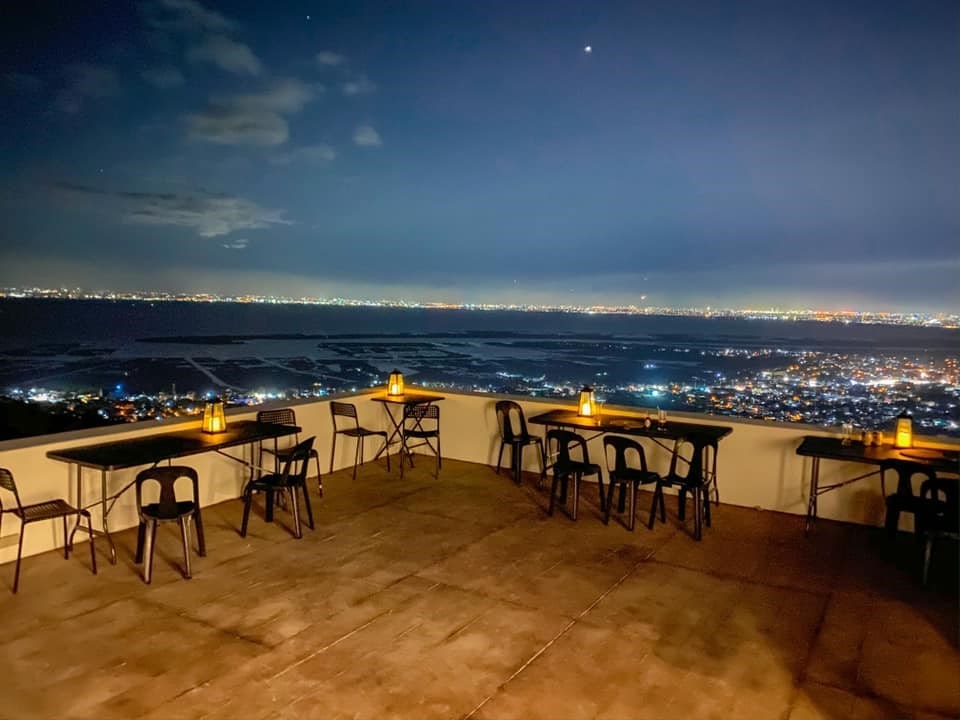 The Art Sector Gallery is most famous for its 360 views of Laguna Bay and Metro Manila Skyline at night. From here, city lights twinkle like Christmas lights from a distance. This gallery and café combo will make you experience how it feels to be on top of the world.
It is very accessible and strategicaly located at the highlands of Binangonan Rizal near Camella Meadows and Thunderbird Resort. Art Sector Gallery and Chimney Café 360 is open Tuesdays to Sundays from 12:30 pm to 8 pm.
Invite your whole family or barkada to enjoy amazing views, good food, and stunning art in this crowd's favorite weekend hangout spot.
Address: Lot 18 Block 178 Eastridge Executive Village, Col. Guido Rd, Tayuman, Binangonan, Rizal
Entrance Fee: P200 per head
Coffee Rush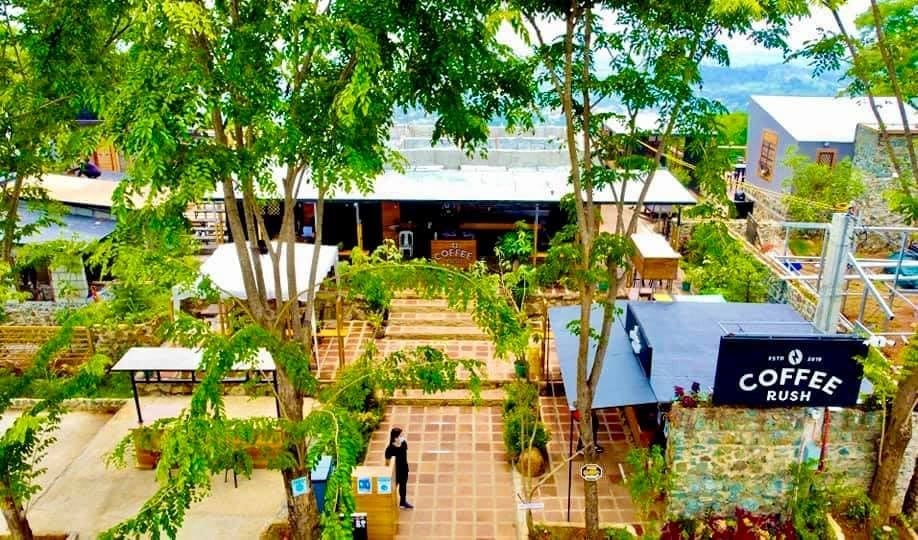 The coffee shop sitting atop Binangonan overlooking the Metro that went viral since day one with tastefully curated Pinoy and western cuisine and various coffee flavors will enchant you on your first visit. The place is even merrier with the holiday vibes. Coffee Rush is open Mondays to Sundays, even on holidays from 7 am to 11 pm.
The shop is pet-friendly and accepts walk-in, perfect if you're on your way home from a trip or staying at Thunderbird Resort since they're both inside Eastridge Subdivision.
Address: Coffee Rush Eastridge, Eastridge Executive Village Binangonan, Philippines
Entrance Fee: None
Vista Mall Antipolo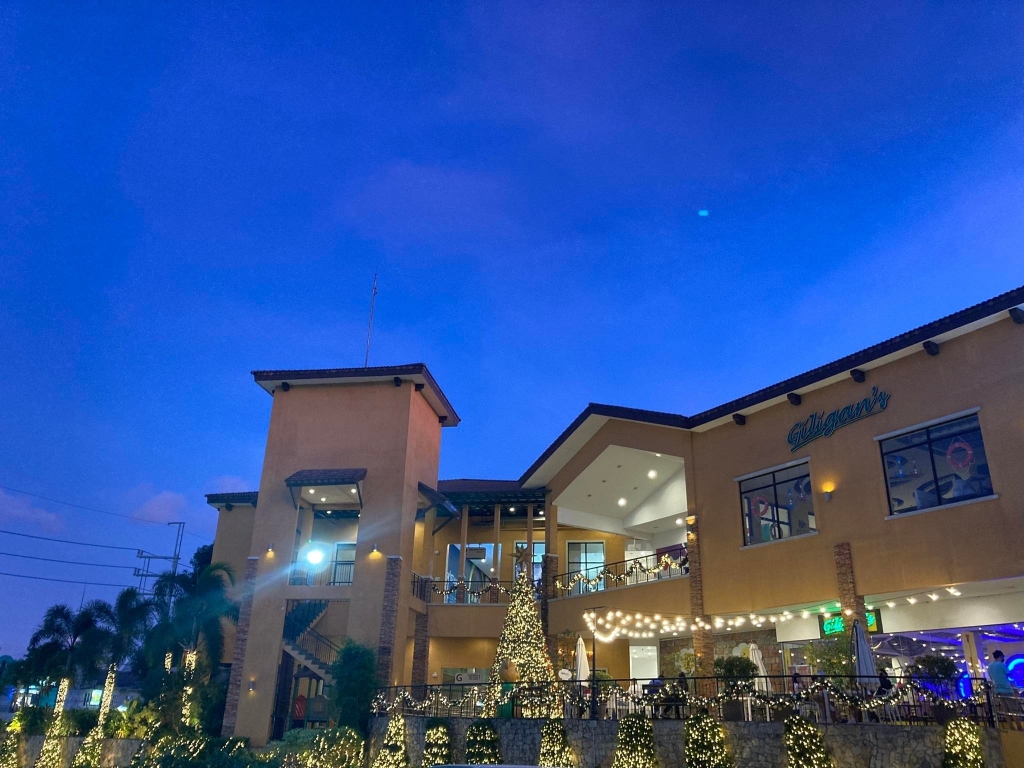 If you are visiting a relative in Camella Sierra Metro East, Camella Meadows, Maia Alta, or Mille Luce, don't forget to drop by Vista Mall Antipolo located along M.L. Quezon Extension Road, Brgy. San Roque, Antipolo since it's along the way.
Here, you can enjoy alfresco dining at Coffee Project, Jacob's Diner, Gilligans. You may also indulge in unique Filipino food options by the food stalls in front of The Marketplace. At night, the mall also lights up like gold, alowing you to take Instagram-wirthy photos from the driveway, parking, and open area.
Address: M.L. Quezon Extension Road, Brgy. San Roque, Antipolo
Entrance Fee: None, no parking fee
Suggested Read: Six Reasons Why Rizal is a Perfect Home Location
Thunderbird Resort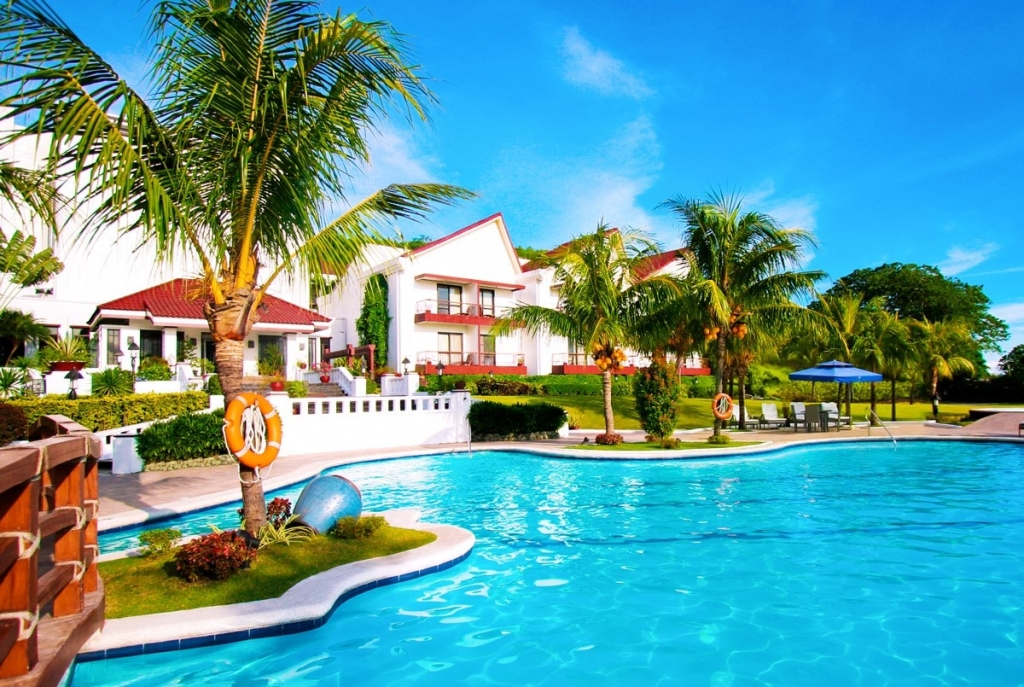 Find summer in your Christmas destination in Rizal. Dip in Thunderbird Resort's infinity pool with an astonishing overlooking view of the Laguna Bay and Metro Manila skyline. Tastefully decorated, Thunderbird resort isn't just perfect for summer but all occasions, particularly on the holidays where you can relax and have a good time with your family.
Address: Eastridge Arts Recreations & Tourism Zone Barangay, Binangonan, 1940 Rizal
Entrance Fee: Room rates vary, starting at P5,500
Pro-tip: Make sure to bring any valid ID and your vaccination card for a seamless trip!
Make your 2021 Christmas celebration extra special and safe with these amazing wonders just a few minutes away from the Metro in the province of Rizal, the Philippines' tourist hotspot. These attractions are also a short trip from the most-coveted communities of Camella in Rizal. Here, you can have a breath of fresh air after a week of hustle or an easy getaway to wake up to stunning overlooking views accompanied by savory food or a warm cup of coffee.
If you are looking for the best gift this Christmas, take a look at Camella's home offerings in Rizal and give your family or loved one a present that will last a lifetime. Happy Holidays!