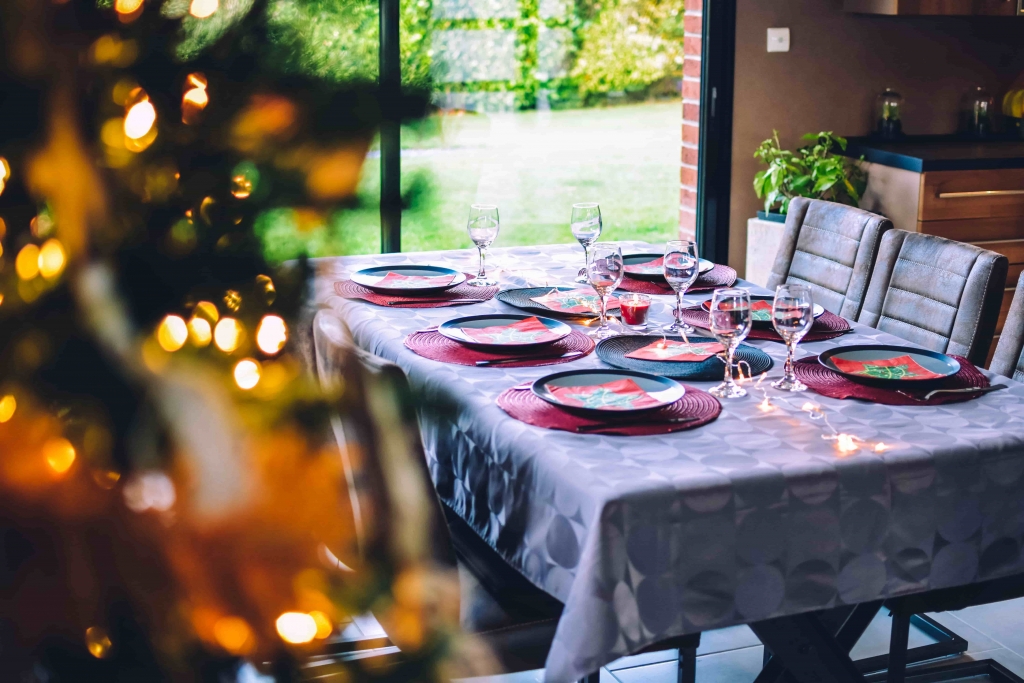 Christmas is just around the corner and you're probably stressed in the thinking of the food to make in this year's Christmas noche buena. Plus, how you wish your dining room appear Christmas ready! You'll probably have family and friends over for that Christmas dinner and a great way to surprise them this holiday season is through serving Christmas noche buena meals at a festive Christmas table.
Holiday table decorating is not all that there is when it comes to dining room decorations, although it plays a great part. There are hundreds of ideas that you can apply to have that dose of holiday cheer. Here are some helpful tips that you can do for that dining table of yours for that perfect Christmas Eve dinner.
Have a White Christmas theme
A White Christmas theme for your Christmas dining room decor can never go wrong. This design is both simple and elegant at the same time. You don't have to spend too much if you want to achieve this look for your dining room this Christmas. You can have a White Christmas dinner just by having a white linen table cloth, white napkins, and tableware.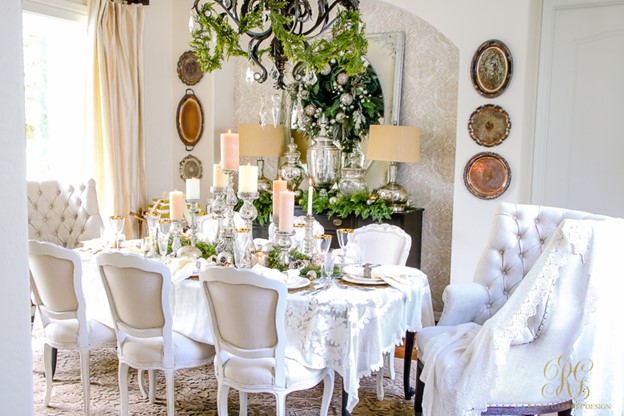 If you want to add a little spice or color scheme with this theme, gold, silver, or blue are the best colors to choose. These colors complement white well in achieving either an elegant or "icey" aesthetic. When blending these colors with white, make sure that you only put a splash of these colors and do not overpower the color white.
Add a festive centerpiece
If you don't like the minimalist White Christmas look, you can always aim for the opposite and surround your dining room with Christmas dining room decor with different colors. For your centerpiece, you can have a Christmas garland that goes at the center of the table. This garland is perfect if you have a long, horizontal table.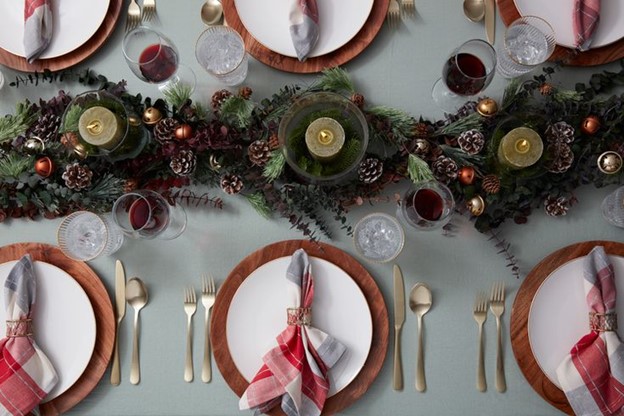 But if your dinner is around one, you can put a tabletop Christmas tree or pine cones with candle holders for your table. Other families use food as a centerpiece for their dining table. You can have a lesson or a stockpile of round fruits as your centerpiece. This is a safe option but the disadvantage is that the food might be all gone after the Christmas noche buena.
Suggested Read: 7 Online Stores to Make Christmas Shopping Easy
Have a Christmas tree
A Christmas tree is the Christmas dining room decor not only because it resembles Christmas, but you can put all sorts of ornaments on the tree. If you don't have a centerpiece for your table, you can have a centerpiece for the whole room instead, which is the Christmas tree.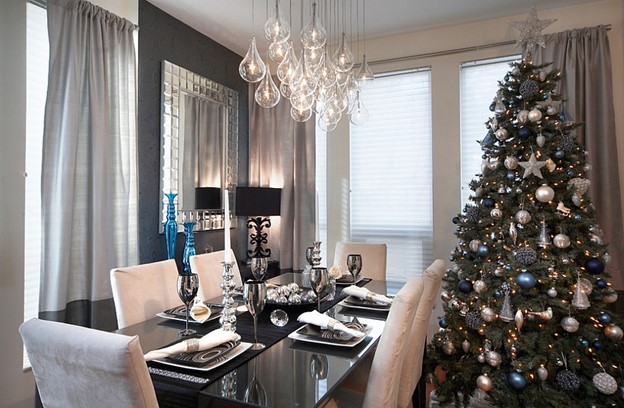 When adding ornaments, it's better if you get the ones that match the color of your room or your table setting. And if you have a Christmas tree both in your living room and dining area, it's best if your dining room Christmas tree is a much simpler one. As long as the tree blends with the design of your dining area, it's more than enough.
Add paper decorations
Paper Christmas dining room decor are cheap and putting them as dining room decorations is a brilliant idea. Some paper decorations that suit well for every Christmas theme are paper origami star ornaments, paper garlands, DIY paper Christmas trees, and Christmas tree ornaments.
Paper decorations are not just good for Christmas dining rooms, you can also apply them if you're planning to throw a Christmas dinner party in your office or if you want to bond with your kids more in designing your Christmas dining room décor. These decorations are cheap, environmentally-friendly, and are an effortless way to design your home.
Consider your lighting
To create convivial Christmas lighting, it is advisable if you have different layers of lighting in your dining room this Christmas. Lighting is a crucial part of Christmas dining room decor because it sets the ambiance for your home. Instead of having flickering Christmas lights, fairy lights are a better option this year.
Fairy lights bring in a warm and cozy atmosphere. You can put your fairy lights by the window, Christmas tree, or your wall if you can hang them there. Tealights and candles can complement fairy lights and they bring different layers in lighting. However, you should put them in places where no one can accidentally bump them.
Have festive napkins folded
When decorating for your Christmas dinner, instead of doing the same trick with napkin rings, you can impress your friends by trying to fold your napkins in certain shapes. The best fold you can try for your napkins is the Christmas tree fold. It's best if you have green napkins for this fold but if your color scheme doesn't involve green, any color will do.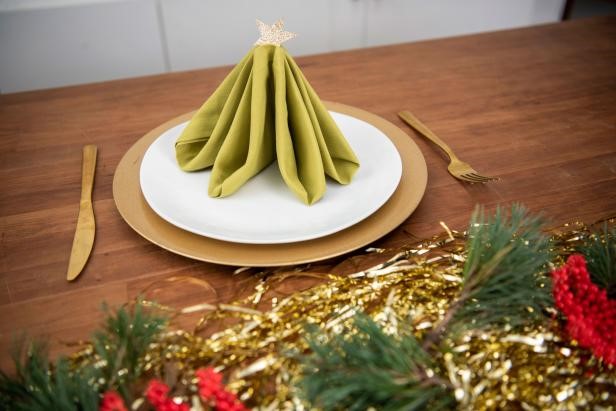 To do the Christmas tree napkin fold, you should:
Put the napkin on a flat surface on the wrong side up
Half the napkin lengthwise
Fold each corner in to make two pointed ends at the top and bottom
Pleat the top and bottom points into the center to form a square
Fold the napkin in half horizontally
Lift and tuck each side under
Stand the napkin up and crease along the back edge
Use red and gold
Classic red and green are probably the most-used Christmas color scheme for a good reason. However, you can also add gold to the mix. Or better yet, you can try the red and gold color scheme this Christmas. Instead of using red plaid blankets, it's better to use red linen tablecloth.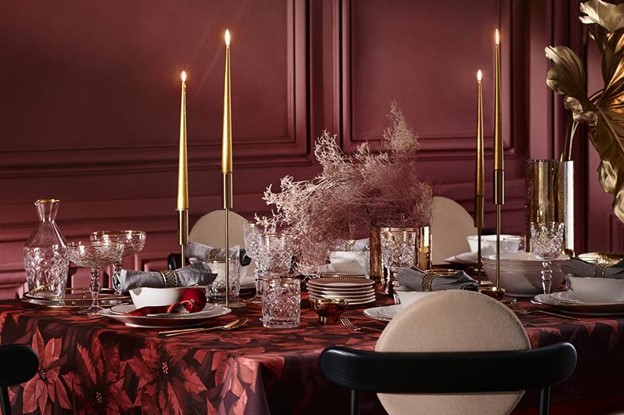 You can use gold as the main color for your cutlery, tableware, and other accessories. Meanwhile, you can use red for your tablecloth, curtains, flowers, carpets, and other materials that will take a huge chunk of space.
Why decorate your dining room for Christmas?
Decorating your dining room for the holidays makes your Christmas noche buena and media noche more fun and memorable with your family. A pleasant dining space can also make more people feel more invited to your home. They will truly appreciate your effort in making your dining area decorated.
Decorations are great, but you should also consider your budget for your Christmas dining room décor. There are tons of alternatives that can provide the same goal as the ones on this list. You can search them online if you think that you're on a tight budget this year. You should also take into consideration that you need to spend money on food as well.
Also, don't forget to treat your family with a warm welcome when inviting them because the Christmas spirit is not expressed through decorations, it is felt by how we treat the people closest to us.
Suggested Read: Early Christmas Gift Shopping Tips