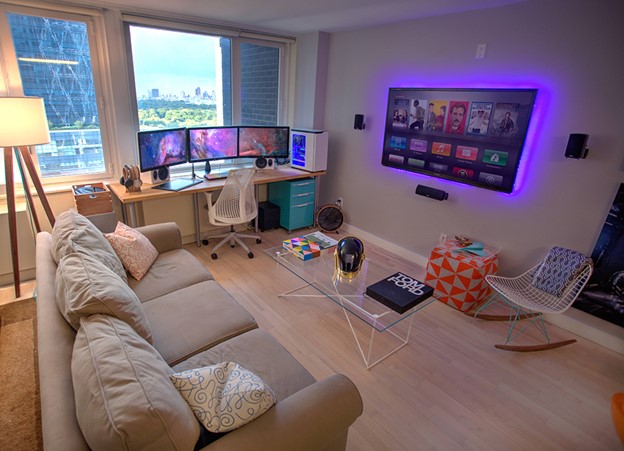 Take your gaming passion to a whole new level in creating your own game room at home!
Gaming is the passion of some people to the point where they are willing to spend hundreds of thousands of pesos just to improve their graphics or smoothen their gameplay. From kids to full-grown adults, everyone can say that gaming is a fun activity to do. Once you have your own gaming system, the addiction just continues.
The next item you'll collect is upgrades if you are using a PC as a gaming system. On the other hand, there is a chance that you'll be collecting disks and putting them on a shelf if you're using Xbox or PlayStation. On the other hand, some people take it to the next level and buy old-school gaming consoles that play 8-bit games.
Whatever your video game preference is, there is one thing for sure. Gamers love to have a holy grail of stress-relief games and build their own game room. Most of the time, they set up their station in their rooms but if they have the capacity, they have a separate room for gaming. Just like in any other room of the house, there are essentials in having a game room.
Have a good set of speakers
Sound effects make gaming more exciting. When setting up a game room, consider having a set of excellent speakers. If you can have speakers that do not need wires to connect, the better. This means that you can have the best surround sound without having to deal with messy wires in your game room.
But if you are on a budget, it is okay to choose wired speakers over Bluetooth ones. The characteristic that you should be looking for in a speaker is sound quality before anything else. After the sound, the next criterion you should check is the controls that you can do with the speakers.
Suggested Read: Creative Ways to Stay Connected During Pandemic
Choose the perfect gaming chair
The gaming room is not complete without the gaming chair. In choosing the best gaming chair for you, you don't have to have the kind that Pewdiepie has. What you want is a gaming chair that has good back support for long hours of gaming sessions. You would also want to check the materials where your preferred gaming chair is made.
There are gaming chairs available for PC and console gaming. But if you want a gaming chair that you can use for both, a pedestal gaming chair is the one for you. These chairs are also called hybrid chairs and sometimes, they already come with a monitor and speakers. When choosing a chair, think of a gaming chair that is compatible with your device.
Consider if you'll soundproof
The speakers gamers use are usually loud to the point where they can cause a disturbance. And even if you're using headphones, there will be times where you'll scream while gaming. This happens out of either excitement or disappointment towards the game. To conceal these sounds, soundproofing is a great idea for your gaming room.
Soundproofing does not only make your gaming room quieter to the outside, but it also improves the sound quality of your speakers from the inside. Most gaming rooms have insulating foams attached to their walls. However, there are multiple ways on how to soundproof your room. For better options, it is best to have a professional install it for you.
Suggested Read: Creative Quarantine Stay-At-Home Activities
Retro consoles for collection
Old consoles bring a lot of memories for people who played them when they were kids. If you are one of these people, then you definitely should have these consoles displayed in your game room. It's much better if you can purchase consoles that are still playable, much better. This means that you and your friends can have a retro night.
Old games have a different vibe than games today and if you can't find anything to play, you can always switch to these games. They bring a challenge even if you're playing alone because there are no unlimited tries, skins, and saves back then. These games are designed for hardcore gamers because you start from the beginning once you're game over.
RGB Lighting is optional
Most game rooms today have RGB lighting. Yes, these lights are magnificent to look at but you don't necessarily need them for playing nor do they improve your gaming experience. RGB lights are optional but no one can blame you if you want them installed because they really look good in a gaming room.
There are LED mood light strips that only have a single color but if you're going to choose, it's best to have LED strips that are remotely controlled where you can change the lights' color. They are called mood lights for a reason so change the color based on how you want to feel. Single color is fine if you're going with white.
Consider the size of your room
The size of your room determines what you can put in your game room, so it should be taken into consideration. The bigger the room is, the more devices you can add to your gaming room of course. If you have a large space, you can add a pool table, an arcade machine, or a small fridge so you don't have to go back and forth in your house.
If you have a small space, what you can do is have your device, a gaming chair or couch, and some lights. The size of the room only matters if you want to add as much furniture and electronics as you like. And if you're using your bedroom as a space for gaming, it is perfectly fine as long as you can play comfortably in it.
It's more than Gaming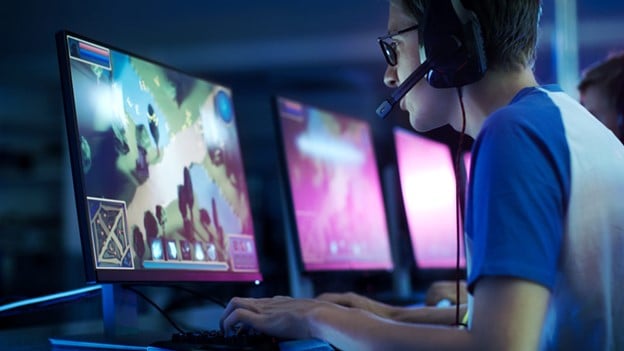 If someone you love is an avid gamer, you should support them on their hobby as long as it does not hurt anyone. For people who are casual gamers, gaming might just be a pastime. But for people who grew up with controllers on their hands, gaming is an escape from reality and a way to socialize with friends.
Gaming is also a way for people to de-stress and somehow, still feel connected in today's world where isolation is a must. Having a game room is excellent, but what's more important is you enjoy the games you prefer and being in the same game lobby with your friends.
Suggested Read: The Best Side Hustles for 2022