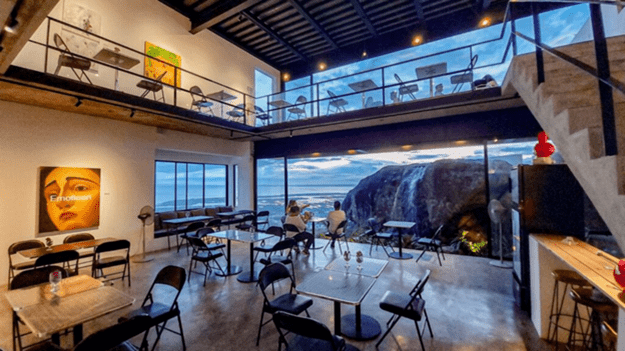 Coffee, comfort food, and stunning views of city lights. Sometimes, these are just what we need whenever we feel overwhelmed by everything that is happening around us.
Quarantine fatigue is real, and somehow, we could not stop wishing for all this to end and take our sweet time going to our go-to restaurant or exploring new food spots nearby. Sometimes the Metro Manila urban jungle becomes too much and you want a quick escape.
We are definitely hoping for the days where we can discover great dining places for pigging out or just hanging out with our friends, loved ones, or ourselves. Of course, this is desired to be experienced without the need to wear a face mask and face shield. How amazing would this be?
So if you are currently making your post-pandemic foodie's bucket list, here are the best cafes and restaurants we can all enjoy without going too far from the metro. Rizal is definitely the place to go. Below are the top restaurants in Rizal that are worth checking out.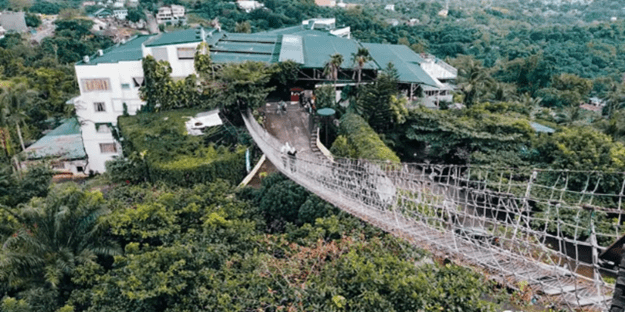 Photo source: The Poor Traveler
Cloud 9: Views of Metro Manila Skyline
If you are the adventurous type of person and a foodie in one, then you should visit this go-to place in Antipolo. Here, you can unwind and appreciate the panoramic views of the Metro Manila skyline, all while crossing the ever famous Cloud 9 hanging bridge.
After taking in all the luscious views, it is time to dine in and delight in their sumptuous food. They serve appetizers, Pinoy favorites, beverages, and more. The alfresco setup of their restaurant makes it an ideal place to stay safe from the virus while having a wonderful experience.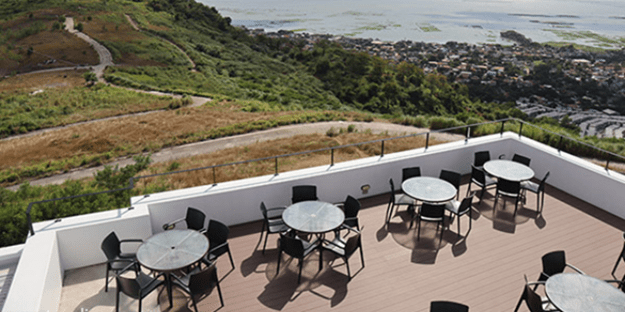 Photo credit: Travel Up
ArtSector Gallery & Chimney Cafe 360º: Art and Views of Laguna de Bay
Located at the top of the hilly part of Binangonan, Rizal is an Instagram-worthy café. If you have been to Antipolo's Pinto Art Museum first before visiting Art Sector Gallery & Chimney Cafe 360º, you will definitely notice some concept similarities between these two places. Art Sector Gallery was also designed by the multi-awarded artist Antonio Leaño.
All corners of this café not only feed your artsy soul but also give you a breathtaking panoramic view of Laguna de Bay and the Sierra Madre Mountains. If you want to catch a beautiful sunset, this gallery and café is also the place to be. These are all on top of their affordable yet delectable food, such as pasta, sandwich, and pizza. Coffee, tea, and cocktails are also available here. This is truly a have both for Filipino artists and food lovers perfect for special occasions or family getaways.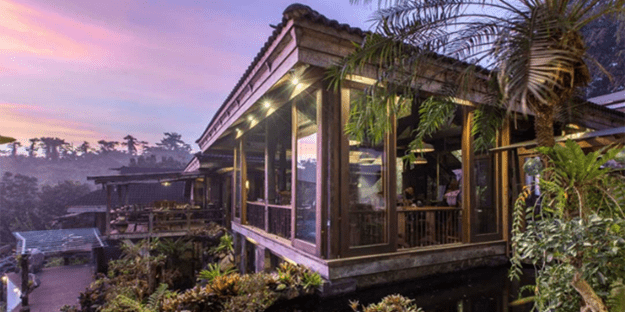 Photo credit: Tahanan Bistro's Facebook Page
Tahanan Bistro: Filipino Cuisine and Laguna Lake Views
Want to give your partner a lovely date? You really have to try this homey and cozy place located inside a gated residential neighborhood in Antipolo. Tahanan Bistro is known for its Filipino casual fine dining experience, and its food is definitely superb. They serve a five-course meal that highlights Philippine products while giving you an overlooking view of an expansive garden, forestry, and Laguna de Bay. What is even more attractive with this rustic restaurant is that just like ArtSector Gallery, it houses privately owned art collections that you can take pictures of.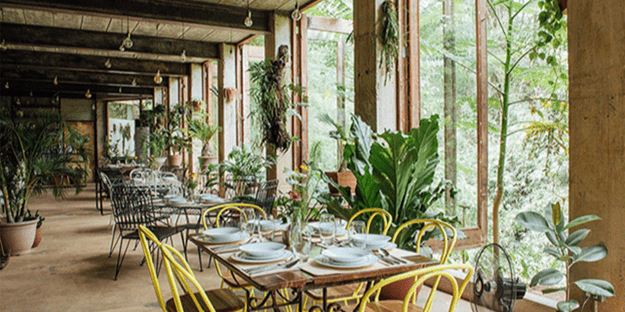 Photo credit: Antipolo Beehouse
Burrow Café: Picturesque View and Creative Space
Looking for a creative space? Immerse in nature and feel the cozy and rustic vibe in this underground café in the upper Antipolo, Rizal. At Burrow Cafe, you will be greeted with the beauty of natural surroundings, fresh air, and a serene environment. Their food is also worth the try. You can enjoy breakfast or take in delicious brunch and desserts. The café also features a growing selection of vegan choices.
If you are already inside the café, you may also want to take a peek at the Antipolo Beehouse, which is only a few steps away from the café.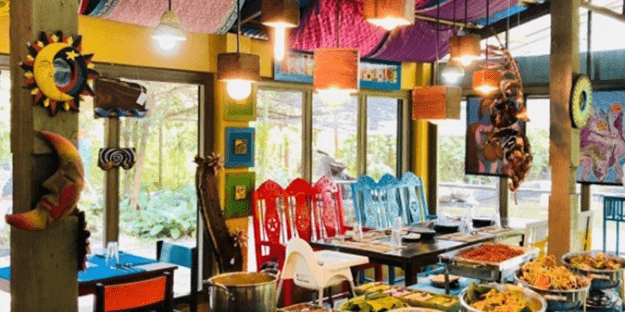 Photo source: Crescent Moon Antipolo website
The Crescent Moon Café and Studio Pottery: Peaceful Art Space
If you are looking for a unique experience and peaceful ambiance, you will definitely love The Crescent Moon Café and Studio Pottery. Implied in the name itself, guests can take part in creating ceramics before or after delighting in the café's food selection.
Aside from being able to discover a new hobby, you will surely love their Southeast Asian-inspired menu. Pairing it with their Thai-inspired beverages is also an experience worth the try. Their food is also good for those who are very particular with their diet as they serve healthier food options.
Photo source: https://lemiapp.com/
Bulawan Floating Restaurant: Unique and Natural Food Experience
Your family is probably getting restless being cooped up at home. So if you are looking for fun family activities to do, better check out Bulawan Floating Restaurant located in Pililla, Rizal. In this place, you can try catching a freshwater fish, which by the way, you have the option to bring home. There are a lot of trees lining up the fish pond, which makes it extra relaxing.
The restaurant serves Filipino seafood favorite dishes such as tilapia and bangus. But the crowd's favorite is their Fiesta Inihaw Feast! It is a combination of tilapia, bangus, hito, pusit, porkchop, talong, and okra.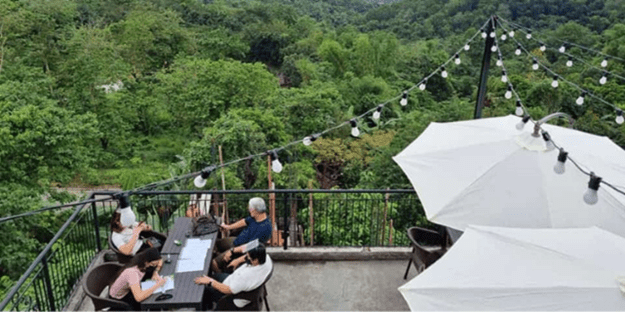 Photo source: https://wheels.ph/
Kaulayaw Café: Coffee and Chill
The word "Kaulayaw" means one's pleasant and intimate companion. This is why Kaulayaw Café is excellent for couples or groups of friends who want to chill after having an Antipolo road trip. Just like any other famous restaurant in Rizal, Kaulayaw also has its fair share of the beautiful views of nature, sunset, and Metro Manila skyline.
This café serves locally grown coffee made from Sagada, Benguet, and their own blend. It also looks similar to your favorite cafés in Tagaytay and Baguio, so if you are missing the Tagaytay and Baguio vibe, this place is the one for you!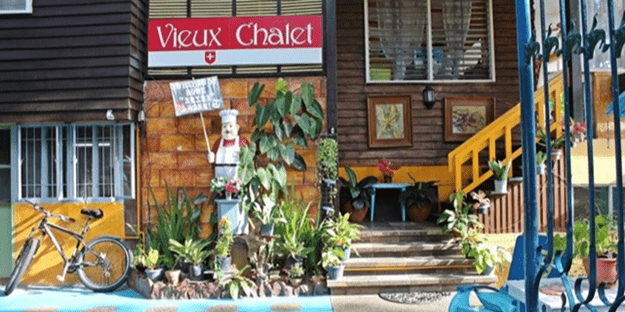 Photo source: https://rochkirstin.com/
Vieux Chalet: Romantic Date Nights
In 1984, Tony Hassig, a Swiss man, and his Filipino wife, Susan, opened their restaurant called Vieux Chalet, which conveys "home on top of a mountain." This Swiss restaurant is the top go-to place for couples who want to have romantic date nights as it gives a unique fine dining experience that you and your partner will never forget.
Since Swiss food is not complete without cheese, they serve charcuterie boards with lots of meats and, of course, different types of cheese. Also, even if this is a Swiss restaurant, the owners made sure that they still incorporate Filipino ingredients so it will still have a Pinoy taste.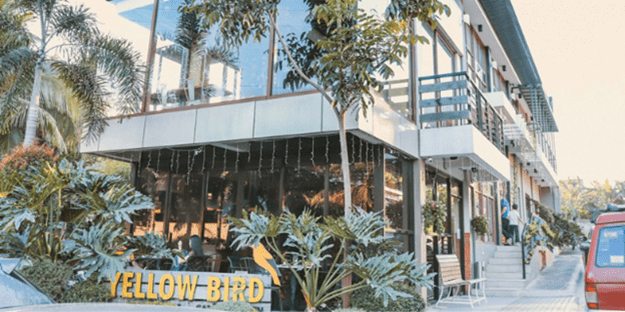 Photo source: https://www.thegirlwiththemujihat.com/
Yellow Bird Café x Kitchen: In Search of Local Coffee Beans
Have your coffee fix any time of the day because why not? Expect nothing less but great coffee and delicious food in this garden-inspired café and restaurant. Yellow Bird Café x Kitchen opens as early as seven in the morning. After having your morning exercise routine, may it be bicycling or jogging, you can go straight to this café for a sip of coffee and a delicious breakfast.
Aside from their excellent fusion of Western and Asian cuisines, their specialty is really more of their ever-famous brews made from real and local coffee beans.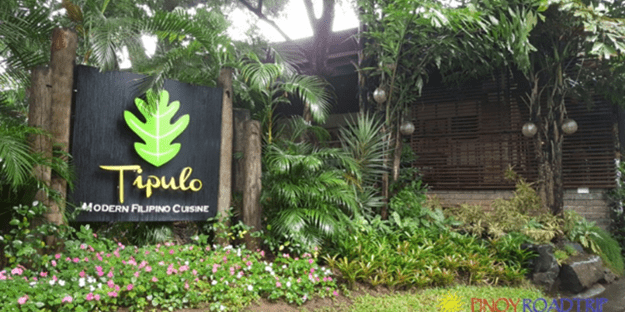 Photo source: http://www.pinoyroadtrip.com/
Tipulo: Scenic View and Good Food
Last but not the least, Tipulo, which is named after a tree by which Antipolo City is said to have derived its name, is a modern Filipino restaurant offering an alfresco dining experience. If you wish to go to this restaurant, you should make a reservation ahead of time, especially if you plan to go on a weekend. Here, you are bound to enjoy traditional Filipino cuisines with a modern twist.
Whether you are looking for good coffee, mouth-watering dishes, unique views, or all of the above – the province of Rizal is surely the best destination to be. It is truly amazing how this area, just near the metro, is brimming with cozy places perfect for your sweet escape.
If you wish to find your home close to these must-try cafes and restaurants, check out Camella's house and lot for sale in Rizal. Camella offers a wide range of house selections in Rizal. Camella Sierra Metro East in Antipolo and Camella Meadows in Binangonan may just be the perfect communities for you!