What makes a home attractive to you? Perhaps it is the possibilities that you envision just by looking at it. You might have laid your eyes on the countless model house and lots and immediately want to own that property for sale. Have you ever wondered how these homes appealed to you? Model house and lots for sale come in different sizes, shapes, designs, and overall ambiance. But they all probably have one thing in common: what appliances and furniture are in the house.
You need to know that these materials are not showcased in the house and lot model houses for nothing. Appliances and furniture bring empty spaces into life and make them feel more like home. But their main job is to stimulate your mind and inspire you. Showrooms encourage you to bring these things into your own space and turn that ideal house into reality.
Here are some of the must-have appliances we recommend to put in every space worthy of a spot inside your prospected house and lot.
In the Living Area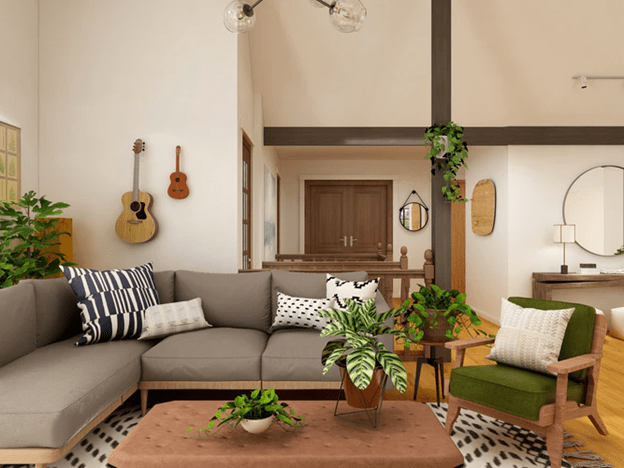 The living area is where family members are most likely to gather for entertainment. It is only convenient that this area is well ventilated, especially during this summer season. It is best to invest in quality cooling appliances such as fans, cooler, air conditioner, and the like before the season peaks.
Be cool with Fans and AC units
Cooling appliances could range in types and sizes. These all vary in design and functionality, from a small, simple stand fan to portable coolers and ceiling fans. The best option there is what works for your house's specifications. 
If you are more of a chic and trendy vibe, check out this outstanding new design from ASAHI.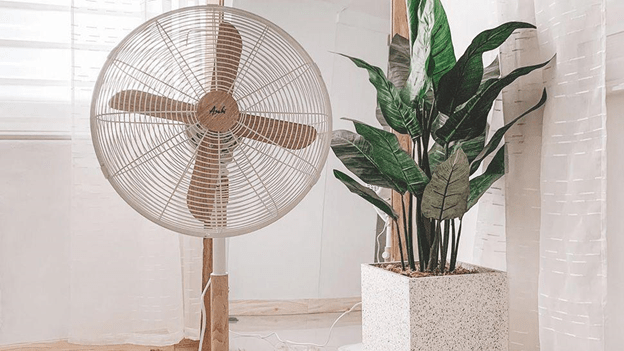 If you need a few more degrees lower than fans could do, you could go for an air conditioning (AC) unit. When choosing one, you do need to consider the wall space you have to fix it on. They come slim yet rectangular in shape for split-type ones, which is quite longer than a window-type AC.  
Whichever it is, choose a spot in the living area at a view where it could create a wider range of cooling. Additional features such as fast cooling, noise-free, self-cleaning, inverter technology, and more could come with these ACs depending on the brand. See more air conditioning units at All Home.
Your very own Home Theatre
The center of entertainment in the living area is, of course, the good old yet ever innovating technology, the television. Today, smart TVs have become essential to home entertainment as most of our interests are accessible only via the internet. 
Android TVs could easily connect and browse through your favorite apps. This includes YouTube, Netflix, and more streaming websites. What is more exciting than a movie marathon with your family and friends watching through widescreen television?
See these listings from All Home and browse your perfect choice.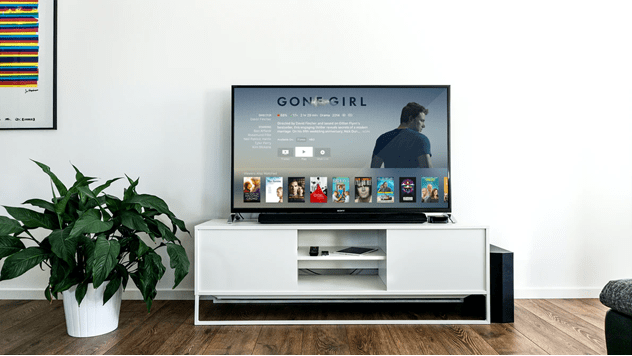 Karaoke? No problem!
You can have your solo concert at home with just you, your smart TV, and a quality sound system. For this one, we advise you to seek assistance from the savvy (or pretend-savvy) members. They know (probably) their sound system very well. 
The bottom line is that audio devices are essential to home entertainment. Even if your choice is not the best of the best, what you should be keeping in mind is that it should work for your space in the living room. Meaning they should be compatible with your own devices. 
What is more frustrating than watching a movie or singing karaoke without audio, right? Leave your worries out the door as you take home the perfect audio system for yourself!
Check out the home theater and audio equipment that best suits your needs here. 
Into the Kitchen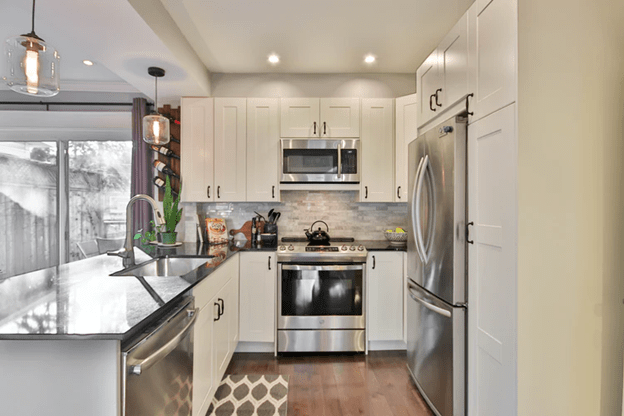 If the eyes are the window to your soul, then where is the way to your fridge? I get quite hungry just by walking by the appliance store full of possibilities! Imagine the food you can make with a new gas range with a large oven at the bottom? Baking bread and cookies by the afternoon, or roast your chicken and beef for dinner. You and your family would be stunned as you finally get them sitting by the dining area before time. 
Browse these appliances and what they can do to your kitchen here:
One Less Lonely Coffee Lover
Wouldn't it be nice to wake up to the fragrance of brewed coffee in the morning as someone makes their own cup at the kitchen counter, using your very own espresso machine? No more instant coffee. Switch to a home cafe! 
Meet The De'Longhi ECP 35.31 Espresso Machine and more of these small kitchen appliances available here.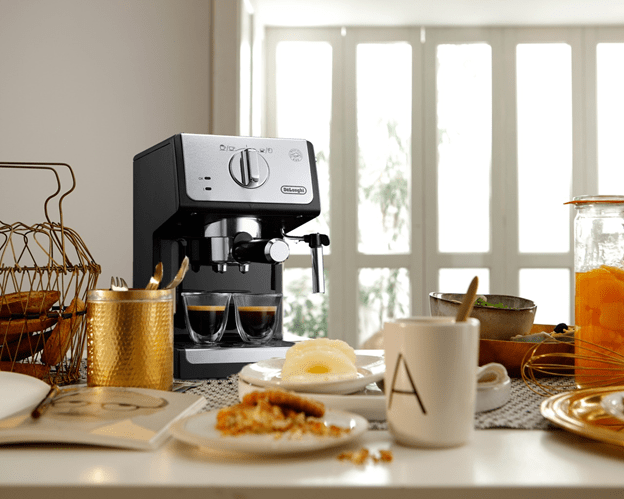 Aside from love, family, and fortune, happiness could sometimes be found in the small kitchen appliances as they help you do things easier every day. Have you thought about these appliances getting even more gorgeous, just like their users?
Check out these finds from Asahi. They are getting sleek by their wooden designs from that simple stand-fan to their kitchen countertop machines:
This kettle has a stainless steel-coated body with a wooden handle accent. Not only a hot device, but it is also worth the while to get you started in the morning, at your service for any boiling needs.
This toaster has a 12-liter capacity, powder-coated body with a wooden printed top surface and knobs. This gets your toasts finely tuned to your cravings as you get enticed by its new look.
This new design has an 800-watt, powder-coated shell and thermal cut-off fuse with wooden printed handles. The smell of butter oozing from this cutie would be just irresistible! Bet you would not last a few seconds keeping it closed till it is cooked! Browse more of these here.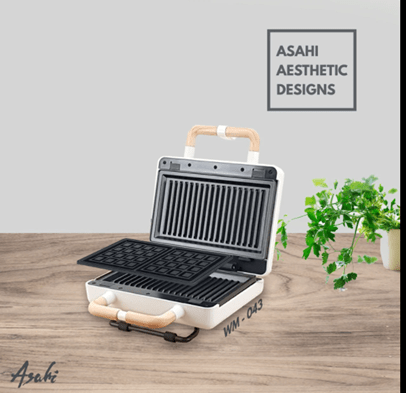 Browse more small appliances here: https://allhome.com.ph/appliances/small-appliances/
By The Laundry Corner
Hashtag Laundry Time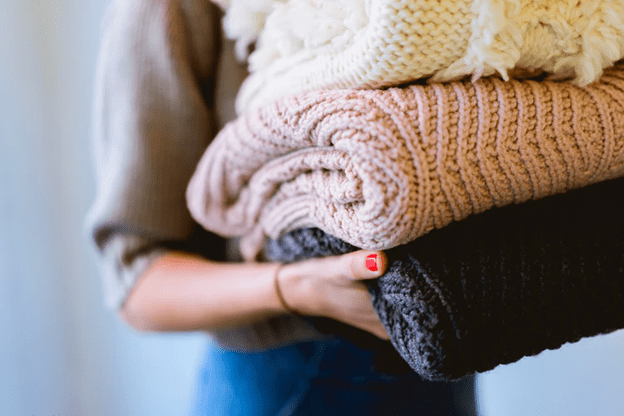 We all have our own stories on laundry day. You might always find that urge to put up a do not disturb sign as you devote your time doing a week's worth of laundry. And when that is not enough, you usually end up canceling the Sunday plans as well. Yes, it is truly boring and tiring, but not until you find your other half—the washing machine!
You can choose depending on how much you are willing to invest with this appliance. This ranges from top load series to the high-end front-load type, with dryer and inverter technology. The more expensive you go, the less you have to worry about washing clothes. Guaranteed, the change in routine is drastic, and you would likely see your weekends go from #laundrytime to #freetime.
There are loads of discounted washing machines and purchase freebies to get at All Home Online and a whole lot more appliances to find. Have you listed them all down?
If you do not know where to shop, AllHome is your best bet. All home is a one-stop shop for your home. Before going to a branch near you, you may also check out their online catalog. AllHome is also conveniently located near Camella's house and lot developments, ensuring quick delivery for your needs.
Feel free to go through these recommendations and jot down all that captures your heart. In case you need more inspiration for your home configuration and home design themes, visit Camella's virtual gallery.