Gone are the days when families keep hard copies of photos carefully compiled in albums people look at when they visit. In this evolving world where everything is moving online, we are updated with each happening, big or small; from the sorrows of war on a distant continent to the food our friend ate for breakfast.
There is no need to go to people's houses and skim through bulky photo albums to peek into their lives! Thanks to social media sites like Instagram, stories come to us in handy through photos.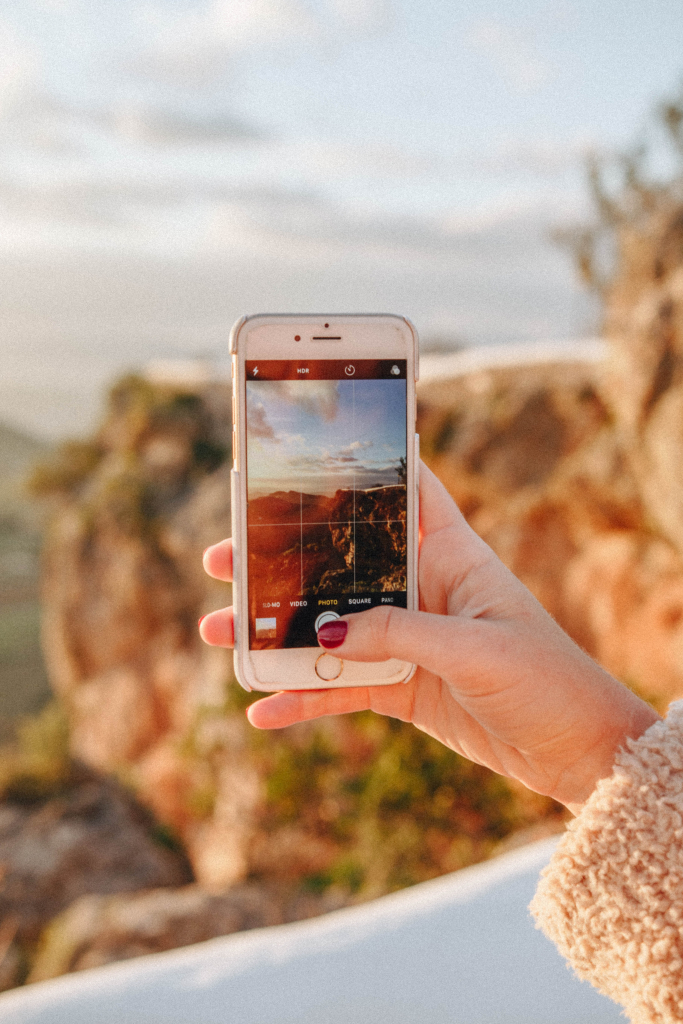 Undoubtedly, Instagram has become a part of us who live in a social media era.
We take every photo that makes into our Instagram feed seriously. Does it follow our IG theme? Is it visually pleasing? Can it move people to like our post and click that follow button?
More than the aesthetic value, we want our photos to reflect our personality and tell people what we are up to.
Several tips on the Internet will guide us on how to snap Instagrammable images. Choosing the best locations, the underrated but most important tip, however, is seldom considered.
It is not too late to level up your Instagram game! Visit General Santos City and impress the online world with your Instagrammable photos.
General Santos City or GenSan is located in the southern part of South Cotabato. The abundance of tuna made the city known as the "Tuna Capital of the Philippines."
It is also called "Home of the Champions" as it is the hometown of the greatest professional boxer, Manny Pacquiao.
In your visit to GenSan, go beyond what it is known for and explore Instagrammable places that will make you Instagram-famous.
Make your Instagram travel photos stand out with GenSan's natural parks and destinations.
It is our time to shine on social media as travel is allowed again. We rounded up the favorite nature spots in GenSan, which can add more life to your Instagram travel theme or any nature and minimalist theme you wish to explore.
Fish Port Complex
Let your photos tell people about your get-away destination. There is no other snap that will make the story shorter than a photo at GenSan's Fish Port Complex along the shores of Sarangani Bay. This hub is always busy with trade and other economic activities. Capture this in an Instagram-worthy way by using the colorful fishing boats as your subject, or play around with the striking daylight for a satisfying shot.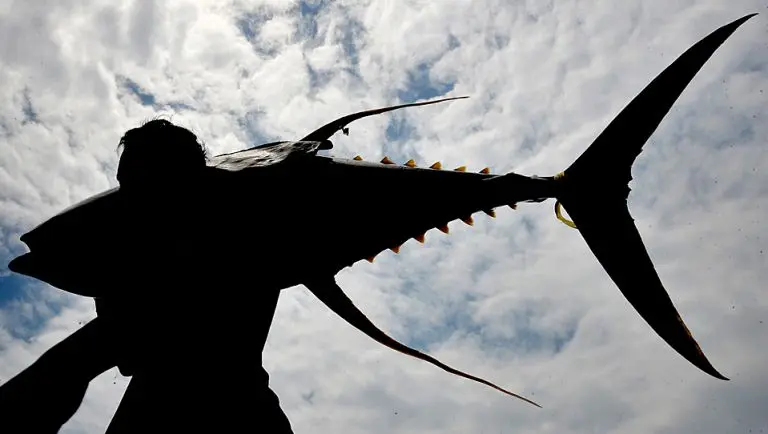 If you want to package the complex on a different and more peaceful level, come at the golden hour and play around with leading lines, like the coastal dikes and street lights. Add it to the blue water and the atmospheric colors. Isn't it soothing to the soul?
Sanchez Peak
Bring your Instagram feed to a new height with some snaps at the highest point in General Santos. Sanchez Peak, located in the boundary of the city's barangays Conel and Olympog, always makes it to the list of tourist destinations in GenSan. Without debate, it is also included in the list of picture-friendly spots in the city.
You can look up these famous tourist spot photos online to get inspiration. You can immediately secure Instagram-worthy photos during your trek. Pay attention to details around you. Who knows, you might come across a wildflower or an exquisitely lush spot that can be perfect for minimalist nature photos.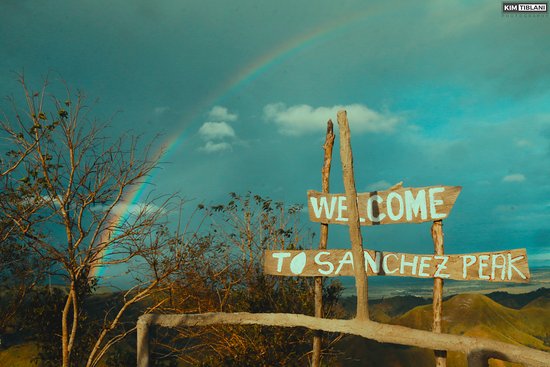 Don't be satisfied yet with the photos you captured during the trail, as Sanchez Peak has prepared a more picturesque view on top. You can get a panoramic view of the city and Mt. Matumtum, Mt. Parker, and Sarangani Bay when you reach the peak. You can follow the rule of thirds to achieve balanced photos of nature's treats below while you are on the peak.
It even gets exciting during nighttime! You can set up camp and watch GenSan light up. If you come from October to March, you will be lucky enough to wake up to a sea of clouds before your eyes. Snap that magnificence and show your followers that Sanchez Peak is worth the hike.
Hayahay Hills
Green fields backdrop? Nature prints on the wall? And an Instagram-favorite blend of wood, bamboo, and good lighting? You can capture all things beautiful in Hayahay Hills along GenSan Circumferential Road.
Before reaching the spot, you can snap photos along the road with the word HAYAHAY, spelled out in white capital letters like the famous Hollywood sign set against the green mountain background. The Bisaya word Hayahay means comfortable and refreshing. You can work around this word which can help you pen a sweet caption afterward.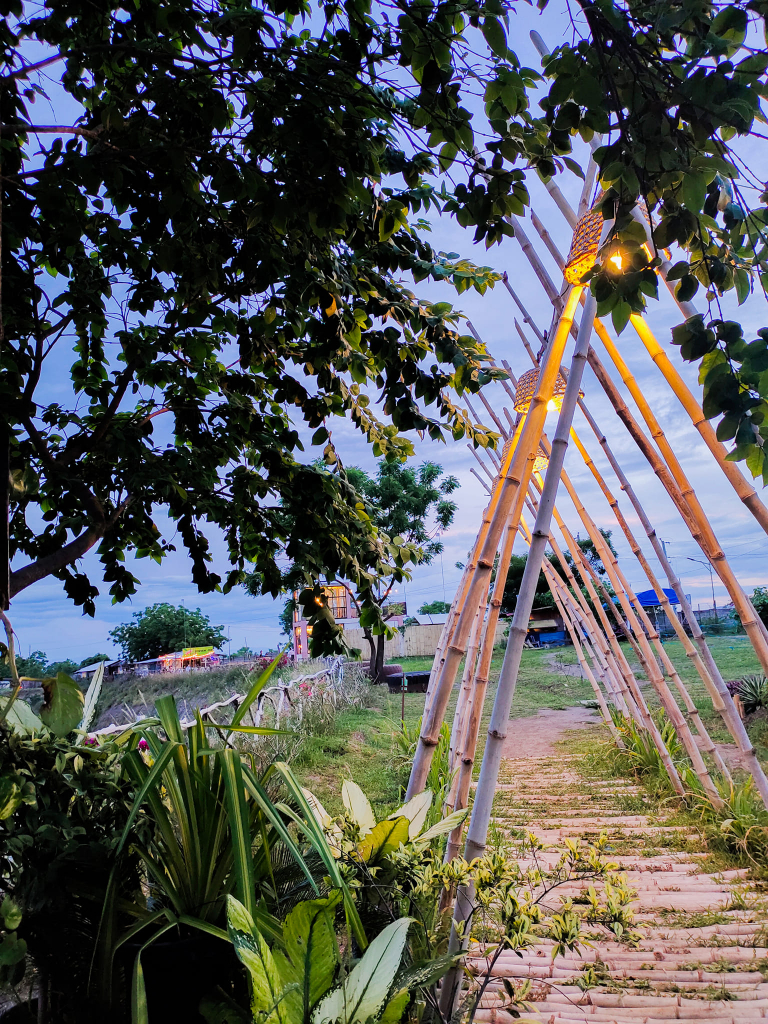 Once you get to Hayahay Hills' viewing deck, you can get more green settings with the vast plains below.
They also have wooden swings and a minimalist bamboo tunnel which are both aesthetically appealing, especially with the drop light in the native rattan basket.
Don't forget to give your feed an artsy touch by capturing Hayahay Hill's nature-inspired painted wall background.
VSM Flower Garden
If you cannot get enough of the peaks, why not make your trek more pleasant with the blossoming flowers that lead you to the higher ground? VSM Flower Garden will sprinkle some colors on your GenSan travel. Show off these bursts of colors on the 'Gram!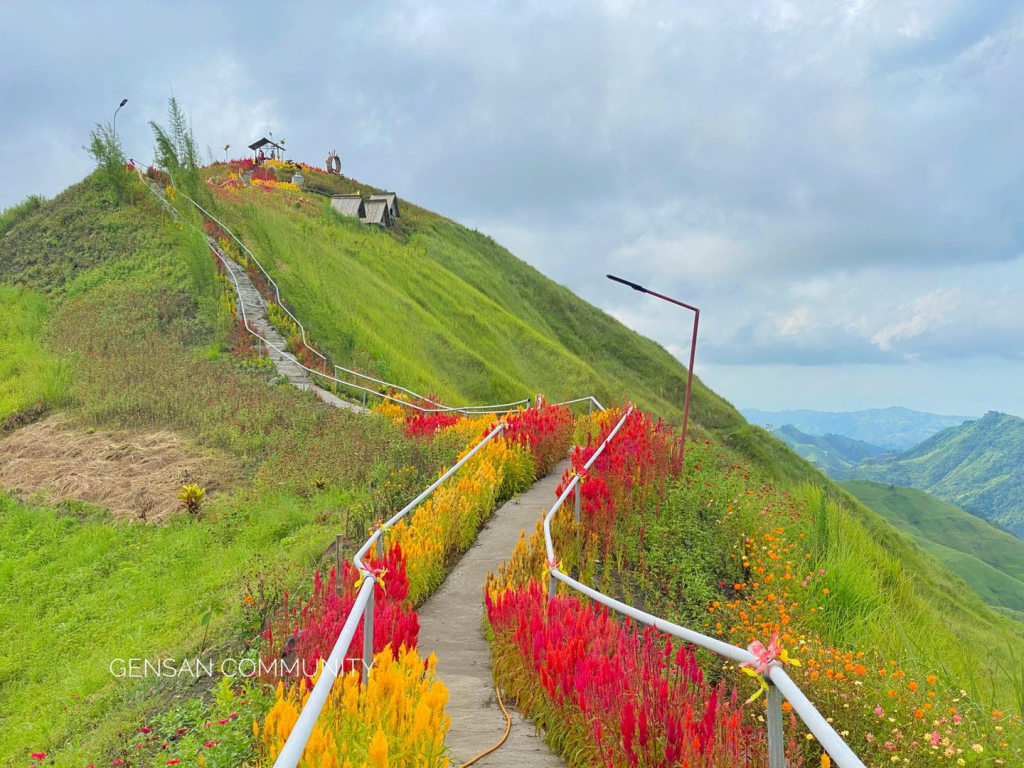 This tourist attraction will wow you with the red and yellow Celosias perfectly blending with the green mountain and the blue sky in the summertime.
Don't miss the chance to click your camera. This spot is perfect for you if you are a fan of landscape photography.
You can also explore several angles for different compositions until you get a crisp one that covers all shapes of your subject. Get closer to the flowers to bring an Instagram-perfect shot.
Leyson Park
If we have all the time traveling, we will probably spend half of it capturing photos. But we have to live with the truth that our time for vacays is only limited, so we must seize every moment of it. Fortunately, you can find Leyson Park if you travel to GenSan.
This tourist haven at Nopol Hills, Mabuhay, and GenSan can offer impressive dining, hiking, and camping activities in one stop.
What's more to like about Leyson Park? All the amenities and activities they offer look good in photos. Inside the park, you can take on premium camping and camp at Campo Duardo; embark on a short hike, spread a picnic blanket on Manyang Picnic Grove, and dine at El Mirador.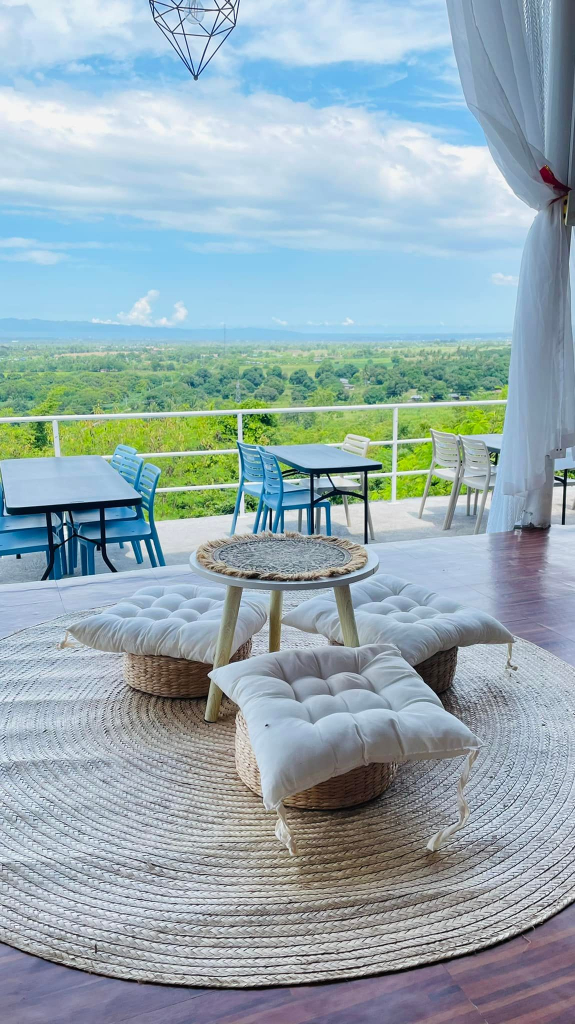 Overwhelm your camera roll with the photos of the vast green fields and the view of Mt. Matutum from Campo Durado.
Catch some sun and make your camera love the open spaces at Manyang Picnic Grove. Finally, spend some time relaxing at El Mirador while making its white and brown interior your Instagram followers' favorite on your story.
Speaking of dining experience, restaurants and cafes in GenSan do not only assure savory dishes but well-presented food and charmingly designed interiors as well.
Feed yourself and your Instagram by visiting one or two of these dining destinations soon.
Restaurants and Cafes in GenSan that deserve a spot on your Instagram feed
Sarangani Highlands Garden and Restaurant
You can find a fusion of good food and a good place at Sarangani Highlands Garden and Restaurant. This popular tourist destination in Purok Wal, Tambler, is surrounded by trees and with a view of the sea.
Amenities available here include a bonsai garden and swimming pool which can go along with any of your travel OOTD.
You came here for drooling, Instagram-worthy food, and Sarangani Highlands will give it to you. Filipino favorite dishes and seafood choices served on your table could look more appealing with the lush trees as the background.
Fligo By Chef Minerva
Nature photographs need no filter to stand out. The same is true with the natural colors of food served on a plate. Fligo By Chef Minerva in Barangay Lagao is one proof of how a bounty from nature could leave netizens drooling even if they only see it on a social media feed.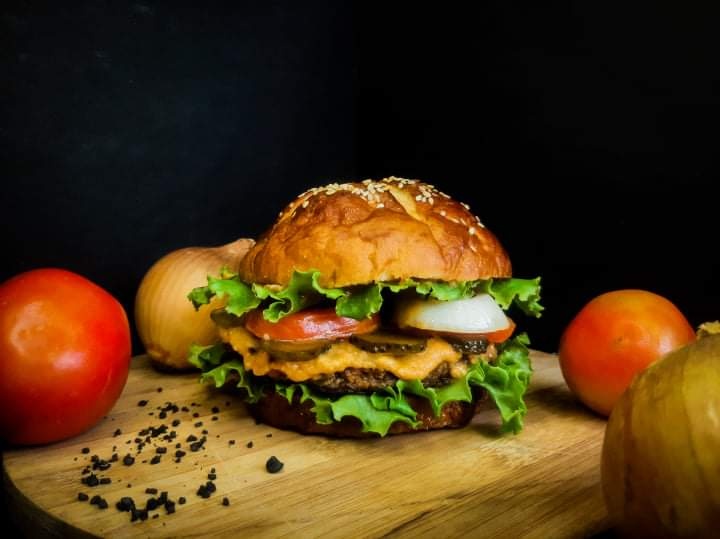 That is why this vegan restaurant is worth a visit when you travel to GenSan. Plant-based dishes by Fligo come to your table Instagram-ready.
For one, your eyes will feast on the colors of Fligo's Nourish Bowl, which consists of lettuce, quinoa, broccoli, cauliflower, tomatoes, chickpeas, and carrots, among others.
Café Santi
Hopping to coffee shops, Café Santi in Avior Hotel is a must-visit if you strive for a minimalist 'Gram theme. This café embraces neutral shades as it plays with symmetry, thus, achieving a smart and tidy look.
Café Santi, where most shades are white, black, and brown, gives a little pop of color through the equally-sized frames on its wall.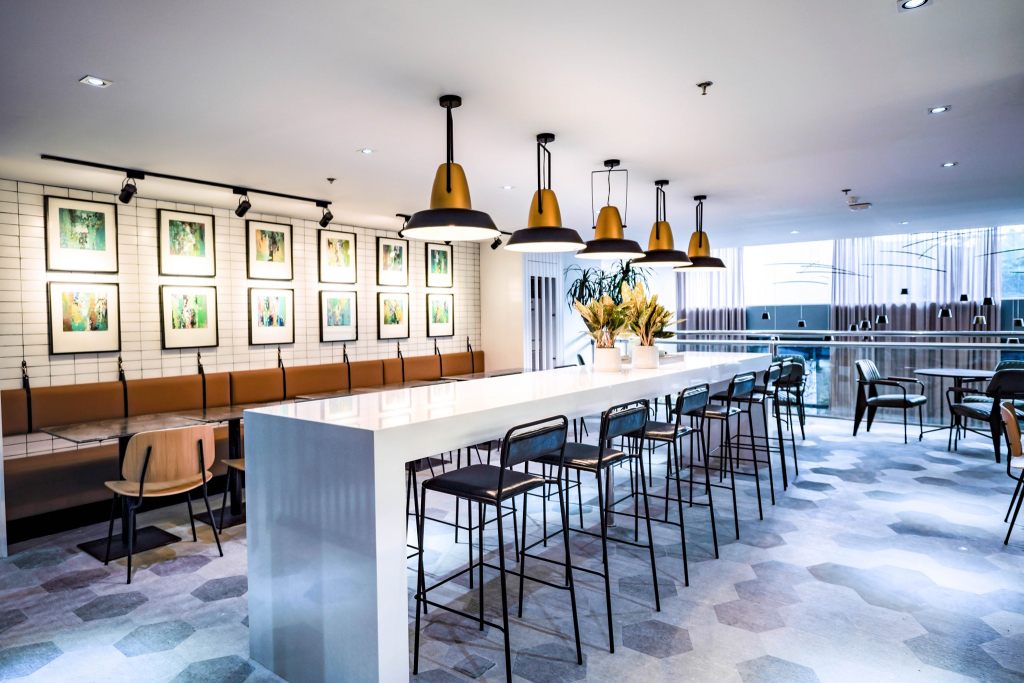 You can pay for a cup of Cappuccino and get a 'Gram-worthy photo as a bonus. You are already in an Instagrammable coffee shop. All you have to do is find good lighting and set what or who you want to be in the frame.
You can have fun with yourself as the subject, snap a coffee-in-hand picture, or ask someone to pose for you.
8th Block Café
This homegrown coffee shop at Salvani Street has drawn regulars for its picturesque interior and coffee selection.
Apart from the aroma from the fresh brew of Arabica beans from Mt. Matutum, customers are also coming back to 8th Block to achieve snaps to upload on social media.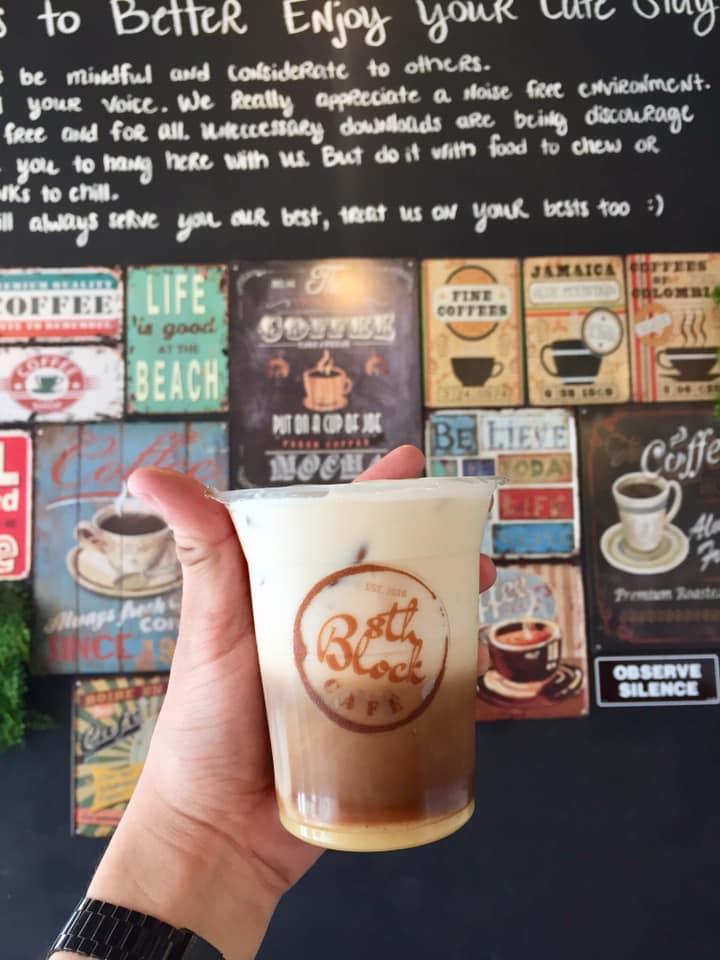 This coffee shop is your go-to place if you want to include brick and printed wall backgrounds on Instagram. 8th Block Café incorporated plenty of patterns that you could play around with for your Instagram grid layouts.
This café's counter also looks stunning! From the menu board, brewing equipment, and cups, along with the other fixtures, you can find details you can use as a subject.
Coffee Project
In this social media era, restaurants and cafes strive to look good photos. While this is only reasonable as its visual presentation on social media is an effective marketing strategy, others seem to be more invested in pleasing the eyes rather than the taste buds.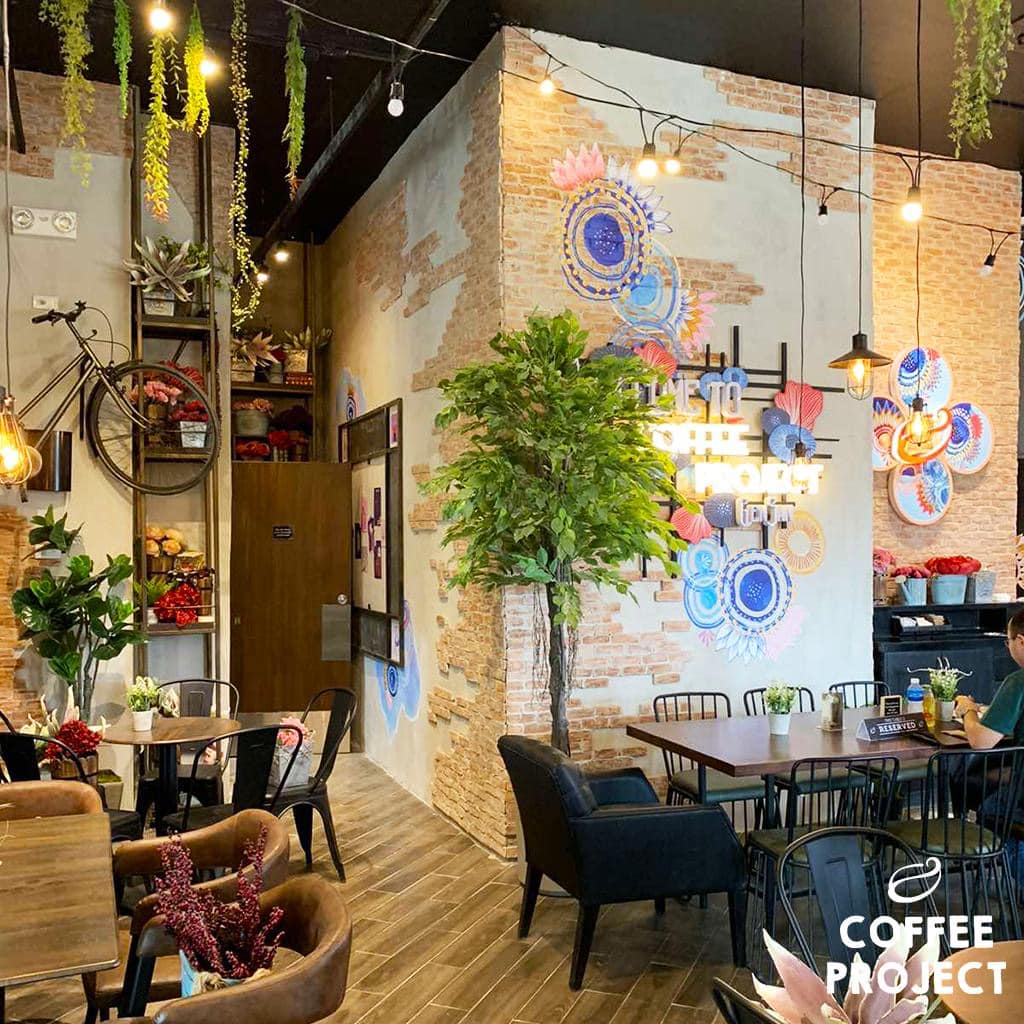 Coffee Project is different from other emerging coffee shops that forget to prioritize food quality. Tagged the most Instagrammable café in the Philippines, every detail on its brand in GenSan looks charming in photos.
With plenty of flowers, greens, and nature designs on its interior, you can look like a fairy in a garden with coffee in hand. Instagrammers like you will also find lighting at Coffee Project as your best friend.
Whether you are a busy student or a young professional dropping by for a quick coffee fix, snapping a good photo will not take much time as you can effortlessly achieve good lighting.
After you are satisfied with your shots, it's time to take a sip or a bite. Go ahead and prove that the most Instagrammable coffee shop also offers the best gastronomic experience.
Wherever you are in the Philippines, you can spoil yourself and your IG feed with a daily treat of Coffee Project's top-notch brews of espresso-based drinks if you invest in a property at Camella Homes. The country's first housing brand offers well-designed houses and lots for sale in GenSan that deserve a spot in your IG feed, too!
Find pretty house models at Camella Cerritos GenSan
Camella Cerritos GenSan, a 9-hectare prime house and lot development inspired by the charm of Europe and Italy, offers a wide array of beautiful and quality house models and Instagrammer like you would love.
Its location in Lagao, Barangay San Isidro, puts you in a comfortable community with a pleasant ambiance of suburban living.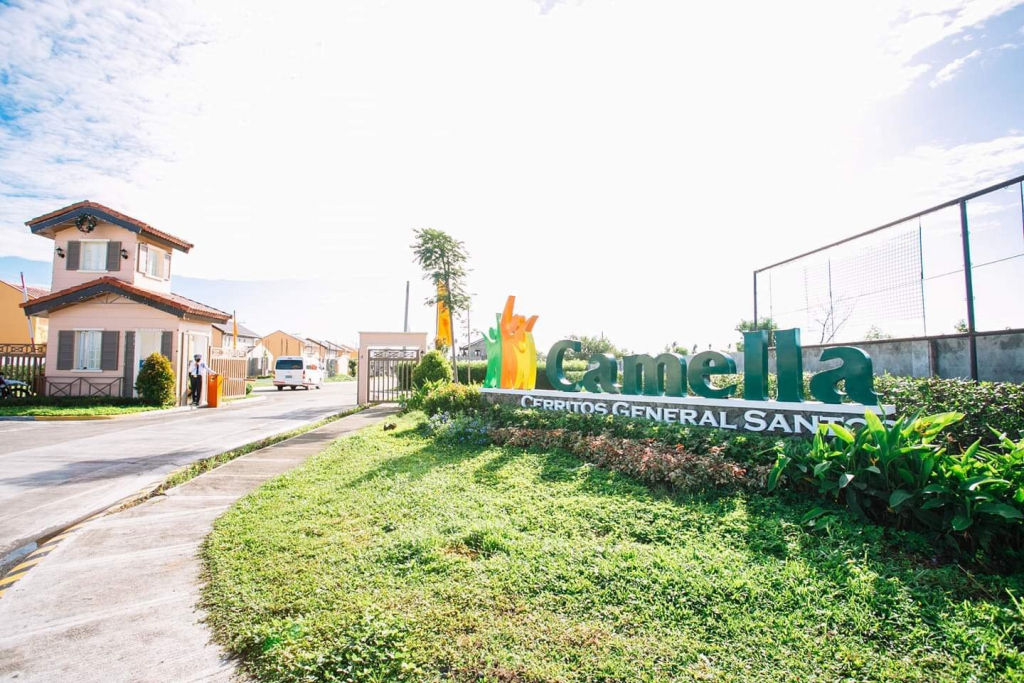 Walk around your neighborhood and snap on the modern amenities like the swimming pool, clubhouse, playgrounds, and landscaped parks.
Like Coffee Project, Camella Cerritos GenSan also promises both aesthetics and quality.
More than its picturesque features, Camella Cerritos GenSan is also located close to main highways and key establishments.
Among the places near your future community are:
Schools like Mindanao State University, Notre Dame of Dadiangas, General Santos SPED, Holy Trinity College, and University Hope Christian School
Transport Terminals, including GenSan International Airport and GenSan Bus Terminal
Supermarkets like GenSan Public Market and Malakas Market
The gated Camella Cerritos GenSan also assures you and your family's safety with round-the-clock security. Take this virtual tour and find out why you should own a property in Camella Homes now!