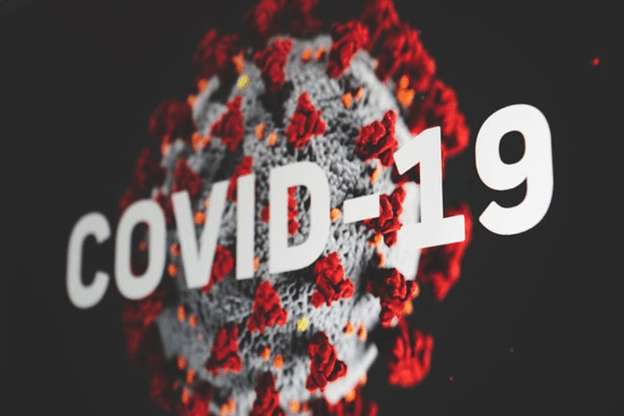 The Covid-19 pandemic has been around for nearly two years now. The global epidemic continues to affect the labor, trade, education, sports, health, and tourism industries. What's even worse is the upsurge of new genetic mutations and variants of the virus, which are found to be more contagious and deadlier than the original strain. As the viruses continue to adapt and survive, the state of people's health continues to face more significant stakes.
Due to this coronavirus outbreak, various industries have taken a significant swing. People were laid off and lost their jobs, and properties were up for sale at the lowest price. Even sports took a temporary halt, and various industries suffered their own losses and damages.
Currently, health departments across the globe perform routine monitoring of these new mutations and variants through laboratory studies, epidemiological research and investigations, and sequence-based testing. Among these variants, the Delta variant is observed as a variant of concern.
What is the Delta variant?
The SARS-CoV-2 Delta variant, also known as lineage B.1.617.2, is a covid-19 variant first identified in India in late 2020. On May 31, 2021, after introducing a new policy where Greek letters are used to identify variants of concern and variants of interest, the World Health Organization (WHO) named it the Delta variant.
Other Related Variants
Aside from the original strain, the Delta variant also has three known sublineages. Public Health England (PHE) designated B.1.617.1 as a Variant Under Investigation in April 2021, followed by two other variants, B.1.617.2 and B.1.617.3.
Aside from the three sublineages, there was also an identified subvariant. Around June 2021, B.1.617.2.1 or AY.1, also known as the Delta Plus or Nepal variant, was a notably rising variant that raised concerns in England and India.
Characteristics of the Delta Variant
From the onset of its discovery, the Delta variant has exhibited tremendous attributes. This includes increased transmission rate and potential reduction in neutralization by antibody treatments and post-vaccination serums. The presence of the Delta variant is highly dangerous because even if it has a modest rate of infectivity, it can have a quicker and more exponential growth rate.
This means that some of the recently admitted patients who tested positive for Covid-19 may have contracted the Delta variant. The Centers for Disease Control and Prevention (CDC), a part of the U.S. Public Health Service of the Department of Health and Human Services (DHHS), reported that 80% of the new cases in the USA have the Delta variant.
As of August 2021, data from the Phylogenetic Assignment of Named Global Outbreak Lineages (PANGOLIN), GISAID, and other sources showed that there have been nearly 336,000 confirmed Delta variant cases.
Signs and Symptoms
Like the original coronavirus strain and its other variants, the Delta variant also included heavy fever, sore throat, headache, and persistent cough symptoms. People should also be wary of some of the first symptoms of COVID, such as muscle pain, diarrhea, nausea, and vomiting. Significant loss of taste and smell, rashes, shortness, and/or difficulty breathing are also observed symptoms.
Once a person exhibits any of the symptoms, it is recommended by health experts to immediately seek medical care to prevent the worsening of one's immune system.
The Delta variant even afflicted children with a more severe form of the disease compared to illness caused by other forms of the virus due to the variant's higher viral load and children's less mature immune systems. Reports also show that acquiring COVID-19 can further lead to other diseases, such as gastrointestinal and upper respiratory diseases, ultimately resulting in death.
Global Effects to Major Industries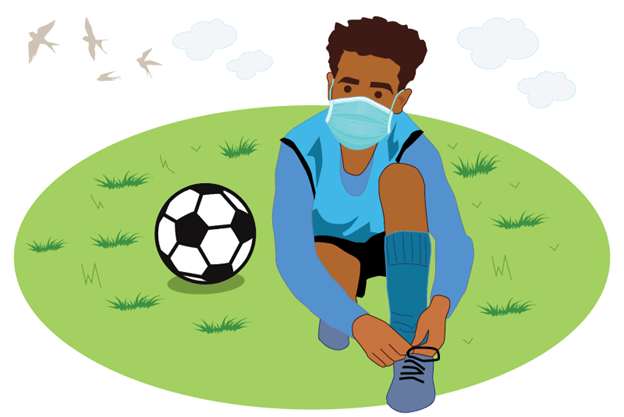 Sports
The coronavirus outbreak has forced the sports industry to make brutal actions and decisions. Major and minor sporting events have to cancel, postpone, or move the schedules, which saddened the athletes and coaches and their management and their fans worldwide.
For example, the National Basketball Association (NBA) suspended its season after Rudy Gobert, a player for the Utah Jazz, tested positive for coronavirus. This happened just before the tip-off of its game versus the Oklahoma City Thunder in March 2020. It resumed its basketball season in a "bubble" setting in Florida on July 30.
In addition, the 2020 Wimbledon Championships, initially scheduled on June 29 to July 12, 2020, canceled its event because of the Covid-19 pandemic. This is the first time the tennis event's first canceled event since World War II.
The athletes did not only have restricted access to training venues and facilities and lose earnings; they also suffered psychological consequences. Some studies show that the pandemic caused feelings of isolation, anxiety, depression, and frustration among student-athletes. Fans worldwide were also disappointed, having their travel restricted and forcing them to stay at their house and lot.
Education
Schools, universities, and higher institutions all took a vital tool when there was a worldwide pronouncement that classes and education-related activities will be canceled. This caused problems as most schools around the world we're used to the usual classroom set-up. The Covid outbreak led to weeks- to months-long suspension, forcing schools and universities to close until further notice.
Education sectors also received heavy criticism because there were higher drop-out rates. Students received grades lower than their teachers' predictions. It also entailed failed or missed remarks when students apply to their desired degrees and universities or colleges.
But the effect does not stop with the students, teachers, and staff. There were also significant economic damages and losses to hotels, restaurants, cafes, shops, car rental agencies, and other local businesses.
Real Estate
The world is still coping with the COVID-19 crisis, which means that as long as the pandemic is not significantly wiped out, businesses must still bear the risks entailed by the pandemic. One of the significant industries that took a big hit is the real estate market. Health concerns and stay-at-home protocols led to fewer buyers searching for residential homes, fewer sellers willing to register their properties, and fewer strangers allowed to visit and dwell in their homes during the pandemic.
Response Mechanism
Sports
The sports world managed to bounce back even at the suspension of big sporting events. Aside from advocating regular practice sessions at home, big-time athletes in tennis, basketball, football, and other sports were the principal actors in promoting advertisements and campaigns for vaccination, physical distancing, and frequent handwashing.
Also, even at their own house and lot, athletes, enthusiasts, and even beginners took an interest in home exercises, aerobics and yoga, and other indoor sports. Students also took the initiative to follow a schedule composed of regular exercise activity, good and balanced diet, and healthy sleeping habits.
Education
The sector of students and teachers were all new to the idea of remote and online schooling. Yet, the e-learning set-up was also instrumental as a new mechanism to impose studying while in a home set-up. Now beyond its first year in progress, students showed positivity in taking online courses, online exam proctoring, and preferred access to digital materials and resources and mixed-method of offline and online learning.
Real Estate
With the worldwide pandemic posing as the most significant challenge, what should the real estate industry do, more than just adapting to the coronavirus? Although job losses, uncertainty, and fewer selling and buying records were suffered by the real estate market, they managed to bounce back even at the height of the pandemic.
Since the aftermath of the 2007-09 global financial crisis, the real estate industry experienced one of its lowest periods where listings, inventories, and home buying activities dropped.
Despite this, real estate managers have managed to make use of the buyer frenzy. Now that prices are at an all-time low, the real estate industry has capitalized on the consumers' FOMO (fear of missing out) by focusing on sales and marketing strategies to drive more interested customers to avail properties for sale.
Moreover, the real estate industry has made several creative methods to cope with their losses. Realtors and agents have now utilized virtual home tours, where home-shoppers can look at their desired houses without leaving their homes. There was also a significant upsurge in people interested in having part-time and freelance jobs as real estate agents who advertise houses and lots.
Appropriate Responses to the COVID-19 Outbreak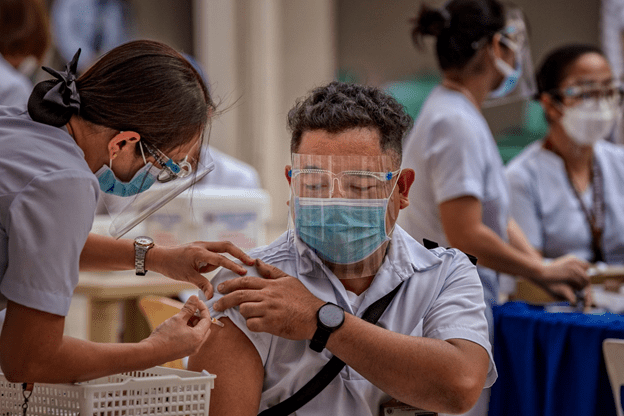 Vaccination
Since the pandemic started, numerous companies have been rolling out vaccines to achieve a significant number of vaccinated individuals. However, the scientific formulations behind these vaccines were made to combat the original and first variants of the Covid-19 virus.
Nevertheless, even if this was the case, a handful of studies show that the AstraZeneca, Moderna, Pfizer, and Johnson & Johnson vaccines work against preventing severe COVID-19 caused by the Delta variant. Although the vaccines offer less protection against milder, symptomatic illness caused by Delta, further studies support the claim that fully vaccinated people retain significant protection against the Delta variant.
In view of this, scientists, experts, and science academicians suggest that people should apply for vaccination to lessen the chances of contracting the virus. Aside from urging the population to take the available vaccine shots, the WHO also suggested that the government, and even the private sector and civil society, should work hand in hand to administer the vaccine to achieve herd immunity.
Non-vaccination methods
A combination of masks, cleaning of hands, and physical distancing still prove as the most effective non-vaccination means to curb the spread of the virus.
In planes, buses, trains, and other forms of public transportation, people are required to wear masks over their noses and mouths.
Since the COVID-19 virus primarily spreads when one person breathes in droplets or aerosols from an infected person who coughs, sneezes, talks, or breathes, it is best to maintain enough distance to avoid getting infected or infecting someone else.
Harvard Health Publishing encourages people to keep at least six feet of distance between themselves and others, as well as to avoid large gatherings and close contact with people who are sick, and to stay at home when feeling ill.
Washing of hands has been one of the most effective means to avoid not just Covid-19 but also any other disease. An activity as simple as washing with soap and water for at least 20 seconds will go a long way. This is effective, especially after going to a public place or after blowing one's nose, coughing, or sneezing.
A hand sanitizer that contains at least 60% alcohol is also an effective alternative since it is a portable and readily available thing to use. In line with this, it is also essential to avoid touching the eyes, nose, and mouth with unwashed hands.
Alternative Ways to Help
Some businesses were even taking matters into their own hands. In fact, some real estate businesses were offering some of their unoccupied and pre-owned properties for sale as residential services for medical and health personnel. Other volunteers gave essential goods and items to people, while some drivers also offer free transportation.
The Surge of More Variants
Although the delta variant is the most prominent strain of COVID-19, it is expected that it is not the strongest one yet. According to scientists, there is still a high possibility that more potent, more dangerous, and more contagious variants of the virus will present themselves in the future.
In fact, countries in South America have recorded an emerging strain known as the Lambda variant.
Health departments across the globe urge that it takes a significant percentage of the civilian population to be vaccinated to get back to the usual way of living. As long as there remains a big chunk of people who remain unvaccinated, it is expected that the virus will produce new variants and mutants and continue to disrupt our everyday life.
Camella has been a consistent observant of the Covid-19 protocols. Suppose you want to check out all of Camella's interior design features while leaving the comfort of your home. In that case, you may visit our house catalog page featuring house and lots for sale. For the locations of Camella's master-planned communities, you may visit our property page.