A healthy body is one of the foundations of living a functional and active lifestyle. Our body needs food as a source of energy to work and function. Food is no doubt essential for every human being of all ages. As we grow older, our body needs more nutrition. 
Carbohydrates, fats, proteins, minerals, and vitamins are some of the nutrients found in mostly what we eat. Maintaining a healthy body lowers the risk of having chronic diseases such as heart disease, stroke, diabetes, and even some cancer. 
Some of us dream of having a body like the celebrities we see and adore on television. Some just want to maintain their body shapes, and others just simply enjoy the taste of fruits and vegetables. Whatever reason you have in mind, you can never go wrong with having a healthy diet. Now you might be thinking that keeping a healthy diet is good and all. But, at some point, we get sick and tired of having the same food almost every day. There are many ways to enjoy a healthy meal, one of which is having diversity in your recipes. Here is the list of simple diet-friendly recipes you can make in your home.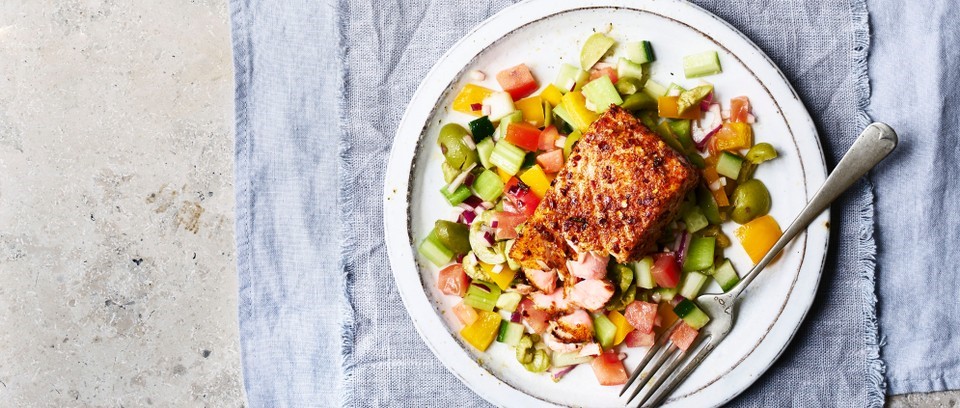 A simple baked salmon dish seasoned with chili salt and served with chopped salad. Low in calories and perfect for salmon lovers! The ingredients are the following:
500g piece of salmon:
1 tbsp of Hot & Fiery Cornish Sea Salt
Olive Oil Spray
For the chopped salad:
2 tbsp of red wine vinegar
2 tbsp of olive oil
2 diced yellow peppers
1 diced red onion
4 stalks of celery, diced
½ diced cucumber
4 diced plum tomatoes
16 pitted and quartered nocerella olives
Step 1: Slice the salmon into four equal parts, preferably cut into fat pieces rather than long and skinny. Season the surface of the salmon with the chili salt according to your preference. After that, leave it in the fridge for an hour.
Step 2: Whisk the red wine vinegar and olive oil in a bowl, and season. Add the salad ingredients and toss.
Step 3: Heat the oven to 220C/fan 200C/gas 7. Line a baking sheet with baking paper and set the salmon, skin-side down, on top. Spray with oil, then bake for 10 minutes until just cooked through. Serve with the salad.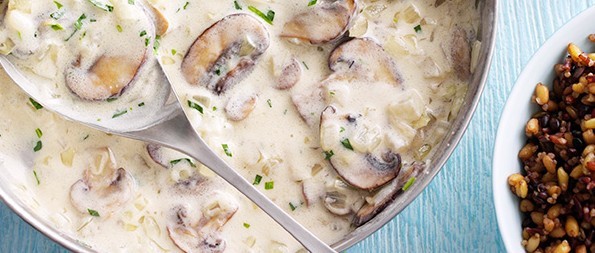 A quick and healthy mushroom and tarragon stroganoff dish and has under 300 calories meal. Mushrooms are rich in fiber, protein, and antioxidants, which help in your digestion. The ingredients are the following:
onion 1, diced
spray olive oil
garlic 1 clove, crushed
chestnut or button mushrooms 150g, sliced
half-fat crème fraîche 3 tbsp
tarragon ½ bunch, chopped
cooked wild rice or mixed grains to serve
Sauté the onion in a spray of oil for 5 minutes until soft. Then add the crushed garlic and sliced mushrooms and continue to fry for another 5 minutes with another oil spray until the mushroom turns golden and a bit dry and cooked well. Add the crème Fraiche, a tiny bit of water and tarragon, simmer for 1 minute, season and finally serve with cooked grains.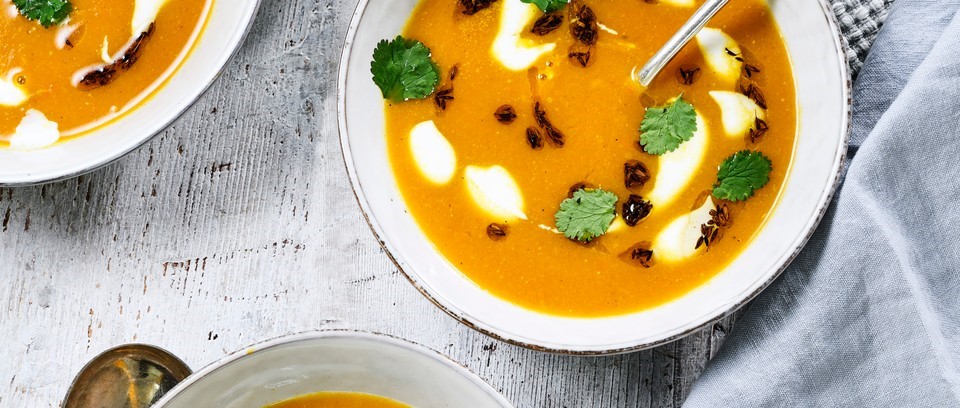 A warming soup with lightly spiced curried carrots that is easy to make and also low on calories. Carrots can help lower harmful cholesterol levels and can also help regulate or stimulate blood circulation and delicious! The ingredients are the following:
2 tbsp of groundnut oil
2 diced onion
500g of diced carrots
1 tbsp of mild curry powder
4 tbsp of red lentils
1.5 liters of vegetable stock
1 tbsp of cumin seeds
4 tbsp of coconut yogurt or natural yogurt
coriander a small bunch of leaves picked
Step 1: Heat the large pan in medium-low heat with 1 tbsp of oil, onions, and carrots for about 10 minutes. Add the curry powder and fry for 2 minutes before adding the lentils and stock. Bring to the boil and simmer for 20 minutes until the carrots are tender and lentils soft. Season with a bit of salt and pepper according to preference. 
Step 2: Turn off the heat and blend using a stick blender until the texture becomes smooth. You can use a food processor to blend then pour it back into the pan to reheat.
Step 3: Heat the remaining oil in a small frying pan and sizzle the cumin seeds until golden and fragrant.
Step 4: Lastly, top each bowl of soup with a spoonful of yogurt, the cumin seeds, and a sprinkle of coriander leaves. Serve while it's hot.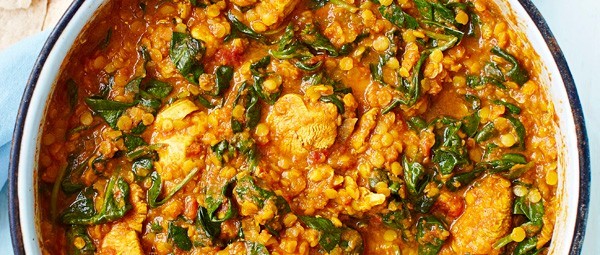 Chicken meat can be very tempting, especially after a long week without eating any kind of meat. Everyone loves chicken. With this recipe, you can enjoy meat and be healthy at the same time without compromising on flavor. Also, this recipe only has less than 350 calories. The ingredients are:
2 seeded red chilies
2 cloves of garlic
4cm peeled ginger
1 chopped onion
oil
1 tsp of ground cumin seed
1 tsp of ground coriander
1 tsp of garam masala
1/2 tsp of turmeric
Large dice of skinless chicken breast
150g of red split lentils
400g of chopped tomato
260g of spinach
4 small Rotis
Step 1: Make a paste out of chilies, garlic, ginger, and onion using a small blender. Heat up a large pan with 1 tsp of oil and fry the paste for 2 minutes until fragrant.
Step 2: Add the spices and cook for another minute. Mix the chicken with the spices and cook for 5 minutes before adding the lentils and chopped tomatoes along with 1 ½ tin of water.
Step 3: Simmer for 25 minutes, season, then tip in the spinach and stir until wilted. Serve with Rotis. 
The listed recipes are only a few examples of simple and easy-to-make low-calorie meals. You can find many recipes online and explore the vast sea of flavors without compromising your diet. After all, our goal is to stay fit and healthy. With these recipes, you can start your diet at your own home. It is also better if you can find ingredients for these dishes without leaving your house and lot.
Speaking of homes, Camella is one of the country's leading real estate developers that offer premium housing and a green community. The brand offers spacious house and lot options that allows more possibilities for your home—including a spot for a home garden. You can even plant your own herbs and spices at your own home! Start your healthy lifestyle in a healthy environment in one of Camella's house and lot communities here in the Philippines. It is easier to stay healthy when you are in a healthy community. Visit this page to see Camella's big house and lot selections or take a virtual tour inside them. 
Source:
https://www.olivemagazine.com/recipes/healthy/best-ever-easy-52-recipes-under-500-calories