Camella, the country's largest homebuilder with the widest geographical reach, and housing over 500,000 families nationwide, continues to prove itself as the country's favorite with its recently-released digital campaign entitled #MoreSpace. The campaign highlights the need—and presents the advantages of—having enough space inside and outside your homes, especially during times when space makes a difference.
Camella's developments lie across hectares of rolling lands that are surrounded by lush greeneries to provide the ideal ambiance for a perfectly safe sanctuary. Here, you and your family can find a reprieve from the busy city while enjoying easy access to life's most basic necessities—all these while being surrounded by beautifully landscaped pocket parks and open areas that make it irresistibly easy to stay within the gates of the community.
An Introspection on How We Live
With the growing importance of staying at home, the world now has also increased their focus towards their homes, more specifically the space within it. This time gave us the opportunity to think about how we live our lives and how we make decisions, especially with our dwelling space.
Camella's campaign challenges every family to rethink how they look at their homes and what they put in it. Homes have evolved from being merely a place where we could rest and pass the hours, to places where we house our most memorable moments, where we build our values, and where we grow. The campaign is a reminder that home is a place where we are most comfortable, where we can let our guards down, and where we can be emotionally vulnerable. It is, therefore, important that we choose homes that give us the greatest comfort and safety.
#MoreSpace, Less Risk
As one of its pillars for its vision of dream communities, safety and security remains as one of Camella's strong value propositions since its establishment. It is additionally the long-time favorite housing brand's mission to provide utmost comfort and peace to you and your family, hence the campaign puts forward the value of living in a Camella home—more space and less risk.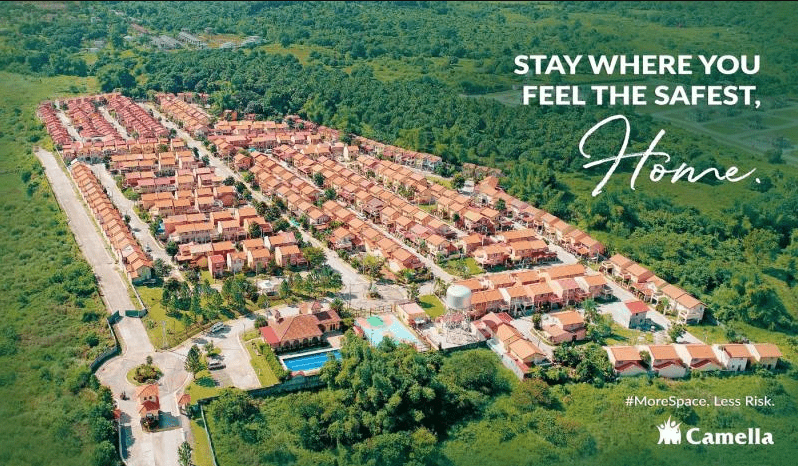 "Stay where you feel the safest, home."
The tagline of the first from the series of posters to be released as part of the campaign succinctly encapsulates half of what #MoreSpace is all about. The ongoing pandemic has revealed what our weakest points are and which of those points are factors that we can
influence to our advantage, and one of those is maintaining space. By putting forward the importance of staying inside, the campaign also brings more value to our houses, and what it actually means to be home. This puts across the message that homes are not merely roofs over our heads, but a place where we feel safe, at ease, and taken care of.
The first half of the campaign further parades the advantages of owning adequate spaces inside our homes and within our communities to enforce all necessary health precautions the homeowners deem necessary. Camella empowers its families by allowing them this increased physical and virtual space to have control over the safety of their surroundings.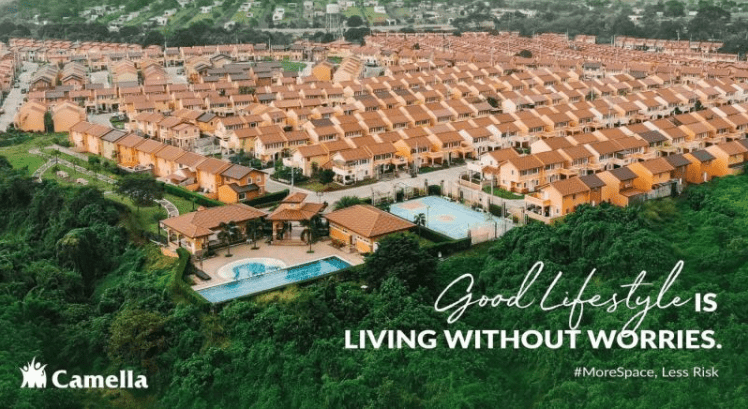 Camella furthermore bolsters its families' immunity from threats by conducting its own community-wide sanitation actions, and introducing new innovations such as its Eco Bins—a waste segregation installation for house gates—in order to maintain a hygienic and safe community.
#MoreSpace, More Possibilities
Before the pandemic, most of us are used to sharing space everyday in our lives from our workplaces, social places, and commute. As social beings, we are bound to get out and mingle with our social groups. But having a space to ourselves is as equally important as socializing for our own personal growth. These spaces are what our homes are supposed to have.
Camella believes that you should be able to have freedom on what goes around your home space, not adjust to it. This is why the house and lot brand offers single-detached houses with open spaces around its lot perimeter and with provisions for a balcony and a carport. Inside every Camella house is an open floor plan that allows homebuyers greater interior design customization and space optimization.
Camella especially prides its Grande Model Houses that offer extensive floor and lot areas. With 142 square meters in floor area and 121 square meters in lot area, Freya has more than enough space for you and your expanding family's pastimes and not get bored inside your home. This two-storey house model stands out for its flexible hobby room that you could transform into an office area, a passion corner, or a gallery for your favorite collectibles. This is on top of its five spacious bedrooms, three large toilet-and-baths, a balcony, and a carport.
The greatest and the most spacious of Camella's current offerings is Greta, with five spacious bedrooms, three neat toilet-and-baths, a wide two-car carport and a refreshing balcony. Its master's bedroom is additionally equipped with its own bathtub and a provision for a walk-in closet to give you a luxurious experience at home. This two-storey house stands a total of 166 square meters in floor area and 143 square meters in lot area—a vast space that you could transform into something of your own imagination.
With this campaign that highlights the value of space in maintaining safety and promoting growth, Camella reminds everybody to choose a home that is not limited and opt for one that is open to more possibilities. And the greatest way to know if you're making the most out of your home is if it serves as your family's safe sanctuary that holds your fondest and most prized memories.
Enjoy more space with less risk and more possibilities with Camella. You may call us at (02) 3226 3552 or 0945 527 9867 and 0926 915 9138. You may also visit our official pages and check out our latest offerings at https://linktr.ee/CamellaOfficial.