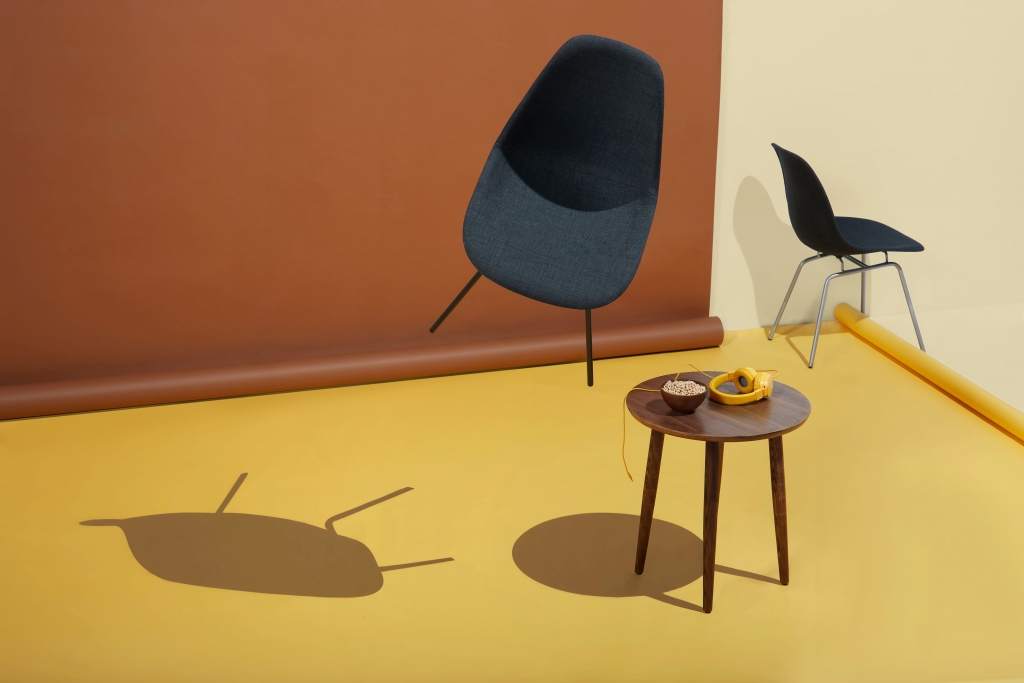 While there are numerous reproductions of mid-century modern furniture on the market today, the genuine article remains extremely popular (and valuable!).
Mid-century modern home decor is characterized by clean lines, a fusion of organic and synthetic materials, and a retro aesthetic.
What Is Mid-Century Modern Design?
Mid-century modern design is a style of interior design that gained popularity in the United States during the mid-twentieth century. Clean lines, muted tones, a combination of natural and manmade materials, graphic shapes, vibrant colors, and the integration of indoor and outdoor motifs are all characteristics of mid-century modern interior design.
A Brief History of Modern Design in the Mid-Century
Mid-century modern home decor originated in twentieth-century America. It was heavily influenced by the early twentieth-century German Bauhaus design and architecture school, which emphasized clean lines, functionality, and a futuristic aesthetic.
Following World War II, a large number of German designers immigrated to America, bringing with them innovative and modern design ideas. Retro-futuristic design became popular in American design in the mid- to late-1950s. Mass production enabled the manufacture of large quantities of furniture in a variety of materials and colors.
During this era, designers such as Charles and Ray Eames, Herman Miller, George Nelson, Arne Jacobsen, Isamu Noguchi, Cara Greenberg, and Eero Saarinen achieved international recognition for their decorative works. Throughout the 1960s and 1970s, the style remained popular, until the 1980s, when design philosophies such as the Memphis design school gained popularity.
Suggested Read: 7 Advantages of Modern Home Design
Five Identifiable Features of Mid-Century Modern Design
Here is a rundown of some of the characteristics that you might find inside a mid-century modern home.
1. Minimalist
Mid-century modern furniture is frequently very straightforward, with clean lines and an emphasis on functionality and uncluttered spaces. Oftentimes, chairs and tables are composed of simple pieces of material that are supported by wooden or metal pin-style legs.
2. Structure
As we all know, the history of this style speaks for itself. The style is a design trend that has a global impact due to its unique design inspirations.
To create a truly unique style, you'll need truly unique items. Choose a few different items in a variety of shapes and colors to create the ideal mid-century look.
Nowadays, mid-century modern homes are typically open-plan in design and incorporate alternative room dividers such as central fireplaces in living rooms. This creates the illusion of more space and allows light to be bounced freely throughout the room.
Another decorative element is marble, which is used on countertops and splashbacks.
Initially, marble was thought to be intended to appear expensive and modern. However, it has evolved into an elegant and durable countertop material.
Suggested Read: 7 Simple Bathroom Remodeling Things to Avoid
3. Using a variety of materials and aesthetics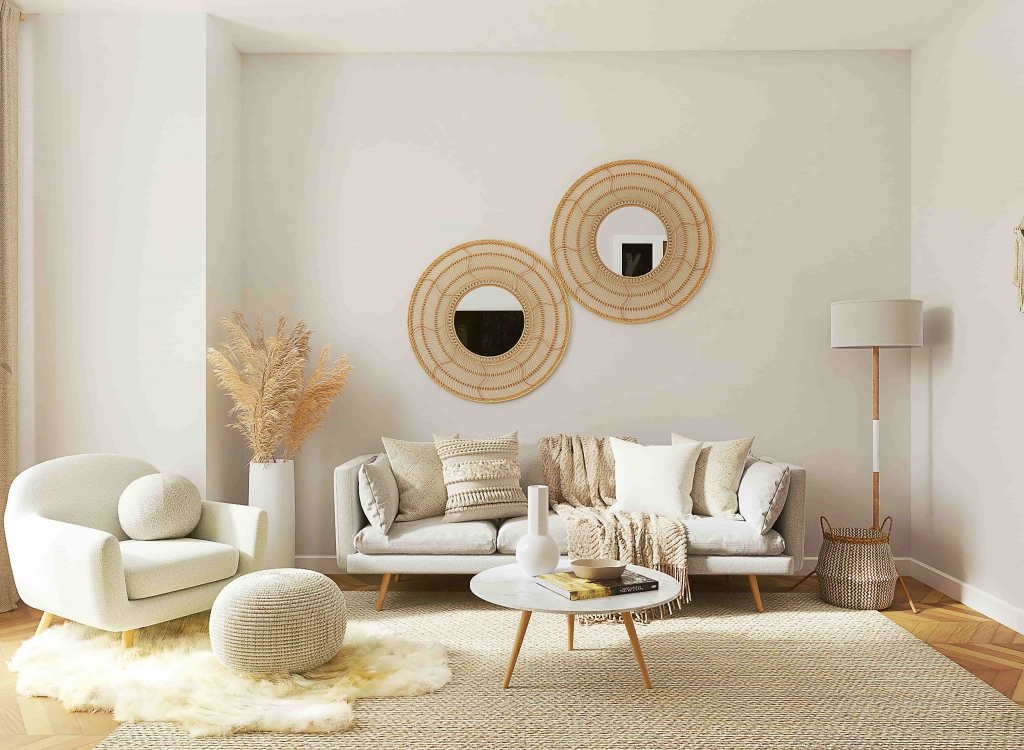 In mid-century furniture design, man-made materials (such as vinyl, plastic, lucite, and fiberglass) and natural materials (such as wood, glass, metal, and marble) are frequently combined. Additionally, you'll see contemporary pieces displayed alongside vintage statement pieces in mid-century modern design.
Furniture
Wood is the preferred material for this style of furniture. The best part is that the furniture does not have to match perfectly.
Bold fabrics with graphic patterns and clean lines must be used on the furniture.
However, because sofas are typically not patterned, opt for patterned cushions to continue the style.
Art
One distinguishing feature is the presence of art in each room. Large, bold, and expensive statement canvases intended to serve as the focal point of the room.
Once you've identified the piece's primary colors, you can use them as an accent color throughout the room, experimenting with the color scheme.
Another option is to incorporate pendant light shades and lamps, as well as unique mirror frames. These are timeless characteristics of this style that inject some creativity into your home.
Lighting
Lighting is a critical detail that should always be bold and creative.
Multiple lamps are also encouraged, whether they are floor lamps or table lamps; tripod floor lamps, for example, work well with this style of décor.
Accessories
In particular, do not have an abundance of accessories because the space is uncluttered and the emphasis is on large, expensive pieces of furniture rather than on smaller, less expensive knick-knacks.
Rather than that, there are only a few simple vintage accessories scattered throughout the house, such as the coffee table.
It varies according to the project, but plants and biophilia in the space add character and charisma to the ambiance.
4. Indoor-outdoor fusion
Mid-century modern architecture, like mid-century design, emphasized the fusion of manmade structure and nature. Plants and window treatments that promote a sense of continuity between indoor and outdoor spaces are frequently incorporated into this style of decor.
5. Natural tones accented by pops of color
Bright accent colors are used against primary neutral tones of white, black, and wood tones in mid-century modern decor. In keeping with the concept of integrating indoor and outdoor spaces, the mid-century color palette is rooted in nature, featuring earthy greens, vibrant fall oranges and yellows, muddy browns, sea blue-greens such as aquamarine and teal, and deep clay red.
Suggested Read: Top Interior Paint Color Picks for Your Rooms
Three Decorating Tips for a Mid-Century Modern Room
Whether you're decorating a mid-century modern living room, a contemporary bedroom, or a kitchen, here are some interior design tips.
Create a room around a few statement pieces
Choose one or two iconic mid-century modern pieces of furniture as the foundation for your design. A kidney bean-shaped dining table, an Eames lounge chair, or a metal sunburst wall hanging are all examples of this. Complement and highlight those statement pieces with the rest of your design elements—from the color palette to the artwork to the window treatments.
Experiment with color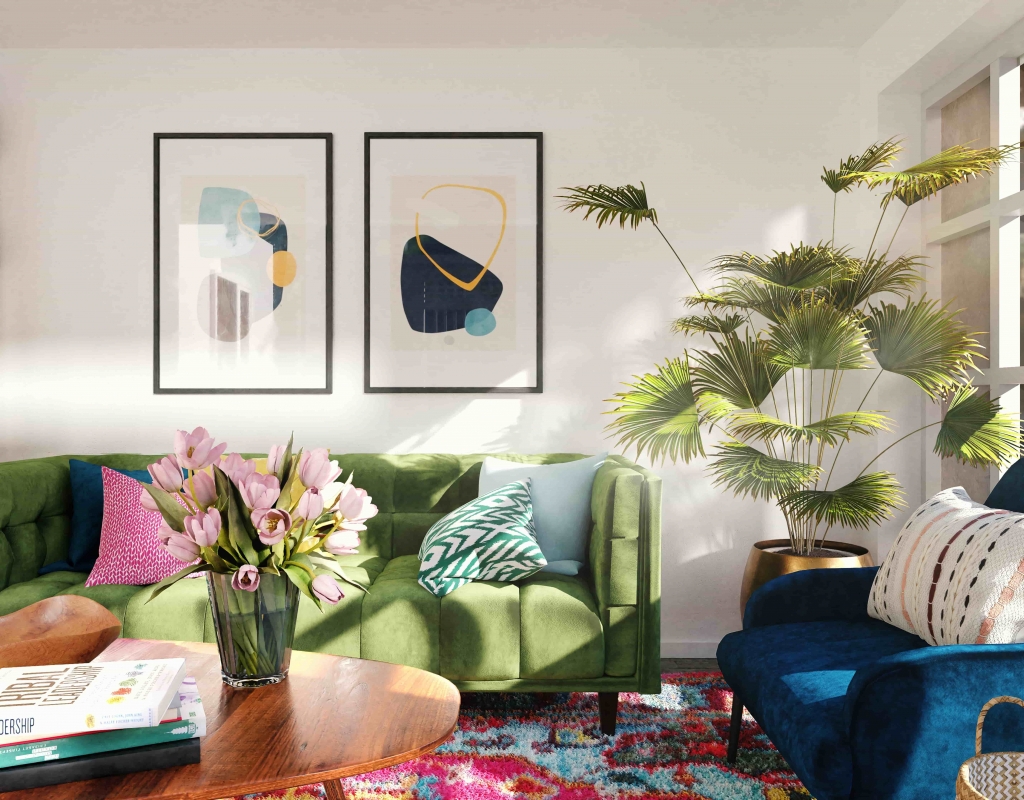 The playful use of color is one of the characteristics of mid-century modernism that sets it apart from minimalism. Experiment with different ways to incorporate color into your furniture, such as with a vibrant rug, accented dining room chairs, or graphic artworks. Make a point of using retro hues such as sage green, robin's egg blue, and butter yellow.
Maintain a natural look
Determine a way to incorporate natural elements into your design. If your home features expansive windows that overlook a natural landscape, select interior colors that complement the view. Additionally, potted plants are an excellent way to incorporate nature into your interiors.
Suggested Read: The Best Interior Design Trends That Emerged this 2021