Are you taking a trip up north? Make sure to add this list of favorite local restaurants when deciding where to eat in Pampanga.
---
It is not surprising to say with the Philippines' rich culinary heritage, there are definitely various destinations promising a unique experience of authentic Filipino cuisine. A top destination that should be included in your list of must-visit places for a weekend food trip is none other than the province of Pampanga.
About an hour or two hours away from the bustling Metro Manila, you will arrive in Pampanga, fondly called the culinary capital of the Philippines. Here, you will definitely be welcomed by a selection of legendary Filipino dishes and world-class cuisine.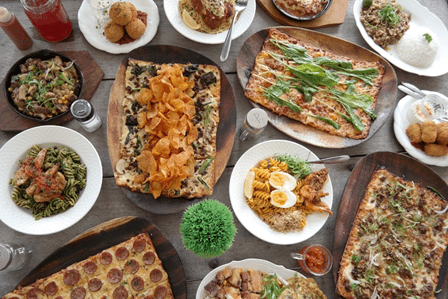 History tells that Pampanga is the birthplace of chefs who earned cooking techniques from Spaniards during the colonial period. This is perhaps the secret behind every mouthwatering dish that has been passed on from generation to generation, making its mark in regional Filipino food.
Since Kapampangans love to cook, most especially homemade food, the province is bursting at the seams with famous restaurants, giving an unforgettable experience for both locals and tourists. Pampanga takes food seriously. This is because Kapampangans always want you to feel at home when visiting.
To help you plan your itinerary of where to eat in Pampanga, here is a list of the top-rated restaurants in Pampanga that offer authentic Kapampangan dish selections that will make your trip to the province truly gastronomic delight.
Abe's Farm
Here, the rewards of getting away from the hustle and bustle of the city are great food and nature's serenity. This is just what you get when you visit Abe's Farm, a lifestyle destination located along the foothills of Mt. Arayat, a dormant volcano.
Guests of this four-hectare farm can indulge in authentic Kapampangan cuisine and can have the option of staying for a night or two as they also offer accommodations that let you experience living in a country home with their cozy air-conditioned huts.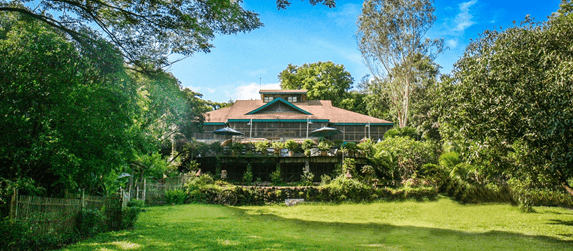 Abe's Farm has become a popular destination not only because of its homey vibe but more so because of its delightful dishes. Their restaurant serves a complete menu of Kapampangan food that are some of the bests in the region. From appetizers, soups, salads, grills, stews, fried dishes, vegetables, noodles, sandwiches to desserts, the farm got you covered.
If you are a health junkie, you can also try their Paco Salad, a dish of young rainforest fern with tomatoes and salted egg in a light vinaigrette dressing. Another appetizer that you can try, which is not for the faint of heart, is their Arobung Kamaru or farm crickets, made of rice field crickets sauteed in tomatoes and onions.
Other house specialties are their Bamboo Rice, mountain rice cooked with shrimps, wood ear mushrooms, and bamboo shoots steamed in a bamboo shell, and Binukadkad na Pla-pla, a butterfly cut tilapia fried to perfect crispiness and served with balo-balo (fermented rice) and mustasa leaves (mustard greens).
Abe's Farm Address: 98 Livestock Village, Brgy. Ayala, Magalang, Pampanga
Aling Lucing Sisig
A Pampanga food trip will not be complete without tasting the iconic Kapampangan Sisig. A crowd favorite across the Philippines, sisig is a culinary delight made of sliced bits of meat from the pig's head, mainly ears and cheeks, boiled, grilled, and fried with onions and chili, and then served on a sizzling plate.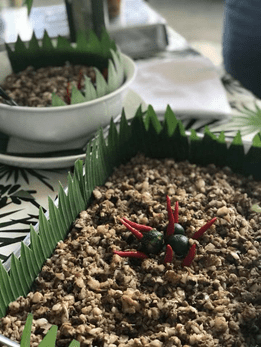 This flavorful dish is almost anywhere in the Philippines. But one of the best versions, if not the best of this, is right in Pampanga, where it all began.
Aling Lucing Sisig has been serving sizzling sisig since the 1970s. Luciana Cunanan, or simply Aling Lucing, was the first to introduce this mouthwatering dish in the region, earning her the Sisig Queen title.
What makes Aling Lucing Sisig stands out from the rest is its simple yet very satisfying recipe. If you are to visit Angeles City, make sure to drop by this quaint Filipino eatery for a simple but memorable experience.
Alig Lucing Sisig's Address: Glaciano Valdez St. Agapito del Rosario, Angeles City, Pampanga
Apag Marangle
Enjoy a unique dining experience in Apag Marangle or Hain sa Bukid (served in a farm) in Guagua, Pampanga. This Kapampangan restaurant serves both classic and unique Kapampangan dishes with nature as your beautiful backdrop.
A visit to this place is a pleasure to your senses as you get to eat flavorful Kapampangan dishes while outdoors enjoying nature's landscape with its gardens and beautiful sceneries.
Apag Marangle perfectly captures the taste of classic Kapampangan cooking with its mainstream and exotic dishes. Each dish is cooked with great care, giving you authentic local flavors.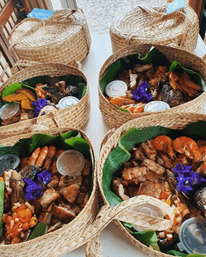 For classic Filipino favorites with a twist of Kapampangan flavors, you can try their Asado dish (traditional chicken and pork roast) that is not like your ordinary Asado.
Other popular dishes include Begukan (wok-fried pork belly with shrimp paste), Humba (pork braised in yellow bean paste), Suam Mais (corn soup in a clay pot), and Sizzling Balut, to name a few.
If you want more adventure, they have the exact meal for you. Apag Marangle also serves exotic dishes like frogs and crickets. One dish that picks the curiosity of most guests, especially tourists, is their Betute or deep-fried stuffed frogs. Another is the Camaru (crickets) that come either sauteed, fried, or in chili garlic.
Address: JASA, San Juan Nepomuceno – Dalan Betis, Guagua, Pampanga
Mila's Tokwa't Baboy
Another quaint eatery in Angeles City known for its tokwa't baboy and sisig is Mila's Tokwa't Baboy. This modest eatery became famous because of their house specialty – flavorful tokwa't baboy paired with a special sauce made of soy sauce, celery, and tomatoes.
It is true that tokwa't baboy is a dish you can find in various places in the Philippines. But what makes Mila's tokwa't baboy special is the simplicity in its ingredients yet still bursting with flavors.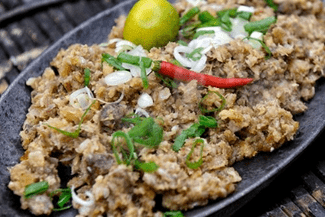 Of course, pair it with their special sauce plus a side of crispy sisig; your meal could never really go wrong. When going here, make sure that you arrive early or avoid peak hours. The area has limited parking space and it is hard to avoid long lines at this crowd favorite.
Mila's Tokwa't Baboy Address: San Angelo, San Andres St, Angeles City, Pampanga
Café Fleur by Chef Sau del Rosario
For a taste of Kapampangan cuisine with a French twist, Café Fleur by Chef Sau del Rosario is a must-visit. This unique restaurant in Angeles City is in an ancestral house with interiors that ad to the authenticity of your dining experience.
This sophisticated yet homey restaurant serves dishes with authentic Kapampangan flavors. All of which comes with a little French influence to bring your dining experience to the next level.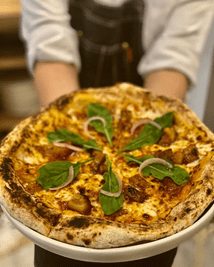 Just recently, they also opened a new branch in Poblacion, Makati. This is in the hopes of bringing this unique Kapampangan dining experience to Metro Manila.
Famous dishes at Café Fleur include unique takes on Crispy Shrimp Okoy (shrimp cake), Crispy Pork Belly, and Macadamia Kare-Kare (stew in peanut sauce) Lamb Caldereta with Kesong Puti and for dessert, Salted Egg Bibingka Cheesecake, and Pandan Sansrival.
Another must-try that you should not miss out on is their buro (fermented rice mixed with shrimp). It is one of the most well-known Kapampangan dishes, often paired with fried fish and some steamed vegetables. This combination of buro and fried fish is a perfect combination that every Kapampangan would definitely recommend.
Café Fleur Address: 343 Santo Rosario St., Angeles City, Pampanga
Related: Top 9 Safe Places to Explore in North Luzon
Just by being the Culinary Capital of the Philippines makes it already a top reason why you should visit the region, or better yet, why you should choose this province as your new home. Alongside its strong tourism and booming economy, the warmth of the Kapampangan people is truly what makes this province all the more attractive, especially to new families.
Live at the heart of Pampanga and have everything within arm's reach. Camella Pampanga, a 10-hectare house and lot development in Barangay Sta. Cruz, Porac, Pampanga welcomes you to a Spanish-Mediterranean-inspired community replete with unique amenities that your family will surely enjoy. Live in style and comfort, with warmth and sophistication, and enjoy all the pleasures life has to offer.
For more information on your selection of house and lot for sale in Pampanga, visit Camella's catalog. You may also browse through our various house models and property for sale across the Philippines.
Suggested Read: Instagrammable Cafés in Pampanga