A trip to the North is definitely not complete without setting foot in Pampanga province, the culinary capital of the Philippines. While this province is highly known for its world-class cuisines, Pampanga also prides itself on tourist spots that are certainly worth visiting.
From culturally rich getaway to festivities, up to an action-packed adventure and theme parks, Pampanga has got you covered. What is even better is that these Pampanga tourist spots are only one to two hours away from Metro Manila. This only means that it would be very accessible if you are craving for a quick escape from the hustle and bustle of the city.
Now, let us rove around Pampanga tourist attractions! Here is the rundown for the top tourist spots that you can enjoy with the whole family or your bunch of friends.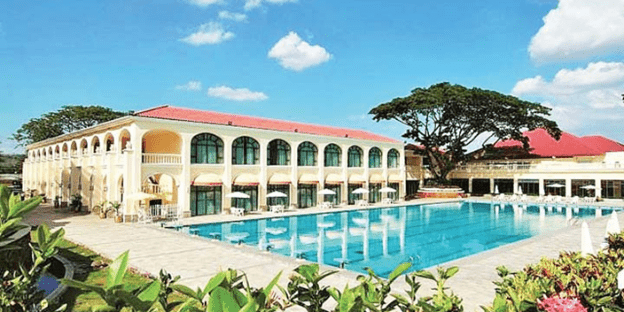 Fontana Leisure Park
Dubbed as the largest and most integrated leisure park located within the Clark Free Port Zone at Clarkfield Pampanga, Fontana Leisure Park definitely promises a huge water adventure that you should try one of these days.
This park is one of the best Pampanga tourist spots that offer water park amenities such as an idle river, three giant aqua exciting slides, a water factory, an Olympic-size pool, a hot spring, and a lagoon pool. It also houses a refreshing water cottage slide and a kiddie pool that are all best shared with the family and loved ones.
The fun never stops at these water attractions. Here, you can also indulge in a revitalizing and relaxing sauna and spa experience, play some popular games at their sports center, delight in traditional and authentic Chinese dishes at their Red 8 restaurant, refresh yourself with their freshly squeezed fruit juices or have a sip of good coffee at their Coffee, Tea and Juice Bar.
Location: Fontana Leisure Parks C.M. Recto Highway, CFZ 2023, Pampanga, Philippines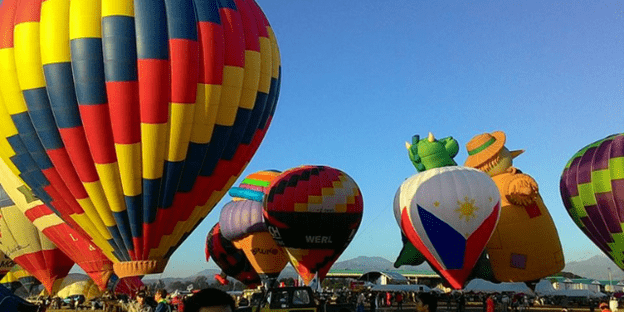 Philippine International Hot Air Balloon Fiesta
If you are into a fun and colorful activity, then you might as well not miss witnessing Pampanga's Hot Air Balloon Festival. This annual event usually happens between January and February at Clark Freeport Zone, only a few kilometers from Camella Pampanga.  
Exciting to experience in this festival include hot air balloon competition, aircraft maneuvers, and precision flying, sky diving, aircraft rally, flag jump, balloon bursting competition, powered paragliding, static aircraft scale modeling, kite flying, trade fair, carnival rides, and nightly concerts.
Depending on wind conditions, guests can also ride the balloons for discovery flights. Now, who is excited for this pandemic to end and experience this one-of-a-kind hot air balloon festival?
Location: Clark Freeport Zone, Pampanga
Sky Ranch Pampanga
Both kids and kids at heart will definitely have the time of their lives in Sky Ranch Pampanga. This theme park houses the Pampanga Eye, which is the tallest Ferris wheel in the country. If you are looking for a place where you can make happy memories filled with smiles, laughter, and fun, then this amusement park is perfect for you.
There are rides that can be enjoyed by the whole family, such as their Double-decker Carousel, SkyCycle, Gear Shifter, Field Runner, Indianapolis, Express Train, Bumper Boat, Kangaroo Jump, Dragon Parade, and so much more!
Kids can also make the most of their visit by riding Sky Ranch Pampanga's Safari Train, Convoy Tour, Canoe River, and Pedal Boats.
For thrill-seekers, absolute fun is waiting when you ride the park's Super Viking, Drop Tower, Loop Roller Coaster, and Space Shuttle.
Location: SM City Pampanga Complex, Barangay San Jose, San Fernando, Philippines
Schedule: Saturday and Sunday, 11AM – 8PM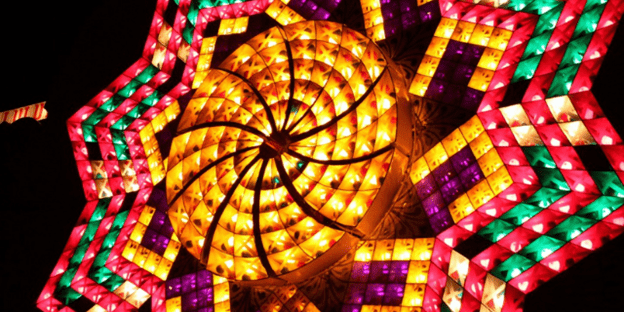 Giant Lantern Festival
Did you know that apart from being the Culinary Capital of the Philippines, Pampanga is also known as the Christmas Capital of the country? Holding the title means you should not miss visiting the province during Christmas time to witness its Giant Lantern Festival. Happening in mid-December in the City of San Fernando, this annual festival is the biggest, brightest, and most colorful event in the country.
Just as the name suggests, the festival features a competition of giant lanterns whose grand structure and elaborate designs are already an attraction. The contest is being participated by Kapampangan local lantern makers, each tasked to represent every village in San Fernando City. Symbolizing unwavering hope, the festival is home to innovative designs that display creativity and infuse originality, all while signifying a hopeful Christmas spirit to the thousands of attendees.
Location: City of San Fernando, Pampanga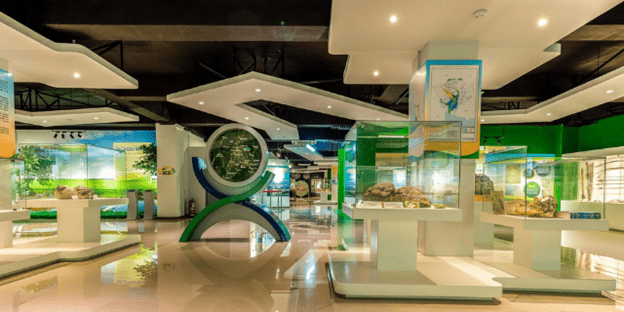 Clark Museum and 4D Theatre
Pampanga definitely has diverse offerings in terms of tourist destinations. Here, you can also immerse yourself in history by visiting Clark Museum. This museum in Pampanga features an expanded collection of artifacts, true-to-life replicas, scenic dioramas, old photographs, murals, and interactive displays telling the Filipino spirit of bravery and ingenuity of a nation's sovereign.
It will also walk you through the history of Clark, Pampanga, and surrounding areas and these areas' stories on social and economic advances and continuing progress.
For a heightened museum experience, you should not miss trying the museum's 48-seater state-of-the-art 4D Theater featuring a 20-minute documentary film entitled "Risen from the Ashes." The film shows the eruption of Mt. Pinatubo in 1991, accompanied by in-theater effects like wind, bubbles, and mist.
Location: 2528 S Osmena, Clark Freeport, Mabalacat, 2010 S Osmena, Clark Freeport, Mabalacat, 2010 Pampanga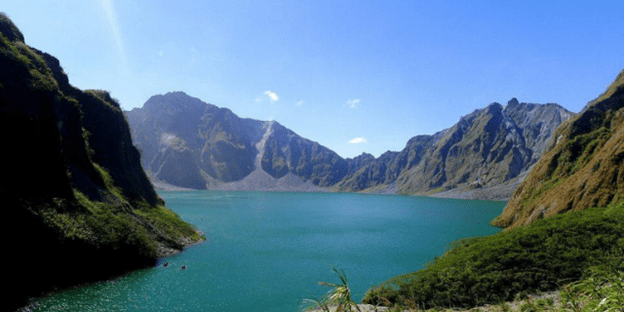 Mount Pinatubo
Often called the "beautiful disaster," you will definitely find yourself lost for words describing how wonderful it is to see Mt. Pinatubo. This Pampanga tourist attraction boasts a crater lake with magnificent crystal clear waters and the world's largest lahar canyon. To see it, you will have to use an ATV ride or experience a 4×4 off-road adventure from the base camp to the jump-off point.
Expect the ride to be a rocky one, but once you are in a spot overlooking the lake, all the bumps from your ride are worth it. You will also be hiking up the mountain for about two hours, and the reward for the effort is the real jewel of the area, the lake.
Here, you can rest, explore the area, enjoy a delicious lunch or interact with the Aetas, an indigenous tribe in the Philippines – all while taking in magnificent views surrounding you.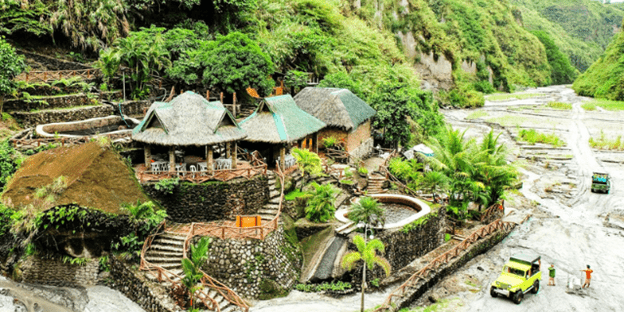 Puning Hot Springs
Conquering and trekking the ragged terrain of Mt. Pinatubo calls for a relaxing treat for your body. On the Pampanga side of the mountain is one of the wonders created by its destructive explosion – the Puning Hot Spring.
The trip to the hot spring gives you a visual treat, with river and slopes, towering walls of mountain and lahar, and lush landscapes. Arriving in the hot spring, you will be welcomed by layers of small pools where you can enjoy a therapeutic dip into the relaxing waters. In this Pampanga tourist attraction, you can experience the healing effect of the therapeutic bath from the warm thermal spring of Mt. Pinatubo.
Location: Sitio Target, Sapang Bato, Angeles City
As years go by, Pampanga has proven that the province is more than just its rich culture and culinary delights. Pampanga has definitely proved to be an exciting tourist destination, with its long roster of must-visit attractions. The list above is only some of the various options that you can check out in the province.
Live close to these Pampanga tourist spot destinations by exploring a community that is a short drive away. Camella Pampanga is a 9-hectare house and lot development, located in Angeles City, Porac, Pampanga. This community is also just 10 minutes away from Clark International Airport, which also makes it an ideal residence for those who like to travel internationally.
Check out our house and lot for sale in Pampanga and other properties for sale.