When it comes to cuisine, the Philippines has a lot of delicious dishes to offer. Whether you travel north or go down to the southern part of the country, you'll definitely find a place that serves sumptuous food in the unique Filipino way. From street food to elaborate dishes, the Philippines has a lot of options to offer.
As we travel across the country, we also encounter popular Filipino food carrying varying influences. Some Filipino dishes are a fusion of other cuisines such as Malaysian, American, Chinese, and Spanish. That is because our food and how we prepare them are deeply tied to our history. Its result is a fusion of many influences that together forms a distinct Filipino food culture.
If you were to ask tourists what Filipino dishes they love, the most common answer is probably sinigang, lechon, and the national dish, pork or chicken adobo. Now, let's take our taste buds on a trip as we discover some of the favorite Filipino dish famous across different locales in the country.
Below, we have listed foodie destinations where you can go to binge eat when this pandemic calms down:
Filipino Cuisine to Try in Luzon
Tired of your regular fried chicken and chicken soup? Below is a list of Filipino dishes from Ilocos, Pampanga, Batangas, and Bicol that you can try.
Ilocos
Empanada
You haven't had a proper taste of the Ilocano cuisine until you have tried Ilocos' empanada. Generally, there are two kinds of empanada in Ilocos: the Batac (or Laoag) empanada and the Vigan one.The Batac empanada is recognizable for its bright outer orange color and its traditionally local ingredients. Inside, it is filled with green papaya or bean sprouts, egg, and longganisa. The Vigan empanada is the same while retaining the usual empanada color.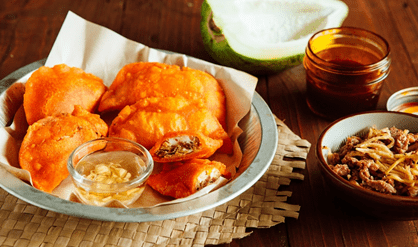 Pinakbet
Another food originating from Ilocos is pinakbet, a vegetable dish with squash, ampalaya, sweet potatoes, eggplants, string beans, okra, and fatty pork belly. It is said that the secret to a good Ilocano pinakbet is the shrimp paste. Like any other Filipino dish, pinakbet is perfect when paired with a steaming cup of rice.
Pampanga
Sipo Egg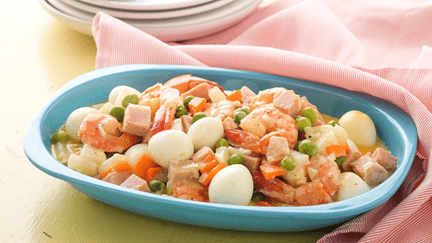 Known as the Culinary Capital of the Philippines, Pampanga offers a wide variety of Filipino dishes just a few hours away from Metro Manila, making it one of the best foodie destinations.
First on the list is the Pampanga Sipo Egg, which is a popular Kapampangan dish made of shrimp, mixed vegetables, quail eggs, and rich, thick cream sauce. It is usually served during special occasions, but here in Pampanga, you can have it served to you at any time of the day. One of the oldest and recommended restaurants in Angeles, Pampanga, that serves Sipo Egg, is Dainty Restaurant.
Kare-Kare
Next on the list is kare-kare, a popular Filipino stew made with rich and thick peanut sauce. Kare-kare is said to be the Filipino version of the curry from other Asian cuisines. But the Kapampangans would argue that it is an original dish from Pampanga. The traditional kare-kare is made of ox tripe and tail complemented by blanched vegetables such including eggplant, string beans, and banana blossoms. To complete the dish, shrimp paste is also added to enhance the flavor. All you need is plate of hot rice.
Batangas
Lomi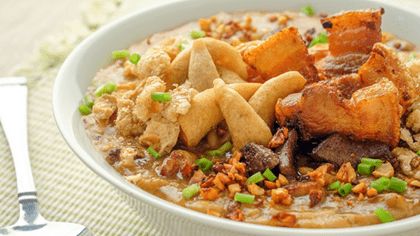 From North, we go a little down the South. Ala eh, your Batangas trip will never be complete if you haven't had a taste of the trademark Batangas Lomi. The Batangas Lomi is different from the usual lomi from any part of the country since it has a thicker soup and is topped with a generous serving of liver, kikiam, pork rinds, lumpia, among other things. Curious about how it tastes and looks? Visitthe Corcolon Lomi House in San Jose, Batangas, and give it a try.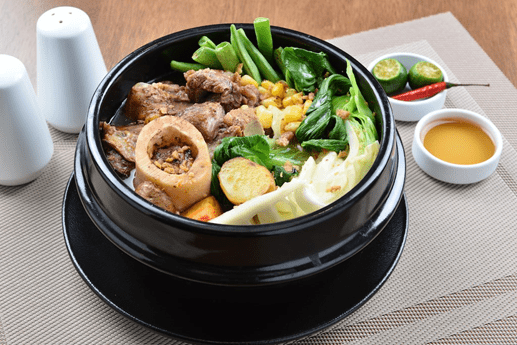 Bulalo
If you have ever been to Batangas, you would notice that they are never short of bulalo places. The Batangas version of this beef shank and bone marrow stew is the simplest yet most satisfying Bulalo. Cooked with cabbage and sometimes sweet corn, bulalo's broth is clear and rich that is just perfect for cold or rainy days.
Bicol
Kinalas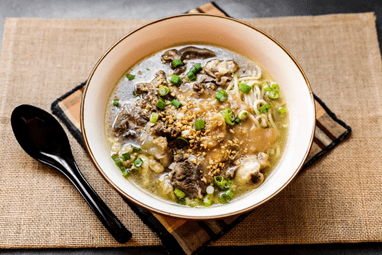 The Bicol Region is most known for its spicy and coconut-based dishes. But aside from that, there's another reason why you should visit Bicol, specifically Naga City. Similar to a mami, kinalas is a noodle dish served with rich broth, scraped meat, and other spices. The only thing that differentiates it from mami is its thick brown sauce which gives it more flavor. One of the famous places that serve the best Kinalas that you should try is Aling Cely's Kinalasan.
Bicol Express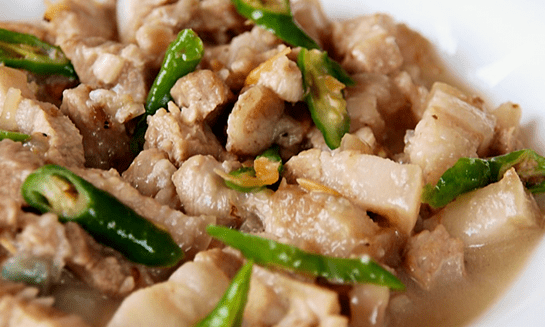 Next on the list is the Bicol Express, named so after a train in the Bicol Region. Bicol Express is a spicy stew made with bite-size pork, coconut milk, and lots of chili. This dish is especially loved because of its contrasting flavors, primarily from the coconut milk, shrimp paste, and chilis.
Filipino Cuisine to Try in the Visayas
Going south, we discover the favorite local cuisines in the Visayas. Below are the famous dishes from Cebu, Iloilo, and Bacolod.
Cebu
Lechon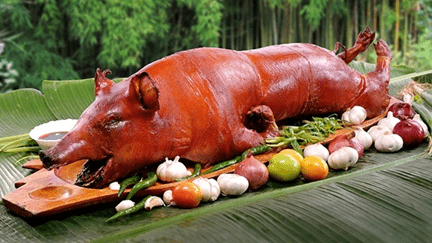 Heading on to the Visayas region, our first stop is the "Queen City of the South," Cebu. When we talk about Cebu, one thing that comes to our minds is their Lechon. Right? Other places offer lechon, but nothing beats Cebu's crunchy golden skin, juicy and tender lechon. And speaking of the best lechon, Rico's Lechon tops the list. This globally recognized chain offers lechon in two flavors: the favorite original and the spicy lechon. You would not want to miss trying this next time you are in Cebu.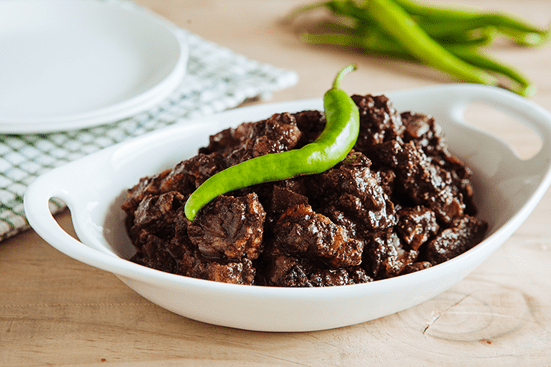 Dinuguan
If there's a lechon, there is almost always dinuguan. When making a lechon, the pig's blood is drained and only the meat is sent to the grill. Making use of the entire pig, the remaining blood and intestines are then made into dinuguan. The dinuguan is a spicy blood stew cooked with lots of garlic, chili, and vinegar. For the best food experience, dinuguan is best served with puto.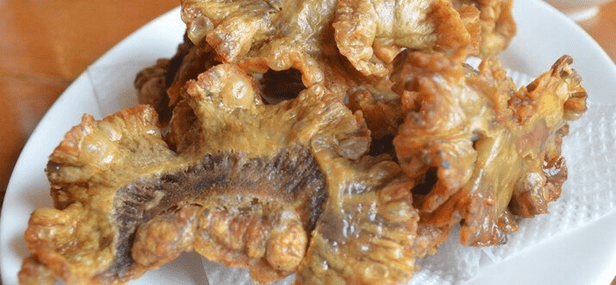 Ginabot
For street foodies, you would not want to miss trying Cebu's popular street food, ginabot sa pardo or simply, ginabot. This crispy dish is Cebu's version of chicharon bulaklak but made from pig intestines that are deep fried to be crunchy. Ginabot is best paired with puso and a cold drink.
Iloilo
La Paz Batchoy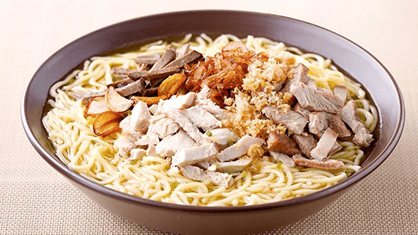 Another noodle dish joining the list is Iloilo's La Paz Batchoy. As its name suggests, this dish originated in La Paz, Iloilo City. An original batchoy uses miki noodles, pork organ sprinkles, and a rich broth. To get the best food experience, it is best to have your batchoy topped with chicharon (pork cracklings) and raw egg or sliced hard-boiled eggs. If you want to taste the original Iloilo batchoy, visit Deco's Original La Paz Batchoy.
Pancit Molo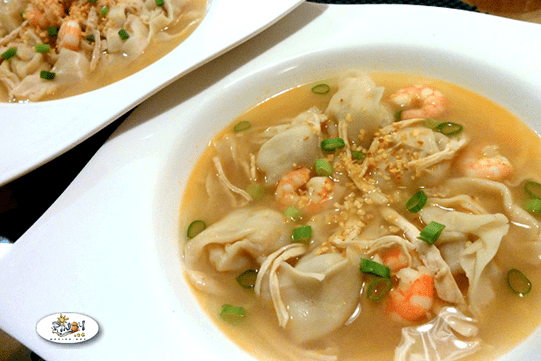 If you want more soup, you can also try Iloilo's Pancit Molo, a version of the Chinese wonton soup with a local twist. Instead of noodles, this dish uses Molo balls, or ground pork wrapped in Molo sheets. You can have your Pancit Molo in different flavors like shrimp, pork, or chicken but they are often served with egg, garlic powder, and black pepper.
Bacolod
Chicken Inasal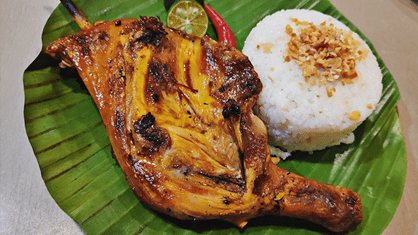 When it comes to chicken inasal, Bacolod's recipe is no doubt one of the best. Their chicken inasal is marinated in calamansi, local herbs, and spices and grilled slowly to achieve a tender and juicy taste. Chicken inasal is best eaten with your bare hands and a dipping sauce made of soy sauce, calamansi juice, and chili.
And if we're talking about the best of the best chicken inasal in Bacolod, the title is given to Aida's Chicken. When visiting this chicken restaurant, you need to be early, or else you'll be joining the long line of customers.
Aklan
Binakol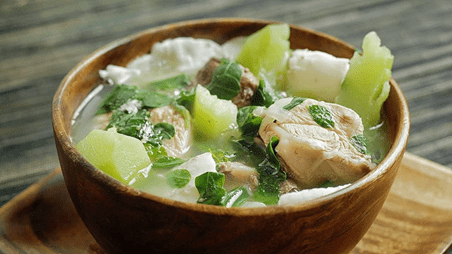 Another famous chicken dish in the Visayan Region is the chicken binakol from Aklan. If you're a fan of Tinola, then you might want to consider trying this dish. The only difference is that it is cooked in coconut water and coconut meat. If you're looking for comfort from food paired with superb ambiance, check out Nonie's at Boracay Island.
Filipino Cuisine to Try in Mindanao
Further south, we go to the colorful islands of Mindanao. With more diverse influences, below are the favorite dishes from Cagayan de Oro and Sulu.
Cagayan de Oro
Sinuglaw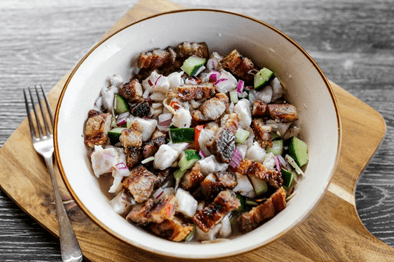 Moving forward with our local food stop hunting, let's go to the Southernmost part of the Philippines, Mindanao. A meal is never complete without appetizers, and if you're someone who loves exploring unique dishes, you'll surely love sinuglaw. It's a combination of grilled pork belly (sinugba) and raw (kinilaw) fish—which is sinuglaw in short. Talking about the best Sinuglaw, Kagay-anon Restaurant in Cagayan de Oro serves it best.
Sulu
Piyanggang Manok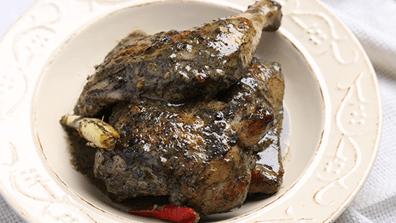 Another favorite Mindanao cuisine is Piyanggang Manok. This is a native Tausug dish that originated in Sulu. The chicken is slowly cooked in turmeric, garlic, onion, lemongrass, ginger, chilis, and coconut milk. Complete your Mindanao trip by trying this local dish. The most popular restaurant that serves Piyanggang Manok is Babuh Hana's Restaurant that also serves other native Tausug dishes.
It's amazing how our country has a lot to offer and show to the world. These cuisines are just some of the many things that make our history and culture colorful that we can be proud of.
Though the pandemic has hindered us from traveling and trying out new things, it shouldn't stop us from learning more about the Filipino culture. If you are fond of trying new recipes and well-loved Filipino dishes, you can try these local cuisines at home.
If you wish to find your home close to these uniquely Filipino dishes, check out Camella's house and lot for sale across the Philippines.