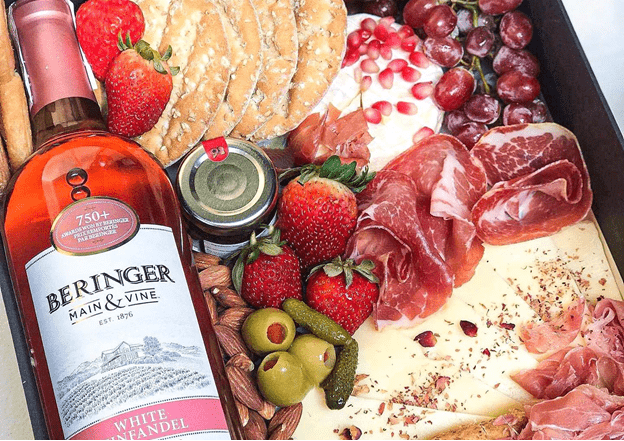 Picture this – you have just moved into your dream house and lot and wanted to throw a celebration. Enter charcuterie boards which are the perfect choice to start with. Gone are the days when appetizers and snacks are just dull preludes to the main course of every dinner table. Recently, charcuterie boards are making their mark in every household celebration. Be it anniversaries, birthdays, or housewarming celebrations, nothing says "welcome" more than a delectable charcuterie and graze box. 
A part of French cuisine and tradition, charcuterie boards are often featured as the go-to appetizers on many different occasions. They are popularly served as appetizers for holiday celebrations, wine tasting events, weekend dinners, and cocktail parties. It is composed of an assortment of bite-sized cured meats, fruits, cheeses, bread, and nuts elegantly laid out on a wooden or slate serving board.
Part of a charcuterie or grazing board's charm lies in how it is presented. Presentation is a crucial factor when serving charcuterie boards. The way it is arranged adds a certain appeal to it. It essentially highlights the different foods presented and creates a visually enticing appetizer that can impress both your family and guests. No doubt having this delectable spread would be perfect for any celebration you host in your home.
How are Charcuterie Boards Made?
Strictly speaking, charcuterie translates to pork-butcher shop. And charcuterie boards only showcase cured or dressed meats. However, the modern take on charcuterie board now includes bread, cheese, an assortment of nuts, fruits, and even spreads. Below is a list of the different types of food you can find on any charcuterie or grazing board.
A definite staple in charcuterie boards, cured meats dictate the type of board you want to serve. The same goes for the accompanying cheese and other accouterments like nuts, dried fruits, and pickles. It is essential to choose varied textures for your cured meats to come up with great flavor combinations. Most would pick out the favorites: salami and prosciutto.
Salami is a generic term for spiced ground meat wrapped in sausage casings and smoked or dried to achieve that rich taste. Some types of salami that you might be more familiar with include chorizo (Spain), soppressata (Italy), and the famous pepperoni (USA). Salami usually goes well with bread, cheese, and fruits.
On the other hand, prosciutto is a thin slice of fatty meat that has been cured in salt and dried for several months. It is usually made from pork, but duck, lamb, and other meats will also do. The process of curing meats in salt and dried for months will result in prosciutto. Prosciutto is best paired with fruits and other meats as well.
Another core element of charcuterie boards is cheese. There are different types of cheese to feature on your spread, but if you are unsure of what to pick, you can always rely on the following: gouda, brie, cheddar, parmesan, and blue cheese. These are universal favorites since they all vary in mouthfeel, acidity, saltiness, and milk content, although blue cheese can be debatable. 
You want to have at least three to four types of cheeses with different tastes, textures, and aromas to complement your spread. And as you are deciding what you want to include, keep in mind that your cheese selections should match well with your wine of choice.
Fresh and soft cheeses like feta, mozzarella, and brie go excellent with fruits and jams. These are best served at room temperature and have a silky, buttery, melt in your mouth texture. These cheeses pair well with a great bottle of Merlot or Chardonnay.
Semi-firm cheeses like an excellent old cheddar or gouda have a dense, sweet, and nutty taste with a hint of saltiness. These deeper and nuttier notes are usually a typical characteristic of aged cheeses. These go great with accompaniments like apple slices, walnuts, and salted crackers. If you are including these cheeses on your board, you probably want to opt for a bottle of cabernet or zinfandel for your wines.  
For hard cheeses like parmesan and asiago, have a nutty, salty, and spicy flavor that complements cured meats like prosciutto and salami. Hard cheeses typically have a crumbly and dry texture, and the best way to serve them is by grating or slicing them. They add a bit of crunch and can also be paired well with jams, nuts, and dried fruits.
If you feel a little bit adventurous, blue cheese is another way to put a bit of spunk on your charcuterie board. Not everyone may find this aged cheese appetizing because of its smell, but it sports a creamy and earthy flavor that pairs well with a good bottle of Merlot. Blue cheese also pairs well with rye bread, baguette, an assortment of nuts, and cherries.
As a general rule, pick fruits and nuts that go well with the cured meats and cheeses you have chosen to include on your board. If you do not know which combinations would go well together, you can always refer to the classics. Try pairing cheddar with grapes, cherries, and walnuts. 
For soft cheeses like brie and ricotta, cherries, strawberries, and pears are great choices. Classic nuts that you can include are roasted almonds, walnuts, and pistachios. In addition, pickled veggies like the classic cornichon are great staples to have on your charcuterie board.
One of the most incredible things to ever happen to mankind is bread. Bread like croissants, baguettes, and sourdough is already great on their own but paired with cured meats, and a variety of cheeses elevates the charcuterie experience even further. Popular options for a charcuterie board include French sourdough, rye bread, toasted baguette, and thin multi-grain crackers and biscuits.
For homemade charcuterie boards, visit this blog: How to Make a Charcuterie Board (VIDEO).
Where Can You Get Charcuterie Boards?
If you do not have enough time to get all the ingredients necessary for your own charcuterie board, worry no further. Here is a list of restaurants and online food businesses that deliver charcuterie boards to house and lot developments near Metro Manila.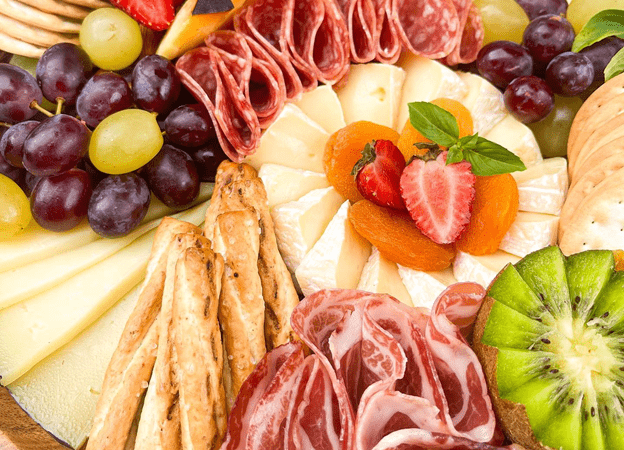 CASED
This Marikina-based grazing boxes company offers their stunning charcuterie and grazing boxes for every family looking to celebrate special occasions at home. CASED specializes in sophisticated charcuterie boxes that include premium cured meats, cheeses. They also offer various accouterments like the classic cornichons, roasted nuts, dried and fresh fruits, rustic crackers, bread, pretzels, jams, and honey. They also add personalized notes, particularly for special occasions.  
Their charcuterie and grazing boxes are priced between PHP 1,500 and PHP 2,800, with each size option including a bottle of wine. Customers also have the option of requesting more cheeses or cold cuts for an added fee. If you want to have incorporated your personal touch, CASED allows customers to customize their own charcuterie boxes. 
You can specify what type of cheese you prefer or which wine you want by sending them a message through CASED's Instagram account or via their SMS at 09159447558, which they will provide a quote for. For those interested, CASED advises customers to place their orders and customizations a day before they want them delivered.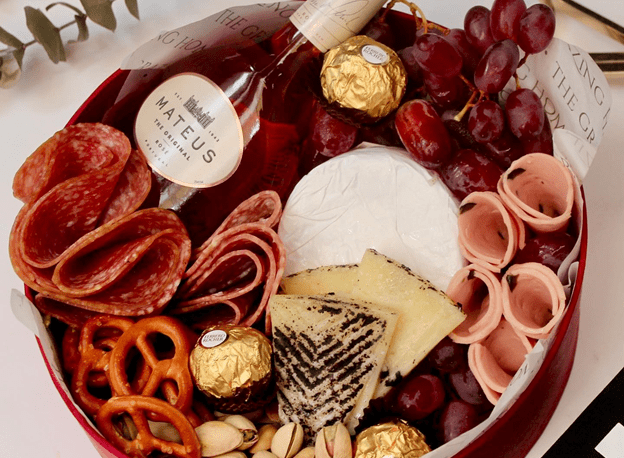 The Grazing Home
The Grazing Home is located in Quezon City and offers curated grazing boxes for special at-home celebrations. This Quezon City-based charcuterie and grazing box business offers affordable premium charcuterie boards and grazing boxes. 
Their price lists range from PHP 900 to PHP 3,000 depending on the size of the graze box you want to order. The FOR ME graze box, which is suitable for one to two persons, is priced at PHP 900. If you want something good for three to five people, the FOR US graze box comes at PHP 1,500. The FOR ALL graze box can cover six to eight persons priced at PHP 3,000 and comes with a bottle of wine. 
Should customers want to request a bottle of wine and either the FOR ME or the FOR US boxes, all they need to do is add PHP 500 on top of the price of the box they prefer.
You can place your orders through their Facebook page, Instagram account, and via SMS at 09173287568. Customers are advised to place their orders two days before delivery to ensure the graze's freshness and quality.
Check out this list of affordable charcuterie and cheese platters for those on a budget: Cheese Platters You Can Order For P1,000 Or Less (yummy.ph).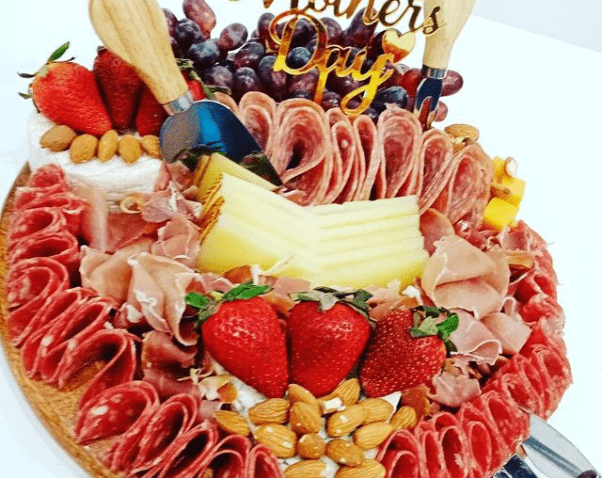 The Cheese Mesa
If you are in Mandaluyong and suddenly felt like having a fancy Friday night, look no further. The Cheese Mesa is a famous cheese shop that offers stunning wooden cheese and grazing boards to customers. Their platters and boards come in three sizes:
An 8-inch board good for 2-3 people
A 12-inch board good for up to 10 people
A 14-inch board that caters to 12-16 persons
Each board consists of a beautiful acacia wooden board carrying 5 kinds of cheeses (manchego, gouda, brie, blue cheese, and cheddar), 3 types of premium cured meats (prosciutto, chorizo, and salami), imported thin crackers, grapes, strawberries, almonds, honey with dipper, and a celebratory topper for any occasion. They also have a selection of wines that customers can choose from to match their platters.
You can order through their Instagram page or via SMS at 09566191099. They cater to deliveries, but you can also opt to pick up your boards personally if you happen to be around the area.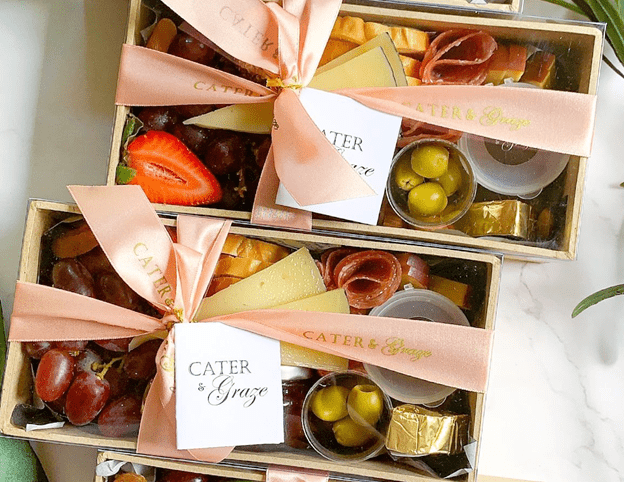 Cater & Graze
Another catering business in Mandaluyong, Cater and Graze, offers grazing tables, charcuterie and grazing boxes, and festive platters. This customized catering service has been featured by top media outlets due to its vibrant premium quality platters and spreads. Their grazing boxes and platters range from PHP 999, enough for two to three people, to PHP 9,999 for grazing baskets and table spreads to cater to more than 25 people. 
Depending on what size you go for, the food selections will include several selected imported kinds of cheese and cold cuts. It also comes with seasonal fruits that go well with it, accouterments like nuts, olives, and cornichons, biscuits and crackers, honey, chocolate, and even wine. Customers can visit Cater & Graze's Instagram for more details about their menu. You can place your orders via SMS at 09178888037 and also through Instagram.
Cater and Graze allow for customization of graze boxes and special requests for specialty cheeses and cold cuts upon request by the customers. In addition to delivering services all around Metro Manila, they also deliver to select areas of Cavite, Laguna, Bulacan, and Rizal.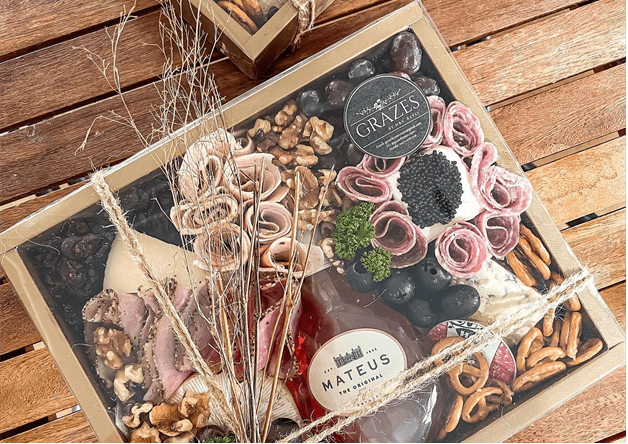 Grazes by Mrs. Reyes
With 4 size options to choose from, Grazes by Mrs. Reyes offers stunning grazing boxes and platters that include three types of cheeses. There are also fruits like dried cranberries and grapes, chocolates, olives, almonds, walnuts, and – wait for it – a caviar cake! Their Moyenne grazing box, which is suitable for two to four people, is priced at PHP 1,099. Additionally, customers can opt to customize their packages as well. You can even request a bottle of red wine to come with your order.
Customers can place their orders a day before their preferred date of delivery. They can do so through the Grazes by Mrs. Reyes's Instagram account or via SMS at 09770783716.
For more charcuterie shops to choose from, check out this article: LIST: Where to get grazing boards in Metro Manila (rappler.com). Also, have a quick, easy, and hassle-free delivery service when you use the Get All Delivery Services App!
While it is not a traditional meal one would usually see in a typical household, charcuterie boards have gradually wormed their way onto the dinner tables of every Filipino family. 
One of the most highlighted values we have as Filipinos is our family-oriented nature. With over 40 years of building healthy and happy homes for every Filipino, Camella is the leading developer of residential properties and house and lots in the Philippines. Visit Camella's home offerings and schedule an appointment to view their house and lot for sale listings.