Applying for a home loan in the Philippines may sound like a complicated process. However, this can also be your first step towards owning your dream house and lot or condominium unit. All you need is the right guide with a comprehensive breakdown of each step you will go through.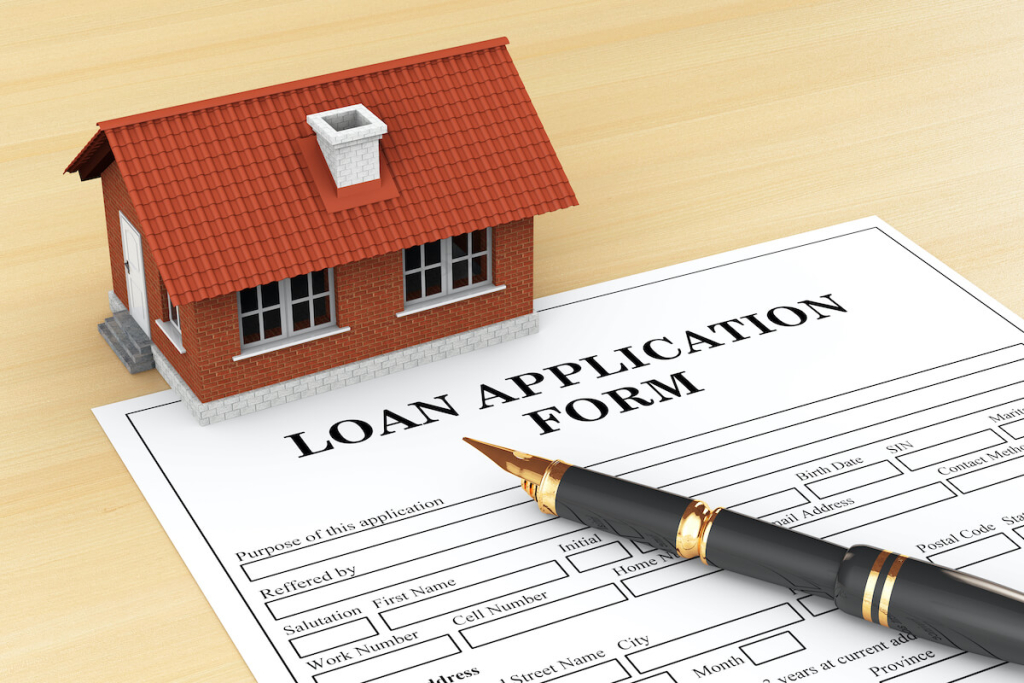 What is a housing loan, and why do people need it?
Whether you are preparing for a house construction, purchasing a home, or investing in a residential lot, this process always involves a huge cash-out. For those without enough cash or who want to leverage their money on other investments, housing loan is the answer.
A housing loan or home loan can come from a bank or any other financial institution. Furthermore, home loans are long-term liabilities that usually extend between 10 to 30 years of loan payment term.
What are the purposes for a housing loan application?
Did you know that the purpose for a housing loan application is not limited to acquiring a real estate property? An applicant may also take up a home loan to refinance an existing housing loan or renovate their property.
In this guide, we will walk you through the entire home loan application process. Furthermore, we will differentiate the requirements for locally employed, self-employed, overseas Filipino workers (OFWs), and foreign borrowers. Lastly, this article looks into the home loan processes and conditions of some of the local banks to help you find the best-suited deals for your needs.
Steps in applying for a home loan
Suppose you already have a property in mind with its ballpark figure for the loan amount. In that case, the following are the steps you have to go through next when processing your housing loans in the Philippines:
1) Check eligibility and requirements
Before you send in your housing loan application, ensure you have passed the bank's minimum eligibility and requirements. The criteria may vary across different banks, but it generally includes factors such as income, age, credit score, employment status, and whether you have an existing housing loan. In addition, the bank may also require documents that include, but are not limited to, the following:
Government-issued IDs

Proof of income (Certificate of Employment indicating salary, Income Tax Returns, etc.)

Birth Certificate

Marriage Contract

Documents pertaining to collaterals

Latest statement from existing bank accounts

Special Power of Attorney (for OFWs)

Visa (for foreigners)
A full list of requirements is discussed below.
Knowing these requirements beforehand allows you to shortlist banks and save time and effort. Additionally, familiarizing yourself with these requirements can help you prepare and improve your approval chances. Ultimately, this helps you manage your expectations and work on aspects of your eligibility that needs improvement.
2) Choose your bank and loan package
After screening the banks you qualify for, the next thing you have to do is compare their home loan products. When comparing products, the most important factors in evaluating are interest rates, loan terms, fees, and flexibility.
See the chart for bank eligibility and requirements below.
3) Application submission
Once you have identified the bank with the most suitable home loan product, you can start submitting your application. Some banks may require you to turn in your housing loan application at a branch and set a meeting with their account officer. However, some banks do allow online submission. At this stage, you must submit the bank forms, personal information, proof of financial standing, and the property details you want to purchase.
4) Wait for the approval
After submission, it is up to the bank to approve or decline your application. Depending on the bank granting the home loan and the complexity of your application, this usually takes between 7 to 10 banking days.
What if the bank declines your application? In that case, the first thing you need to do is determine why you were unqualified. You may need to increase your income sources, improve your credit rating, or provide additional collateral. Alternatively, you may reapply with a co-borrower or consider a different financing institution.
If the bank approves your application, you will receive a home loan offer that includes the loan amount, interest rate, loan maturity, and monthly amortization.
5) Review and signing of the loan agreement
Once the bank approves, you may sign the home loan agreement and pay the necessary fees. Such fees include but are not limited to the following:
Processing fee

Appraisal fee

Notarial fee
In some cases, you may also need to settle the down payment, which is a percentage of your property's total cost, before your loan request can proceed.
6) Register the mortgage
After signing the loan agreement and settling the fees, the next step is registering the mortgage with the Registry of Deeds. This important step protects the bank's interest in the property.
7) Receive the loan proceeds
After the mortgage registration, the bank will release the loaned amount to you, accredited developers, or the property seller. However, this depends on the loan agreement. In some cases, you may also need to provide post-dated checks or enroll in an auto-debit arrangement for your monthly loan payments.
After that, you can use the funds to purchase your dream home.
Requirements for housing loan borrowers
Home loan requirements may vary for different people, depending on their employment status, source of income, and citizenship. For housing loan borrowers from banks in the Philippines, the following are the main classifications:
Self-Employed Borrowers
Proof of income as evidence of income through business and tax documents. This includes income tax returns (ITR), audited financial statements, and latest statement from an existing bank account.

Business registration documents, such as permits, SEC registration (for corporations), and DTI registration (for sole proprietors).

Collateral documents such as a title deed or other property documents.

Good credit history through credit reports and credit scores.

Valid IDs such as driver's license, passport, and other government-issued IDs

It may also include submission of additional required documents such as proof of billing, marriage certificate, birth certificate, and other supporting documents.
Locally Employed Borrowers
Proof of income through ITRs, payslips for the past 3 to 6 months, and a certificate of employment indicating salary.
The rest of the requirements are the same as with the self-employed borrowers.
OFW Borrowers
Your latest employment contract indicating your salary and employment terms, as well as current working visa.

A special power of attorney (SPA) authorizing a representative for those who cannot personally apply for housing loans.
The rest of the requirements are the same as with the self-employed and locally employed borrowers.
Foreign Borrowers
Banks that allow foreigners to apply for a housing loan may require the basic documents and a qualified foreign visa.
The rest of the requirements are the same as with the self-employed, locally employed, and OFW borrowers.
Choosing the best housing loan
Banks usually offer different terms and fees for their home loan products. A housing loan can also have a flexible or fixed interest rate, depending on the financial institution. Furthermore, some banks may also impose other penalties, such as the one for early loan repayment.
Generally, banks require a minimum loan amount of at least Php 500,000 and can cover up to 80% of the appraised value of the property. Going further into the specifics, below is a summary of the qualifications and limits for RCBC, Chinabank, and BDO home loans.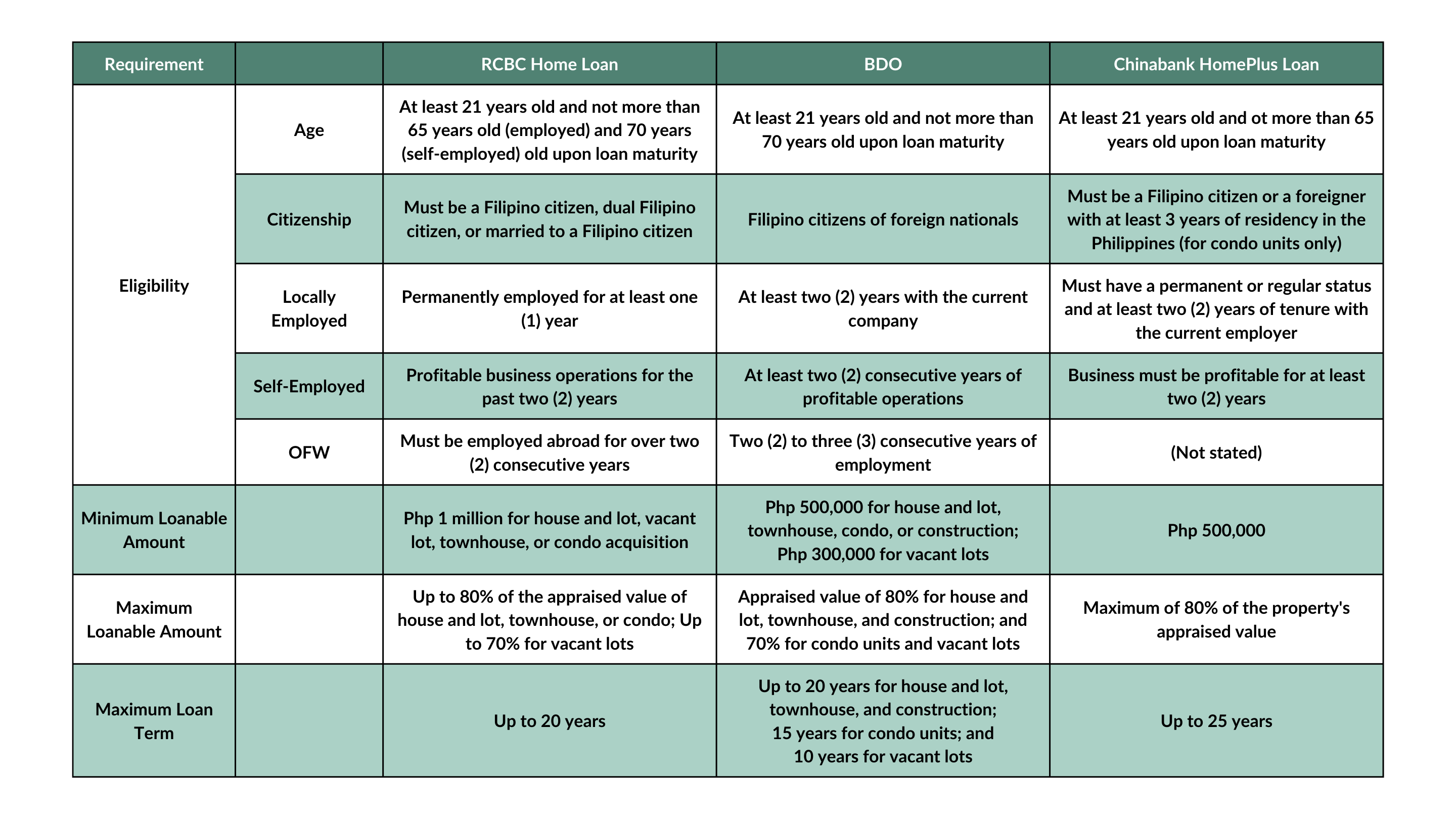 Read more on banks to help you finance your dream home.
Faster home loan processing with Camella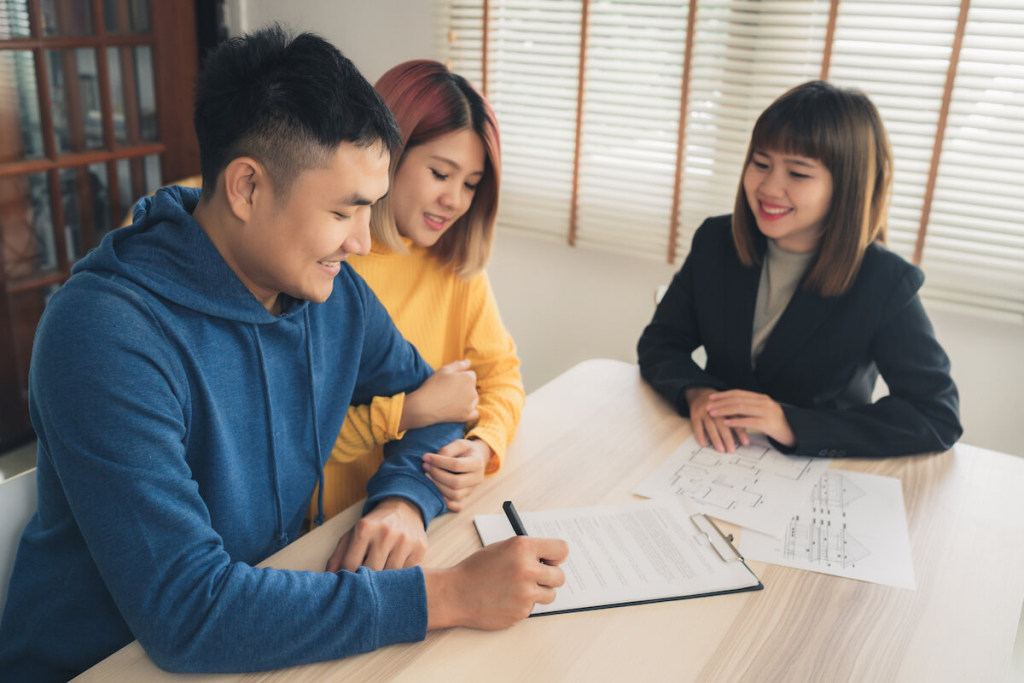 Do you want a streamlined home loan application in the Philippines? Developers like Camella speeds up this process and assists in your housing loan from application to the release of funds. Aside from these, Camella makes home loans easier in the following ways:
Hands-on assistance
Camella has people that can explain how the housing loan application works to clients and guide them from start to finish. They can also help you prepare the necessary documents and requirements and provide tips at every step of the housing loan process to ensure your approval.
Bank accreditation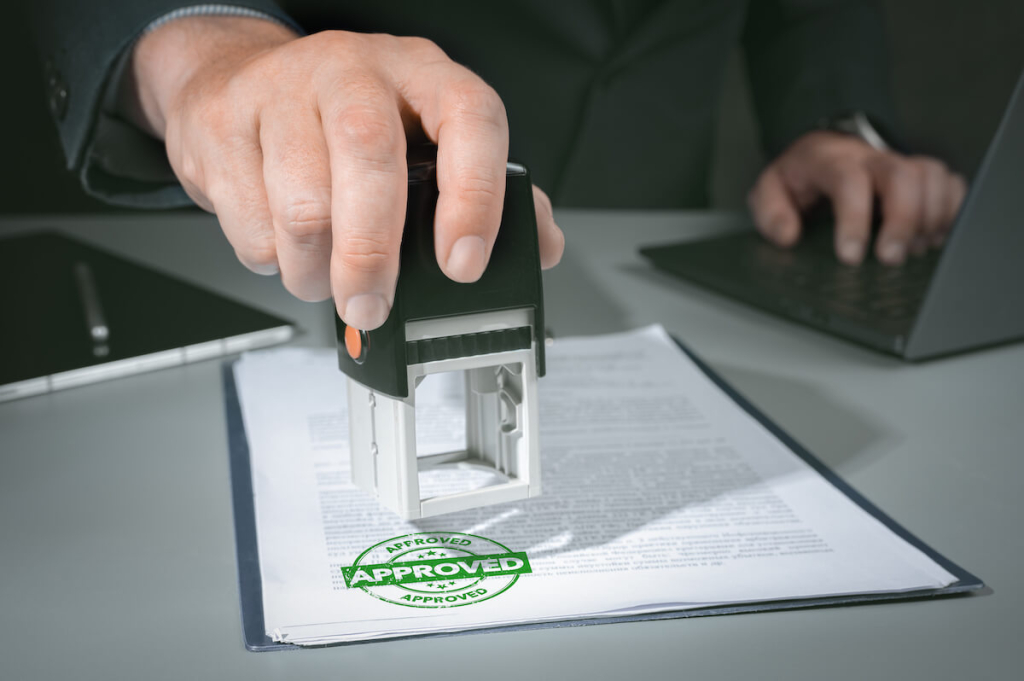 It is easier to process a housing loan through reputable developers like Camella, which already has established partnerships with many banks in the Philippines. As a result, this also opens up more financing options to homebuyers.
Referrals
Apart from expanding your options, Camella can also refer you to partner banks and help you get pre-approved faster. In some cases, Camella may also waive your bank processing fees if your transaction meets its conditions.
In-house financing
Should the client be unqualified in any partner banks, Camella also offers in-house financing as an alternative. With in-house financing, the client directly borrows the amount from the developer and pays it in installments, just like with banks. Unlike banks, however, in-house financing has its own requirements and interest rates.
Overall, developers like Camella are crucial in helping property buyers secure home financing. They provide valuable assistance throughout the housing loan application process, making it easier for clients to realize their dream of owning a home.
Get an estimate of your monthly amortization or start your housing loan journey with Camella.