Even if you have a small bathroom at home, it does not have to appear that way forever. Without moving a single wall, you can create the illusion of a larger bathroom with a few changes or remodels.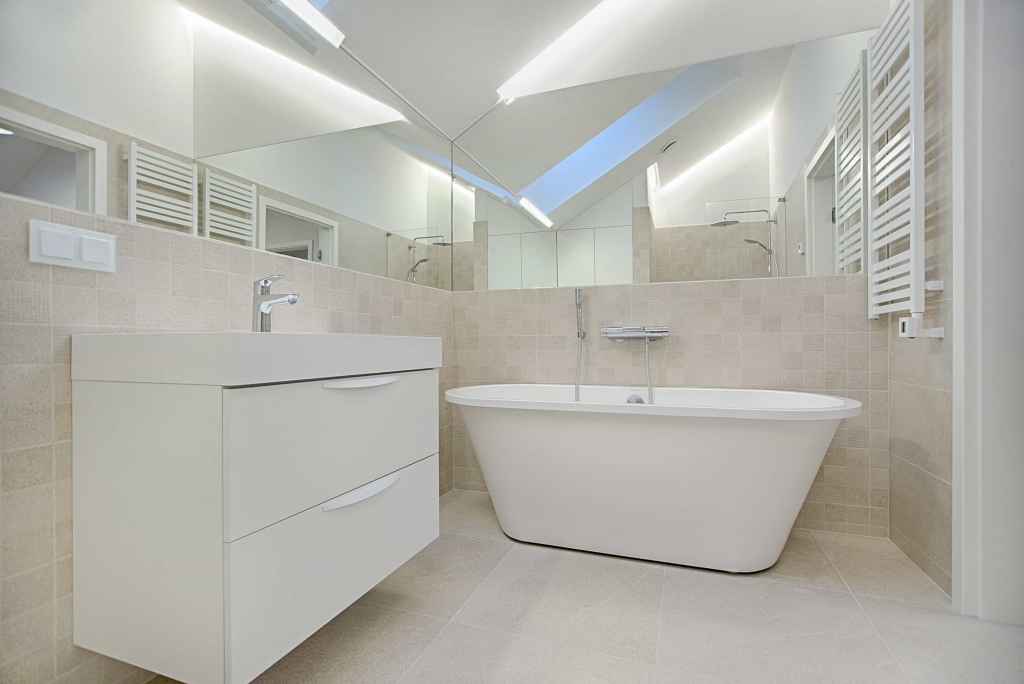 Increase the Size of the Mirror
Mirrors in the bathroom not only give the impression of more space, but they also reflect more light back into the room. If you already have a mirror in your bathroom, try enlarging it. With just a cordless drill, drill bits, and a few screws, you can simply install super-sized mirrors up to 5 feet long and 3 feet high. This type of mirror may be made for less than PhP5,100 if you do it yourself.
Tips
Mirrors with no frames give the impression of more space.
In order to support heavy mirrors, screw into studs.
To defend against high-moisture circumstances, look for a tarnish-resistant coating.
Suggested Read: 7 Interior Design Tricks to Make your Room Appear Larger
Increase the amount of natural light
If a small bathroom needs additional light, natural light is always the best option. Windows and skylights that may supply light are often painted over, filthy, or hidden behind curtains. Window cleaning is simple and inexpensive. Roof-side cleaning of moss-covered skylights can be done using a scrub brush, warm water, and a little detergent.
Tips
Broken blinds and curtains should be repaired so that they can open and close as needed.
Replace clear glass windows with frosted privacy glass for a long-term solution.
Cobwebs and grime can obstruct natural light, so clean window screens with water and a gentle brush.
Replace the Vanity Cabinet in the Bathroom
One of the most significant advantages of bathroom vanity cabinets is the ability to store stuff beneath the sink and behind closed doors. Vanity cabinets, on the other hand, take up a lot of room in small bathrooms.
Replace your vanity cabinet with a cantilevered countertop or a pedestal sink for more space. Self-installed pedestal sinks range in price from PhP7,650 to PhP20,000. While pedestal sinks provide additional floor space, keep in mind that the amount of counter space available will be reduced.
Tips
It's possible that the flooring beneath the vanity cabinet will need to be filled up.
Pull the cabinet away from the wall using a pry bar.
Before removing the sink, remember to turn off the water supply.
Don't go overboard with the decorations
Adding decorative elements like artwork and tiny rugs to a small bathroom may make it feel warm and inviting. However, if left unattended, they can quickly become a source of considerable clutter. Consider clearing out unneeded objects from the bathroom if you're a collector. Clutter removal is free, and the results are noticeable right away.
Tips
Limit yourself to one of each item rather than multiples.
Examine the item to see if it has any utility.
If you can't bear parting with anything, put it in another room.
Suggested Read: 8 Ultimate Tips in Kitchen Remodeling
Decrease Divider Lines and Color Contrasts
Sharp color contrasts and dividing lines only serve to make the bathroom feel smaller. Beforehand, remove or blur lines between items whenever feasible.
A wainscot that is painted a different color than the wall, for example, should be painted to match the wall color. Crown molding serves as a visual "stop" for the eye. Crown molding can be painted the same color as the ceiling or walls. Halfway up the wall, wall tiling should be stretched to the ceiling. Paint and tools will cost between PhP2,550 and PhP7,650 for this type of easy painting project.
Tips
If you must choose between a light and a dark color, choose the light.
Narrower baseboards can be used in place of wide baseboards.
Even more openness can be achieved by removing crown moldings entirely.
Add a Frameless Clear Glass Shower Enclosure
The shower, or bathtub/shower combination, is the largest component in a full bathroom. The enclosure adds to the impression of scale. While eliminating the enclosure is not an option, the next best option is to make the enclosure transparent.
The strong tempered glass used in frameless shower and tub enclosures is held together at the corners. The enclosure is as unnoticeable as it will ever be because there are no frames on the glass. A 32-inch frameless glass door starts at roughly PhP30,600 and goes all the way up to PhP51,000. Enclosures with two or three sides start at roughly PhP38,250 and go up to PhP153,000 to PhP255,000.
Tips
Because doors open to the left or right, double-check the requirements.
Bypass doors slide; pivot doors, which are hinged, open like a door.
Because do-it-yourself installation can be tricky, consult with a contractor or a bath design professional.
Use Similar Materials Throughout the Bathroom
Having a large selection of dissimilar materials in the bathroom might be disorganized, giving the impression that the space is small and crowded. You have an overflow of dissimilar materials if your small bathroom has striated marble tile on the floor, glass mosaic on the wainscot, painted drywall above the wainscot, ceramic tile in the shower, and so on.
Consider substituting similar materials for some of the items to reduce visual noise. In the bathroom, tile wainscot (not in the shower or tub) can normally be eliminated in favor of a drywall and baseboard wall system. A ceramic tile countertop can be removed and replaced with a quartz countertop that matches the shower/tub surround in appearance.
This type of renovation can be costly, with prices ranging from PhP10,200 to PhP20,400 for removing wall tile to PhP51,000 to PhP255,000 for replacing a floor, shower, and possibly countertop. However, these are big renovations that result in a completely new bathroom and can increase your home's selling value.
Tips
Consider painting over the tile if it can't be removed.
When choosing colors, opt for lighter hues to create an airier atmosphere.
If you're replacing floor tiles, go for a larger format.
Ignore the Problems of a Small Bathroom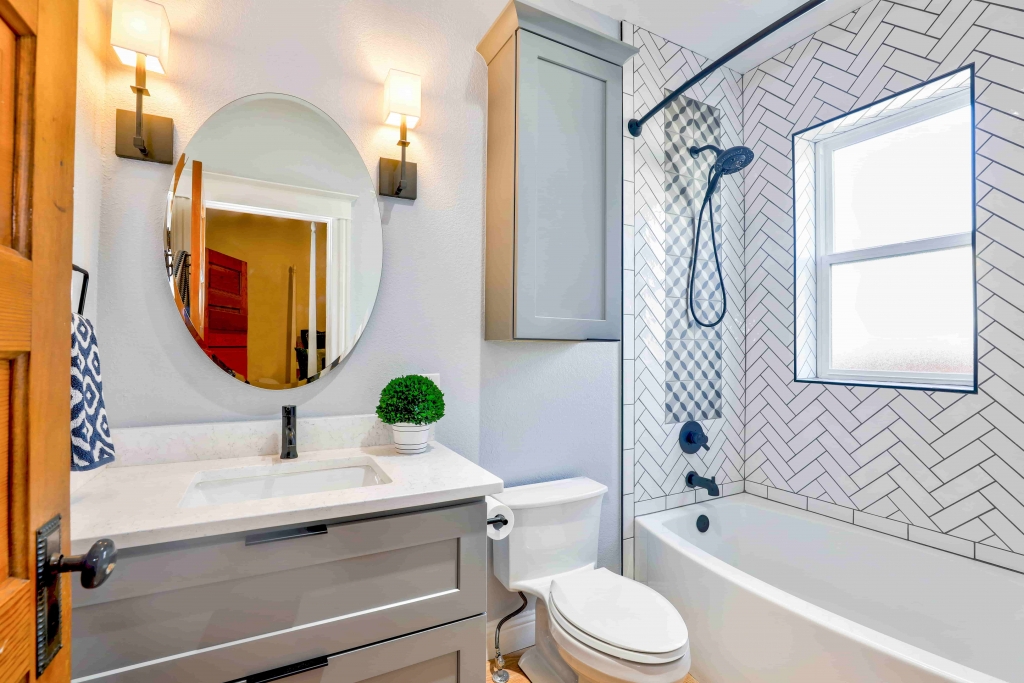 While a bathroom of 5 by 8 feet may appear to be a small space, it is the most typical floor plan and can still include a sink, a shower and tub, and, of course, a toilet. However, due to the limited square footage, people planning such a facility from the ground up may have difficulty with arrangement.
Suggested Read: Trendy Pieces for your Beauty Corners at Home