Your K-Drama-inspired room is easier to achieve than you think. Learn the basics and the essential elements of making a trendy and chic room.
---
It is no secret the Philippines (and the rest of the world by extension) has been riding the Hallyu wave (translated: Korean wave) for years at this point. Everyone and their mother has watched at least one or two episodes of a drama. You have heard, at least in passing, bits of K-pop on the radio.
It is practically an obsession at this point. In fact, Hallyu wave (translated: Korean wave), a word used to describe the spread of South Korean culture across different cultures, has found a place in the Oxford English Dictionary alongside a flood of other Korean words crash landing this year.
We could pick apart the many interesting facets of this cultural phenomenon, but today let's ask the question: what is it about the rooms of K-Dramas that makes them so magnetic, and how do I replicate that bit of South Korea for myself?
K-Dramas can be so rich and varied. From heart-stopping thrillers to tear-jerking dramas to electrifying nakakakilig romances, whatever it is you choose to put on to watch, you can generally be assured of high-quality cinematic shots. Almost every visual component is pleasing to the eyes. Think of the homes that we visit in any given series.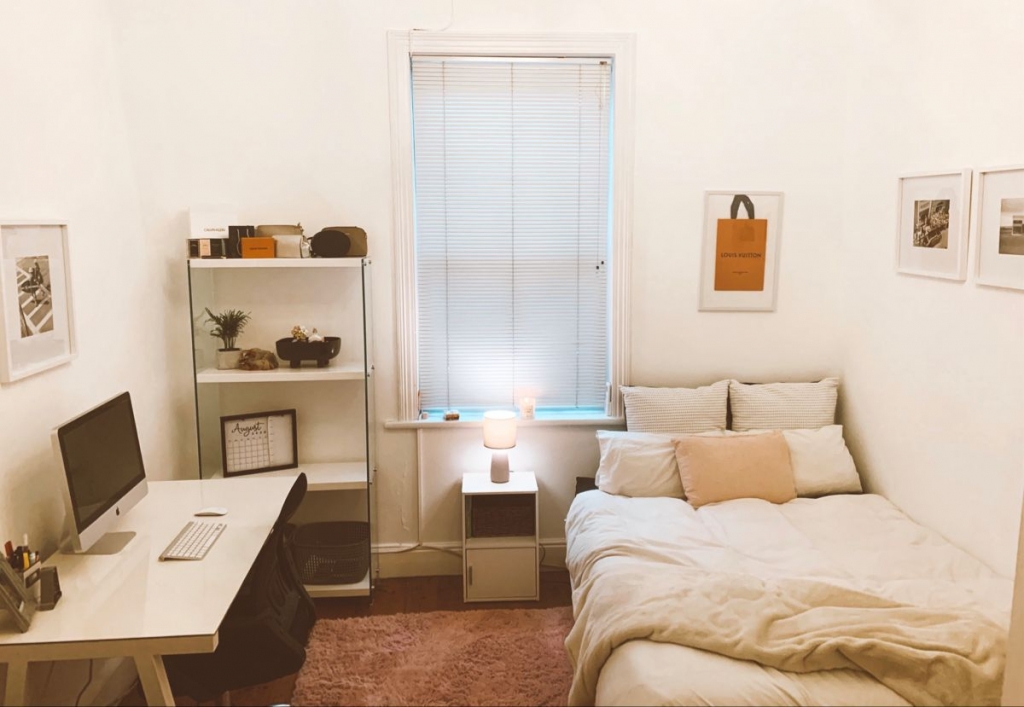 The bedrooms and personal spaces of the many characters do exude a certain charm and attention to detail that is extremely appealing. They look so Instagram-worthy it kind of hurts. In particular, the bedrooms of the leading ladies can be effortlessly pretty and soft in their simplicity—how do they do it?
Suggested Read: How to Design a Beautiful Bedroom
Think of the bedrooms of leads such as Secretary Kim Mi So from"What's Wrong With Secretary Kim," which features a soft and inviting ensemble, comforting colors, and adorable decor. These rooms are generally minimalistic, with a focus on a clean look with next to no clutter.
Are you on a room improvement kick? Do you want to bring a little more K-Drama love into your life? Here's how to get this look for your own room.
The Recipe to a K-Drama-Inspired Room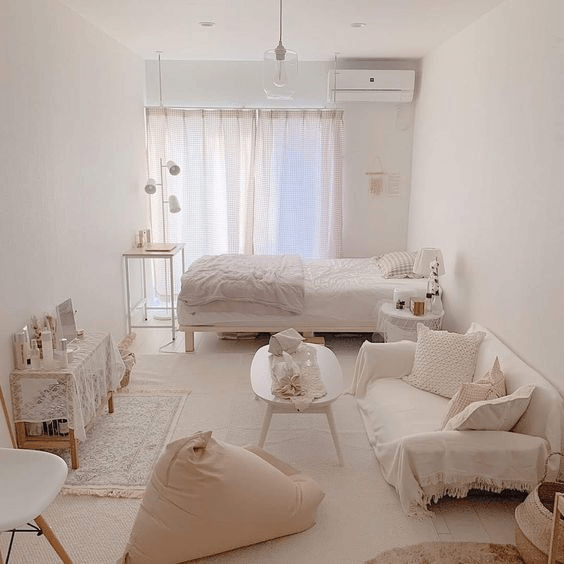 1.) Light Neutral Shades for your Walls
A lot of rooms in Korean Dramas sport a very clean and airy sort of look—essentially a minimalist aesthetic interior design. One of the easiest ways to replicate this feeling is to have walls painted in light neutral shades like white, ivory, or light cream. If you have a room on the smaller side, the brightness of the walls is key to getting that airy and loose feeling.
2.) Light Colored or Light Wood Furniture
On a similar note, the centerpieces of your room—the bed, bedside table, desk, chair, or shelves—should be lightly colored or be made of light wood. This will provide a sense of cohesion to your room's overall theme. The bright color of the furniture will match the equally bright color of the walls.
Suggested Read: How to do Mid-century Modern Interior Design for your Home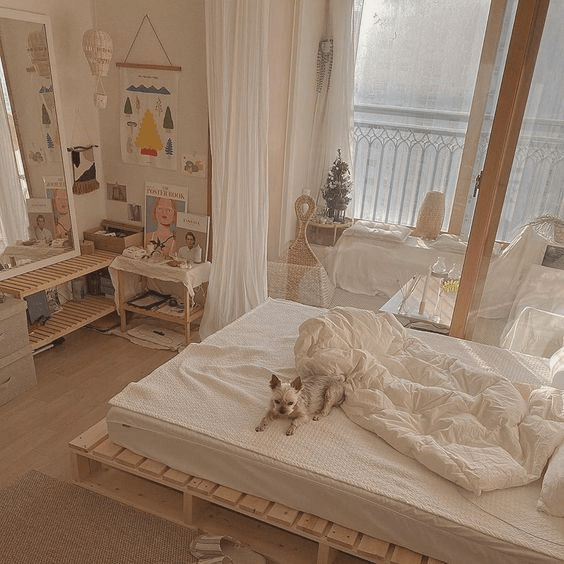 3.) Low-setting Furniture
Opting for furniture that is closer to the floor will give an overall cozy feel. Low-rise tables, low beds, and even futons will be good for this. Having such low furniture will also help the illusion of more space because of the freed-up vertical space.
Suggested Read: Arc & Curve Interior Design Ideas for Your Home
4.) Choose Airy Soft Furnishings.
Soft furnishings include your beddings, pillows, and curtains. To continue the theme of soft and airy-ness, choose sheer or linen curtains and consider adding a soft fluffy rug to your room. A fluffy comforter instead of a plain blanket is also a good complement to the room.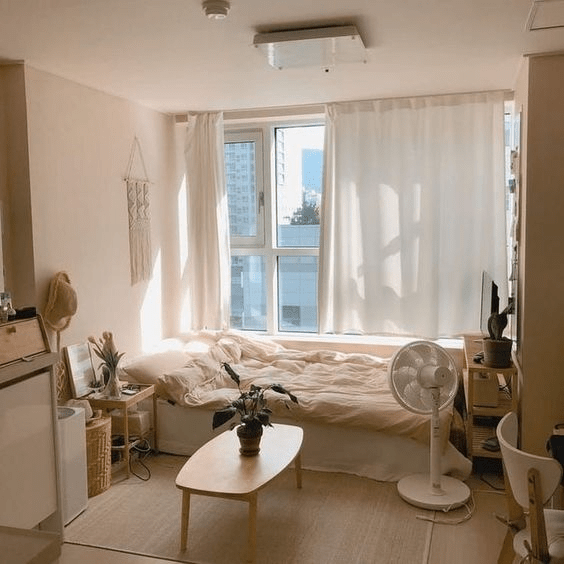 5.) Soft Ambient Lighting
If you're lucky, you have big windows that provides a good and healthy source of natural light. But if you find yourself wanting, another way to replicate the look of a good window is to have other sources of light asides from your main one. Try to add a lamp by your desk or a floor lamp in one corner so your room has more than one main light source. Having a decentralized light source will provide a soft diffusion of light across your space.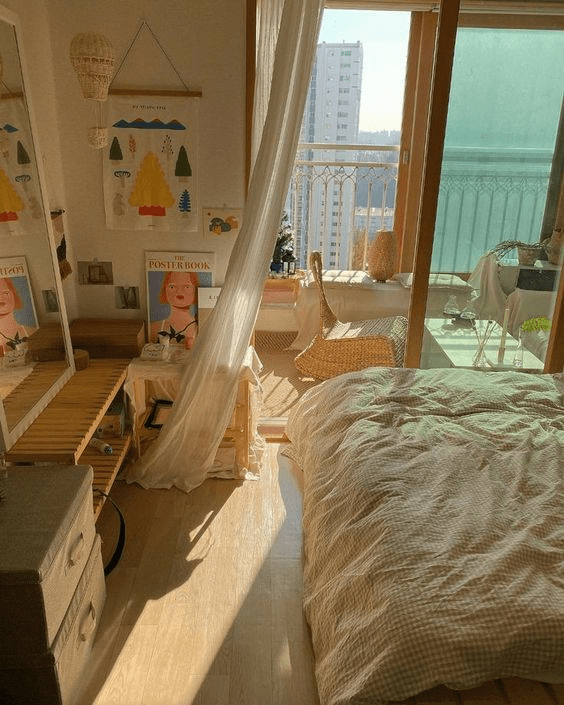 6.) Add Pops of Color
Just because the Korean Room aesthetic is highly minimalistic with a plain and neutral colors, it doesn't mean you have to limit yourself to a neutral color scheme. Add a pop of color to accent the neutrals and the cozy look of your space. If you want to maintain the overall easy softness of the room, opt for pastels as your pop of color. But don't be afraid to play around with jewel tones or a stronger color palette.
7.) Add a Little Nook
Lastly, consider adding a little nook dedicated to your favorite trinkets and hobbies. Was there a random cute trinket that you bought for yourself but didn't have the chance to show off? Now is the time to take the opportunity to put it on display! If you're a plantita, your plants will be a wonderful addition to your room (fake plants work too, don't worry).
Alternatively, if you don't have enough space for a dedicated nook, you can instead display these trinkets in and around your whole room. You can place some on top of your workspace, or on a nightstand, etc.
Suggested Read: Is Maximalism Interior Design Trendy this 2022?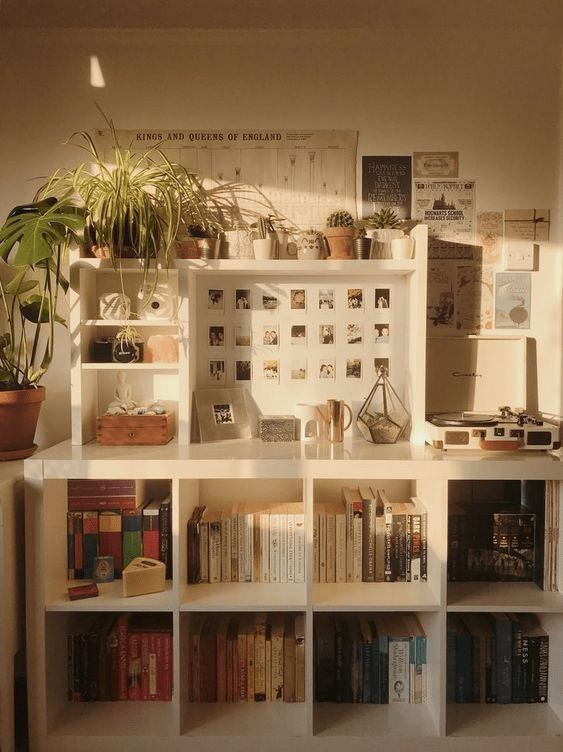 I Got All That, Now What?
Now that you know some of the major components of what makes up a K-Drama-inspired room, you might be wondering how to go about implementing your plans. Here are a few short tips on how to go about planning for this:
Make an Inspiration Board – save pictures of interiors that are close to what you want. This will provide you a solid guide when you start to build your room in earnest
Make a List – It wouldn't be sustainable to purchase absolutely everything in your room. Try to figure out what you can keep and if you have any pieces laying around that you can repurpose or borrow for your room. From what remains, discern what things you need to add to your room. You might be surprised to learn how many things you have on hand that will work for your room
Plan a Budget – Set a budget for yourself. Not only will this help you spend wisely, but it will also help you prioritize what you really need for your room.
Do Your Research – Don't check out each piece as you see it. Try to do this in bulk. Look for the pieces you want and try to match each thing with each other. This will reduce any regrets or grave mismatching that might happen.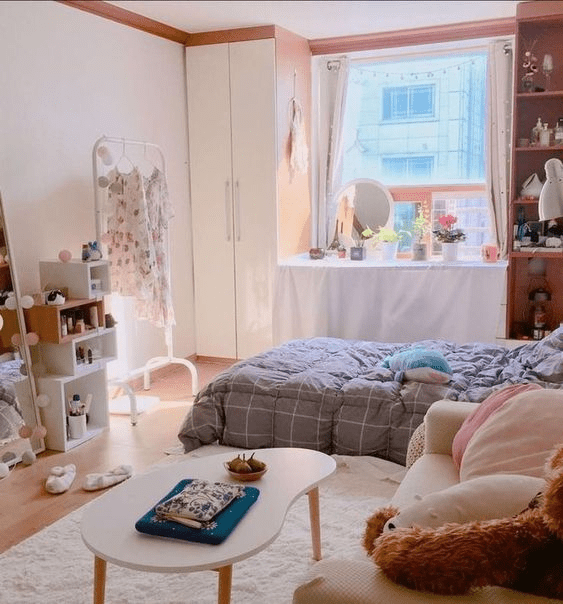 Last, of All, Have Fun!
Your room is a very important and safe space. The state and look of your room have a tendency to reflect back on yourself and your mood. So don't feel like you have to stick to these hard and fast rules if you're not completely sold on it. Do what makes you happy, and you will quickly find that you can continue to binge your favorite K-dramas in a room that is filled with a lovely aesthetic and atmosphere.
For more home improvement inspirations, you may check out Camella's house and lot for sale in the Philippines. For our property for sale locations, you may visit Camella's property page.
Suggested Read: Decorating Your House Based on 2022 Feng Shui Principles