The general impact of the COVID-19 pandemic has been enormous on the world economy. It influenced more than only medical health; it also impacted business, leisure, and education. Many companies have closed, there are fewer fun activities, and the school system has shifted from face-to-face classes to online ones. However, as we fight this pandemic, more people are getting vaccinated and some facilities are reopening to serve the public.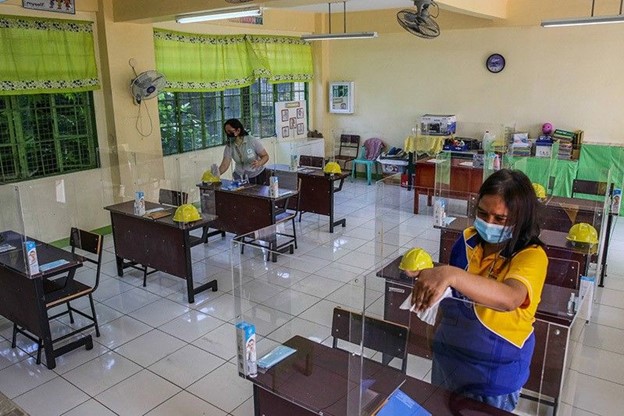 Since the World Health Organization announced a pandemic in March 2020, the Philippines is the last nation in the world to reopen schools for in-person instruction. The adaptation of face-to-face classes and online classes is never easy. There are many barriers that the students and teachers experience during online classes like slow internet connection, lagging device, and the difficulty to focus in online classes. Some parents do not have lots of time to be hands-on with their kids and their modules.
The National Economic and Development Authority (NEDA) feels that there is no need to postpone the return of face-to-face classrooms in the nation as soon as younger children are vaccinated.
In a press conference, Socioeconomic Planning Secretary Karl Kendrick T. Chua stated that the government may enable face-to-face lessons to resume by January 2022. In September or October, kids aged 12 to 17 will be included in the vaccination program of the government. They will shortly add children ages 5 to 11 if the necessary permits are obtained. According to Chua, this vaccination for minors paves the way for face-to-face education to resume in January 2022.
With school closures resulting for two years, the Philippines resumed offering restricted face-to-face classes in specific locations on Monday, November 15. Face-to-face classes during a pandemic may be difficult for children, parents, and teachers because everyone's health is in danger. Still, the Department of Education (DepEd) and the Department of Health (DOH) collaborated in developing an operational guideline for the initial adoption of face-to-face education.
Resumption of Face-to-face Classes in the Philippines
The start of limited in-person lessons in certain public and private schools this month promises a return to some semblance of regularity. This trend may be attributed to a rise in the number of Filipinos being vaccinated regularly and their adherence to the health standards established by our government.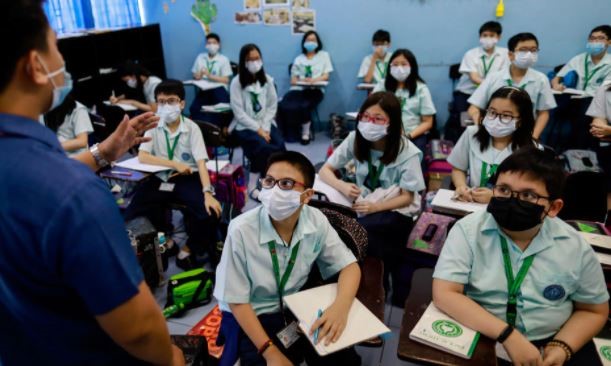 In response to this new reality and to assist the schools in their planning, the Senate Committee on Finance suggested increases to the DepEd's 2022 budget. They anticipate that more schools will be added in the coming months. Thus, they thought that it is essential to provide DepEd with adequate budgetary support for this reason. The committee also suggested additions for preparations for face-to-face classes for the 116 State Universities and Colleges (SUCs), including the University of the Philippines System.
The Finance Committee also included a particular allocation to the proposed budget to ensure tighter quality control when it comes to the development of self-learning modules, learning activity sheets, manuals, and worksheets. The committee also wanted to make sure that no student was left behind in terms of education.
As a result, the committee suggested an extra budget for the Alternative Learning System (ALS) and the DepEd's Special Education Program. The committee also requested a budget increase for the Last Mile Schools Program to construct new school buildings, tech-voc laboratories, water and sanitation facilities, and even the installation of solar panels in remote places.
With the gradual reintroduction of face-to-face classes during a pandemic, the hardships of both children and parents dealing with home-based education would be alleviated. The tireless teachers, who have already made significant sacrifices to guarantee that the students receive the excellent education they deserve even during the pandemic will also feel some comfort once they are allowed to return to their classrooms. As we progressively return to face-to-face classes, it is only natural that safeguards be made to protect all children from any infection.
The parents and students are the one making decisions when it comes to attending face to face classes during pandemic. It is not a secret that some of the parents are worried about the risk of their child's safety. But what are the things that a students and parents must have once the face to face classes begins?
Parents' and Student's must haves for face to face classes
Vaccination
One of the important things to have during the face to face classes is for both children and parents to be vaccinated. It is a protection for the health during this pandemic. The parents can ask for vaccination of their kids ages 12-17 in their local LGU's and bring some documents required for the vaccination.
Alcohol and Sanitizers
The chance of developing COVID-19 increases if we contact our eyes, nose, or mouth following exposure to surfaces contaminated by the virus. You and your children must always be sanitized. That is why you should always have rubbing alcohol or any other kind of sanitizer with you. You may avoid becoming ill by keeping yourself clean and sanitized.
Vitamin C
Keeping yourself healthy prevents you from getting diseases. One way to boost your immune system and avoid getting sick is by drinking Vitamin C. It can help you to avoid getting flu and colds, which we know are the common symptoms of COVID-19.
The parents, teachers, and students must always watch themselves first and keep themselves healthy in order to prevent getting sick. Following the safety precautions and guidelines set by the DepEd and DOH can help everybody to adjust in the new learning and keep safe during the face to face classes in the pandemic.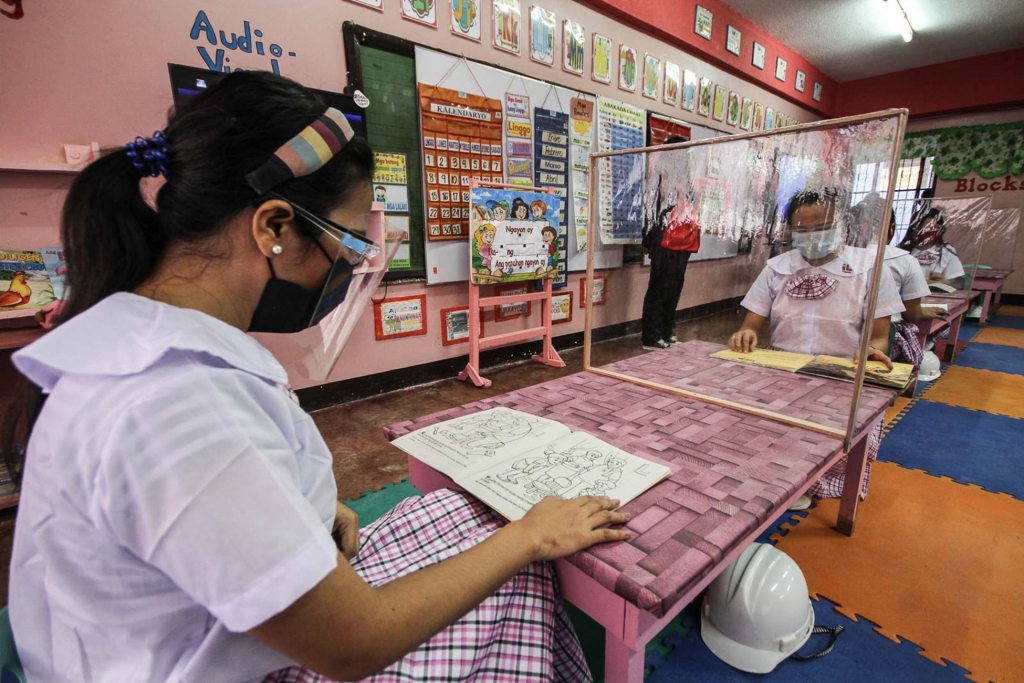 According to the DepEd and DOH, the guidelines for the pilot implementation of face-to-face classes establish benchmarks for school reopening preparation.
It utilizes the Avoid, Trace, Isolate, Cure, and Fully integrate framework, emphasizing the importance of having access to cleanliness (WASH) facilities, water, sanitation, and proper ventilation in classrooms. Make sure that classroom layouts allow for physical separation between people, prioritizing students who will benefit the most from limited face-to-face learning, managing foot traffic, and conducting simulation activities before starting the return of face-to-face classes.
Health Secretary Francisco Duque stated that the DOH and DepEd aim to guarantee that children have secure learning environments throughout the pandemic. The trial run will be a collaborative effort between the DOH, DepEd, and local government units to ensure that systems are in the right place to avoid Covid-19 infection and reintegrate recovered patients.
DepEd has created a backup plan with suggested measures for certain eventualities.
What are the regulations when attending face-to-face classes during a pandemic?
The planned reopening of schools in low-risk areas of the Philippines is supported by United Nations Children's Fund (UNICEF), which is working with DepEd and DOH. According to UNICEF, More than one COVID-19 case per 100,000 residents and a negative growth rate in the past two weeks is considered low-risk localities.
Students who will be attending face to face classes must be protected against the spread of viruses by taking every precaution feasible, including:
Maintaining physical distance and small groupings by alternating between groups and being physically present.
Sharing information methods with kids, instructors, and their parents
When a COVID-19 epidemic occurs in the region, establishing criteria and necessary procedures for the temporary closure of schools
Improved sanitation and appropriate access to sinks for washing hands
Surfaces and shared items should be cleaned often.
Proper and sufficient ventilation
Protective equipment (PPE) regulations for school personnel and kids in compliance with national, state, and local criteria
When it comes to maintaining physical distance in the classrooms, you must follow the policies set by your school's administration and the protocols published by the DOH and local health authorities. The following steps are suggested:
Keep a minimum of a meter's gap between yourself and any other students in the building.
Avoid having all of the kids and instructors in one place simultaneously through staggered school days.
Desk space should be increased (at least 1 meter between each desk), and recesses and lunch periods should be staggered (if difficult, one alternative is to have lunch at desks)
Maintain a one-meter space between people in line at entrances by using signs, ground markings, tape, barricades, and other techniques.
Contemplate increase in the number of teachers to reduce the number of pupils in each classroom (if space is available)
For both school and after-school events, try to avoid mixing classes. It is possible that courses will utilize various entrances, if accessible, or that an order will be established for each type to enter and depart the building/classroom. For example, pupils will remain in one classroom while teachers travel between them.
Students should be discouraged from forming large groups when they leave the school grounds.
Crowding at school or daycare should be avoided, and older family members should not pick up the children (i.e., grandparents). Drop-off and pickup timings for different age groups should be adjusted to minimize the number of children gathered in one place at a particular time.
Physical education and sports classes may be managed well if you know how to do so
As much as possible, move classes outside or open classroom windows to let in fresh air.
What are the requirements for teachers to teach during face-to-face classes?
DepEd said that the Philippine government would require all teaching and non-teaching professionals to participate in the test run of local face-to-face classrooms to be completely vaccinated against COVID-19.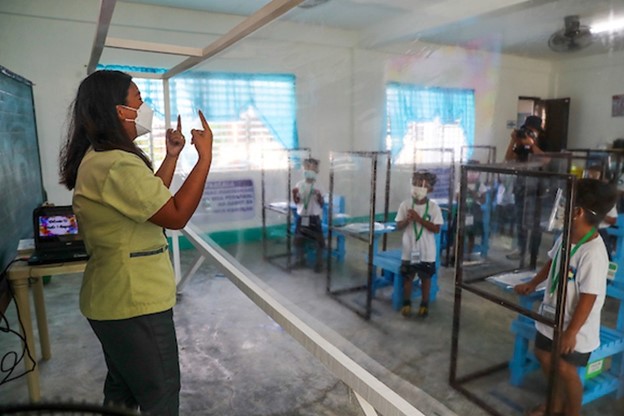 Education Secretary Leonor Briones stated that the agency's legal section undertook lengthy research that resulted in the agency's support for obligatory coronavirus vaccinations.
Briones also said that if we will proceed with the pilot testing of the face-to-face class during the pandemic, it must be guaranteed that all the teachers, employees, and staffs interacting to students are vaccinated. It is one of the guidelines on the limited in-person cases mandated by DepEd and DOH. These departments agreed that vaccination should be available to safeguard the protection of all the children.
According to DOH, Vaccine Czar Carlito Galvez Jr. endorsed the suggestion, and the National Vaccination Operation Cluster had previously called on local government units (LGUs) to expedite vaccination of public and private school instructors.
One of the most important lessons gained throughout the pandemic is professors' critical role in continuing education. As schools reopen, it will be up to instructors to ensure that students can continue their education in a secure and healthy atmosphere and make up for missed knowledge and abilities. Knowing the facts as a teacher will protect you as well as the kids.
Understanding COVID-19, how it spreads, and how we can protect ourselves and others is a critical first step in developing classroom rules and regulations. To obey the rules, students must first comprehend what these facts are. Listen to their worries and thoughts, and respond to their queries in an age-appropriate way. Discuss the reactions kids may have and indicate that these are typical responses to an abnormal circumstance.
To keep schools running safely in face-to-face classes during a pandemic, teachers must be safeguarded against COVID-19 transmission in the community. Teachers are encouraged to prioritize becoming immunized against COVID-19 once frontline service staff and high-risk groups have been vaccinated. Though COVID-19 immunization should not be required for school resumption and in learning, COVID-19 vaccinations are safe and effective strategies for preventing high severe mortality rates from COVID-19.
The decision to reopen schools must be driven by a risk-based strategy that considers the epidemiology of COVID-19 transmission at the community scale and the ability of educational systems to adjust to continue to operate in a safe environment.
Both online and face-to-face classes have advantages and disadvantages, which depend on the student. However, nothing beats seeing the kids go to school and engage with their peers since this helps them improve their social skills. And it's sure that they all miss wearing their school uniforms coming to school, getting their school cards, and attending meetings.
Face-to-face lessons for kids of all ages are possible. They may even function during a pandemic, provided that everyone follow the safety guidelines that the DepEd and DOH developed jointly for the safe return of face-to-face classrooms. Everyone must be vaccinated and disciplined to keep ourselves clean and sanitary in order to prevent the spread of the virus.
Suggested Read: Everything You Need To Know About COVID-19 Vaccines