The sea and mountains are calling again. After the strict travel restrictions, we have dealt with in the past two years, we all wish to make 2022's summer a summer to remember. There are limitless options to go to for summer vacations and as beach-loving people, Boracay Island in Malay, Aklan will surely make our list. Who can say no to its pristine beauty after all?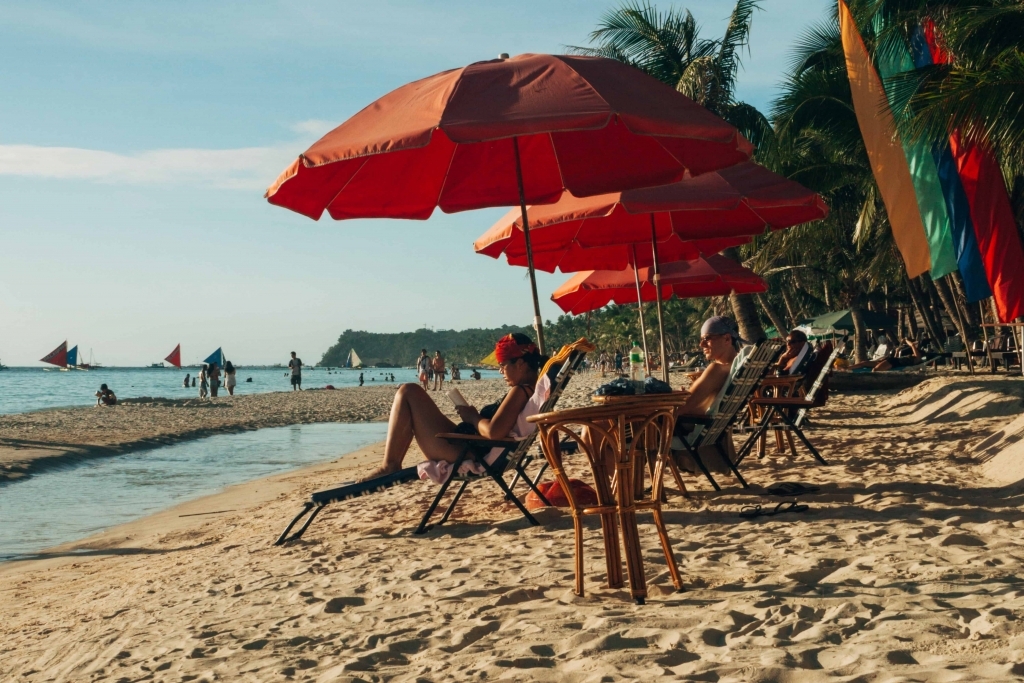 But Aklan, a naturally tourist-luring province, offers more than Boracay Island. Each of the 17 municipalities in the province has something to be proud of. From products, festivals, and attractions – all ready for you to discover! We have listed some of the unexplored places in Aklan you might consider in your summer getaway this year.
1. Hinugtan White Beach
Looking for a Boracay-like beach experience without the overwhelming tourists? This is the perfect place for you. Located in Bel-is, Buruanga, Hinugtan White Beach is a private area that offers turquoise sea water and refreshing coconut trees on its perimeter. You can drive the stress away by watching the sunset or trying on adventurous activities like snorkeling and diving.
2. Bongbongon Beach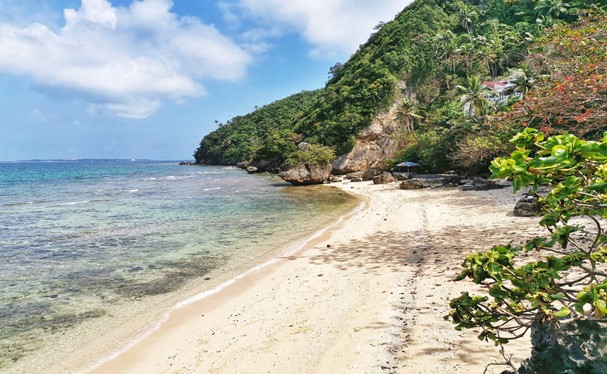 The next time you go to Malay, you might want to check this gem hidden in its southern part. Bongbongon Beach is located in Naasug. This place is synonymous to slow peace and serenity as you will be surrounded with powdery, white sand and clean sea water here. Apart from the beach itself, nature will pleasure you with more experiences like spotting turtles or looking at fresh water springing out from under the rocks, or locally called "basyaw".
3. Jawili Beach
Another must-see beach destination in Aklan is Jawili Beach in Tangalan. This destination is not only perfect for a group getaway but can also accommodate events like conventions and weddings. How sweet it would be to exchange vows with the sunset and exquisite beach in the background? Moreover, your Jawili trip will make you appreciate the locals more. Fishing boats lining up by the beach is a sight you might not want to miss. You can also buy fresh catch from local fishermen and enjoy a delightful seafood meal here!
Looking for the Best Beaches in Aklan?
Top 5 Must-See Beaches in Aklan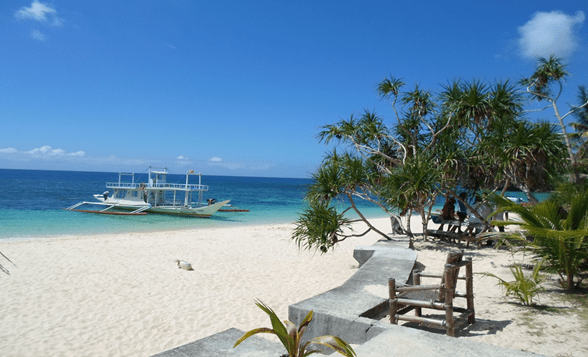 4. Jawili Falls
Not far from Jawili Beach, Jawili Falls is a place you can explore if you are looking for alternatives for beaches. It is most known for its seven water basins made perfect by nature especially for those who love to dive. You can climb on rock formations as a jump-off point or to simply get a breathtaking view of the clear water and lush forest. What an exciting escape from reality, right? Good thing, Jawili Beach and Jawili Falls are only half-an-hour-ride from Kalibo. It is even more accessible to Camella Aklan, the only premier community in the province, which will only take you 15 to 20 minutes to reach this nature's splendor.
5. Likitinon White Rocks
Explore more of Aklan in one of its farthest municipalities, Madalag, where Likitinon White Rocks is located. This place takes pride in its striking bone-white rocks and stone bathtubs formed by clean water flowing through the pristine jungle valley. Trek your way to this destination, specifically located in Barangay Maria Cristina, and bring home Instagram-worthy photos.
6. Coral Garden
If you are delighted with the sight of the Aklan beaches, imagine the beauty it hides beneath. Coral Garden is a scuba diving paradise located on the coast of Barangay Mambuquiao in Batan. Underwater enthusiasts can discover pleasing coral formations in different colors in this protected area. This reservation park covers 170.5 hectares of marine waters and a reserve area of 709 hectares.
7. Bakhawan Eco-Park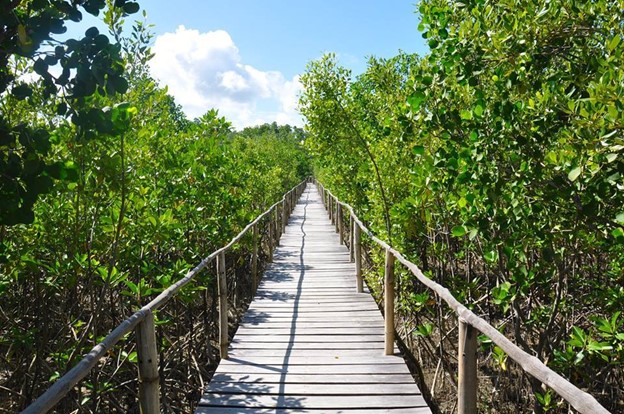 There is something you might not have explored yet in Aklan's capital town, Kalibo. You can take a side trip on your next Aklan vacation and discover this mangrove haven in New Buswang. Walk through the bamboo bridge and get lost between the thousands of reforestrated mangrove trees, or "bakhawan" in this 106-hectare park. This eco-tourism site is also a great spot to have a picnic, go fish-feeding, or to simply relax.
Bakhawan Eco-Park is only ten to 15 minutes away from Camella Aklan. It is definitely an advantage to be close to this beauty as you can reconnect with nature at any time you wish!
8. Manduyog Hill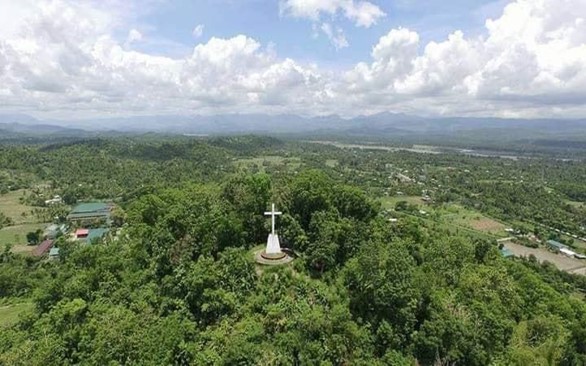 If you are done exploring the natural gems in Aklan, you might also want to discover some historical and religious sites. You can stop first in the 500-feet high Manduyog Hill at the Aklan State University in Banga. The site was named after Datu Manduyog, an ancient ruler who succeeded Datu Kalantiaw III and ruled the province at pre-Hispanic period. Here, you can find life-size Stations of the Cross while you get a nice view of the oldest school in the province.
9. Basura Garden
As you explore places, you will also discover local talents. Basura (garbage) Garden is a reflection of Akleanons' creativity. Located in Poblacion, Balete, this garden features the owner's collection of recyclable garbage materials of town folks along with antiques and artworks. Ever heard of a damaged shoe turned into a flower vase? Or a pair of slippers made from waste? You can find it here!
10. Clustered Century-Old Acacia Trees
If trees can talk, you probably want to go first to Numancia and hear the stories of the Acacia trees standing tall for years. The century-old giant rain trees go in clusters within the Albasan Elementary School. The school's historical record said the giants were planted in 1892 by a school teacher and two of his pupils. Growing big and proud, these trees have witnessed several events and survived many storms. This site is worth a visit! It will definitely deliver you to a hundred years back as you appreciate peace in Numancia.
Calm in the Countryside
Have you ever been on a dream vacation and hope for it not to end? That is exactly the trip Aklan promises you to have. With Boracay Island and a lot more places worthy to explore, you might want to stay in Aklan forever. This might be the reason why many are wanting to embrace calm in the countryside and are hunting for a house and lot for sale in Aklan.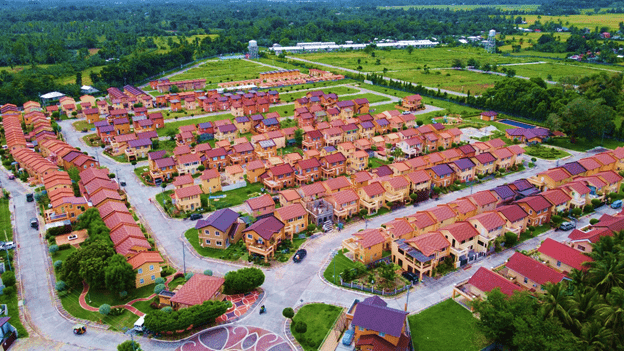 You too, can own your dream property in this progressive province! You will not regret investing into a property in Aklan, especially with the leading house and lot builder, Camella Homes. Camella Aklan must be your priority if you are looking for a house and lot for sale in Numancia. This amenities-packed community comes with a basketball court, swimming pool, clubhouse, and playground – all for you and your family to enjoy. Its strategic location in Barangay Joyao-Joyao, Numancia will also make it easy for you to access your personal and health needs. A ten to 15 minute-drive to Kalibo International Airport, Aklan State University, St. Gabriel Hospital, and Jawili Falls and Jawili Beach, among many others? What more can you ask?
Camella Aklan gives you several options with its Camella Series and Lessandra Series. You can also opt for lot-only packages. Your dream of owning a beautiful Italian-Mediterranean-inspired house and lot in Aklan will definitely be satisfied! Units available for occupancy are currently available. Check the official Camella Homes website to know more or start a virtual tour now.