If Boracay can pull your feet to the Aklan Province, local culture and cuisine will too. Aklan is one favorite tourist destination for both local tourists and foreign nationals because of the white sandy shore of Boracay Island. Its crystal blue waters and magnificent sunset capture the image of a paradise. However, a trip to the beach is not over until you try the local food restaurants. So, for go-getters and hungry individuals, here are some local food stops you need to put in your itinerary once you plan to visit Aklan Povince. Skip the fast food and try these well-loved local delicacies.
1. Nonie's (Kalibo, Aklan)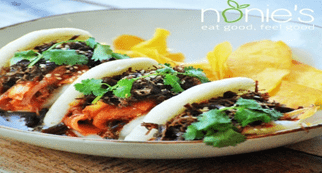 Patrick Florencio and his wife Shria decided to move to Boracay in 2016 from Singapore. They were both executive recruiters before the huge shift. Nonie's started to operate on February 14, 2017. The place became the local and tourist favorite zdestination on the island and was rated as the No. 1 restaurant in Boracay by TripAdvisor.
Nonie's food is so pleasing to the eye and has remarkable taste. Their plating is a different visual experience, and they also serve vegetarian-friendly meals. If you are looking for a place where you can enjoy the food without feeling guilty afterward, Nonie's needs to be in your itinerary.
They serve Filipino in a flavorful and healthier way. The place serves a variety of Filipino food such as grain bowls, squid sarsiado, Adlai Arroz Caldo, BBQ pork, and vegan chorizo. Also in the menu are Asian dishes like tuna tataki, tempeh bowl, and kimchi. You can also have a taste of the tropical vibe with their mango banana smoothie bowl. Nonie's is located in Station X, Main Road, Boracay.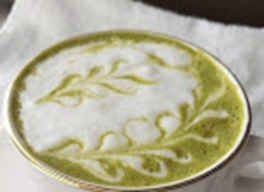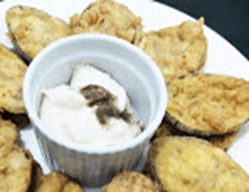 Cafe de Calivo is a top-rated and one of the best cafe resto places in Kalibo, Aklan Province. It is consistently rated 4 to 5 stars by customers on Google, Facebook, and six (6) stars on TripAdvisor for its excellent staff and service. It has the perfect ambiance that is good if you are looking for a space outside the office for meetings with clients and casual meet-ups with friends.
The name itself comes from the town's ancient Spanish name of Calivo. The concept was finally tested and implemented in 2017 when the Kalibo Tourism and Cultural Affairs Division invited the company to join their Kalye Kulinarya sa Kalibo (KKK) Project. The project aimed to transform Veterans Avenue into a night food strip park as part of its Kalibo Day festivities. The small kiosk first opened with vintage black & white photos featuring the town, and the province's past served as the cafe's backdrop.
The cafe expanded to a full-scale cafe in its current location on the Ground Floor of Angelo Fernandez Business Center in 2018. Cafe de Calivo is known for its delicious and special local Batan bibingka cakes. You can pair the cakes with its special coffee and tea selection. Besides local delicacies, they also serve some of the best hot meals in the town. You can try their Adobo sa Tuba, Buffalo Wings, Tuna Sisig, Crispy Eggplant, and Crispy Kangkong, among others. The local cafe also serves different kinds of pasta and burgers if you want to eat in Kalibo.
Cafe de Calivo is in the metro district of Kalibo and is only 10-15 mins away from Camella Aklan. Camella Aklan is an Italian-Mediterranean-inspired master-planned community that has complete amenities that Aklanon families enjoy the most. The residents have access to the swimming pool, clubhouse, basketball court, and playground. If you are looking for a house and lot for sale in Aklan Province, with a good neighborhood and has access to businesses, you got a to stay.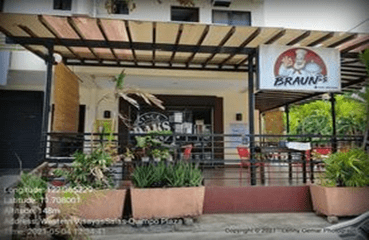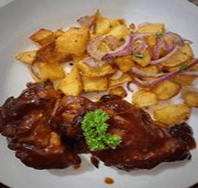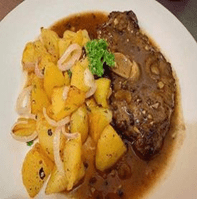 The owner of Braun's Restaurant Mr. Wilhelm Hubert Braun was a great cook during his time. He used to work for prominent hotels, restaurants, and cruise ships. He even cooked for the former president Fidel V. Ramos. The year 2000 was the conception of DAKS Roast and Ribs, and it is now called Braun's Restaurant.
Braun's Restaurant was made entirely of their father's menu, according to his daughter Dominic Corazon Braun-Ibardolaza. Braun's is loved by the locals because of its affordable price and good ambiance.
If you want to eat in Kalibo, they serve Chicken Parmigiana, Beef Tenderloin, plates of pasta, different salads, etc. Their bestseller Baby Back Ribs is the one you should order first because locals in the entire Aklan Province love it.
If you happen to stop at Kalibo, you can find Braun's at the Roldan building, Jaime Cardinal Sin Ave, Kalibo, Aklan Province. They have dine-in, takeaway, and delivery service options. You can contact them at (036) 500 5292.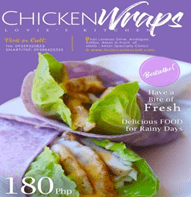 Lovie's Kitchen is a must-visit food stop in Aklan Province because of its great vibe and affordable food selections. No wonder they have 5-star reviews in Google. If you are up for snacks, they serve Fruit Shakes, Milk Tea, Nachos, Pastas, Tacos, and you must try their best tasting Beef Quesadillas and Chicken Wraps for the full-on experience.
And also, don't miss their all-day available main dish appetite kicker "Binalot sa Dahon ng Saging".
Lovie's Kitchen is located at San Lorenzo Dr, Andagao, Kalibo, Aklan. They have dine-in, takeaway, and delivery service options. Visit or call them at 0938 842 5335.
5. Latte Café (Kalibo, Aklan)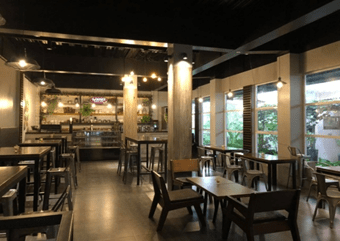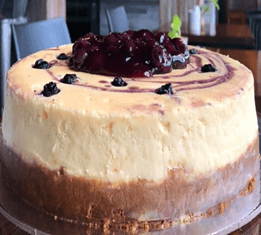 Latte Coffee is one of the pioneering cafes in Kalibo, Aklan. Since its launch, Latte has been the go-to cafe of locals and even tourists. The cozy atmosphere, the homey aroma, the flavorful foods, and the calming taste of coffee are some reasons why people keep on coming back.
Latte in Kalibo offers extraordinary service, and they open at 7 AM. Their menu includes breakfast meals, comfort foods, aromatic coffees, and yummy cakes for sweet tooths out there.
Latte is also a perfect place to hold celebrations. If you want to close some deals with clients or celebrate the graduation of a loved one, or simply about eating your hearts out because of a small win, Latte is a good choice for a place.
You can visit Latte at Jaime Cardinal Sin Ave, Kalibo, Aklan.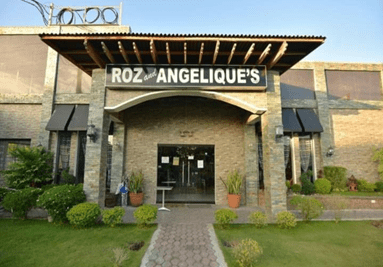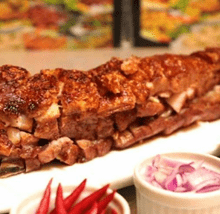 This spacious and homey local restaurant in Kalibo, Aklan is best known for its Sunday eat-all-you-can. The menu is heavy on Filipino foods — so, if you have foreign friends who might be craving for that local taste of flavors, you know where to go. Their best-selling dish is their crispy pata, together with their slow-cooked ribs. They have desserts, pasta, and liquid refreshments too in their menu lineup.
The owner of the R&A Cafe named the resto after his wife's and daughter's names.
R & A has three divisions: the fine dining restaurant with a beautiful interior design and
decoration, a function hall that can accommodate up to 300 pax, and a hotel with five suites rooms with a large and
ample parking space. You can find them at Jaime Cardinal Ave. Pook, Kalibo, Aklan.
7. Ramboy's (Numancia, Aklan)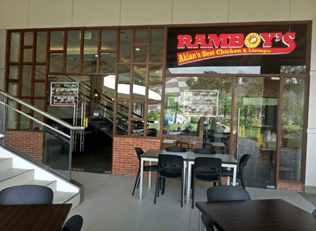 Ramboy's is one of the top-rated Litson Manok and Liempo houses in Kalibo and the entire Aklan Province. It is the most visited go-to place every Christmas and birthday because it offers the best-roasted food in town. Ramboy's first branch is in Numancia, Aklan. Now, it has three branches in Iloilo City – SM Southpoint (above), The Riverside Boardwalk, and Molo Plaza. They also have various take-out stalls in some parts of the city and in other areas in Western Visayas. In Manila, they have branches in Las Piñas and BF Homes in Parañaque. TripAdvisor also ranked them as the one of the best restaurants in Aklan, earning the number 2 spot.
Locals always have Ramboy's at the table every occasion and celebration, because it has the best liempo and litson manok in town, even tourists love it too.
If you pick Aklan as your next travel destination, the nearest branch of Ramboy's liempo and chicken place is on Numancia Highway, which is only 5-7 minutes away from the only premier community in the province, Camella Aklan. It is a housing development in Brgy Joyao-Joyao, Numancia that offers high-quality house and lot in Aklan for local investors and OFWs who wish to live closer to paradise. If you want to frequent the best liempo and litson manok, you know where to get your permanent home.
8. Kubo Bar Garden and Restaurant (Kalibo, Aklan)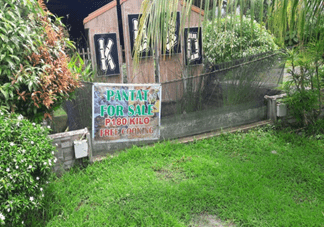 Kubo Bar Garden and Restaurant is one of the most favorite go-to restaurants in Kalibo for party-goers every Friday night. The bar's live band, the cold drinks, the mouth-watering food, and the beautiful ambiance are the things that makes people come back. Kubo Resto Bar is the best place for booze, meetings, and get together. That said, this bar one thing that you should not miss when visiting Kalibo.
The customers' favorite on their menu is the pork sisig and native chicken binakol, their best-seller. Kubo Bar and Garden offers native dishes and many kinds of favorite Filipino seafood such as shrimp, and fish, which will surely fill your tummy.
Kubo is also one of the reliable places around Kalibo, Aklan for meetings and client presentations for freehold businesses, like Camella Aklan, because it's just a few minutes away from the site. Property Consultants can present their properties for sale pleasantly because of the place's relaxing vibe and ambiance. For take-outs, they also have dine-in and takeaway service options. You can visit them at Quezon Avenue, Kalibo, Aklan. They are also accepting reservations for any occasion.
9. Panimalai Resto and Café (Kalibo, Aklan)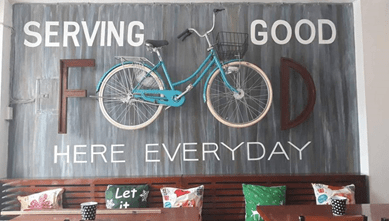 If you are looking for an Instagrammable place to dine in Kalibo, Aklan, then Panimalai is the perfect spot for you. Panimala is a student-friendly restaurant because of its affordable and good food. This place is always packed with people during lunchtime.
It offers a lot of products on the menu. They have Pinoy foods with a different touch of cooking. They also have a good selection of fruit shakes and desserts at the most affordable price. Combo Meals is also present on their menu, the most favorite by the novice. Batchoy and Lomi are also on the list. These selections are perfect if you want to bring your entire family.
Spicy Korean Chicken is the highly recommended food on their menu. The place is a little bit small compare to others, but it has a unique ambiance, it is a clean and child-friendly restaurant.
Panimalai is located at, P-1 C. Laserna St. Kalibo, Aklan, and their second branch at Capitol Site (Near Post Office), Kalibo, Aklan. They offer dine-in, pick-up, and delivery services.
10. Dos Mestizos (Boracay Island, Aklan)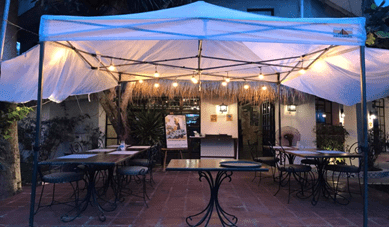 Dos Mestizos is a Spanish-Filipino Restaurant based at Boracay Island in Aklan Province. It is one of TripAdvisor's best restaurants on the island.
The guys behind Dos Mestizos are Jose Carlos Remedios – Binggoy to those who know him, and Jose Ramon Nieto the second man of the top-rated Dos Mestizos. They both choose the name of their restaurant. Dos Mestizos' humble beginning is so inspiring because they started cooking at the little corner of Station 1, and in no time, the food place snatched the attention of tourists and resto reviewers beyond the station.
They were able to get vast recognition from the locals and tourists because of their meticulous care in choosing the ingredients and condiments used to ensure quality taste. They served the Mediterranean, European plus they are also Vegetarian-friendly restaurant.
Locals recommend Calamares, Callos Con Garbanzo, and Chorizos they have the best Paella on the Island.
You can find Dos Mestizos at Seawind Resort, Main road, Station 1, Balabag Boracay Island.
There is no stopping an individual who craves an authentic experience of local cuisine and adventures. Elevate your experience of the locale by trying delicacies beyond fast food. So, Aklanons and tourists, make sure you are not short with food stops to select from. Before you reach the paradise island of Boracay at the end of your vacation, take time and discover these local food stops that might be a fixture when you bring your peers the next time in Aklan. Do you know what's more beautiful? When you no longer have to leave paradise when your dream home is in paradise.
For house and lot for sale in Aklan where the best stops are just within walking distance, visit Camella Aklan at Brgy. Joyao-Joyao, Numancia, and tour around the premier community. See first-hand what's amazing about the community.