Do you have an active gym membership that you barely use? If you are tired of those monthly dues but want to continue your fitness journey, a home gym might be your next best option.
Aside from helping you save time and money, having a home gym also brings flexibility to your routines. This way, you can find the most optimal time for a gym session based on your schedule without worrying about opening hours or holiday availability.
But how do you start a home gym setup?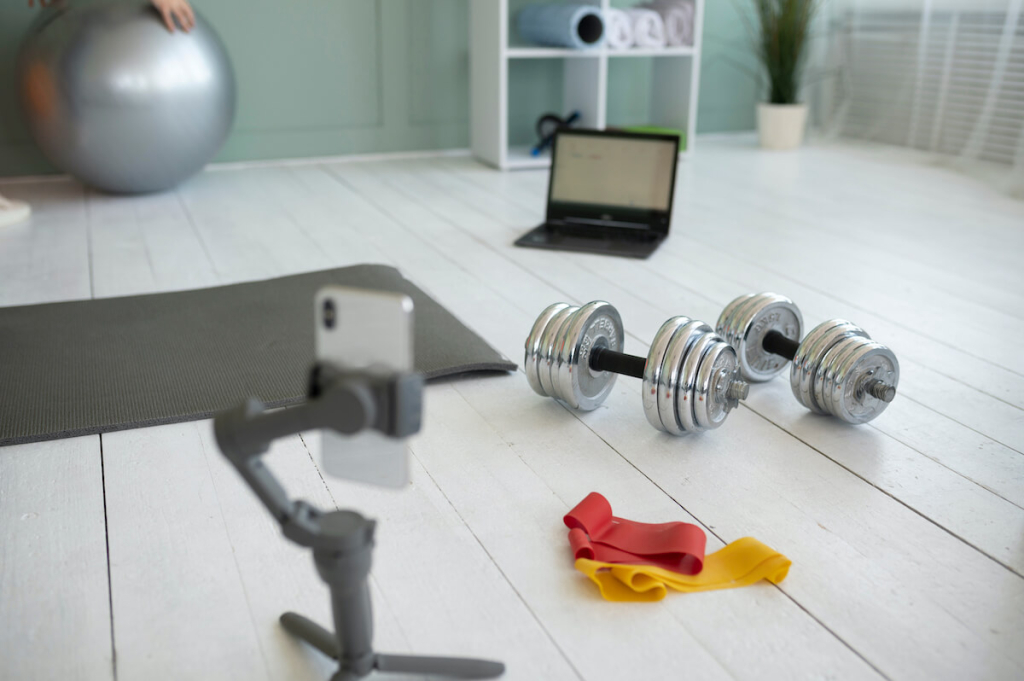 Materializing your home gym ideas
There are so many home gym equipment options, which can be overwhelming. To help you set up the essentials, here are a few pieces of gym equipment that need to be on your list:
Treadmill or stationary bike
Any fitness regimen should include cardio, and having a treadmill or stationary bike at home eliminates the need to go outside for a run. Depending on where you live, the weather may not always be conducive to outdoor exercise. Having a treadmill or stationary bike at home allows you to get your workouts regardless of the weather outside.
Although they are typically for cardio, stationary bikes and treadmills can also support your strength and interval training. This keeps your workouts interesting and prevents you from getting bored.
Opt for a multi-functional home gym system
One downside of converting a part of your home into a gym is its limited space. Even though you might want a full-body workout, your space may not allow it. This is where multi-functional home gym systems come in.
Weightlifting, bench pressing, and leg presses are just a few of the activities that these all-in-one machines can accommodate. They provide a full-body workout and are an excellent option for minimizing space use.
Many multi-functional home gym systems also allow customization to workouts by adding or removing different attachments. This is especially helpful if you have specific fitness goals or want to focus on certain muscle groups.
Lastly, a multi-purpose home gym system might help you mix up your workouts and avoid getting bored and unmotivated. If you have been exercising the same way for a while and want to try something new, this may be very helpful.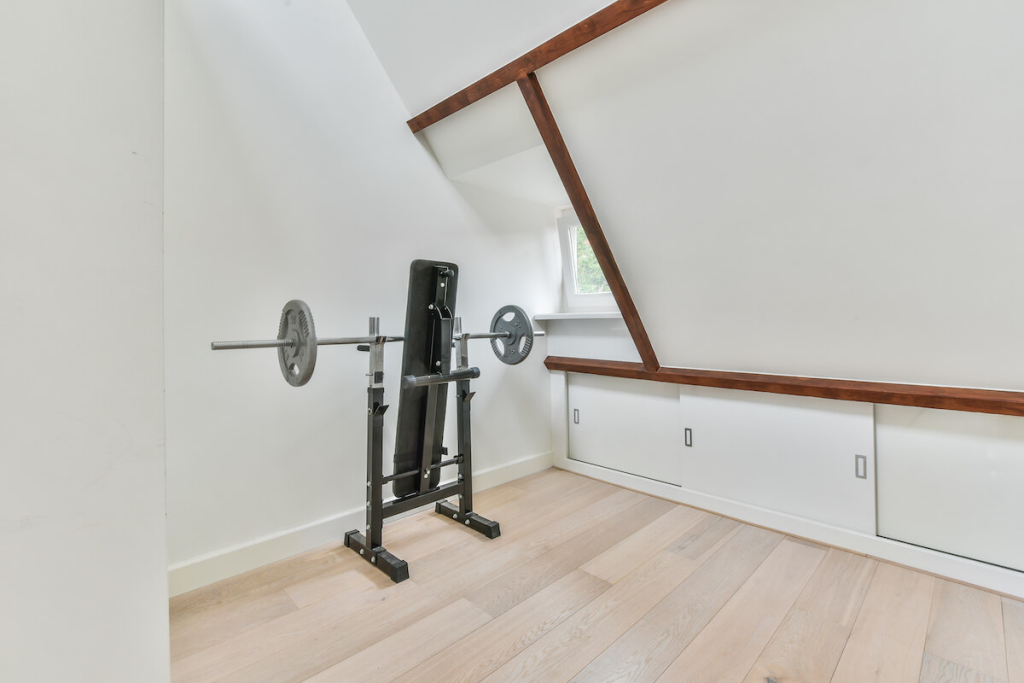 Invest in free weights
Free weights like dumbbells, barbells, and kettlebells are essential for strength training and can be easily stored in a corner or closet when not in use. Aside from being space-efficient, they are also reasonably priced than other types of weight-training apparatus.
Free weights offer a variety of advantages for strength training and general fitness, making them a perfect addition to any home gym. For starters, they are versatile and can be used for various workouts, making free weights a popular choice for home gym equipment.
Next, free weights also permit a wider range of motion and a more natural movement pattern, which enhances coordination and balance. Lastly, they can target specific muscle groups, helping you to customize your exercises to meet your unique fitness objectives.
Use your body weight
Did you know that you can also use your body weight for workouts? You can do that with resistance bands, TRX straps, and a pull-up bar. Aside from being space-savers, they are also not as costly as other gym equipment.
Resistance bands and TRX straps are versatile and portable and can provide a full-body workout. As their name suggests, these bands offer resistance without stressing your joints, making them the perfect low-impact exercise equipment. In addition, these bands are lightweight and compact, making them simple to transport and store. They are, therefore, a fantastic choice for those who travel or have a small home gym.
To use your body weight for strengthening your upper body, you can add pull-up bars at home. Pull-ups, chin-ups, and hanging leg raises are just a few of the workouts you can do on pull-up bars. This adaptability makes it a fantastic addition to your full-body activity.
Set up a yoga area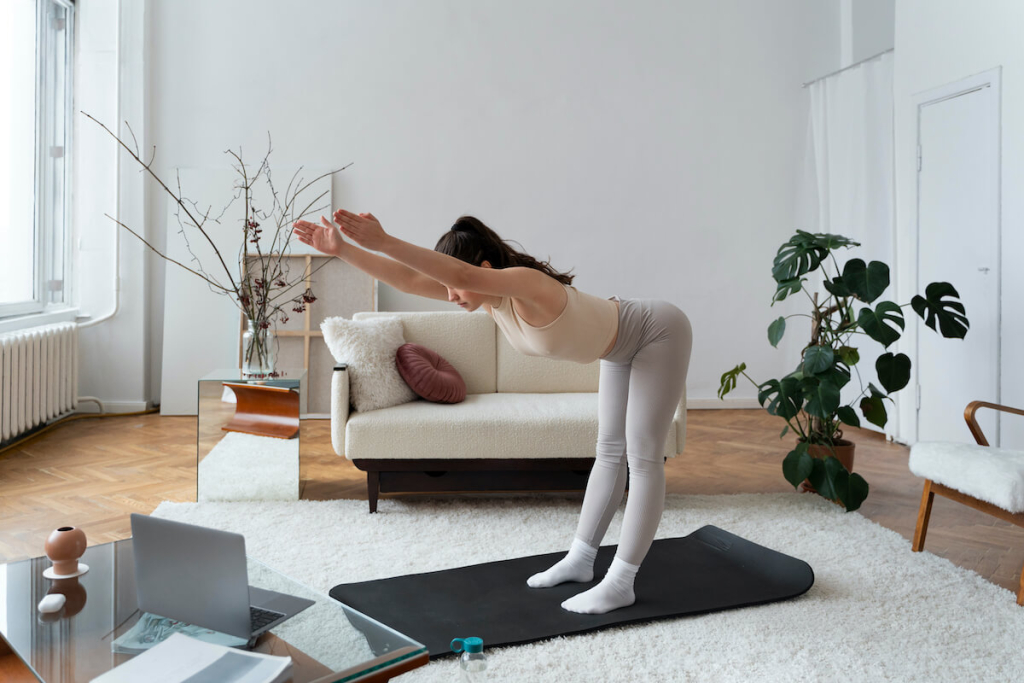 A dedicated space in your home gym for yoga and stretching helps improve flexibility and relaxation. That said, it is an important part of a well-rounded fitness routine. Your home gym can be a tranquil refuge from the rest of the house if it has a designated yoga space. After a workout or a long day, you can unwind and relax in this space.
Practicing yoga also improves your focus. Doing yoga in a quiet, distraction-free environment can help you focus better on breathing and your body, leading to a deeper, more satisfying practice.
For your yoga area, consider the following equipment:
Yoga mat: A non-slip yoga mat is a must-have for home practice.
Yoga blocks: Yoga blocks can assist with various poses and offer support in seated and standing positions.
Strap: A strap is useful for stretching and aiding with certain poses.
Bolster or cushion: A bolster or cushion can provide extra support in restorative poses.
Blanket: A blanket can keep you warm or add support in certain poses.
Timer: A timer can help you stay on track and ensure you have enough time to complete your sequence.
Mirror: A mirror can help you check your alignment and ensure proper form during poses.
The essentials
Before you dive into your equipment and start your routine, here are a few more items that you need to have in handy for your home gym:
Mats: Exercise mats can provide a comfortable and protective surface for various workouts, such as yoga or pilates.
Storage: It is important to have a place to store your fitness equipment when it's not in use. This could be a rack, shelf, or even a room's designated area.
Water bottle: Staying hydrated is crucial during any workout, so be sure to have a water bottle available.
Towels: Sweating during exercise is normal, so have a few towels handy to wipe off equipment or dry yourself.
Proper footwear: It is essential to wear the right shoes for your workouts, whether running shoes for cardio or weightlifting shoes for strength training.
Comfortable clothing: Choose comfortable clothing that allows for a full range of motion during your workouts.
Music: Some people find it helpful to listen to music while they work out. Consider setting up a speaker or headphones to play your favorite tunes.
What are the best areas in the house for a mini home gym design?
Our homes are not primarily designed to hold gym equipment, so you may have to compromise some equipment for your home gym. But if you want to make the most out of the space in your house, here are the best places where you can up your mini home gym.
Spare bedroom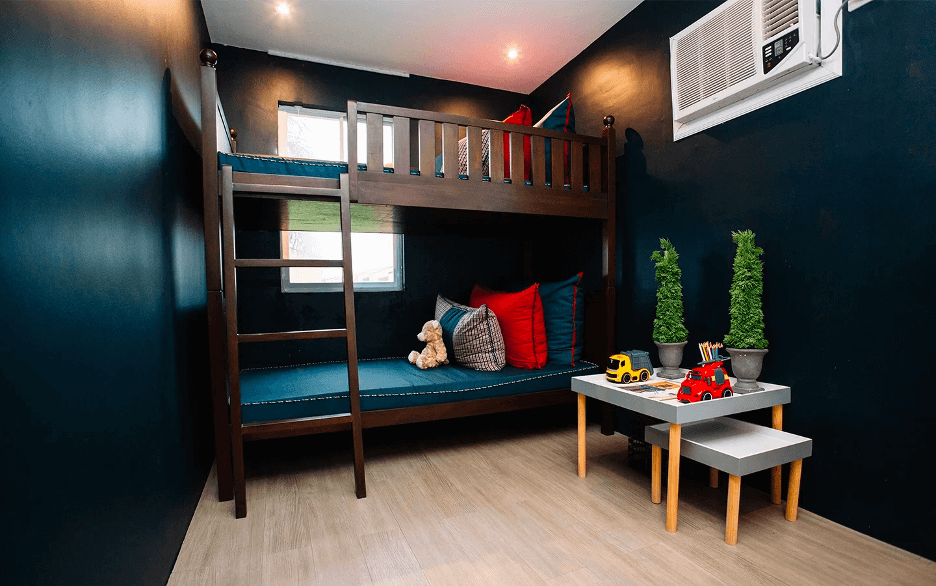 A spare bedroom is often big enough to accommodate basic gym equipment like a treadmill or a stationary bike. In addition, it is spacious enough to house free weights and other strength training gear.
Having your mini home gym in a spare bedroom also means you can exercise in a quiet area unbothered. Lastly, a spare bedroom would have windows that can let natural light into your workout station and offer a lovely view outside.
Living room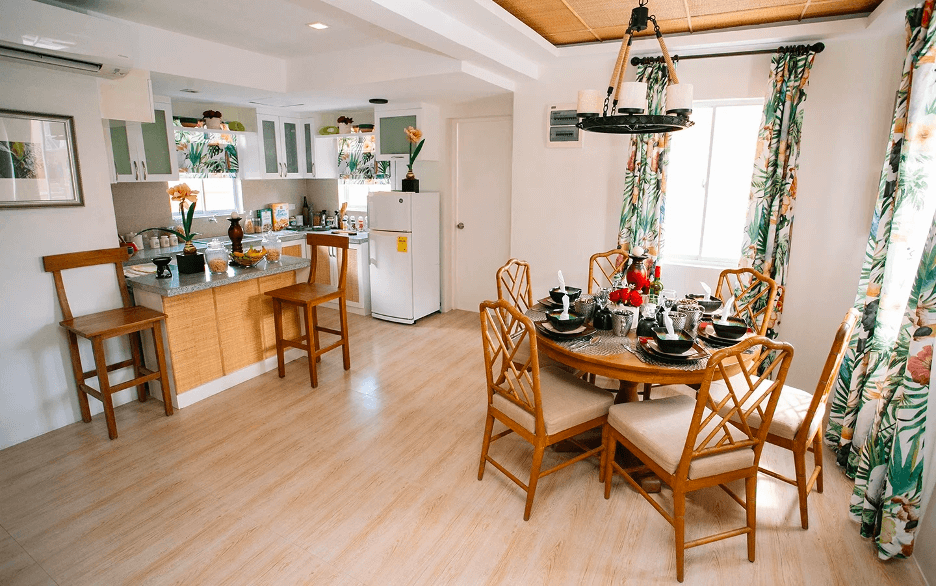 Considering that it is frequently a central and practical place in the house, the living room is a wonderful spot for a small at-home gym. It might also have enough room on the floor to put up some simple workout apparatus, such as a yoga mat, an exercise ball, or a set of dumbbells.
By turning your living room into a home gym, you may exercise while keeping an eye on your kids and pets, watching TV, or listening to music.
Balcony
The balcony makes a wonderful location for a small home gym since it offers access to natural light and fresh air, which can make workouts more pleasurable. Additionally, it is usually a quiet area where people may work out without being bothered.
If the balcony is big enough, you might be able to set up some basic exercise gear there. Lastly, if the balcony has a rail or other strong framework, it can also be used for bodyweight workouts like dips and rows.
Bring your home gym ideas to life in Camella.
Camella offers spacious properties for sale where you can have enough space for your daily workout routine. Whether it is a spare bedroom, a spacious living room, or a balcony, Camella has the ideal space for your mini home gym without eating up space from other parts of your house. Check out our home options and see how you can live a healthy life here.