Have you ever felt the boredom of staying inside your house during this pandemic? After months and months of locking ourselves at home, it is normal to crave fun with our friends and making memories with them.
With dining in now allowed in some areas and commercial establishments around the country, you can now again go back to your pre-pandemic and check out the places on your bucket list.
If you are living in the city, your idea of a vacation may be a stress-free environment where you can breathe fresh air and unwind. If you want a convenient and accessible weekend vacation spot near Metro Manila, Laguna province offers places where you can have an out-of-the-box experience with your friends and loved ones.
Related articles:
Favorite Tourist Spots in Laguna
Here are some of the cozy hangout places and tourist spots in Laguna that you can easily go to: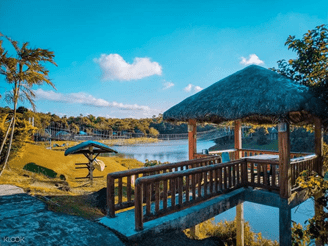 Mountain Lake Resort
Now that the roads are more interconnected and the transportation is improving, you can easily go to your favorite places in the province to unwind. If you are looking for some adventure in the south, you can start with the stunning view of Mt. Banahaw from the Mountain Lake Resort in Cavinti, Laguna.
Here, you can also laze around the well-known Lake Caliraya. It is one of the underrated spots to visit in Laguna that is definitely worth a spot in your itinerary. If you want a relaxing weekend surrounded by nature, this Spanish-Mediterranean-styled resort is your perfect choice.
The resort also offers activities like golf, a fine dining experience at their restaurant, kayaking at the Lake Caliraya, and many more to mention. For your total relaxation, Mountain Lake Resort also has its bar, jacuzzi, and sauna.
With those offerings, it is no wonder why Mountain Lake Resort is one of the most popular tourist destinations in Laguna. The resort does not allow same-day reservations and walk-ins, so if you are planning to visit, make sure you call ahead and follow basic health precautions.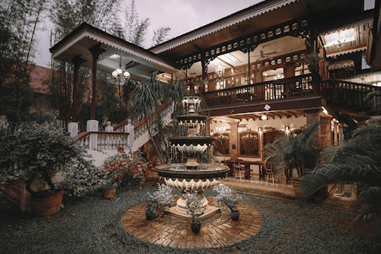 Sulyap Gallery Café
We all know that Laguna is rich in history, being the home province of our country's national hero Jose Rizal, for one. For coffee lovers who want to travel through time, immerse in history, and feast on classic Filipino dishes, Sulyap Gallery Café is the place for you.
Located at Brgy. Del Remedio, San Pablo City, Laguna, this café gives a blast of the past with its native rustic theme. To make them unique and different from other cozy cafés in the area, Sulyap made itself stand out with its wooden furniture and Capiz shell windows.
Along with its coffee offerings, this hidden gem also offers native San Pablo dishes like kulawo and pinayti, which are their best-selling dishes on the menu.
Alluding to Laguna province's rich history, the café also houses a mini-museum where different kinds of antique ceramics, religious artifacts, and different relics are preserved and displayed. If you're into colonial architecture, this is one of the many Laguna tourist spots that you would not want to miss.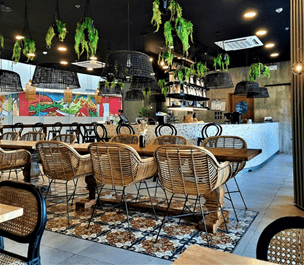 Hiraya Manawari Café
Ready to get your caffeine fixes? This cozy Laguna coffee shop is perfect if you want to work and feel relaxed at the same time. Deriving its name from the ancient Tagalog phrase meaning "reach your dreams," the café crafts the good food, coffee, and experience that parallels a dream realized.
This café welcomes you in its homey vibe and selection of affordable drinks, snacks, and sandwiches. If you want to swing by on your next Laguna visit, you can find this café on the 4th floor of Robinson's Galleria South in San Pedro.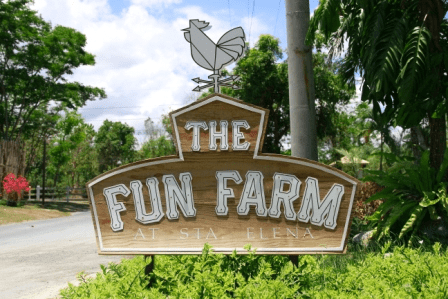 The Fun Farm At Sta. Elena
Are you up for a full adventure in nature? The Fun Farm at Sta. Elena might just have the perfect activities for you. This Fun Farm in Sta. Elena Golf and Country Estate in Cabuyao allows you to experience a laid-back lifestyle surrounded with animals and other activities like obstacle games and even fishing.
The Fun Farm is a perfect place for families who want a memorable time with their children of all ages. Within the farm, your kids can enjoy the mini zoo where the animals can be fed and pet. For the more adventurous members of the family, they can try zip lining, horseback riding, the sandbox, or simply tour the eight-hectare theme park.
If you want a non-stressful bonding retreat, the Fun Farm is a must-try spot n Laguna. While you are there, you can also pick fresh and organic vegetables to take back home.
With South Luzon now more accessible from Metro Manila, it is becoming a more popular weekend destination for many city dwellers. The province offers the perfect escape from the city noise where you can also breathe fresh air, unwind, and destress.
As we slowly go back to normal, commercial establishments are also starting to operate. But while we are having fun, make sure to remember the health protocols.
Laguna surely has a lot to offer, from its famous buko pie to hot springs, beautiful lakes, and other natural wonders. But there are also a lot of hidden gems yet to be discovered and enjoy in the province. Exploring these wonders is more convenient when you live close and invest in a house and lot for sale in Laguna.
Camella, the country's most trusted real estate developer, has a wide range of home offerings in the province. These include Camella Dos Rios Trails at Cabuyao, Camella Calamba at Palo Alto, and Camella Baia at Bay. Find the most ideal community for you and check out your home options in our home catalog.