By Andrea Patrice Nulud
The sun is setting in the west, and its soft and golden rays temporarily blinded my eyes as I stared and watched the scenery outside the taxi window. As I continue to roam around the city, I watch the sun slowly disappear. The darkness falls, the streets and cars light up in various colors, brightening my mood. I sigh deeply and think, "This is a wonderful place brimming with mysteries and wonders. I am happy I am home."
Indeed, I am home in Davao, where life is. There are unique in Davao City and Davao Region in general that you wouldn't get to experience in other parts of the country.  
Davao is a major tourist destination and a natural haven for both leisure and adventure. Some of the famous activities visitors love are island hopping in Samal Island and Talikud Island, and hiking up to the peak of Mt. Apo.
That said, it is a great place to begin your journey in the south. Aside from being the largest city in the country in terms of land area, Davao is also the gateway to satellite destinations in Mindanao island.
Davao's topography is stunning, with a wide range of picturesque landscapes. Mantle volcano-fed hills and valleys, fruit plantations and orchid farms. Coral islands float on mirror-like water. Mt. Apo, the country's highest peak, towers majestically over the surrounding countryside.
If you are planning a trip to this wonderful city, here are few places you should include on your itinerary. Whatever your budget is, Davao can always provide something. Experience Davao like a local and get to know the region better with these tourists spots.
Philippine Eagle Center
Location: Malagos, Baguio District, Davao City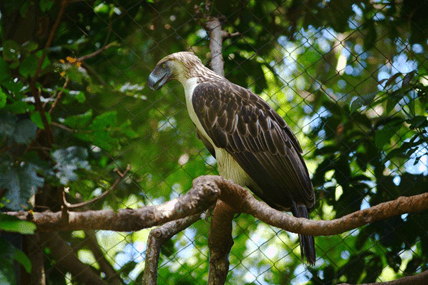 Number one on the list is the Philippine Eagle Center! It is an 8.4-hectare area located in Malagos, Baguio District, Davao City, at the foothills of Mt. Apo and within the Malagos Watershed. The Philippine Eagle Center serves primarily as a breeding facility for the critically endangered Philippine Eagle and other birds of prey. While tourists are unable to visit the breeding centers, the rest of the park is open to the public that provides an enthralling introduction to the Philippines' avian wildlife.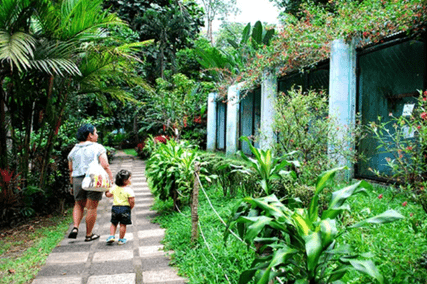 The park achieves its goal of serving as a means of spreading awareness about the eagle's plight. For nearly two decades, the Philippine Eagle Center has educated schoolchildren, and tourists about the importance of preserving the haribon and its habitat. 
During your visit, you will see eagles feeding on raw meat and cutting it with their sharp claws and beaks, as well as watch eagles soar around the area with huge wingspans. 
Related: Safest Places To Travel In The Philippines In 2021
Davao Crocodile Park
Location: Riverfront, Corporate City, Diversion Highway, Ma-a, Davao City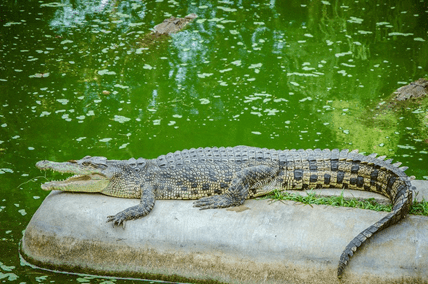 Davao Crocodile Park showcases the country's "state of the art" crocodile farming. This Davao City tourist attraction is home to thousands of crocodiles, both freshwater and saltwater, that are bred and born on the premises. You can also visit the incubator room, which houses hundreds of crocodile eggs.
Aside from crocodiles, you'll also get to see monkeys, snakes, birds, and other reptiles. Crocodile Park provides educational tours, seminars, and public awareness about wildlife conservation. Overall, it's a wonderful way to experience the Philippines' natural and cultural wonders.
Related: The 7 Best Places To Travel In 2021: Where To Go Next
Malagos Garden Resort 
Location: Baguio District, Calinan-Baguio Rd, Davao City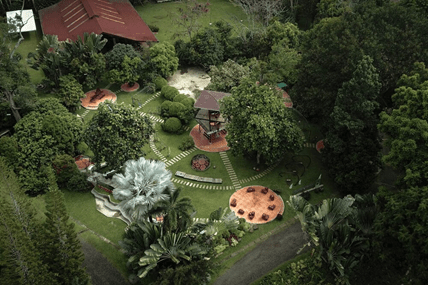 Visiting Davao soon? The Malagos Garden Resort is one of Davao's most popular attractions. It's a 12-hectare Davao nature theme park that serves as a one-stop go-to destination for visitors looking to enjoy the outdoors while also seeking sanctuary in the area's tranquility.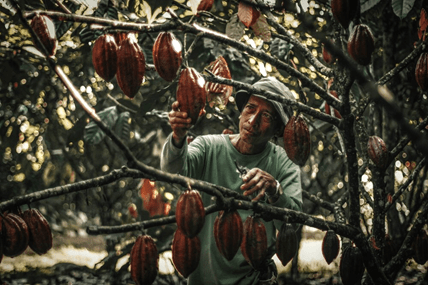 Photos courtesy of VisMin.ph
In addition to these natural wonders, Malagos is home to the Philippines' first chocolate museum. It is also important to note that Malagos Chocolate was recognized by the International Cocoa Awards in 2017, making it the first in the Philippines. Because of its quality, this chocolate is also sold in Singapore, Japan, Australia, and the United States. 
Indeed, Malagos Garden Resorts has something for everyone, no matter what kind of vacation they have planned! 
Mt. Apo – The Highest Peak in the Philippines
A trip to Davao City would be incomplete without a visit to Mount Apo, also known as the King of the Philippine Peaks. Mount Apo, with an elevation of 10,311 feet, is the highest mountain in Southeast Asia. Before reaching the summit of Mount Apo, there is a crater lake formed naturally by volcanic activity.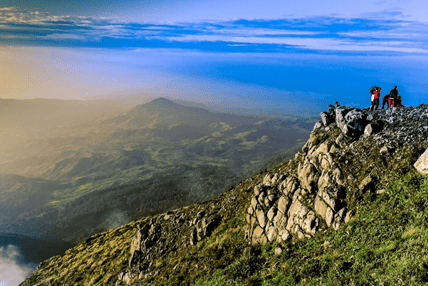 Photo courtesy of Jon Lisondra
Mt. Apo's summit is surrounded by seven peaks. In good weather, you can see the beautiful sunset and sunrise. A panoramic view of Mt. Matutum, Lake Venado, and other South Cotabato landmarks awaits you.
Visiting Mt. Apo is one of the must-do activities in Davao. There are a variety of trails to choose from, depending on your level of difficulty.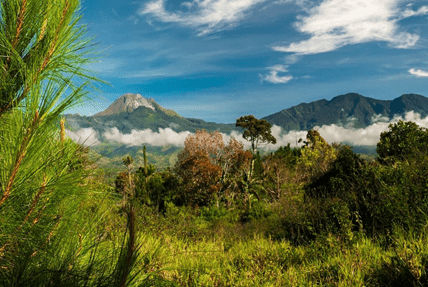 Photo courtesy of Peakvisor
There are hot springs in the foothills of Mt. Apo that will relax your tired body and reduce muscle aches, such as Mundo Apo hot spring, Agco Hot springs in Kidapawan, Bongolanon Falls in Magpet, and Mainit hot spring in Kapatagan, which is a very ideal thing to do.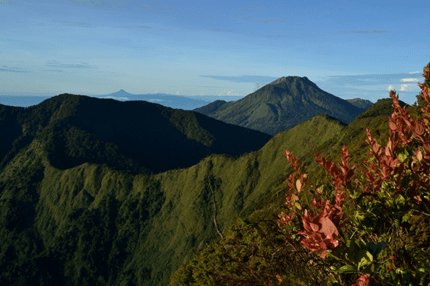 So, dare to climb Mt. Apo, the Philippines' highest peak, for an adventure of a lifetime!
Related: Where to Travel this Pandemic in the Philippines
Island Garden City of Samal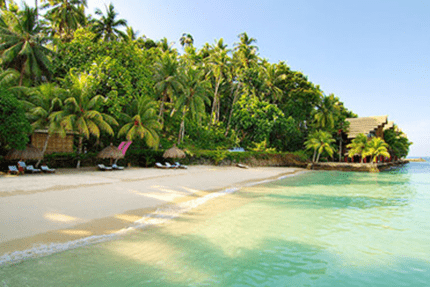 Want to get away from the hustle and bustle of the city and immerse yourself in a tranquil and charming ambiance just outside of Davao City?
The Island Garden City of Samal, located in the heart of the Davao Gulf, has long been a favorite tourist destination, particularly for those living in Davao City, not only because of its proximity, but also because the island is tranquil, brimming with pristine beaches, and alive with life.
A guided tour of the island will reveal the island's inland riches, including rivers, waterfalls, heritage houses, and the world-famous cave that is home to the world's largest population of fruit bats. According to local and international scientists, the cave (one of the island's 70 caverns) is home to millions of Geoffrey's Rousette Fruit Bats. But it is the island's kind and delightful people who make it so beautiful, not only its white and pristine beaches or its various natural features. 
All of these factors combine to make this island a world-class ecotourism destination in this region of the Philippines.
Furthermore, amongst the beautiful resorts Samal has to offer, Pearl Farm Beach Resort is one of the most prestigious and opulent beach resorts. Prepare for a gourmet feast at Maranao, the hotel's in-house dining establishment, and indulge in their delectable cuisines. You may hang out in the resort's bar if you want a 360-degree view of the property.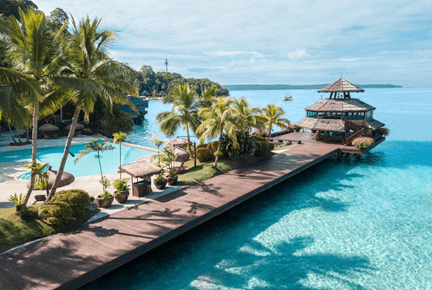 Enjoy a relaxing massage at the spa and activities like swimming, canoeing, and beach volleyball during your staycation. You can also arrange for scuba diving, fishing, and windsurfing, as well as sightseeing tours.
Eden Nature Park and Resort
Location: Eden, Toril District, Davao City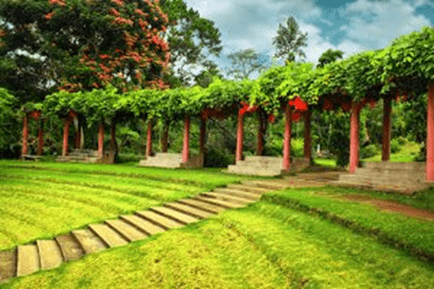 Photo retrieved from Eden Nature Park
Save the best for the last! The Eden Nature Park and Resort, located at the foot of Mt. Talomo in Davao City's Toril District, is an 80-hectare man-made nature park that has provided a calm respite from the city's hectic metropolitan life for years.
Enjoy the temperate climate and fresh forest air while communing with nature in their vast gardens of organic vegetables, various tropical flora, thousands of pine trees, and other plants. A tour is recommended for first-time visitors who want to see the Amphitheater, Lola's Garden, Flower Garden, Plaza Maria, Mayumi's Well, and other attractions.
Trek down their Mountain Trail, camp in their grounds, attempt rope gliding in their Indiana Jones, play and move in their grounds, or zip down their 200-meter zip line dubbed Sky Rider for an adventure.
Indulge in their scrumptious dishes, which are primarily crafted from natural fresh raw ingredients collected in their own garden and expertly prepared to suit everyone's delicate palate.
Take a walk to Tinubdan to learn about our Mindanaoan ancestors' lives and cultures, or enjoy their other amenities, which include swimming pools, playgrounds, cottages, souvenir shops, function areas, and a business center with WiFi
Eden promises "a respite, an adventure, a spiritual retreat, a cultural excursion, and a sensuous feast" to all visitors.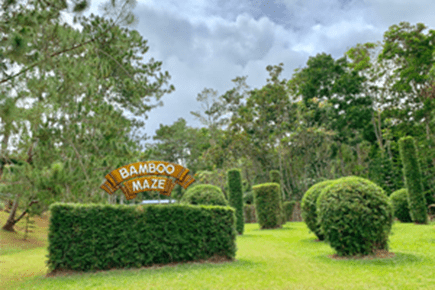 Photo retrieved from Eden Nature Park
Live close to these tourist destinations by exploring a community that is a short drive away. Camella Davao is a 38-hectare house and lot development, located just at the heart of the city, Barangay Communal, Davao City. This community is also only 5-10 minutes away from Davao International Airport, making it an ideal residence for those who like to travel internationally.  
Come home to your new home here in Davao. For house and lot for sale in Davao, check out Camella's catalog of home options. For other projects, you may check Camella's property for sale options across the Philippines.