Are you wondering what you can and cannot do inside a cinema? Here is a quick guide on the reopening of Philippine cinemas.
---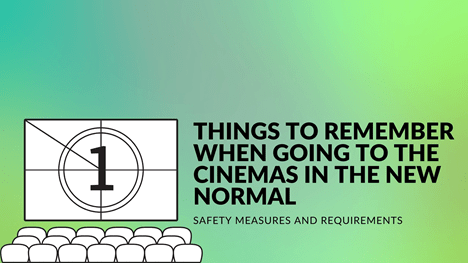 The big screen is back! After over a year of closure, Philippine movie houses are again set to open in select areas around the country, but with restrictions. This is after the Inter-Agency Task Force (IATF) placed territories under Alert Level 3, including Metro Manila.
To know more about the new alert level system, check this article: New Quarantine Classifications: Guidelines On Granular Lockdown
The new classification allows cinemas to operate with the IATF mandated health standards. First among the list is the required one seat apart for movie watchers, as stated by Charmaine Bauzon, Cinema Exhibitors Association of the Philippines (CEAP) President, in a CNN interview.
This is in line with CEAP's 'Sa Sine Safe Ka,' campaign, rolling out science-based safety protocols and as endorsed by epidemiologists for the safe reopening of cinemas.
What are the safety protocols I have to remember when going to the movie houses?
On top of the current minimum health standards, cinemas will also employ safety guidelines both for moviegoers and theater owners as they resume operations.
For the moviegoers: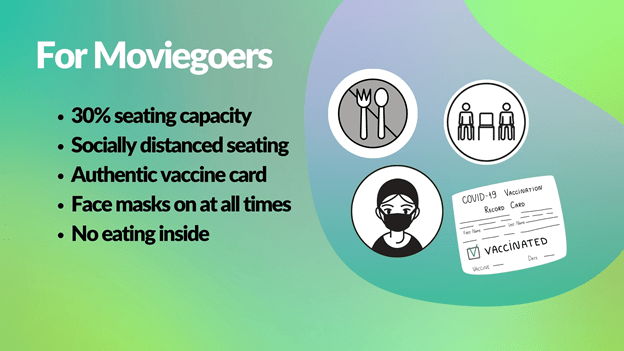 Only 30 percent capacity for the establishment.
Movie-goers should follow a socially distanced seating.
Security or staff must monitor body temperature before entering.
Only fully-vaccinated people can enter the cinema. (Establishments will require an authentic vaccination card showing complete vaccination status.)
Face masks must be on at all times.
You cannot eat inside the cinema.
Follow other guidelines and safety measures of malls and local government units (LGUs).
For theatre owners and cinema employees: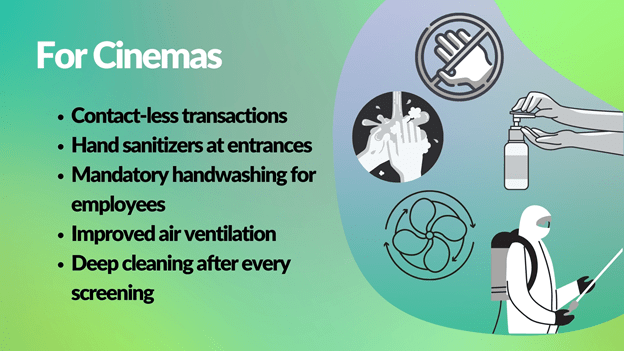 Contact-less transactions
Hand sanitizers at entry points
Mandatory hand washing for employees every 30 minutes
Improved air ventilation
Deep cleaning of the area after every screening (UV Lights, Misting Machines, etc.)
How did the lockdowns impact the cinema industry in the Philippines?
Since the first lockdown was first announced, the Philippines' cinema industry has lost an estimated ₱21 billion, according to CEAP President Bauzon. Cinemas in the country were closed for a total of 19 months. That said, this figure does not include the loss from the food stalls in the vicinity.
How safe are cinemas with the new measures?
With the 'Sa Sine Safe Ka' protocols patterned after its international counterparts, CEAP is confident that cinemas are safe to operate. CEAP also cites a recent German study concluding that cinemas are safer than other indoor establishments (even safer than supermarkets), regarding Covid-19 risks. As long as establishments follow the safety guidelines, including the 30% capacity rule, movie viewing can be a safe experience even amid this pandemic.
The study also enumerates the following factors why cinemas are safer indoor spaces:
Movie watchers only stay in the room for an average of 2 hours
All viewers face the same direction, which reduces transmission
People do not talk to each other in the cinema
There is less physical activity in the movies
Are cinemas and theaters open under GCQ?
For areas outside the new Alert Level system, like cinemas in areas under General Community Quarantine (GCQ), they can operate at 25% capacity for fully-vaccinated individuals. This is based on the memorandum issued by the Department of Trade and Industry (DTI) in March 2021. To add, in areas under Alert Level 3, moviegoers must still wear their face masks at all times. Next, there is strictly no eating inside the cinema.
Lastly, cinemas can also operate at 50% capacity in areas under Modified General Community Quarantine (MGCQ) with the same precautions applied.
What cinemas are open in the Philippines?
In their Facebook post last October 22, Vista Cinema announced its reopening on November 10, 2021. The cinema is famous for its VIP theaters, Dolby Atmos sound, and IMAX with laser to give moviegoers the best big-screen experience they have long been missing.
For movie schedules and other announcements, you may visit Vista Cinema's website.
For in-theater cinema alternatives, check out this article: Drive-In Cinemas: Philippines' New Movie Escapism Route
What movies are showing in the Philippines this 2021?
With less than a quarter of the year remaining, Filipinos have a lot of movies to catch up on in the cinema. Below are some of the first films upon the reopening of cinemas in the Philippines.
Eternals (November 3, 2021): A Marvel Studio release by the Oscar-winning director Chloé Zhao and tells the story of immortals who lived on Earth and shaped its history. It is joined by a list of caliber names in Hollywood, including Gemma Chan (Doctor Who, Sherlock), Richard Madden (Game of Thrones), and Angelina Jolie.
Dune (November 10, 2021): An adaptation of Frank Herbert's science fiction book series directed by Denis Villeneuve (Blade Runner 2049). It is a much-awaited remake of the classic, which was first adapted for cinema by David Lynch back in 1984.
Shang-Chi and the Legend of the Ten Rings (November 10, 2021): Another Marvel release starring Simu Liu, Shang Chi tells the story of a Kung Fu master forced to confront his past. The movie is also hyped as it is the first Marvel movie with an Asian hero lead.
A Quiet Place Part II (November 10, 2021): Emily Blunt is back on screen for the second installment of the hit horror movie, A Quiet Place. This time, the Abbott family faces threats beyond the monsters that hunt by sound.
Black Widow (November 17, 2021): Another Marvel hero faces her past in Black Widow as Natasha Romanoff uncovers threats. Starring Scarlett Johansson and Florence Pugh, the movie is expected to assemble Avengers fans in the cinema premier.
What other establishments are open under Alert Level 3?
Aside from the cinemas, theme parks, theaters, swimming pools, museums, and other public spaces. Lastly, social gathering venues for weddings and other celebrations are also allowed by the task force.
As we see a semblance of normalcy back in our lives, it still best to keep our precautions at high to protect ourselves and our family. Keep your loved ones safe in a home that takes care of you. Come home to Camella.
For your healthy home options, you may check out our list of house and lot for sale in the Philippines. You may also check our catalog of property for sale.