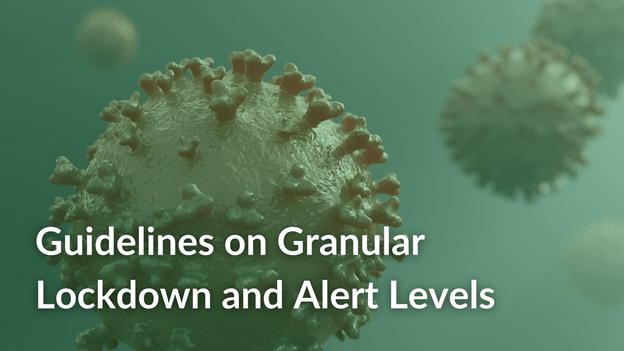 As the coronavirus disease continues to mutate, so do our quarantine classifications across the country. With the rise of the new variants and the alarming increase of cases for the past months, new guidelines and restrictions were formulated to properly apply the Principles of 3C's or the Closed, Crowded and Close Contact, especially in highly-urbanized cities.
The Inter-Agency Task Force for the Management of Emerging Infectious Diseases (IATF-EID) has ratified a new quarantine classification for areas in Metro Manila. The pilot implementation of these granular lockdowns began last September 16, 2021.
Granular Lockdown Guidelines and FAQs
You might have a lot of questions about the new quarantine classifications and what they mean for you. Below, we have listed down frequently asked questions and explainers on the granular lockdown guidelines.
What does the granular lockdown mean?
The IATF defines granular lockdowns as a micro-level quarantine for areas that are considered critical by its Local Government Unit (LGU).
How long should granular lockdowns last?
According to the IATF, the lockdowns must be at least 14 days.
Who can impose granular lockdowns?
With the new guidelines, city and municipality mayors can declare granular lockdowns on their component barangays without prior notice. Given, of course, that it is approved by the Regional Inter-Agency Task Force (RIATF).
Will assistance be provided in the new lockdown classification?
Yes. Highly urbanized cities, individual houses, and component barangays subject to the lockdown will be provided assistance by their LGU and the Department of Social Welfare and Development (DSWD).
Who is allowed to go out under granular lockdown?
If your place is placed under lockdown, only the following are allowed to go in and out of the area:
Health care workers
Non-health personnel working in hospitals, laboratories, and dialysis facilities
Uniformed personnel
What areas can be put under granular lockdown?
Under the new rules, the city and municipality mayors can declare a lockdown on the following within their jurisdiction:
individual houses where one household member tested positive
residential buildings
streets
blocks
puroks
subdivisions
villages
What happens to employees affected by the lockdown who cannot go out?
According to Labor Secretary Silvestre Bello III, the Department of Labor and Employment (DOLE) is ready to provide assistance for employees that they are entitled to.
To know more, check out these related stories from the Philippine News Agency:
New Community Quarantine Classification: Alert Level System Rules
Along with the granular lockdowns, the IATF has also released its guidelines for declaring alert levels that will determine the control measures to be implemented. Below, we have listed down the different levels of classification and what you are allowed and not allowed to do under each of them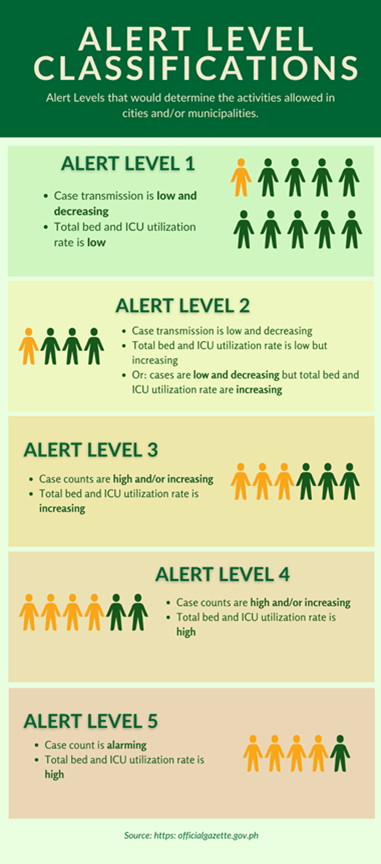 Alert Level 1
An Alert Level 1 classification means that an area has low COVID-19 disease transmission and there is more than enough intensive care unit (ICU) beds available.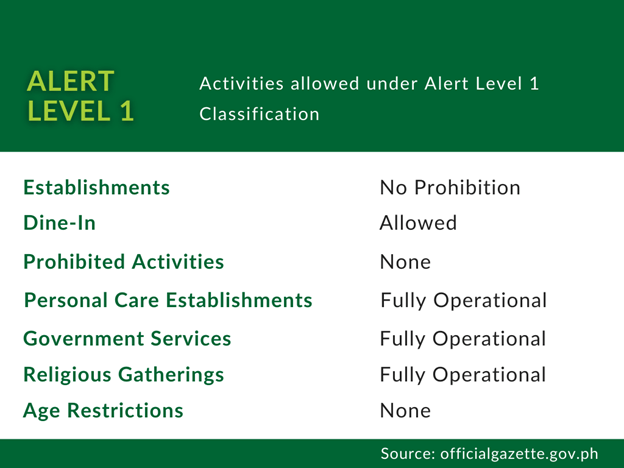 What you can do under Alert Level 1
Under Alert Level 1, everybody is allowed to move around. All establishments activities and establishments are also permitted, provided they follow the basic health protocols imposed by the LGU. You can dine inside restaurants, go to barbershops, beauty salons, hair spas, and nail spas. Government institutions, religious gatherings, and other establishments are also fully operational.
Alert Level 2
Areas in Alert Level 2 have low and decreasing COVID-19 transmission. Total hospital beds and ICU beds are also low in utilization but is increasing.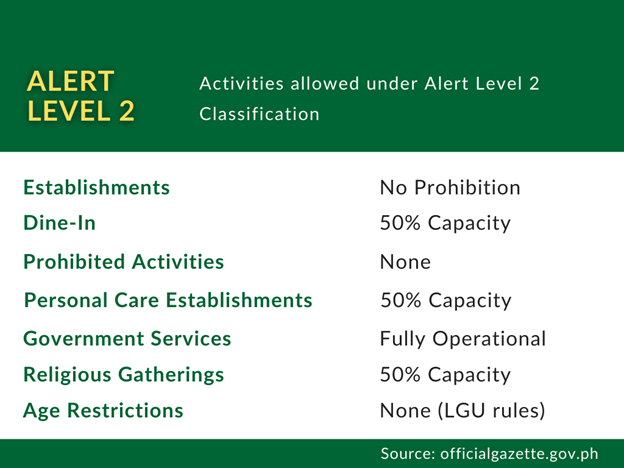 What you can do under Alert Level 2
Under Alert Level 2, movement is still allowed with reasonable restrictions. Interzonal is also allowed and subject to LGU protocols and no specific activities are prohibited. For dining in, personal care services, and religious activities, 50 percent capacity is allowed, plus an additional 10 percent if the place has a Safety Seal. Government offices remain fully operational with at least 50 percent on-site capacity.
Alert Level 3
Places placed under Alert Level 3 have high and increasing COVID-19 transmission rates. The total hospital bed and ICU utilization rate in these areas are also high.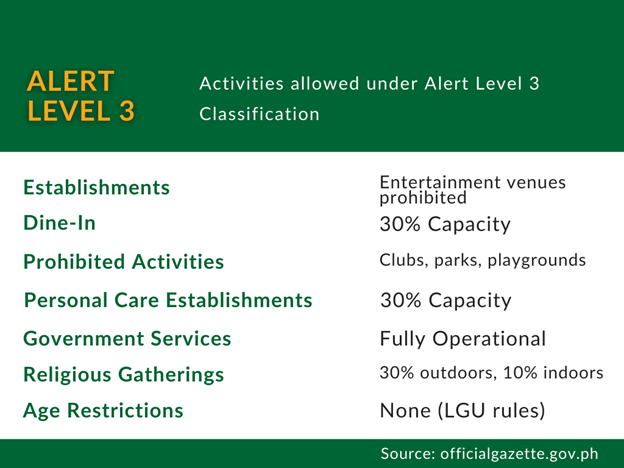 What you can do under Alert Level 3
Under Alert Level 3, people of all ages are still allowed to move around with LGU restrictions. The same is true for interzonal travels and exercise. The prohibited activities under Alert Level 3 are karaoke bars, cinemas, theaters, clubs, indoor and outdoor theme parks, and kiddie rides. Dine-in, personal care services, and religious gatherings are allowed at 30 percent capacity, plus and additional 10 percent with the Safety Seal. Government offices remain fully operational with at least 30 percent capacity.
Alert Level 4
Places under Alert Level 4 have high and increasing COVID-19 transmissions with high total bed and ICU utilization.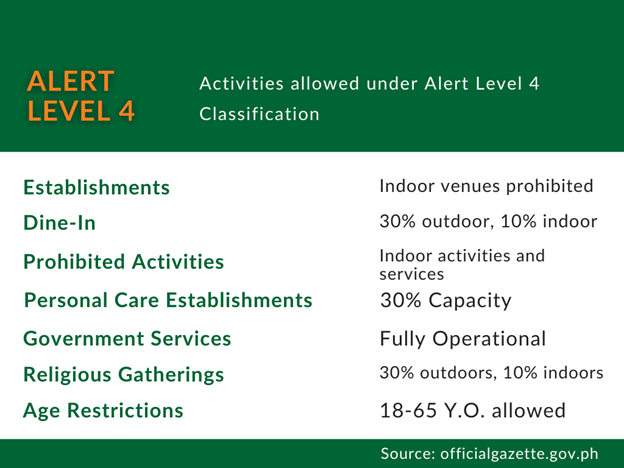 What you can do under Alert Level 4
Under Alert Level 4, people younger than 18 and older than 65 with comorbidities are not allowed to go out. Movement is also allowed for people without stay-at-home orders and exercise is limited to the area near your residence. Outdoor dining is allowed at 30 percent and 10 percent capacity for indoor, provided that all employees are fully-vaccinated persons. Personal care service establishments and religious gatherings are allowed at 30 percent outdoor and 10 percent indoor capacity.
On the other hand, tourist attractions, gyms, contact sports, swimming pools, and other entertainment venues are prohibited. The same is true for close contact services such as tattooing, make-up salons, derma clinics, and massage therapy. Government offices, however, remains fully operational at minimum 20 percent capacity.
Suggested Read: Creative Quarantine Stay-At-Home Activities
Alert Level 5
Areas under Alert Level 5 are considered critical with an alarmingly high rate of COVID-19 transmissions and an equally high utilization of ICU beds.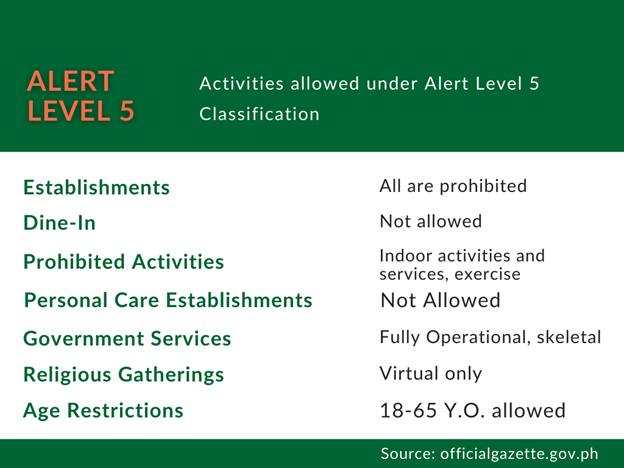 What you can do under Alert Level 5
Areas under Alert Level 5 should follow the guidelines stipulated in the previous Enhanced Community Quarantine (ECQ) classification. That means only persons between 18 and 65 without comorbidities are allowed to go out. For interzonal travels, only Authorized Persons Outside of Residence (APORs) can travel. Exercising outside is also strictly prohibited.
Establishments are mostly closed except for essential industries like hospitals, pharmacies, vets, groceries, and public transport. Personal care establishments are not allowed and religious activities should only be virtual. Lastly, government offices remain fully operational with a skeletal workforce.
Suggested Read: Which of these personalities did you become under lockdown?
How to stop the spread of the coronavirus disease?
To help stop the spread of COVID-19 in our household and communities, the best thing we could do is stay home and practice safety precautions. If you need to go out, make sure you comply with your LGU's basic health protocols and stay safe.
Look for smarter ways to keep your house and lot healthy with Camella. Check out our smart technology-ready house and lot for sale offerings or scan our properties for sale across the Philippines.
Suggested Read: What Will You Do After the Lockdown?