by Andrea Patrice P. Nulud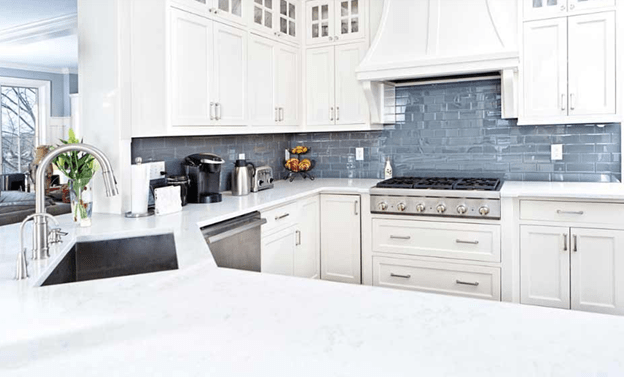 As we remain compelled to stay indoors, we have plenty of time to reflect on our homes. At this point, you probably have already made a lot of upgrades in your house and lot. You may be pleased with the sanctuary you have created.
All that hard work and money you have put into building your home is finally paying off, and it makes you feel good. Suddenly, a simple renovation becomes a full-blown house upgrade.
With the aid of the internet, we have made endless discoveries in transforming our homes with the latest design trends. When we think about upgrading our homes, designing a dream kitchen is perhaps number one on the home renovation priority list.
The kitchen is known as the heart of the house. It is an important place where we spend a lot of our time, especially during this pandemic.
The kitchen is where we cook meals for our loved ones. And for many families, it's also a place to socialize, entertain, work, or do homework. The role of the kitchen has changed drastically over the years, and the world of kitchen designs is alive with creative ideas and inspirations.
Suppose you have decided to do renovations for your kitchen. In that case, getting the design just right for your family and how you intend to use the space is really significant.
When it comes to positioning your kitchen appliances, there are plenty of pitfalls. Luckily though, designing your dream kitchen need not be as overwhelming, as there are numerous ideas you can check online.
If you plan for a kitchen makeover, here are some helpful tips you might want to consider.
1. Consider the function your space will serve.
The most crucial standpoint in planning a new kitchen is identifying the purpose you want it to fulfill. Cooking is the primary function of the kitchen. However, through the years, it has evolved.
For others, the kitchen has become a place for entertainment, studying, and more. That is why it is essential to figure out what you see yourself doing in that space. Here are few points to consider when thinking of the function of your kitchen.
How do you plan on using your kitchen daily? Besides cooking, what other daily activities do you wish to do in your kitchen? How much seating do you need? Based on these, you can decide on the space allocation and what furniture you need.
2. Take into consideration the work triangle.
The "work triangle" is a principle that is used by kitchen designers when designing residential kitchens. The work triangle is basically the distance between your stove or cooker, refrigerator, and sink.
According to this concept, they should be positioned close enough to make cooking as convenient as possible. An effective triangle is flexible that factors spaces for storage, sink, preparation, and cooking. The purpose of the triangle is to ensure efficient traffic in your kitchen.
An inferior triangle will cause you to run all over your kitchen to access your stuff. As a result, it will definitely take so much of your time and energy.
In designing your kitchen, make sure you arrange every element according to this triangle. This way, you make sure your movement around the space is smoother.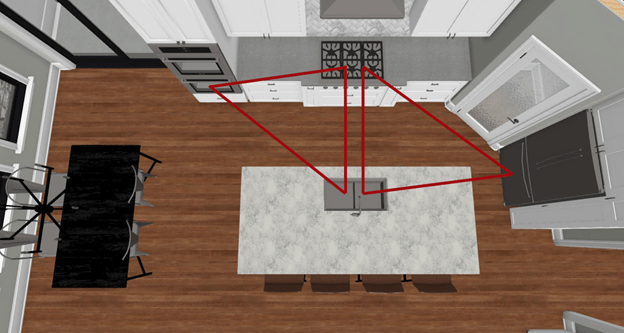 3. Plan for an adequate amount of storage.
Maxing out your kitchen storage is very essential. Every kitchen layout is unique, so take a step back and ponder on how you can maximize your available space where you can sneak extra storage.
Once everything is already set, it is hard to modify and add space. That said, it is best to decide on your storage space before your actual renovation. Choose where to put the utensils, the kitchenware, and your fragile pieces. Make sure they're accessible and not placed where they can be dangerous.
4. Let there be light.
You might think this idea simple but having the right amount of light in your kitchen is essential. It's crucial for food safety, especially when you are cooking meats.
You may be cooking food that requires color assessment to make sure if they are safe to eat. If the lighting you chose has a warm tint, discerning if meat is cooked or not might be tricky.
There is no limit to how aesthetic you can make your kitchen look, but make sure they don't go against practicality and efficiency. The more ergonomic your kitchen is, the better food you prepare.
5. Choose your appliances ahead of time.
Knowing the kind of appliances you want to put in your kitchen ahead of time is key to a good renovation plan. If you fancy yourself a master chef, you might want to choose a six-burner stove or cooktop.
What kind of range hood do you prefer? An insert or chimney hood? You see, there are so many options available you really have to consider before buying, and they are all equally important.
As you can see, there are several factors involved in planning out your dream kitchen. However, suppose right now, you are still dreaming of having your dream home. In that case, there are several house and lot packages for sale in the Philippines that you might want to consider. And a quick tip, look for a master-planned community where you have easy access to all your home and lifestyle needs.
House transformation is just one of the many things people got into during quarantine. Others have returned to their hobbies, and some even made money off them.
Perhaps you have been spending more and more time in the Home Buddies group and decided to start your own project. Our advice is to just go for it. All the time, money, and hard work you put in your space will eventually benefit you.
Suppose you are one of the many people who have discovered their inner interior designer this quarantine. In that case, you may get more inspiration from these fully furnished houses for sale.