Are you planning a kitchen makeover at home? Here is a list of simple and doable kitchen counter styling tips that you can start by yourself.
---
Commonly acknowledged as the heart of every home, kitchens are no longer just places to cook. In fact, they are also places to stimulate creativity, bring the family together, and create memories. They are both functional and intimate spaces where you prepare nourishment and serve food to your loved ones.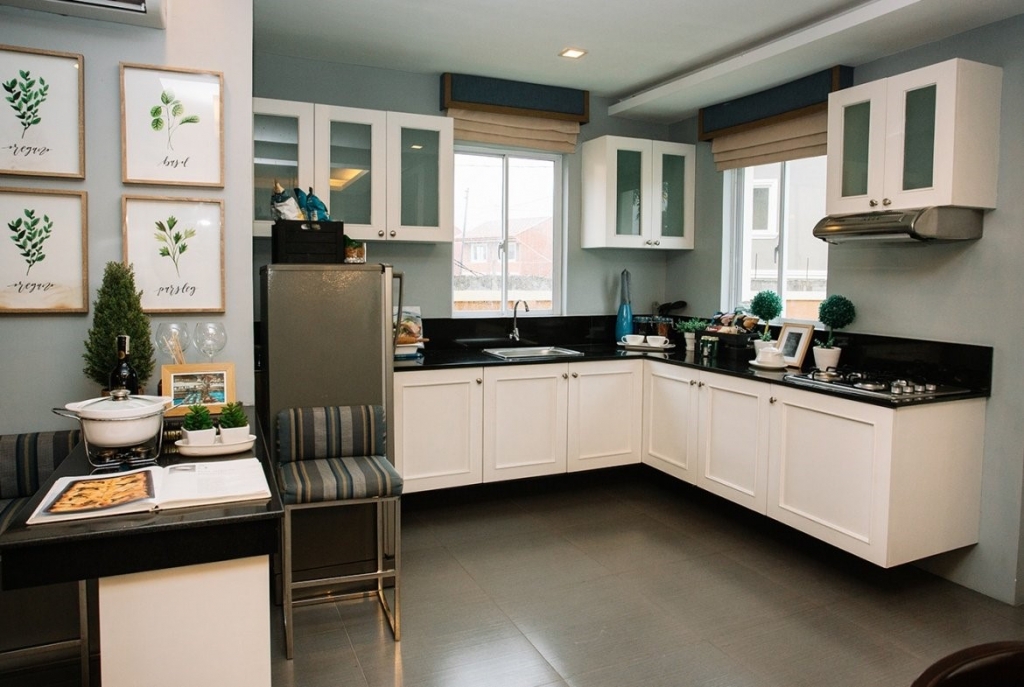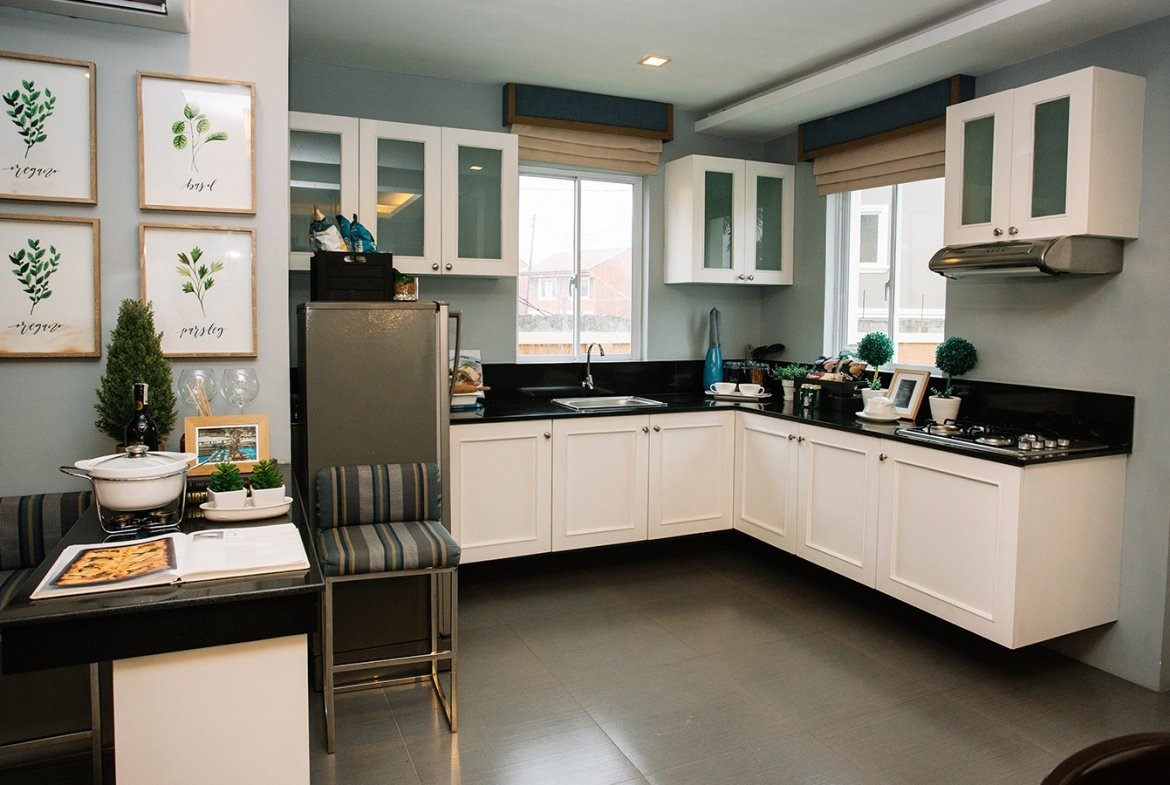 That said, one of the most exciting aspects of a renovation project is kitchen styling. It is an essential task that involves a lot of planning, decision-making, and communication with tradespeople. And to mention the disruption of living with a microwave in the living room for far too long! But learning to style your kitchen will allow you to personalize this indispensable family space.
You can make your kitchen a canvas to express your style. This is true whether you are designing it to fit the decor of other rooms or organizing the look of your entire home around it. To help you with this job, here are some practical tips and tricks to help you style your kitchen counters.
1. Go for a mix of materials and textures.
The texture is an essential feature in kitchen design because it allows you to create a layered aesthetic that helps other kitchen items blend. Another benefit of using a mix of materials and textures in kitchen design is that it helps to provide a sense of personality and comfort.
Moreover, other factors such as cabinetry, appliances, and countertops may be more important to most individuals. However, it's also important to remember that adding texture to your kitchen is helpful as the others. Even if it has recently had a major kitchen redesign, a cooking area with no stylish textures can appear pale.
2. Pendant lighting as a centerpiece
Certain fixtures are better suited for specific lighting needs, but pendants can do it all, making them a popular kitchen lighting option. Kitchen pendant lights frequently hung above an island or sink offer illumination and make a style statement. They can guide light down toward prep surfaces, define the room's main point, and introduce a contrasting color or finish while adding to the overall brightness of the kitchen.
Furthermore, in an open-plan space, a relaxed-style dining table and chairs are often part of the kitchen, so you need to think about how this will function and design the pendant lighting for this zone.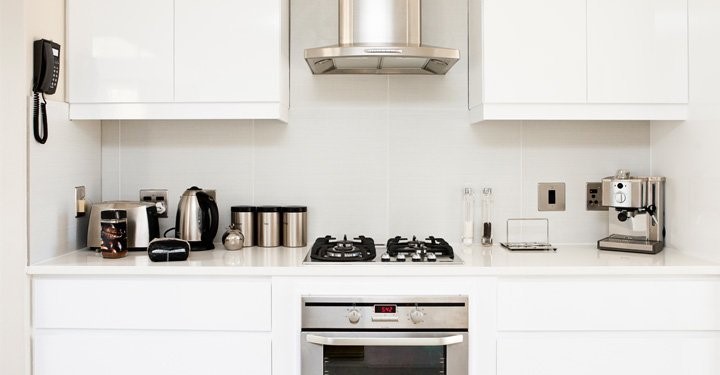 3. Keep the accessories simple.
Since the kitchen is the busiest area inside the house, it may not be easy to envisage it in a minimalist style. However, just because less is more in minimalist decor does not imply the room has to be empty. Consider it an undercover operation where personal belongings must be reduced and hidden. The look should be simple but luxurious, with stone, sleek appliances, and beautiful finishes. Make sure that everything you include is required for the space. If you're only using a few items, each one needs to stand out.
Make remodeling an easy task, follow these tips:
8 Ultimate Tips In Kitchen Remodeling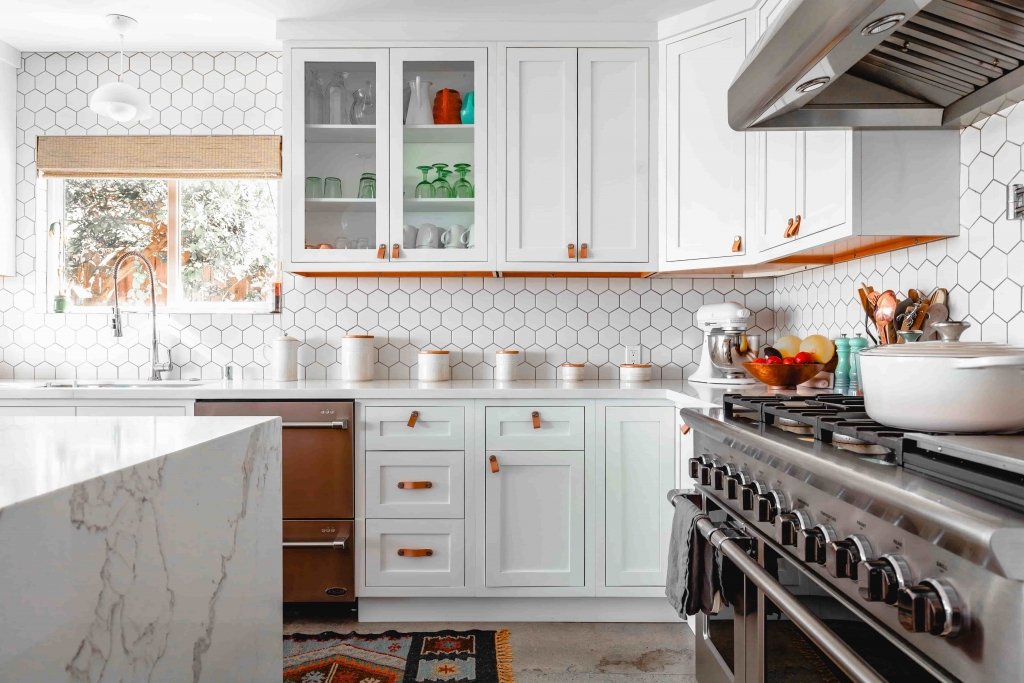 4. Decorate your kitchen with greeneries
Kitchen decorating with house plants is a cost-effective and elegant way to create beautiful spaces while saving money. Greenhouse plants infuse a modern kitchen with a sense of tranquility and freshness. Plants have a significant influence on a house's interior decor. Green house plants are low-cost accents that serve to filter the air and brighten up kitchens.
In addition, greenhouse plants lend a relaxing green leaf tone to the modern kitchen design. They are lovely, low-cost accents that can liven up even the most basic kitchens. Affordable decorating with house plants, cacti, or indoor blooming plants provide beautiful, healthy kitchen interiors in eco-friendly houses.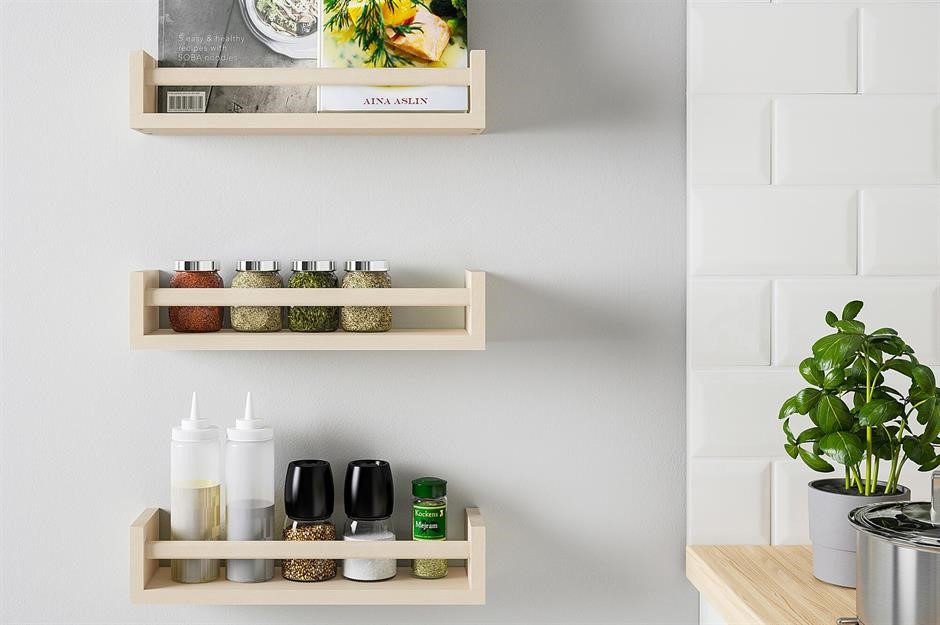 5. Make use of vertical space.
There is never enough storage space when and where you need it, and the kitchen is one of the places where storage can be an issue. However, you can ensure that your kitchen has enough space with some planning and creative storage solutions. Vertical storage options can help you make the most of every square inch of kitchen space. For example, store pots and pans on a hanging rack for easy access in the kitchen. Alternatively, add floating shelves in your pantry to reduce room and store commonly used spices. If you are looking for kitchen storage ideas for vertical space, don't be afraid to think outside the box.
Deciding on a lighting design?
Six Best House Lighting To Have For Your Abode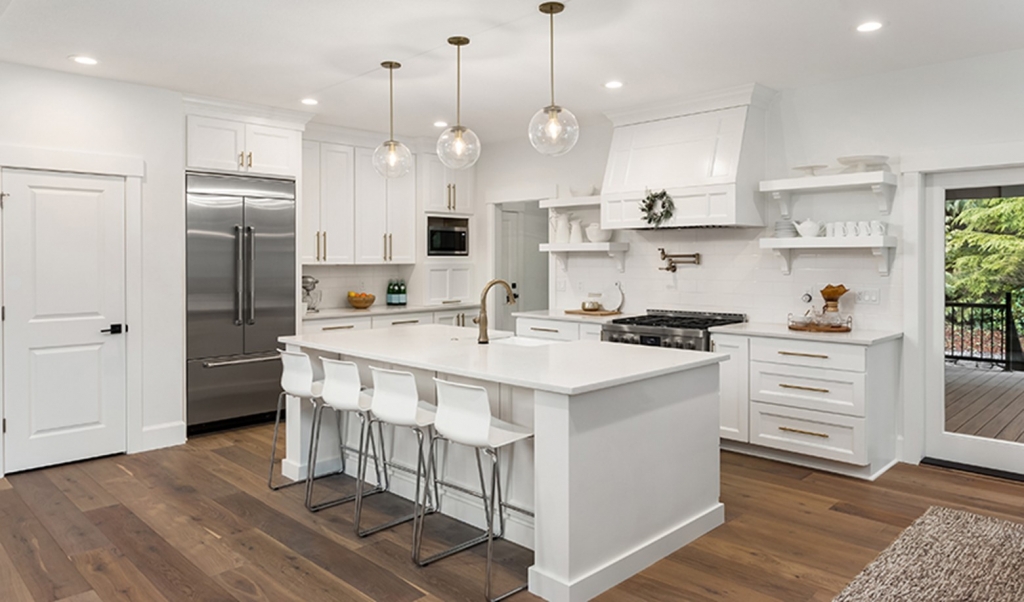 6. Soften the kitchen space with a rug
While most minimalist designs rely on hard-surfaced elements, it is essential to provide some depth and softness. Use a basic rug in a neutral hue that complements the rest of your area to meet this kitchen design demand. Textured rugs, such as shags, can improve the overall attractiveness of a room while also making it more comfortable.
7. Store dry goods in uniform and transparent containers
Say goodbye to cluttered pantry storage and hello to a beautiful kitchen! Transfer flour, sugar, spices, and other dry ingredients from their original packaging into matching jars or storage containers to improve your pantry's look, feel, and function. Ensure that your containers are tightly packed.
In addition, glass and ceramic containers provide an attractive eco-friendly choice that may be used as counter decor. In contrast, modular plastic models offer a sleek, space-saving design. The best dry storage containers make it simple to know how much food you have on hand and ensure that it doesn't go wrong while saving space and keeping your pantry clutter-free.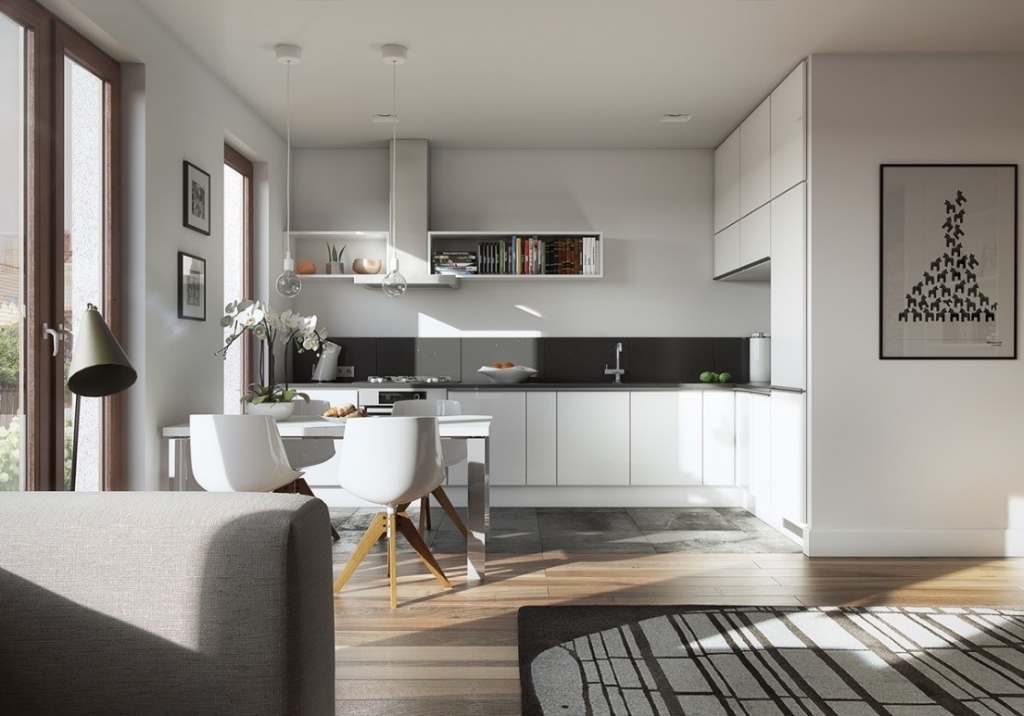 8. Keep it sleek
Create your perfect minimalist kitchen with clean lines, light colors, geometric shapes, and minimal decor. Avoid the urge to go overboard with wall art, which should be maintained to a bare minimum, and instead focus on the space.
When it comes to kitchen design, planning is crucial. It would help if you had a clear understanding of what you're attempting to accomplish. If you don't, you will have a lot of "things" that don't exactly match. There are many methods to turn a kitchen into your perfect entertaining place, and as long as you have a vision in mind, you can use these simple decorating tips to create a masterpiece.
Are you looking for homes with spacious kitchens? Check out Camella's house catalog to discover the quality house and lots in the Philippines. To know all about the master-planned communities of Camella nationwide, visit Camella projects nationwide.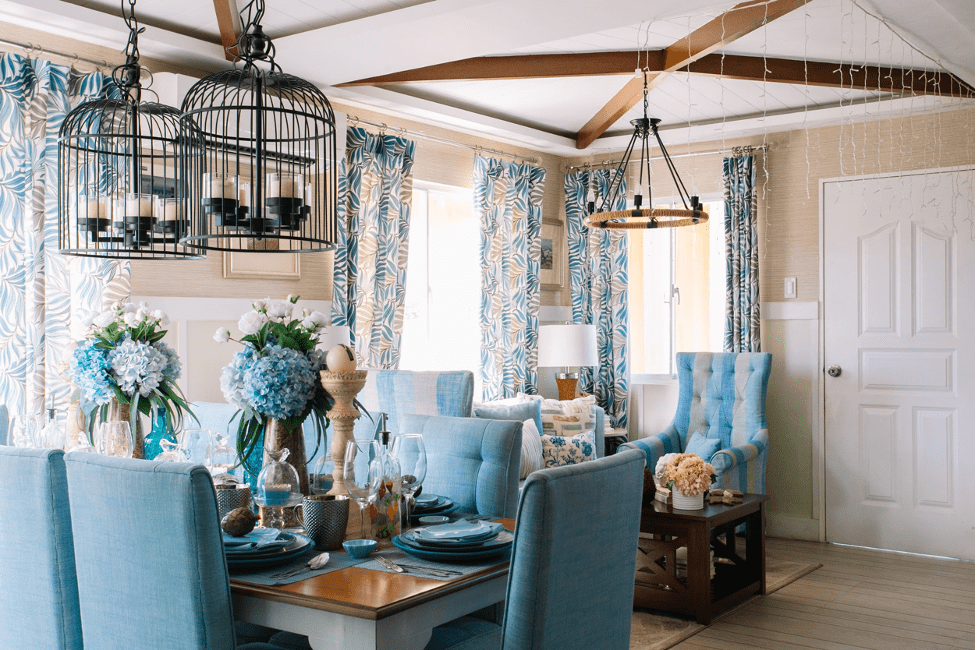 Get more design ideas for your space.
Check out design styles from Camella's catalog of house and lot condo for sale in the Philippines.
By: Rea Mar E. Sarcadio