Catching up on love month getaways? Here is a list of Post-Valentine's Day destinations near Camella in Puerto Princesa, Palawan.
---
Celebrating love doesn't begin and end on the 14th of February. In fact, Valentine's Day is something we celebrate every day to make sure that there's a day for everyone to highlight love. But what if some people are insanely busy this day for lovey-dovey activities? 
The day after Valentine's is often ignored and appears unmarked on our calendars, but we can change that.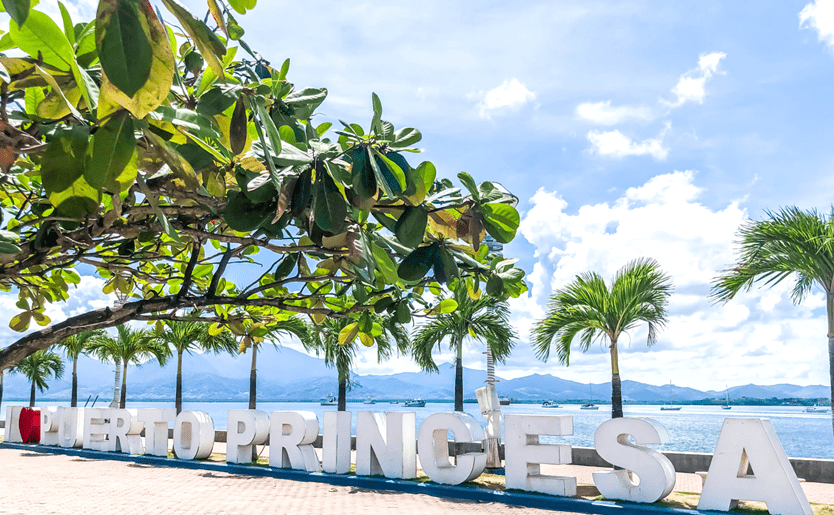 Hearts' day doesn't always mean a working holiday for most of us. It's also a time to have a date with your career and organize responsibilities. As we grow into a world of new realities, we learn to accept certain priorities that we can't always dodge or take a raincheck from. These include skipping a dinner date for your much-needed rest from work and making plans when you're officially ready to.
The flowers and the chocolates can wait for a day or two. Skip the pressure to make plans if your schedule doesn't pan out as free or emotionally available. In any case, you can show your love and support for your person for all the remaining days of February. Or for so many times as you can stretch it in a lifetime.
What are the Best Post-Valentine's Day Destinations in Palawan?
You only need to hear the word Palawan and pictures of palm trees, clear blue waters, and white sandy beaches will invade your thoughts. One place that stands out, in particular, is Puerto Princesa. This city is located on the paradise island of Palawan, and it offers more than just great sights. In fact, Puerto Princesa is also a center of trade, art, and commerce. That said, we made a list of places you can go for your post valentine's day hangover, from a 7-minute drive to less than an hour away. It's a date!
Lato
Puerto Princesa City Baywalk Park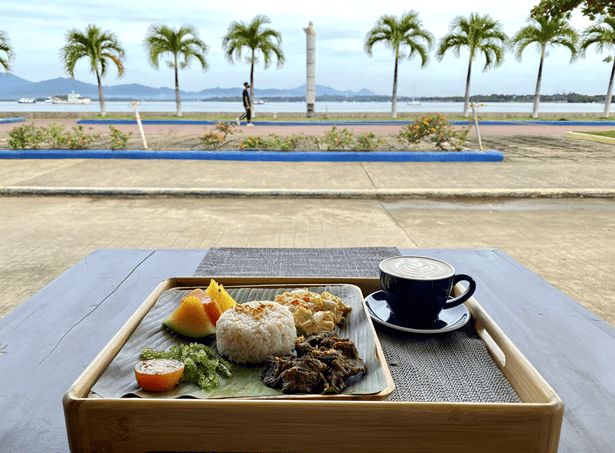 Locally called Lato sa Baybay, this place has a tagline very much fitting to what they offer: 'Lamang Dagat at Kape. Here, you may now hear the crispy sound of their danggit – yum!
If you've ever been to Puerto Princesa or you're planning to go, you better not miss walking at Baybay or the City's Baywalk. Over the years, this place has improved greatly, and the sight of the sea and mountains only gets more beautiful every day.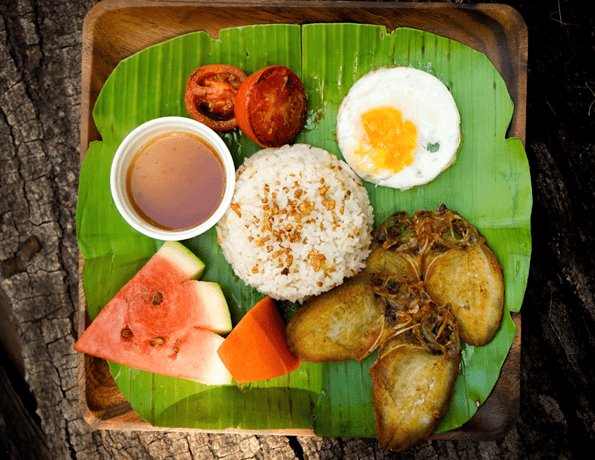 This is one relaxing place to be near the sea in the city. Imagine having a full plate of a classic Filipino breakfast of your choice and enjoying your morning coffee with your partner on a breathtaking morning. And if you love biking, they also have bike parking exclusive for customers.
Discover what tourist love most about Palawan:
11 Reasons Why Tourists Love Palawan So Much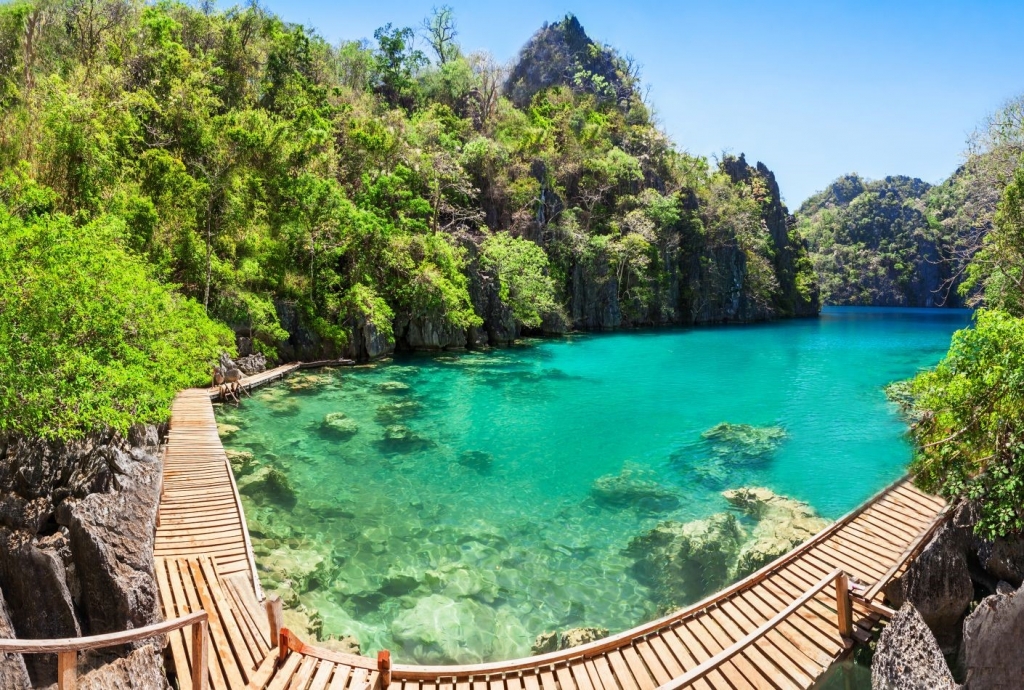 Stellar Grounds
Rizal Drive Corner, Rengel St. Brgy Bancao Bancao, Puerto Princesa City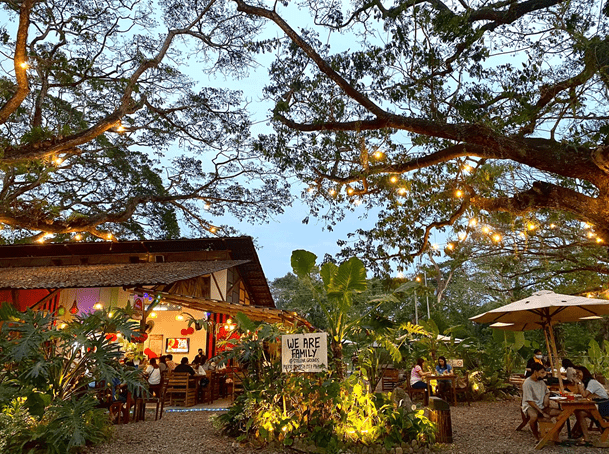 Stellar Grounds is a center for food, music, and artistry under a canopy of Acacia trees and twinkling lights. This place in Puerto Princesa is filled with the bustling energy of people, laughter, and fun, celebrating 3 years of making memories happen through food and music.
Although it is already very relaxing in daylight, Stellar Grounds turns into a much more enjoyable place once the lights are on and the live singing performances have started. It's always better to eat good food under bright twinkling lights on a slow evening.
Snap a picture or two to remind you of your memorable visit by their well-lit setup. The location is pretty big and perfect for alfresco dining. You can buy souvenirs and arts and crafts in the shops present there—talk about local tourism and life stories as well. Lastly, you can find a variety of restaurants offering from unlimited chicken wings and Thai food to Mediterranean cuisine.
To guide you, here are the top two recommended restaurants inside:
Weng's Wings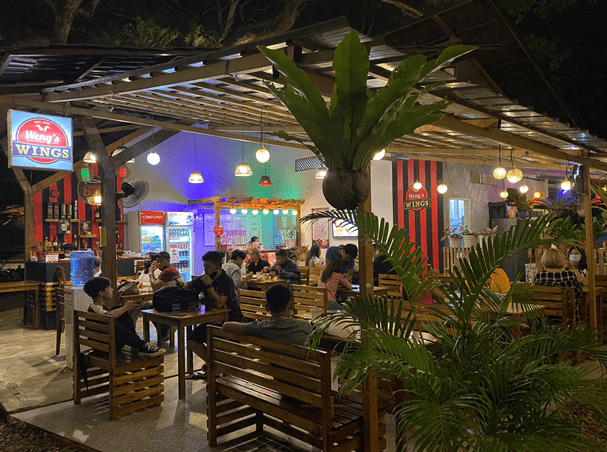 Weng Wings is popular for its unlimited wings and delicious choices of sauces from mild to hot. They also have Fish kinilaw on their menu! Plus, if you want an extra serving of the special sauces to take home, you can buy bottles of them for their store.
Bersian Restaurant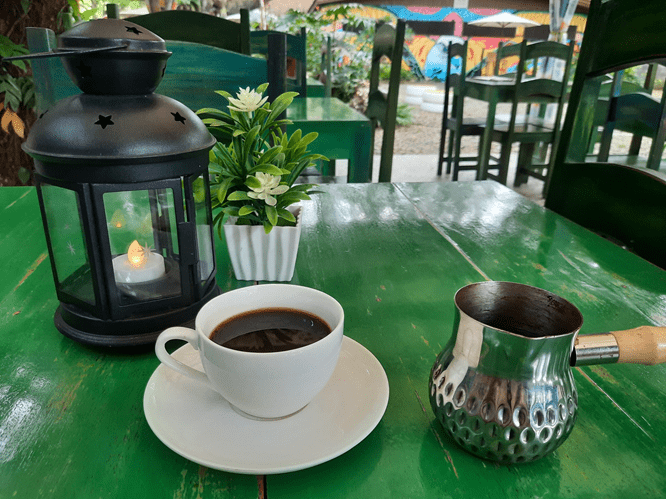 Bersian is a locally owned restaurant serving fresh, homemade, healthy, Mediterranean-inspired cuisine. They serve Turkish coffee, and if you have a knack for chicken Biryani, baklava, kebab platter, or shawarma rice, this is the resto to choose.
Gold • Cup Specialty Coffee
Taft Street (near Nieva's Place), Puerto Princesa City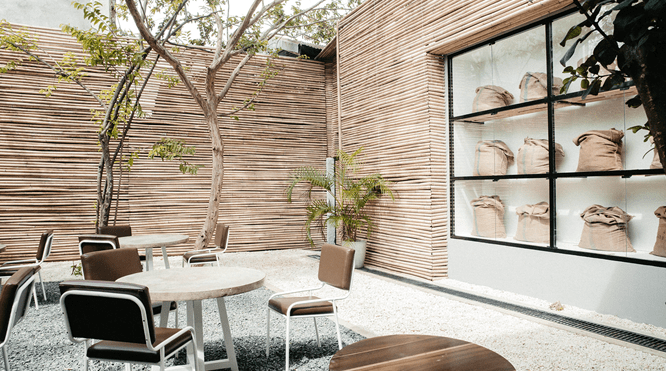 It's better LATTE than never to have a heart-to-heart talk over a cup of iced or steaming hot coffee. That is because the gold cup now has three branches in Puerto Princesa City. This specialty coffee shop is on top of its game, starting from the most essential: good coffee and offering the best place to drink it.
Their minimalist interior brings in a clean, cozy vibe that attracts people to stay longer and feel comfy as much as possible.
They serve hand and machine-brewed coffee with your choice of high-quality single-origin beans. Not to mention they are also handcrafted by coffee specialists. There is another great plus feature if you know your coffee well. They have espresso shots and a Spanish Cortado and some more on their menu.
Many tourists eventually settle down in Palawan. Here's why:
Palawan: The Best Retirement Place In The Philippines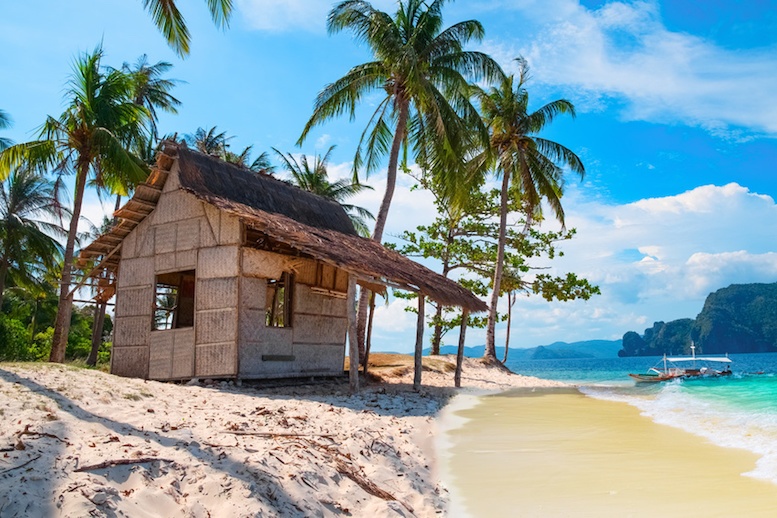 Lawiswis Ecostore and Restaurant
Irawan- Sta.Lourdes Road, Brgy. Irawan, Puerto Princesa City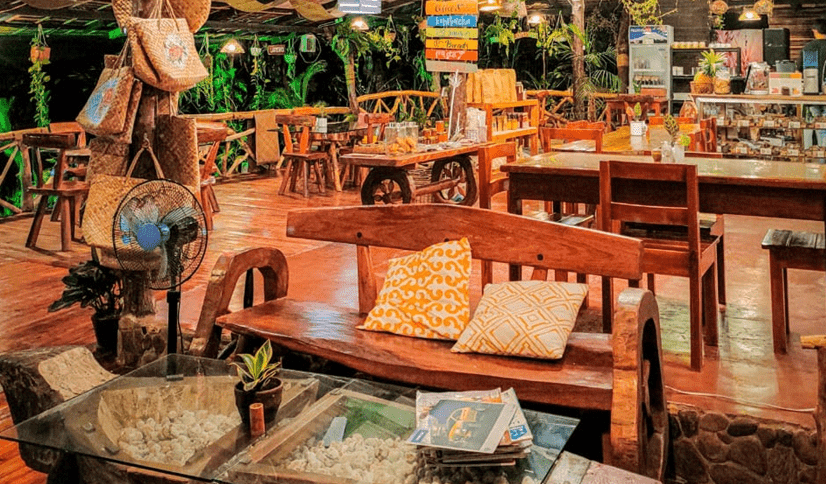 Dine in a place that can awake and satisfy the nature-lover in you. You can try Lawiswis in Puerto Princesa, which is a homegrown eco-store store and restaurant. It boasts a variety of intricate and splendid woodworks, a great representation of the Palawan's bountiful reserves of trees and other natural materials for building and crafts.
Its location is accessible and is just less than an hour away from the city center. Going here, you can enjoy the ride along the way with sights of nature.
Aside from cooked food, it is also a marketplace for a variety of local products like vegetables, fruits, meat, food, juices, bread, body and bath, handicrafts, food supplements, and herbal oils. Lawiswis organics such as aloe vera lotion, papaya, and aloe soap are available in their store. Your go-green side might just have her bags full before leaving.
They also have hand-painted native bayongs from Quezon, Palawan. These bayongs showcase paintings of gorgeous swimming turtles to illustrations of local flora and fauna.
Pakpak-Lauin Day Tour Destination
Sitio Talaudyong, Brgy. Bacungan, Puerto Princesa City
If it's a date to catch some waves, Pakpak Lauin is your place to be! Here, you are greeted by the cool ocean breeze, smooth white sand, and salty waves. It's a life hack to know that great views or memories aren't just meant to be captured, they are meant to be experienced, and it becomes more memorable when spent with the one you love.
It's just 45 minutes to an hour away from the city center, and the ride offers you unforgettable sights of nature. Upon arrival, the beach view awaits you with its wonderful views!
This place is truly a slice of paradise on your travel map. Furthermore, Pakpak Lauin is perfect for either a short date, an overnight stay, or a well-deserved staycation. Here, you can make it something to remember even when you are just relaxing and unwinding with the waves.
Capture the beautiful lines of coconut trees and dainty cottages as you enjoy your seascape. In addition, you can also use skimboard, book an overnight, or camp by the beach at Pakpak Lauin. Lastly, top it off with a romantic dinner by the sea.
We often celebrate Valentine's Day with a lovely shadow of a duo. But self‐care is also important in making yourself feel better. Being single, in love, or in a complicated relationship shouldn't hinder you from enjoying yourself this season of love.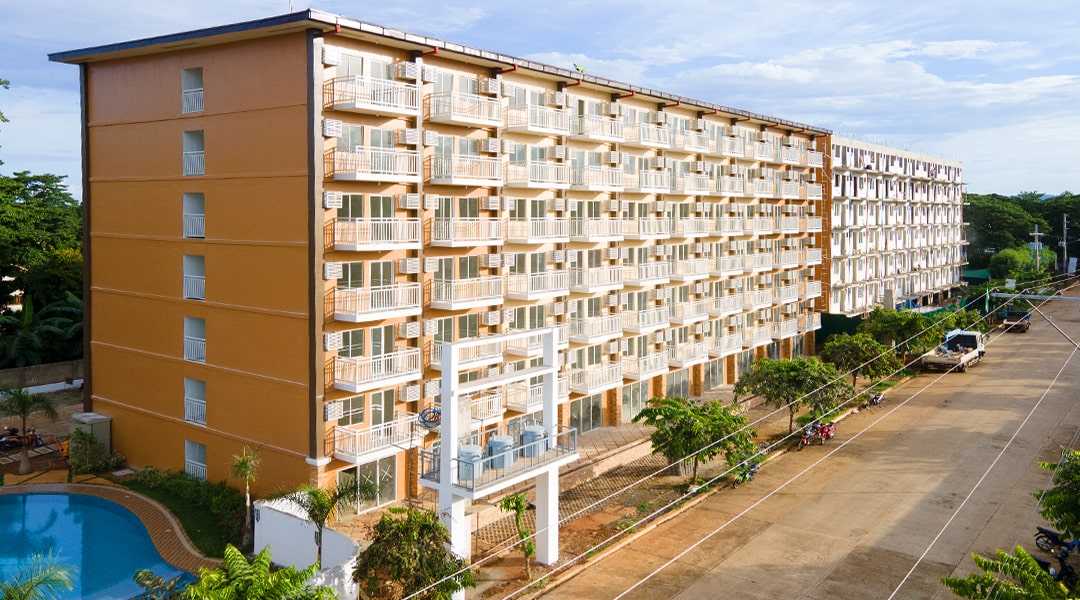 Settle down comfortably in Palawan!
See Camella's house and lot and pine estate condo for sale in Puerto Princesa, Palawan.
By: Khryss Gayo