Who among us here loves food? Well, agreed if we all say yes, right? Because the alternative is "why not?" Food is just what everyone needs!
Pandemic, quarantine, and all that is happening right now. Even being locked up in our own homes for quite a long time makes us crave something mouth-watering and palatable.
We find ourselves longing for that family bonding over dining tables, all-night talks with friends in a fancy restaurant, and eating our heart out with that fresh food in a by the beach ambiance. We tend to look back on how this situation worked way back when everything was normal.
Now that the end feels nearer, and our collective quarantine is slowly ending as well, we are excited to start making things that once been part of our everyday lives—pigging out! How amazing it is, foreseeing how we can dine out (following health protocols, of course). Soon, we can officially start clinging, chilling, and laughing with friends and loved ones without the one-meter-apart protocol.
If you are planning to make your version of a pre-listed go-to-restaurants and your foodie to-do lists, don't forget to visit the best restaurants in Western Visayas, specifically in Iloilo!
Iloilo City is not just known for its rich culture and tradition, but it is also known to be a culinary destination.
Check out these must-visit restaurants in Iloilo and experience it yourself!
Dali kag mag kaon ta sa Iloilo!
SEAFOOD RESTAURANTS IN ILOILO
Here are the restaurants that are worth your visit if you want a relaxed, traditional, and casual atmosphere.
Tatoy's Manokan and Seafood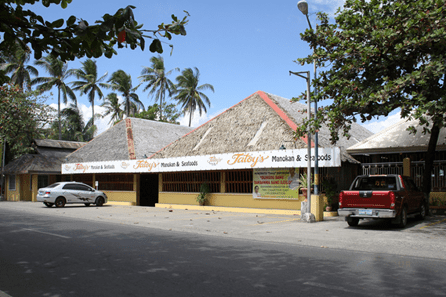 Ranking number one in Trip Advisor's Top Restaurants in Iloilo City, Tatoy's Manokan and Seafood has all the reasons to convince you to try their menu.
Tatoy's Manokan and Seafood, located at Sto. Nino Sur, Arevalo, Iloilo City should be on your bucket list. It started with a simple nipa hut restaurant until it grew into a big restaurant franchise, having other branches in Cabatuan Airport and Atria Park District.
You can satisfy your cravings with authentic Pinoy dishes and mouth-watering specialties in Tatoy's—especially their best Native Lechon Manok. Apart from this, they also have tasty seafood dishes like grilled squid, baked scallops and talaba, fish fillet, crabs, and steamed shrimps.
Breakthrough Restaurant

"Good food, good ideas, they meet."
Surely, no one should miss this!
Breakthrough is another favorite among the many restaurants in Iloilo, if its online reviews are any indication, with 4.4 stars in Google.
The restaurant is located alongside the beach of Villa, Iloilo City serves local dishes and extraordinary specialties.
You will certainly love the tastes of freshly cooked seafood dishes such as sinugba nga managat (grilled red snapper), ginat-an nga alimusan (catfish with coconut cream), baked diwal (angel wing clams). Aside from serving fresh seafood, they also have non-seafood favorites like ensaladang puso ng saging (banana heart salad), binakol nga manok (Ilonggo chicken soup), and native lechon manok. Enjoy this while sipping Fresh Buko (Young Coconut) juice or a mango shake.
Punot Flavors Of Modern Iloilo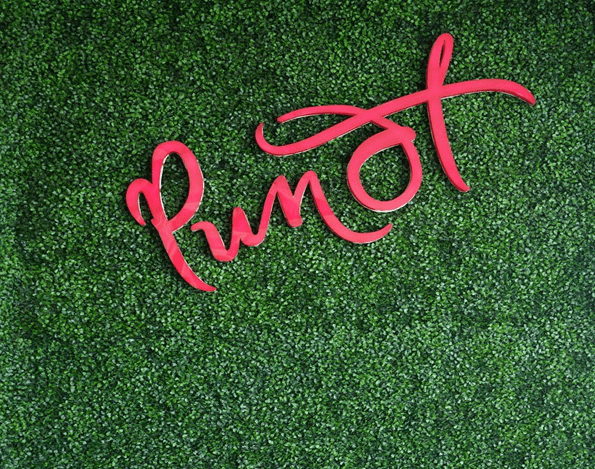 Experience flavors of Modern Iloilo taste and relaxing riverside dining in Punot. Located at the Riverside Boardwalk along the Iloilo Esplanade in Iloilo City (near Smallville complex) and just a 1.2-kilometer stretch by the Iloilo River, Punot serves delicious seafood and Ilonggo dishes.
With its interesting wood pieces and elegant interiors, surely it is a perfect ambiance to dine in. From soup to appetizers, salads, and vegetables, main dishes, of course, seafood, pasta and noodles, desserts and drinks, they have it all, plus these menus have unique modern twists! Sounds Interesting, right?
Punot's best are the following:
Estancia Chowder, made in light and creamy with mixed seafood, bacon, potato, and balunggay pesto.
Pomelo Balingon in pomelo, lettuce, Punot's special vinaigrette, topped with cashew nuts and crispy estancia balingon.
Chicken Inasal Caesar in romaine lettuce, pandesal croutons, crispy bacon tossed in aligue caesar dressing.
Also, don't miss some of their unique starter shots: tangigue kilawin shots and shrimp kilawin shots, both cooked in vinegar.
Certainly, there's many more to mention, but, above all of this, we should not forget its famous grilled seafood Fiesta — seafood likebaked imbao(mangrove clam), crab, dried fish, put together in one dish.
LOCAL AND SIGNATURE DISHES IN ILOILO CITY
Discover the flavors that Ilonggos preserved throughout generations.
Netong's Original Special La Paz Batchoy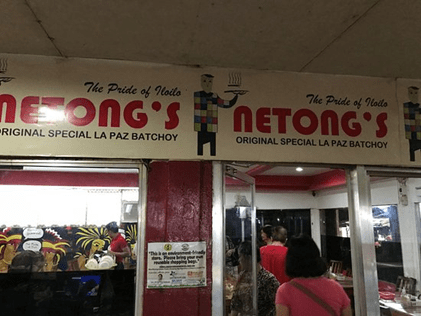 Who would want to miss an authentic La Paz Batchoy?
Batchoy is an Iloilo signature dish that everyone loves to eat here in the City of Love. Netong's serves authentic La Paz Batchoy is a noodles soup made with pork organs, pork cracklings, chicken stock, and beef loin. It uses round noodles and is topped with different spices and seasonings.
Netong's Original Special La Paz Batchoy, with 4.3 Stars in Google reviews, is located in Rizal Street La Paz Public Market, Iloilo City, is known to have the Best Homegrown Ilonggo Cuisine. The restaurant is air-conditioned, clean, with a nice ambiance because of its paintings that add flavor to the experience.
Roberto's
Known as the palace of the Queen of South (now the City of Love), the iconic Roberto's Restaurant is located along the busy J.M. Basa Street in the heritage district of downtown Iloilo City. This place is one of the oldest famous snack houses in the city, perfect for locals or tourists who want to blend with the locals.
What makes this restaurant stand out is its famous siopao. Their siopao has different kinds depending on size and filling; it may be regular pork, chicken adobo siopao, king siopao, and the largest amongst all is the Queen Sipao that has chicken-pork adobo, bacon, Chinese sausage, and whole egg. They also offer snacks and other meat menus such as pansit, sotanghon guisado, meatball, lumpia, and many more!
Other restaurants worth your visit
There's more that Iloilo can offer! The city still has a selection of restaurants with a romantic, relaxed, or even casual atmosphere that you must try. Here are some of them:
The Promenade at Days Hotel in Iloilo, located on the 4th floor of Atrium Mall in downtown Iloilo
Mrs. Wharton Patries, London Bakes And English Teas at D'Jabez Bldg. 21st Gen. Luna St., Southpoint, Iloilo City
Dova Brunch Café at Transcom Bldg. Megaworld Boulevard, Mandurriao, Iloilo City
Farm To Table at Transcom Bldg. Megaworld Boulevard, Iloilo Business Park, Iloilo City
Asian Spoon at Unit 22 & 23, Shops at Atria Ayala Donato Pison Avenue, Brgy. San Rafael, Mandurriao, Iloilo City
Muelle Deli And Restaurant at 135b Rizal Street, Lapuz, Iloilo City, Philippines.
So, whether you're looking for fine dining or al fresco, Iloilo City has a perfect spot for you and your hungry tummy.
But do you know what the best and fastest way to enjoy all of this is? Having your own home near these go-to places.
Related: Why Live In Iloilo City?
For a property for sale in Iloilo, Camella Savannah offers a wide range of house selections with two bedrooms to five bedrooms in a complete and secured community. Here, you are just 10-15 minutes away from these must-visit restaurants.