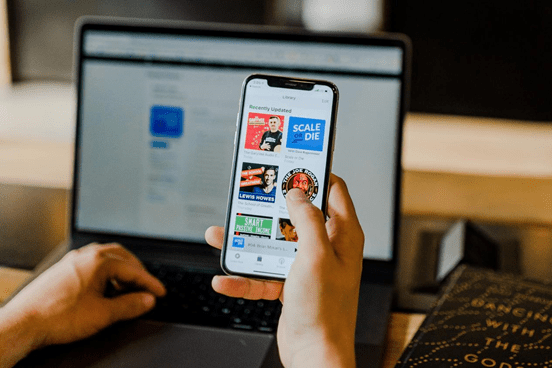 Podcasts are lifesavers. That is a bold statement to make, but it is the truth. Pre-pandemic, on days and nights where you suffered the long hours of commute, it is a great diversion.
Also, when you feel like leveling up your knowledge and satisfying your curious minds, it is a good learning source. And on situations where you want to have to relax and chill while listening to people talk, just press play, and you're good to go.
From the start of the pandemic in 2020, there has been an exponential increase of podcast listeners and creators until the end of the same year. Existing podcasts from several media outlets and professionals amplified their content to gauge a newer audience. Most continued with their regular stories but added special episodes on delivering news and updates about the COVID-19 situation.
In addition, individuals with passionate drives for their interests saw the quarantine period as the chance to take their passion projects to the next level. Several creative podcasts emerge from filmmakers, artists, singers, and many more. Most focused their podcasts on creating their art and making reviews on the different media they consume.
As a result, we now have an abundance of podcasts to choose from, spanning hundreds of genres and topics. From current news and politics to business and pop culture or motivational stories to stories after dark, they pretty much cover every topic a human mind can think of.
You can best say that its availability is its heroic feature. Podcasts are everywhere. There are multiple apps and websites where you can listen for free. And if you choose to listen to exclusive content, subscriptions are affordable and surely won't break the bank. Whether it is a two-hour special or a ten-minute reminder, podcasts don't fall short with the selections.
So, here are some of the best podcast picks to suit your mood whenever, wherever.
Feeling updated
Gone are the days where you can only know the latest updates about the world from traditional media. Televisions and newspapers are becoming secondary to the internet. To adapt, giant media conglomerates extended their reach by tapping into digital spaces to suit the modern taste of young audiences.
Big names such as The New York Times and BBC World Service have their podcast counterparts, The Daily and Global News Podcast, respectively. You can get your daily dose of global news from these podcasts for free.
Local news outlets also have their audio platforms. ABS-CBN News Channel (ANC) has the ANC Podcast to provide Filipinos daily updates and alerts about the country's leading issues. Same with Rappler'sNewsbreak: Beyond the Stories podcast, where esteemed journalists bring you in-depth analyses about the current affairs and controversies surrounding the Philippines.
If you happen to feel the need to be updated, these podcasts should be up in your playlists.
Feeling trendy
If you are up for the latest conversations on pop culture, sports, music, and more, these podcasts should be up in your alley.
If you want to know whose names are topping the category on pop culture, Pop Culture Happy Hour by NPR is your number one go-to podcast for that. Giving the best recommendations out there, you might yourself obsessing with their picks.
Also, if you fancy knowing the origins of someone's music, you can listen to Dissect and Song Exploder. These podcasts examine your favorite albums and dissect the features that got people hooked.
If you are a basketball fan, The Jump from ESPN spills the beans about the NBA league.
Lastly, if you want to listen to some feel-good podcast, Wake Up with Jim and Saab is one good recommendation. The couple takes you to humorous debates on topics like pursuing a crush to serious conversations about the government.
You can also check out these Filipino podcasts for more local content.
Feeling business-minded
If you are still hesitating to finally put that idea to action, these podcasts may speed up your decision. Podcasts by entrepreneurs and marketing mentors can provide you insights on start-ups and secrets to successful business ventures.
For one, Harvard Business Review's HBR IdeaCast features leading thinkers in business and management. Another option is Business Wars with episodes on different brands and their rivalries from the in the industry.
Suppose you are an interested individual taking baby steps in investing. In that case, The Investing for Beginners Podcast – Your Path to Financial Freedom is a good starting point to learn the basics. And if you know someone who seeks pieces of advice about financial matters and the perfect investments, give We Study Billionaires – The Investor's Podcast Network a try.
Finding the investment for you will save you from wasting your hard-earned money. Real estate has proven itself to be one of the most stable and secure investments for families and young professionals. With real estate, you have assured value appreciation.
Feeling spooky
Give your podsphere a little Freaky Friday element. If you are up for the thrilling nights, press play on these podcasts.
Stories After Dark, a Spotify Exclusive podcast, features narrations about Philippine true crime stories and mysteries surrounding popular tales.
And suppose you happen to be interested in famous internet secrets and conspiracies. In that case, Internet Urban Legend draws the fine line between hoax and haunts.
To add, Parcast Network has a long list of different horror podcasts. The digital media firm assures you to satisfy your need for spooky hours — be it about medical mysteries or mystical stories.
Feeling anxious
As the current situation hits a toll on everyone's mental and emotional being, you might find yourself seeking refuge to calm your anxious mind.
The Hardcore Self Help Podcast, hosted by psychologist Dr. Robert Duff, tells you information about dealing with anxiety and depression. He also shares tips on how to navigate through relationships with people around you.
And if you know someone who suffers from grief and has a hard time opening up with their feelings, Grief Out Loud offers a safe space for guests where they openly talk about grieving. These days, a little meditation goes a long way to soothe the worries bubbling up in you. The Mindful Minute is a beginner-friendly podcast and takes you through simple and guided meditations that allow you to connect more with your mind and environment. Having space to fully immerse yourself in meditating is an advantage.
Feeling motivated
Every day, as you move forward, you might want an extra push to get through the day. When you need to find support and motivation to achieve small and big goals, try listening to these podcasts to boost your inspiration to get things done.
For personal growth, The School of Greatness by Lewis Homes shares experiences on finding success, experiencing failures, achieving goals, and feeling like a champion, etc.
Another top pick is Oprah'sSuperSoul featuring well-known guests who talk about finding zen and living a purposeful life. To encourage a happier life, The Happier Podcast by Gretchen Rubin looks at the daily habits a person makes and how they could impact the overall status of an individual's quality of life. All these can give you insights and tips on daily productivity and creativity.
Feeling crafty
Are you considering redesigning your space? These podcasts won't disappoint you.
If globally renowned designs are what you imagine for your home, 99% Invisible will inspire you to start designing. The podcast talks about exploring and discovering architecture and design all around the world.
How To Decorate, on the other hand, features experts and interviews them on finding the perfect furniture for your themed home. Affordable Interior Design also proves that designing your dream home does not have to break the bank. With these podcasts, you can work with tips and tricks to help you money while decorating.
These are just some of the podcasts in the thousands available at your fingertips at present. Listening to people tell their stories gives us hope and reassurance that we are not alone in our challenges and hope is alive. Add the podcast you need most to your playlist and live your dream life. Live your best life in Camella, the Philippines' largest house and lot developer. To know more about Camella's house and lots for sale, you may check our house catalog.