Have you ever wondered why Quezon Province is called the 'Land of Thousand Colors?'
Let's look back in history and find out more about this province in the South. Quezon Province was formerly known as Tayabas, which was established by two Spanish Franciscan Friars in 1578. Years after, it was named after the second president of the Philippines, Manuel Luis Quezon. Now, Quezon Province is the largest province in Calabarzon and the eighth largest province in the country.
But there is more to this province than its geography. Learn more about the rich and colorful history of Quezon Province and discover what makes South Luzon vibrant.
1. Picturesque Mt. Banahaw
The first among the many wonderful things in Quezon Province is the picturesque view of Mt. Banahaw. It was formerly called Monte de Majayjay and Vulcan de Agua because of the springs surrounding the natural landmark. Classified as one of the active volcanoes in the country, Mt. Banahaw is a stratovolcano with a record of three eruptions, 1721 being the last recorded.
If you want to have a closer look at this beauty, you may visit Bankong Kahoy Valley in Dolores, Quezon. Bakong Kahoy, or wooden bench in English, is a nature retreat center nestled in Mt. Banahaw and Mt. Cristobal. Here, you can have a relaxing stay with your loved ones while enjoying nature's most delicate.
2. Stunning Beaches
Apart from the majestic Mt. Banahaw, what this province has in store for every locals and tourist are its stunning beaches. Enjoy clear waters and fine sand on some of the islands of the region. If you want a quiet place away from the crowd and the city, you may want to visit Jomalig Island. If you prefer a luxurious stay in the province, how about being a member of Balesin Island. This private island in Polillo, Quezon, is one of the most expensive resorts in the country.
3. Lush Fields
As one of the largest producers of coconut, Quezon Province is also dubbed as the Coconut Capital of the Country. With the abundance of coconut in the area, Quezon became famous for lambanog, a local wine made from fermented coconut sap.
If you visit the province, you may drop by Villa Escudero Plantations & Resort in Tiaong, Quezon. Here, you get to witness and experience Quezon's rich culture and history through the amenities and activities offered. Quezon Province is also rich in rice fields which makes them a significant producer of palay.
4. Historic Places of Worship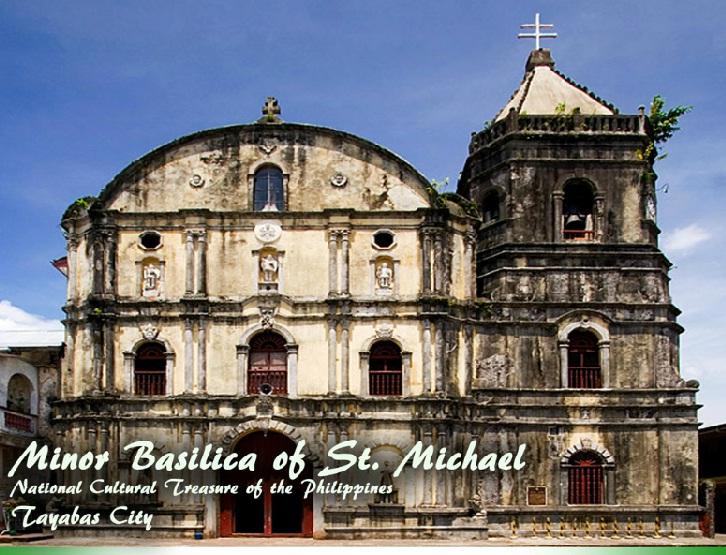 Aside from the province's rich natural resources and natural wonders, Quezon is also known for its historic churches and places of worship. One of the province's oldest and famous churches is the Minor Basilica of St. Michael the Archangel, commonly known as Tayabas Basilica.
This church is unique because of its key-shaped architectural structure. Tayabas Basilica is part of the National Cultural Treasures of the National Museum because of the history of how it was built, destroyed, and restored. Aside from churches, Quezon Province is also famous for its pilgrimage site called Kamay ni Hesus. This shrine is frequented by locals and tourists during the Lenten Season and even during regular days. It is the perfect place for people to reflect and heal their minds and souls.
5. A Colorful Festival
There's more to look forward to in Quezon than those mentioned above. If you visit the province around May, you might be able to experience their most colorful and fun revelry—the Pahiyas Festival. This festival happens every May as a thanksgiving celebration for a bountiful harvest. The word "Pahiyas" literally translates to "precious offering," which is done in honor of their patron saint San Isidro Labrador, the patron saint of farmers. During this time, residents decorate their house and lot with fruits, vegetables, crops, and flowers, making the surroundings colorful. To add more local touch to the festivity, people also parade their carabaos and floats around town.
6. Savory Cuisine
When there is a fiesta, there are sure to be food fests! Yes, you've read it right. Nothing lets you experience Quezon better than their mouth-watering dishes. One of Quezon Province's famous delicacies is their Pancit Habhab, a local noodle dish in Lucban, Quezon. The name "habhab" translates to eating with one's mouth—an appropriate name for the cuisine.
Another province favorite is Lucban Longganisa, a Filipino pork sausage that has a garlicky and salty taste. This is perfect for breakfast paired with fried rice and sunny side up. Next on the list is the province's local version of meatloaf, Hardinera. This one is usually served during town fiestas and other special occasions.
To finish off our list, your meal cannot be complete without dessert. If you have a sweet tooth, Quezon Province has a dessert selection that will surely satisfy your cravings. Our top recommendation is yema cake, made from sponge cake topped with yema frosting and grated cheese. This delicacy was first introduced by Rodillas, a small bakeshop located in Tayabas City. It has then become a bestseller, and now, the bakeshop has expanded branches and outlets even outside of Luzon.
7. A Vibrant Community
Adding to the rich culture and tradition of the province is a vibrant community located in the Southern Tagalog Heartland—Camella Quezon. Camella Quezon is a Tuscan-inspired community located at Brgy. Isabang, Tayabas City Quezon. This master-planned community embraces Italian elegance and Filipino sensibility to offer its homeowners an elevated and quality lifestyle.
Camella Quezon is the perfect place to start your family. It puts you close to establishments such as hospitals, schools, places of worship, transportation hubs, and malls. It is also surrounded by developments and infrastructure such as the ongoing SLEX TR4, Lucena Underpass, Eco-Tourism Road, and Diversion Road. Camella Quezon is near everywhere you need and want to be.
Quezon Province is indeed a province gifted with natural wonders. It is home to several scenic spots in the Philippines, both natural and man-made. It is rich, not only in culture and tradition but also in natural attractions, making it The Land of Thousand Colors. And this is something every Filipino can be proud of.
Come home to Quezon Province and experience what it feels like to live in the premier address in Southern Tagalog. For more information, you may visit Camella Quezon's property page. You may also check out our catalog of house and lot for sale.