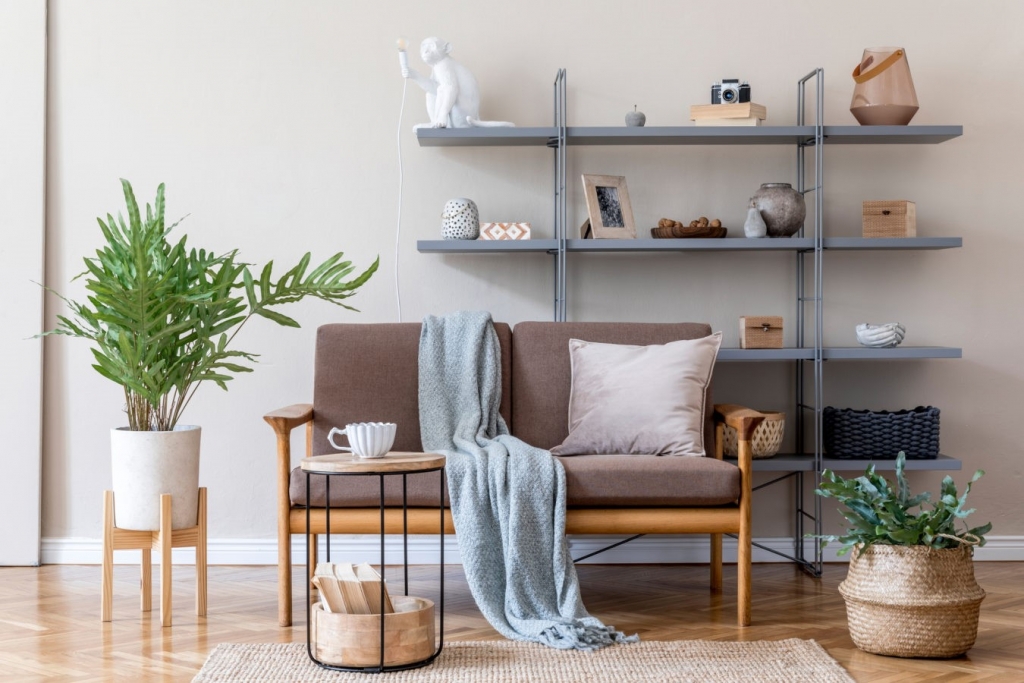 Who would have thought that interior design would be big on Gen Z's favorite social media platform? 
Since its launch four years ago, TikTok has become one of the biggest social apps, with an average of over 689 million monthly global users as of July 2020. Although considered to be targeted to the younger viewers, TikTok has become an authoritative and reliable app for more grown-up topics like home décor, DIY, and interior design.
How do interior designers use TikTok?
Interestingly, interior design experts have found a huge audience for their craft on the video-sharing platform. Today, there are over 46.2 billion views dedicated for #diy and 5.5 billion views for #homedecor. Now, TikTok has become one of the best apps for interior design references.
Are you a stylish house and lot owner who have DIY projects on remodeling or refurbishing in mind? It might be awesome to look into new sources aside from the good old architectural digest and home décor magazines that you have trusted for years. Because well, today's trends are generated fastest, obviously, on social media. Who knows, you might get your next go-to budget and inspirational DIY hacks from a viral video online.
For those who love to binge-watch inspirations before decorating, check out these shows for interior makeover inspos. 
To help homeowners who have yet to dip their toes on TikTok but are intrigued by all the bit-sized creative video hacks on interior design, below is a roundup of the most popular designs that users have been raving about.
TikTok Insider Tips for DIY Design Ideas
Cottagecore
With over 6 billion hashtags on TikTok, Cottagecore is no doubt the number one interior design trend on TikTok this 2021.
By simple definition, Cottagecore celebrates simple, rural living. Romantic, warm, fantastical —an idealized vision of living an aesthetic, peaceful life in the 19th-century English countryside. The idea behind Cottagecore is a huge shift away from the minimalist trends. It could be said it is the exact opposite as Cottagecore goes by the "more is more" principle. Interestingly, Cottagecore is being poised as the "beloved replacement" to minimalism that favors simplicity and function. 
To bring that rural English, fantastical vibe into one's home, think of real plants, herb gardens, floral prints, flowers, Victorian teacups, vintage fabrics, baskets, and old books.
Don't assume minimalism is going away anytime soon. Although Cottagecore is enjoying a huge popularity today, minimalist designs like Japandi are proof that maximalist trends like Cottagecore won't necessarily put minimalism on the side.  
A fusion of two design concepts that both value minimalism, Japandi is a hybrid style, a marriage of Japanese and Scandinavian interiors. Japandi is all about keeping the interiors simple, clean, aesthetic, and functional. It veers away from bulky furniture pieces and bright colors. 
To achieve this vibe, the focus should be on premium, hand-crafted furniture pieces that are pleasing to the eyes and serve their purpose well. The use of eco-friendly and sustainable products sets Japandi apart from other minimalist design trends like mid-century modern that makes you feel the space inside your home.
Unlike the first two design trends, which are broad concepts, dried flowers are basically an aesthetic design piece that gives off whimsical and nostalgic feels in the air. These are famous Cottagecore design pieces, so it's not surprising at all why it's now seeing the mainstream gaze. 
Tens of millions of viral budget DIY TikTok video tips are dedicated to this on the platform, featuring TikTok users flashing their dried flowers collection and tutorials on how to arrange and preserve flowers and bouquets, and such. With enough inspiration, homeowners who have got the natural resources should try their hands at creating their own dainty dried flower arrangements. Not only does it cost less than real flowers, but it also lasts longer and is easy to acquire, almost available on all flower shops and local online marketplaces like Lazada and Shopee.
Wall Paneling
Wall panels are a great way to spruce up interiors by giving them more style and texture. 
With 5.6 million hashtags on TikTok, wall paneling is making a strong comeback in today's interiors. Another attempt to bring the outside or nature inside homes, playing and accentuating with wood is the main ingredient to ride this trend. The key to nailing this is to use wall paneling extensively or strategically on walls, ceilings, doors, or any space.
Although this task may sound intimidating at first, it is actually easy to go about it and doesn't require one to be a pro. There is a wealth of DIY videos on TikTok and other social media platforms like YouTube, where homeowners can get tips from and point you to the right direction.
After spending too much time indoors, homeowners are really ready to try and experiment with many aspects of their homes. They have been bringing the outside in with the meteoric rise of the plantita trend, and now, they are seemingly ready to replace the classic white painted walls with green as well. 
Use the #Greenwall on TikTok, and one will be greeted with millions of user-generated videos around this topic, from ideas to DIY tutorials.
Yes, it's official! Pretty pink bathrooms are back in style and maybe, even here to dominate bathroom styles once more. 
One might wonder how pink bathrooms became viral. After all, isn't it too feminine and over-the-top? Type up pink bathrooms, and the name of former first lady Mamie Eisenhower of the US will definitely pop up on Google. Her love for pink bathrooms was so popular back in the '50s and '60s that millions of people, especially Americans, had followed suit. It was considered a pleasant change from the dark and dull-colored bathrooms that preceded this new design wave.
Pink might not be everybody's color, but there are a ton of different shades homeowners can play around with, from bubble gum, retro hues to millennial pink. They can also be a little flexible or warm up to the idea by adding subtle pinkish colors. Think of introducing rose-hued rugs or towels to give a pop of color to bathroom interiors.
Potterheads would jump in on this viral design concept, or probably, they're already in on the action. 
When thinking of Dark Academia, think of the world's most legendary school that never existed: Hogwarts. It is the perfect epitome of this trend that has been taking TikTok by storm with #DarkAcademia at more than 1 billion views.  
This theme would also be patronized by literary buffs and homeowners with a deep affinity to arts. Dark Academia centers on academics, arts, literature mixed with gothic elements, mystery, and European architecture. Dim, soft lights, bulky beddings, dark bookshelves, wooden furniture, wool, and corduroy are key signatures of this concept.
The kitchen is the heart of a home. Yet, more often than not, it is another one of those areas in the house that homeowners fail to give much more attention to. But with more than 600,000 TikTok videos on kitchen pantries, this seems to be no longer the case. All of a sudden, users are sharing videos of their oh-so-tidy kitchen and oh-so-organized fridge and cabinets! And some of Hollywood's favorite celebs flaunting their impressive walk-in pantries are partly (or largely) to blame for this craze.
Mid-century modern is another proof that maximalist trends like Cottagecore won't necessarily put minimalism away. Minimalist designs like mid-century modern are still on-trend as this has a classic look about it. 
Mid-century modern is an American-inspired design movement brought first into fashion during the postwar era. As with any other minimalist design, this trend puts functionality in focus. Because of its minimalist feel, it is easy to adapt this design into house and lots or condo units without the need for full home refurbishment or extravagant expenses. 
To achieve this look into your own home, homeowners must consider these two things: texture and wood. Bring wood and nature inside the home and texturize with velvet furniture pieces. 
Mid-century modern is also characterized by chairs, tables, and dressers with skinny, peg legs. Homeowners can also incorporate modern bookshelves on slim legs to further get this look in their living area or study room. 
Take, for example, the interior space of a Greta model house from house and lot developer Camella. Even the housing giants' in-house team of professional interior designers continue to stick with and trust the sophisticated, timeless look that mid-century modern exudes.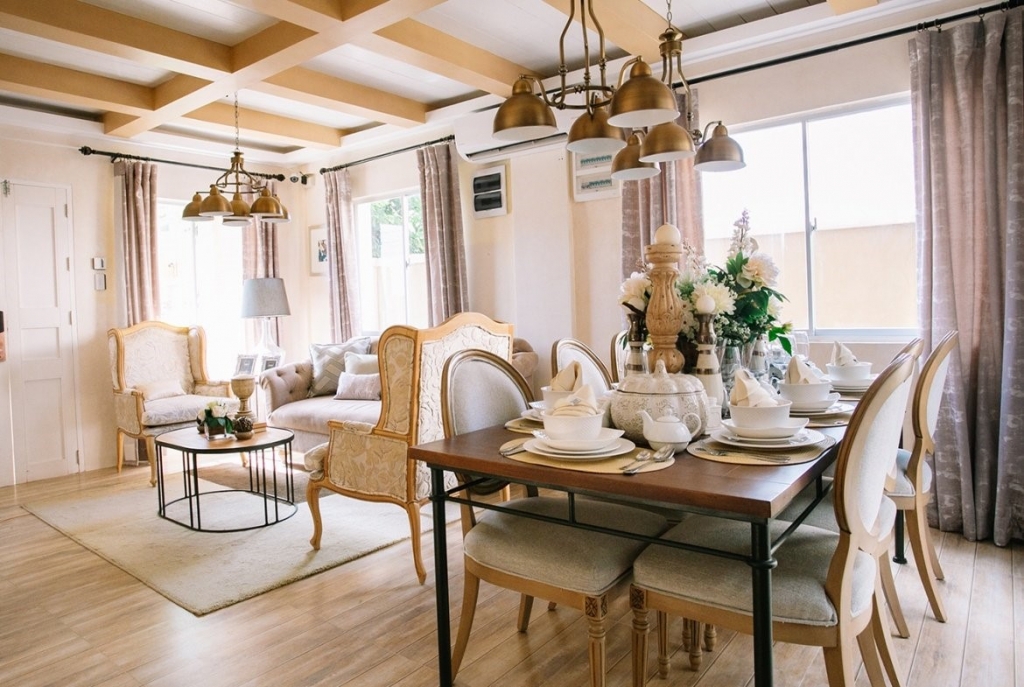 Camella house models are styled to cater to various tastes and make the best of the spaces. From dainty white, modern minimalist to beach-inspired interiors, every room in the house is styled to give inspiration and help home hunters visualize their dream home.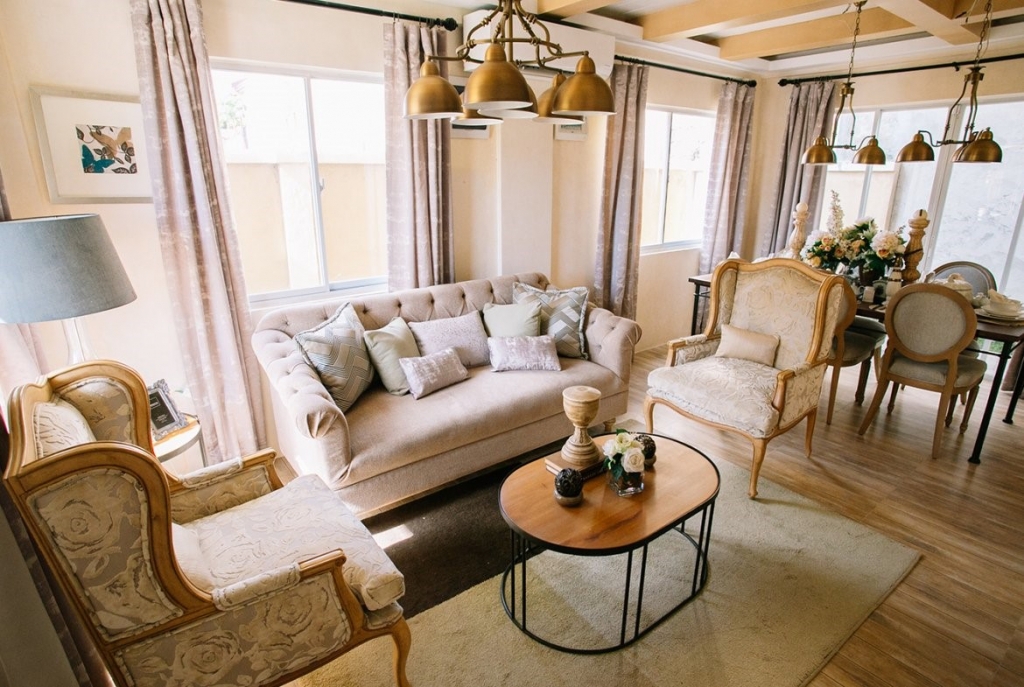 Looking for actual interior inspo and tips for homes and condos? Check out Camella's complete house catalog and condo offerings.