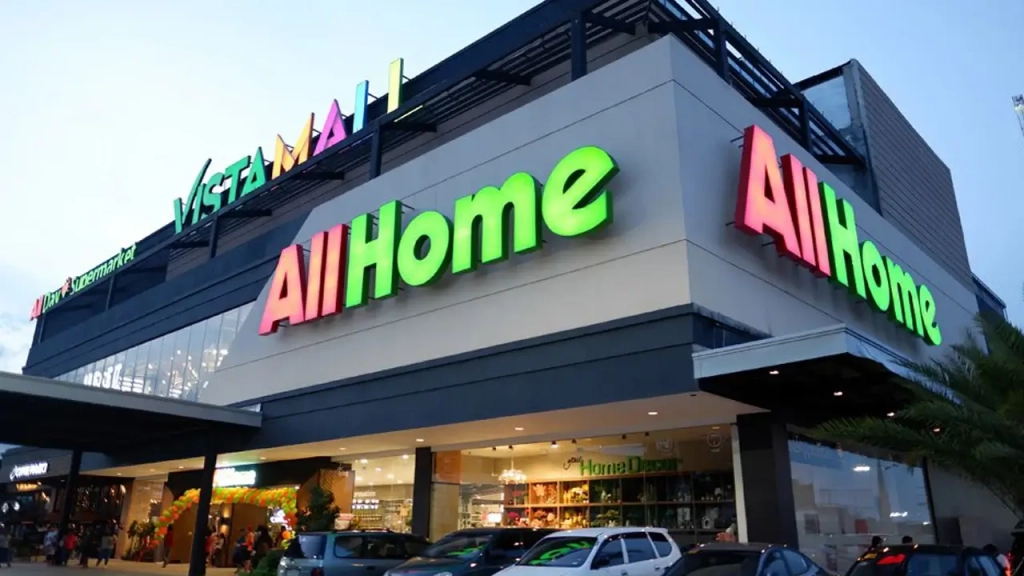 Other than the aesthetics of sleek and comfortable fixtures that add life to your home, furniture completes the livability of your personal space while enjoying its comfort. Apart from taking pride in owning a home and property, you also need to pick the right furniture to fill in every corner of your home to ensure functional spaces that will afford you the utmost convenience.
Sourcing home furniture can be fun, yet looking for where to buy affordable and high-quality furniture may be taxing. As a conscious buyer, you must consider its price without compromising quality and durability. Furniture is not just used to decorate your living spaces. It is also used for lounging, storing items, and other functions for ease of living in your home.
If you find yourself asking and wondering, "where is the nearest furniture store near me ", AllHome might just be the answer.
AllHome
With a vast array of furniture and appliance stores in Manila and in the country, AllHome offers you an extensive spread of stylish and quality home and office items. Not just that, AllHome is everybody's one-stop shop where you can also find homeware, linens, tiles and sanitary wares, and construction items.
Tagged as the builder's haven of the Philippines, AllHome stores ensure that all products and services offer great value for money with a wide range of products for your home and lifestyle needs. AllHome's more than 45 stores in the Philippines are strategically located within and outside Metro Manila to reach customers nationwide. These stores are essential for do-it-yourself enthusiasts and professional builders, ranging from big-box venues to smaller mall-based shops.
AllHome values its customers and is passionate about maximum engagement with them. That's why AllHome stores have in-house building experts available for one-on-one consultations, plus knowledgeable and accommodating staff ready to address your in-store needs.
Regarded as the best place to buy home furniture in the Philippines, AllHome sets the standard for easy, hassle-free, and enjoyable shopping experiences when curating quality items for your home. Their mission is to guarantee a high level of involvement when shopping for home-building essentials.
AllHome is about home improvement, improved!
No place like AllHome
Choose from quality and price-worthy living room furniture, bedroom furniture, kitchen appliances, home décor, plumbing materials, tools, lighting, office furniture, kitchenware, building materials, storage organizations, and more – the choices are endless!
What makes AllHome one of the top furniture stores in the Philippines are the fantastic deals, occasional sale, and exclusive, trusted brands to fit your every need.
Choosing furniture for your home lets you express yourself. Picking the style for your living room, bathroom, bedroom, or kitchen enables you to add a personal touch to your living spaces freely.
What should you consider in buying furniture for your home?
When purchasing furniture for your home, some things to review are location, budget, function, space-saving features, and materials used. AllHome values its customers' needs, so expect that all this list is considered whether you purchase through their physical stores or online.
AllHome transforms your living spaces with complete and extensive choices of furniture. Find bookcases, storage shelves, side cabinets, leather recliners, writing tables, dining chairs, cupboards, accent chairs, sofas, multi-purpose racks, clothing tables, and home accessories with designs that fit your personality.
Beds and mattresses
After a long day, your home is your sanctuary. That is why AllHome believes you deserve comfortable nights in bed with the perfect bedroom furniture. Achieve the comfiest sleep with AllHome's wide range of bedroom furniture, including mattresses, bedframes, drawers, and linen beddings that complement the overall style you want for your home. AllHome has covered all your bedroom needs, along with their amazing deals and packages.
Carpets and linens
A one-stop store, as they also offer carpets and linens. Whether you want something for your living room, bedroom, or other parts of the home, beautifully designed carpets that improve the beauty of your interiors are all available at AllHome.
All sorts of fabrics and linen for dining, bathroom, or bedroom use, such as table napkins and shower curtains, are available at your nearest AllHome stores in Manila or elsewhere, so you won't have to look far. You might even find them on sale.
Dining and kitchenware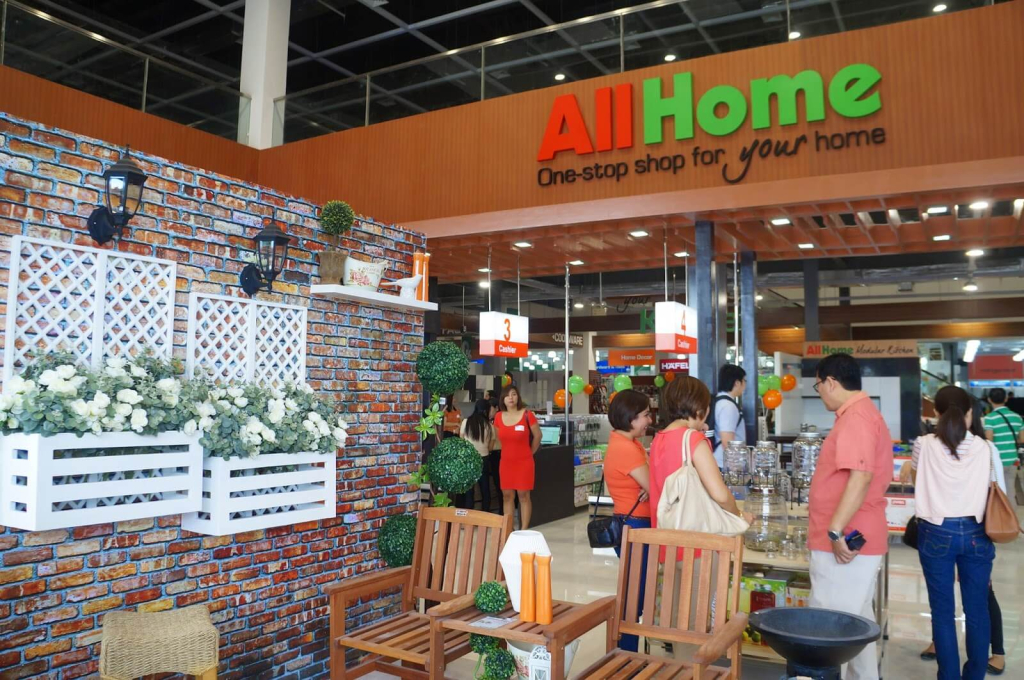 Homeware appliances are also available at AllHome to complete your home needs by offering you more than a thousand homeware products. Kitchenware items, including bakeware, cookware, and essential kitchen accessories, are offered at almost on-sale prices that won't break the bank.
Tableware such as dining, drinkware, flatware, serve ware, and other table accessories are available as you furnish your kitchen. Whether you're looking for a cheap can opener or the latest pressure cooker, trust that AllHome has it for you.
Home appliances for sale in Manila and in the Philippines are numerous, but thanks to AllHome, appliances for a completely furnished home or condo property are made possible. For all your appliance needs, AllHome is here to help you as your trusted and reliable online appliance store in the Philippines. 
Appliances and electronics
AllHome has over a thousand home and kitchen appliance items bearing trusted brands like Asahi, Bosch, Fujidenzo, Hanabishi, Samsung, Toshiba, Whirlpool, White Westinghouse, and more.
Looking for digital accessories, gadgets, and electronic supplies for your home? AllHome offers an array of choices, including computers and laptops, the latest in smart appliances, cameras, audio, and video equipment, SD cards, cabling tools, and adapters.
Decorative items
Little things matter, and that is why AllHome is keen on offering a wide selection of products for your home – from big furniture items to tiny accessories for your living space. Home décors and lighting are available, too!
Shop for candles and scents, clocks, mirrors, frames, tabletop accessories, artificial fruits and flowers, ceiling lights, lamps, and outdoor lighting are all here — the best place to buy just about anything and everything for your home.
Home Improvement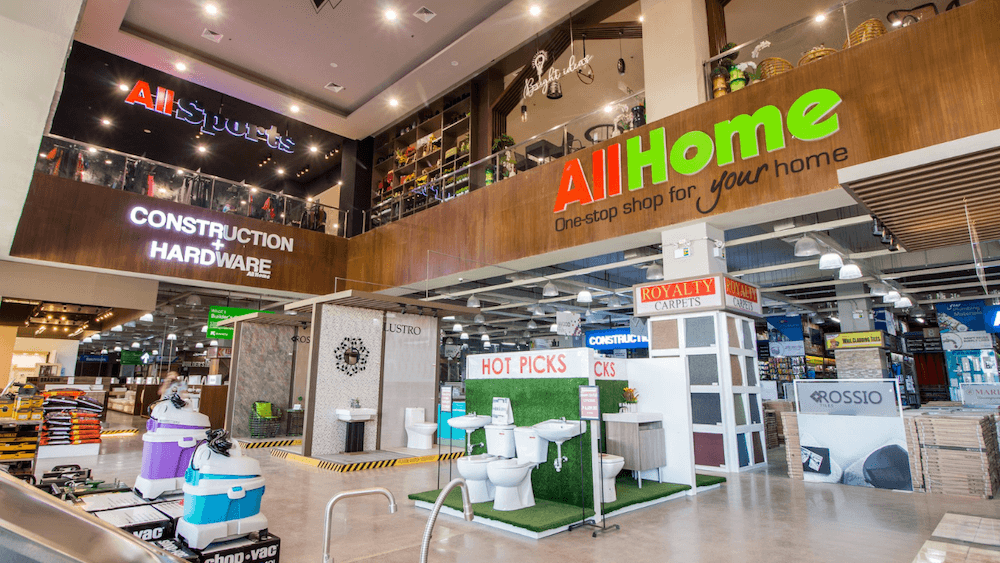 AllHome stores also provide renovation needs and repair services. Your favorite home improvement store can assist in your hardware purchase in the Philippines, from flooring and tiles to urinals and sanitary wares, construction materials, steel brackets to mount your appliances and electronics, platforms and trolleys, sinks, and more — enjoy a wide range of options that help you with home repair and renovation needs.
AllHome Branches are Conveniently Located Nationwide
From Manila to anywhere you are in the Philippines, you can find the best place to buy home furniture near you at these AllHome stores. You can also catch their periodic sale!
Mega Manila:
AlHome Starmall Edsa-Shaw, Mandaluyong
All|Home Starmall Alabang, Muntinlupa City
AllDigital by AllHome – EVIA
AllHome Agro
AllHome Alabang
AllHome Antipolo
AllHome Appliances – San Jose Del Monte, Bulacan
AllHome Appliances Alabang
AllHome Appliances Shaw
AllHome Daang Hari
AllHome Dasmarinas
AllHome Evia
AllHome General Trias
AllHome Global South
AllHome Imus
AllHome Kawit
AllHome Las Pinas
AllHome Libis
AllHome Malolos, Bulacan
AllHome NoMo
AllHome Salawag
AllHome San Ildefonso, Bulacan
AllHome San Jose Del Monte, Bulacan
AllHome Silang
AllHome Sta Maria Bulacan
AllHome Sta. Rosa
AllHome Taguig
AllHome Tanza
AllHome Wil Tower
Everyday Quick Fix by AllHome – BF Drive
Everyday Quick Fix by AllHome – Citta Italia
Everyday Quick Fix by AllHome – Symphony
Everyday Quick Fix by AllHome – Tierra Nevada
Everyday Quick Fix by AllHome -Springville
Everyday Quickfix by AllHome – Las Piñas
Everyday Quickfix by AllHome – Venezia
Evia Builders' Center
Luzon
AllHome Bataan
AllHome Cabanatuan
AllHome Cauayan
AllHome Gapan
AllHome Naga, Camarines Sur
AllHome Pampanga
AllHome Santiago, Isabela
Visayas
AllHome Bacolod
AllHome Cebu
AllHome Iloilo
Mindanao
AllHome Butuan
AllHome Cagayan De Oro
AllHome Gen San
AllHome Koronadal
AllHome is set to open 100 more stores in Manila and all over the Philippines by 2026 – as envisioned by housing and retail tycoon Manny B. Villar. According to AllHome President and CEO Benjamin Therese Serrano, 2023 is opening more doors for an improved economy following the lenient restrictions in this post-pandemic phase.
Buy your Camella home and receive up to 100k AllHome gift certificate
Camella, the trusted real estate brand in the Philippines for over 45 years, ensures that their homeowners don't just get a beautifully crafted dream home situated in a strategic location. We also want our homeowners to have an aesthetically pleasing home interior which is why Camella homebuyers stand to receive an AllHome certificate with their home purchase.
Purchasing and furnishing your home has never been this fun, especially when there is a place where you can conveniently shop for everything you need without a sweat. Visit the nearest AllHome branch in your area now!