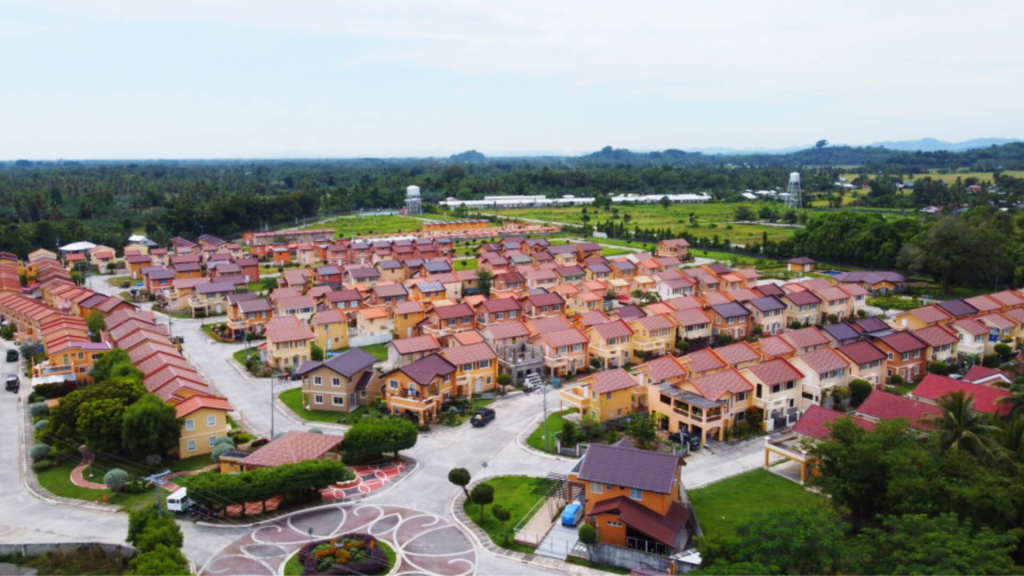 (Image source: https://www.camella.com.ph/property/camella-aklan/)
Are you in search of a perfect place to build your dream home? Look no further than Camella Aklan!
Nestled in the heart of Aklan, this premier gated community boasts natural beauty, top-notch amenities, and convenient access to the world reknowed Boracay Island of the Philippines, the Kalibo International Airport and the Caticlan-Boracay Airport.
With consistently strong market growth rates, quality education options, and healthcare facilities nearby, Camella Aklan is more than just a place to live – it's an investment for your future.
Join us as we explore the reasons why Camella Aklan should be at the top of your list in choosing a place to build your dream home.
The Ultimate Luxury Living Experience at Camella Aklan
Camella Aklan is a premiere location choice for your dream home. This luxurious residential development offers a wide selection of modern and stylish houses that are perfect for families, couples, singles, and even retirees. It is situated in the heart of Aklan, just a few minutes away from Kalibo International Airport, making it an accessible location for those who travel frequently, whether for business or pleasure.
One of the standout features of Camella Aklan is its natural beauty and peaceful surroundings. The community is surrounded by breathtaking landscapes and stunning views that make homeowners feel closer to nature. It also boasts lush greenery, open spaces, bike trails, and landscaped playgrounds which create opportunities to relax amidst fresh air.
Furthermore, Camella Aklan has consistently shown a strong market growth rate over time due to its strategic location near major commercial establishments such as Poblacion Kalibo Health Center which makes it an amazing place to invest in real estate.
Apart from being close to Boracay and the airport near it, there are many places of convenience like supermarkets, public market, hospitals, schools and colleges and more — all located near the property.
In addition to its strategic location with easy access via Provincial Highway or Lezo Highway leading into Metro Kalibo, Camella Homes provides unparalleled amenities like a swimming pool, gymnasium, basketball court, etc., schools like Garcia College Kalibo Campus, Aklan Polytechnic College among others, as well as hospitals and healthcare facilities such as Numancia Rural Health Unit, family clinics nearby make life easier for residents without compromising on quality education or healthcare options available right at their doorstep!
Unmatched Amenities and Recreational Opportunities in Camella Aklan
One of the most attractive features of Camella Aklan, apart from its inspired house and lot, is its unmatched amenities and recreational opportunities. The community boasts a range of top-notch facilities that cater to every need, from leisurely pursuits to fitness goals.
Camella Aklan offers state-of-the-art sports facilities such as ball courts and landscaped playgrounds where children can play safely under the watchful eyes of their parents. Residents will also enjoy exclusive access to swimming pools that offer cool relief during hot summer days.
For more laid-back leisure time, you'll find plenty to keep yourself entertained within the community's bounds. Clubhouse lounges offer peaceful spots for reading or socializing with neighbors over coffee or tea. And if you're looking for some alone time, why not head down to one of our serene parks?
Camella Aklan has put together an impressive array of amenities for its residents enjoyment – all within easy reach from their homes! With so many options available right on your doorstep at this residential development in Kalibo.
Natural Beauty and Peaceful Surroundings
Living in Camella Aklan means waking up every day to fresh air, panoramic views, and tranquil surroundings that provide a welcome escape from the hustle and bustle of city life. You can take leisurely walks or bike rides on nearby trails while soaking up nature's splendor.
The community also features open green spaces, landscaped playgrounds, and ball courts where you can enjoy outdoor activities with your family or friends. Imagine having picnics under shady trees or simply relaxing on a bench while enjoying the scenery.
Additionally, Camella Aklan is located less than two hours away from several natural reserves like Hinugtan Beach and less than three hours away from Puka Shell Beach which offer endless opportunities for exploration and adventure. Whether you're into snorkeling or hiking through untamed forests, there's always something new to discover in this beautiful part of the Philippines.
Consistently Strong Market Growth Rate
One of the most important factors to consider when investing in a home is its market growth rate. Fortunately, Camella Aklan boasts a consistently strong growth rate that makes it an excellent investment choice for those looking to build their dream homes.
Over the years, the real estate market in Aklan has experienced significant progress with numerous properties being developed throughout the province. This trend has led to an increase in property values and demand, making Camella Aklan's properties even more valuable.
The strategic location of Camella Aklan also plays a vital role in this consistent growth as it offers easy access to major commercial establishments such as malls, markets, and schools. Additionally, its proximity to Kalibo International Airport and Godofredo P. Ramos Airport ensures that residents can conveniently travel anywhere they want.
Furthermore, by choosing to invest in a property within Camella Aklan's gated community development project – you're securing yourself not only with quality house and lot but also with future investments. The value appreciation of these unique house and lot continues for generations.
Owning a property at Camella Aklan means you can enjoy high returns on your investment while enjoying all that this beautiful province has to offer.
House and Lot for Sale in Aklan
The Camella Aklan property offers a wide selection of house and lot with various minimum lot area, serving different market types. The house models with high ceilings go for a variety of room — from one bedroom to three bedrooms, one to two toilets and baths, dining room, and kitchen. Usually at two storeys, the house and lot for sale also come with a garage.
Invest in Camella Aklan
Camella Aklan is located in Brgy. Joyao Joyao in Numancia, only about 10 minutes away from Kalibo, the capital of Aklan. It is a thriving 11-hectare Italian-themed community, offering a wide selection of house and lot. It features contemporary architectural design.
Camella Aklan is an excellent choice for those who want to invest in their dream home. With its natural beauty, strong market growth rate, quality education, and healthcare facilities, accessible location and excellent infrastructure, unmatched amenities and recreational opportunities, customer satisfaction, and commitment to excellence – it offers everything one could ask for when choosing a place to call their own.
Whether you're looking for a house and lot or just a lot development project that you can turn into your future home – Camella Aklan has got you covered with its wide selection of inspired house models.
So if you are looking for the perfect investment opportunity in Aklan province – look no further than Camella Homes! With so many great features like green spaces, and landscaped playgrounds there really is something here for everyone. So why not take advantage today?
Celebrate Life's Milestones in Camella Aklan
House and Lot for Sale in Numancia, Aklan