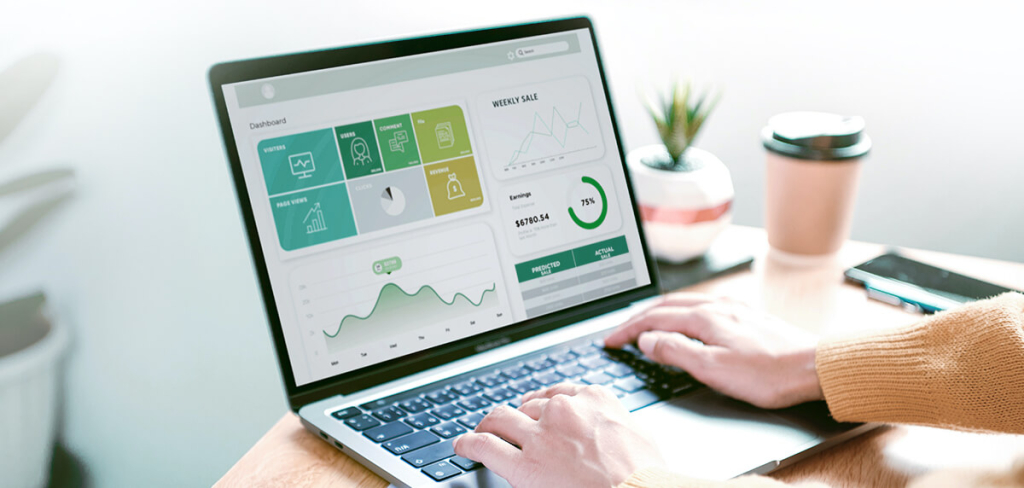 Your career is integral to your life as it provides for your needs. When looking for work, jobseekers aim for high-paying positions that are more or less aligned with their degree, skill set, passion, and professional growth. For those looking at a stable industry to put a stake in, real estate is one of the industries worth considering in growing one's career.
If you are looking for real estate jobs, the Philippines is one of the best countries to work in as either a full-time real estate agent, as part of an in-house sales and marketing team, or in other real estate positions responsible for clients and sellers' recruitment.
Real estate jobs in the Philippines may be ideal for fresh college graduates who are looking for their first career opportunity or those who plan on building their careers with a reputable real estate developer. There is a massive housing backlog in the country, and professionals wanting to have a career in real estate are more than welcome to join its workforce.
One of the most sought-after real estate positions in the Philippines is digital sales. Camella, the country's leading real estate brand, is on the hunt for digital sales associates nationwide. So if you are currently looking for a job, consider the benefits of taking this career path in real estate and being a digital sales associate in Camella.
Why pursue a career in real estate?
Real estate offers competitive salaries and high incentives
On average, a career in real estate can earn you a monthly salary between PHP 20,000 to PHP 30,000. This is a good take-off point for fresh graduates as work experience is not expected nor required. But more than the salary, a jobseeker, whether as a full-time or part-time real estate agent, should consider the incentives and other perks that come with being in real estate. In this industry, incentives are commensurate with the hard work you put into the job.
If you work with diligence and exceed sales quotas and targets, incentive-driven real estate companies like Camella gift its digital sales associates and real estate agents cash incentives for excellent sales production. Efforts turn to leads that ultimately result to more earnings in the real estate industry.
Flexible work hours
Aside from cash incentives and competitive salaries, real estate professionals have complete control over their work hours. Real estate jobs are output based and the quality of sales rather than the number of hours you put in.
Now that a hybrid work setup is commonly acceptable, you don't need to be present in an office daily to perform duties and responsibilities. Because of virtual meetings, you can even present a real estate portfolio to clients without meeting them face to face.
Real estate espouses work-life balance
A career in real estate allows you to enjoy something that cannot be bought with money – a work-life balance. Having said this, you still need to constantly learn how to communicate with people, especially with the markets that you target, conduct a lot of research that affects the global economy, schedule paperwork, and perform other necessary tasks given to you.
Begin right after graduating
One of the struggles of fresh graduates is finding employment, as most employers are on the lookout for candidates with relevant work experience. However, the case is different in the field of real estate. As a digital sales associate, a bachelor's degree in any field is the only must-have to get hired.
Real estate prepares you through training
Another reason fresh graduates are more likely to get hired in real estate is that realty and developers provide the necessary skills training for newly-hired employees and sales agents. Before the companies even let you out into the battlefield, they make sure you are armed with a considerable amount of knowledge and improved skill set. Prior to your first client interaction or closing of the first sale, your employer ensures you are up to the task.
Real estate provides continuous learning
As real estate trends and markets shift, various markets' wants and needs likewise evolve. These new insights provide relevant data that impact on sales gameplans and the products that are created and built. Real estate professionals must constantly acquire new learnings to meet clients' needs and keep up with industry swings. Riding with the times is a must for all real estate professionals.
Real estate will always be in-demand
Unlike other fields, real estate is always in-demand and open for employment. The pandemic did not keep people around the globe from buying real estate properties in Quezon City and other areas, as it is a basic need for every family. Real estate is most likely one of the most stable industries you can bet your career on.
Camella is looking for digital sales associates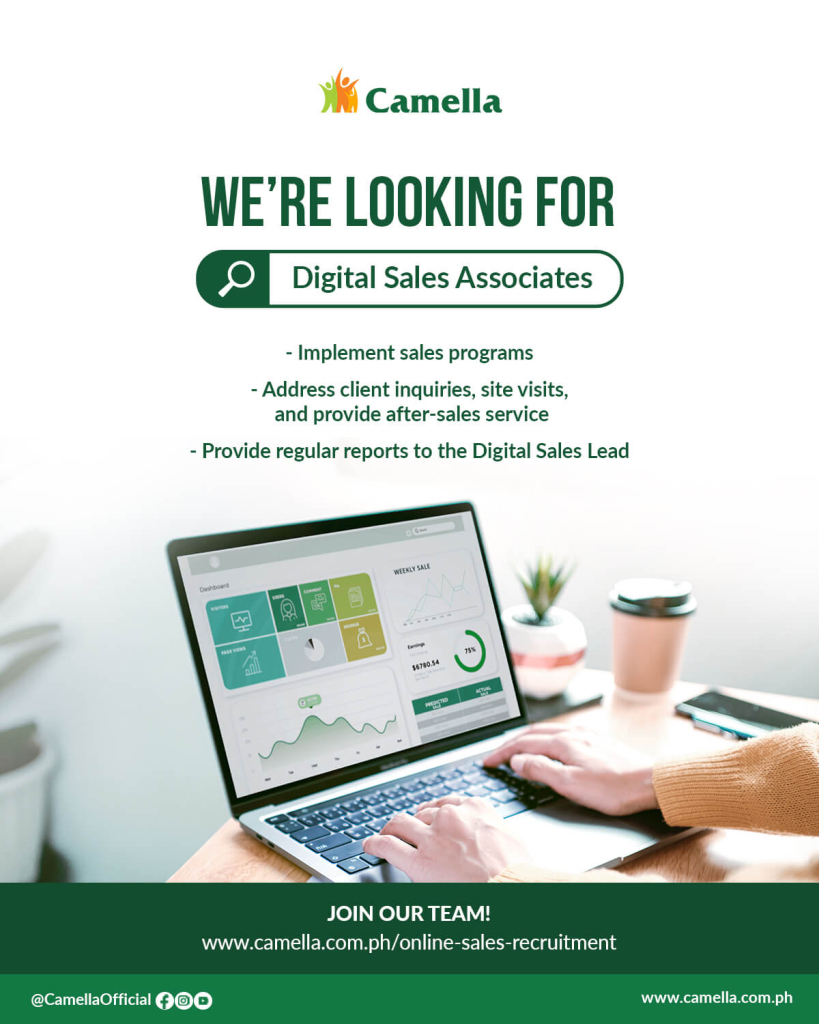 Being with Camella ticks all the boxes enumerated earlier. Camella's continued success can be attributed to its hardworking employees. It is one of the primary reasons why Camella remains the most trusted real estate company for over four decades now. As a key player in the real estate industry, Camella provides a supportive work environment and lucrative career opportunities for its employees.
Be part of the winning team
Be part of the winning team! Apply as a digital sales associate in Camella and reap the rewards of working in the real estate industry.
Position: digital sales associate
What are the primary tasks?
Create a sales and marketing game plan that involves prospecting, nurturing, and closing sales. Sales leads can be generated from both traditional and digital channels
Respond to client inquiries and arrange for property previews and site visits
Provide after-sales service through documentation, relationship development, and referral assistance
Contribute to the company's overall sales goals and milestones
Report on account activity and sales tactics regularly to the Digital Sales Lead
What are the requirements
At least 20 years old
Must possess a Bachelor's Degree in business or any related field
Competitive and team player
Excellent written and oral communication skills
Creative, self-motivated, and goal-oriented
Knowledge in social media and other relevant digital platforms
Experience in sales and real estate is a plus
Knowledge in Photoshop and any video and photo editing software is an advantage
Where can you apply as a digital sales associate?
Interested applicants may apply at this link.
Working with real estate industry leaders
Working in Camella provides growth and stability to its employees. As a digital sales associate, you have the opportunity to work with and be trained by some of the formidable leaders in the real estate industry. Moreover, your daily interaction with team members allows you to harness your skills and outlook that will help build your career in the real estate industry. Another relevant experience as a digital sales associate is the chance to network with people and lead realty companies.
Reaping the rewards in Camella
Apart from valuable learnings that can be culled from training, Camella employees also benefit from company-paid travels, above-industry incentives, competitive monthly salaries, and healthcare coverage. If you are searching for a good place to begin your career, being in digital sales is an opportunity you shouldn't miss. Join Camella's growing pool of talents today!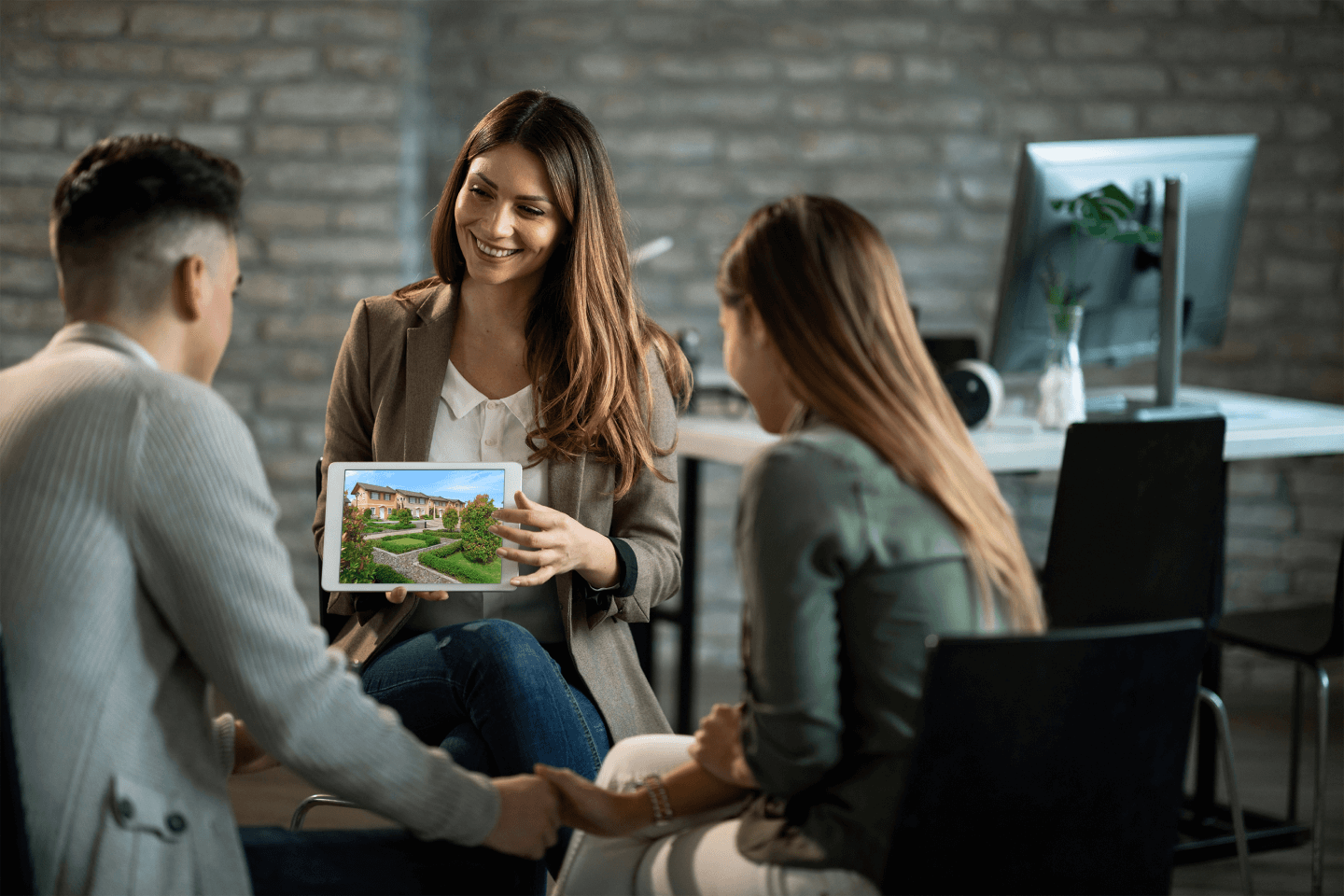 Join Our Pool Of Digital Sales Associates
And Jumpstart Your Career In Real Estate Sales
With The Country's Most Preferred And Trusted Housing Brand, Camella.
Be part of Camella's team of skilled and confident real estate professionals.
Reap rewards and enjoy the benefits that come with it!