What is a coastal interior design? Learn more about its colors, elements, and ideas to help you emulate the coast vibes at home.
---
Are you familiar with coastal interior design styles? Most people believe that the coastal look is limited to nautical décor with crashing waves and sea life replicas inside our homes. But the coastal design style is more than marine life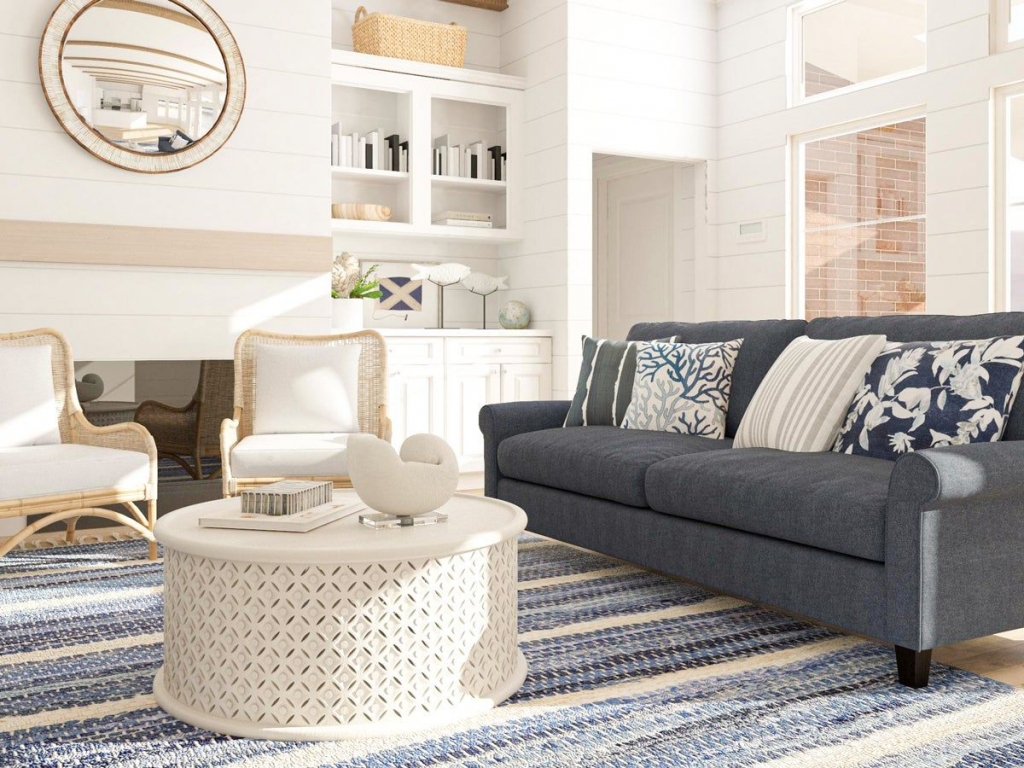 What does a coastal interior design style look like?
You can easily spot a coastal home design from its color palette. That is because coastal homes emulate the beach vibes. In other words, it means a combination of neutrals and pops of color. When thinking about a coastal style, you might have mental images of anchors, ships, and waves.
But the coastal décor is all about letting natural light into your home. In other words, the main idea for a coastal design is to make your home feel like a beach house with light and airy natural elements.
See more interior design ideas for your house or condo:
How To Achieve A Modern Farmhouse Interior?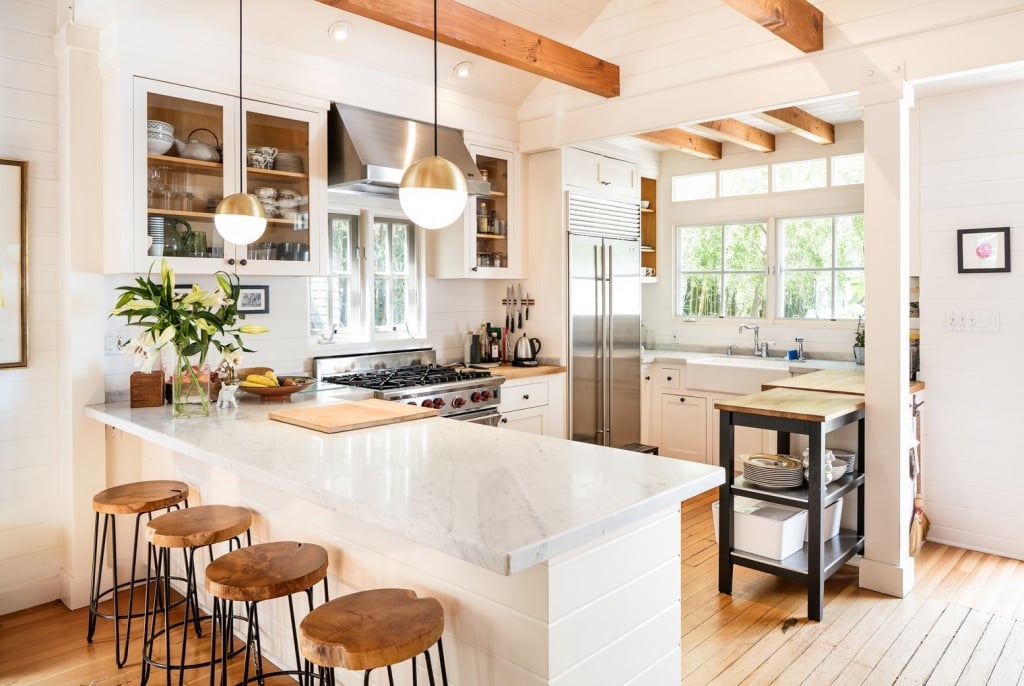 What are the distinct characteristics of a coastal interior design?
What would an interior designer suggest as elements of a coastal home? Here are some of the recommendations to help you build your coastal interiors.
Colors and accents
Achieving a coastal aesthetic is all about getting the right colors first. For this, neutrals are your best bet. But if crisp whites and beige are too plain for your tastes, you may spice it up with flashes of navy, green and blue hues, and even bright accent colors.
As a general rule, use the colors of the beach as your guide. This means drawing inspiration from the sand, water, and clouds.
Coastal furniture
For your furniture, go for oak cabinets and furniture. If they are not your style, you can choose wicker furniture or rattan ones. And if you want to have wooden furniture like a coffee table, make sure they are white-washed or ash-colored to bring in a sensory experience.
Lastly, keep away from metallic surfaces and shiny pieces. Again, coastal design means more natural décor that creates a relaxing atmosphere.
Indoor lighting
Aside from the color palettes, another essential factor that can make or break your coastal interior design is lighting. Remember that a modern coastal design needs as much natural light as possible.
Given this, the resulting space should feel open, light-filled, and airy. In other words, your interior space should feel like an extension of the coastal outdoors. Lastly, it would help if you had minimal window treatments to let natural light flow in more freely.
Let there be light and let the light make a statement.
How To Design A Good Statement Lighting
What are some coastal interior design ideas?
Now that you know the basics of modern coastal design, it is time to apply them to the different parts of your home.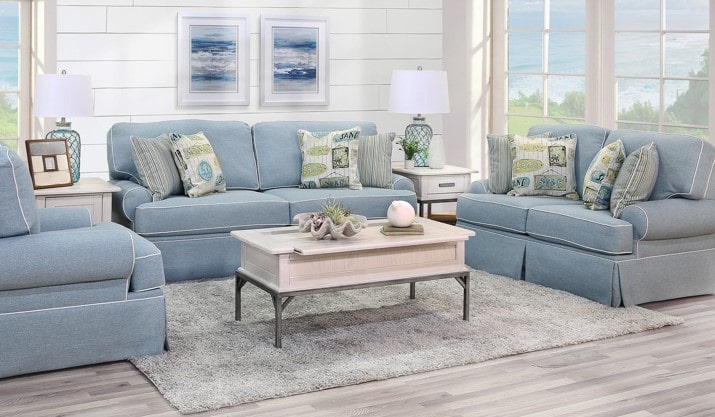 Emulate the coastal living in your kitchen
To create an ideal coastal kitchen, the only rule you have to remember is to keep within the colors of nature. Whether you want a darker or brighter kitchen, hardwood floors are your best choice.
If your kitchen walls are in a darker shade, a darker floor color would be more appropriate. Alternatively, if your walls are varying shades of white, you can add more colors to your furniture. For instance, your drawers could have soft sky blue or coral undertones.
Go for natural materials like rattan and other woven products for your chairs. Alternatively, you can also opt for wooden chairs with striped details.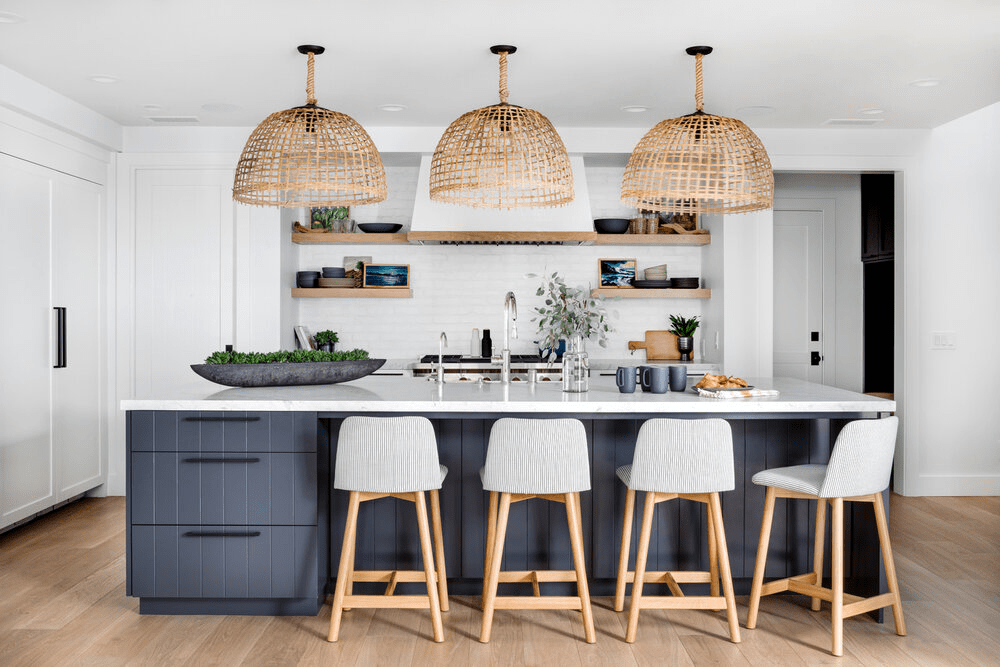 Recreate the beachy home in your living room
For your living room, the goal is to make it feel like you are living in a beach house. To do this, your best choices are still soft colors, rattan, and weathered wood.
In addition, a coastal living room has clean lines, pale floorings, wood accents, and modern lighting. And to avoid falling into the cliched modern monotony, try to add rugs and other fabrics with geometric patterns to add more character to your space. Lastly, keep large windows unobstructed and let the light in.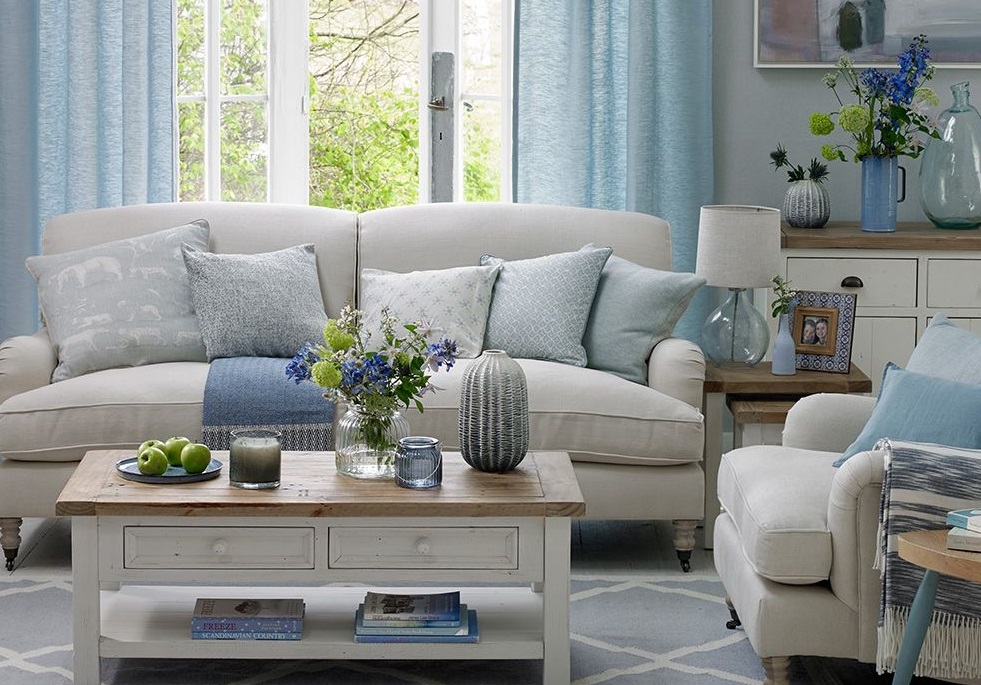 Bring the beach into your bedroom
To create a relaxing coastal bedroom interior, you should be strict about details. Starting with your walls, go for soft blue hues or stick with safe shades of white. To match your walls, you can go for a tufted headboard or a cane one.
Like your kitchen and living room, light wood colors are best for your bedroom. If you want to add more patterns, you can be creative in your wall decorations. Additionally, you can also choose nautical patterns or blue stripes for your bedspread.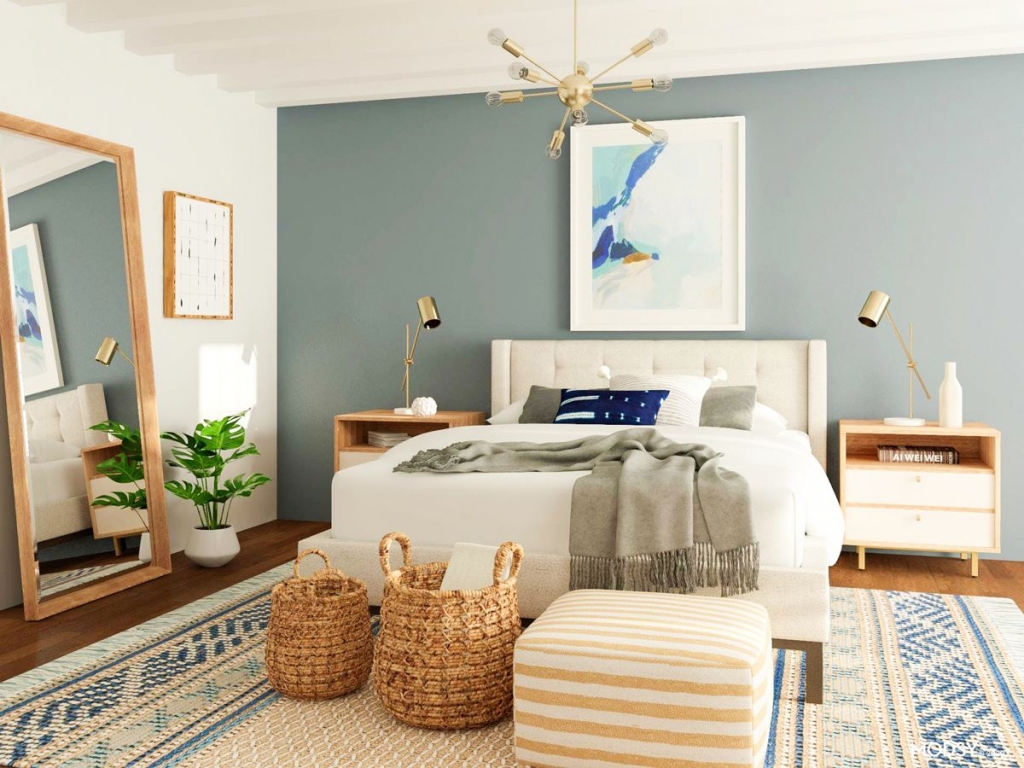 Are there coastal interior design variations?
Aside from the general themes and elements of the coastal interior design, there are variations like the modern coastal design or the coastal chic style that you can explore.
Modern coastal home interior design
Though they may seem like an odd pairing, marrying the modern and coastal style can actually work for your interiors. The modern coastal style is a simplified take on the usual coastal décor. This means a more subtle approach to achieving the beach vibes in your homes. In other words, you do away with the nautical décor and images and invest more in the nautical color scheme. In summary, it is still the coastal style, but more abstract.
Coastal chic style
The coastal chic style is a more sophisticated take on coastal décor. To achieve this, interior designers advise keeping everything light. For the coastal chic style to work, you should still keep it within the earthy tones and whitewashed wood. Additionally, you can also add nautical elements but keep them small and make sure they work with your neutrals. Lastly, if you want a splash of color, you can never go wrong with blue.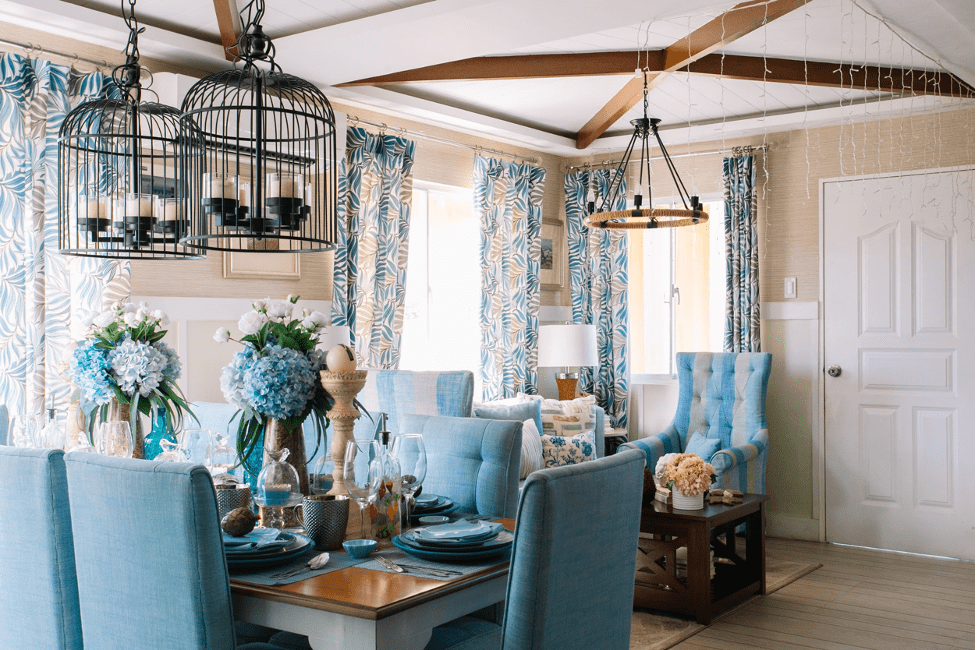 Find more interior design inspiration!
Check out Camella's styled house and lot and condo for sale in the Philippines.