Tagum City in Davao Del Norte, is a progressive city that was once a peaceful rural town until it grew into the modern metropolis it is today. The city's ability to attract tourists is a major contributor to its modern status. Also tagged Philippines' music capital, tourists will find everything they need in Tagum City, from places to shop and eat to exciting activities and high-quality locally-grown produce.
This has contributed to its rapid development, earning it the moniker "South's next tourist capital." Tagum is Davao del Norte's metropolis. The city has become one of Mindanao's fastest-growing urban centers in recent years. Several factors contribute to Tagum's attractiveness to investors.
Brighter Future in Tagum City
The city government of Tagum is highly proactive in promoting businesses, which bodes well for the future of real estate investments. If you are looking for opportunities to invest your hard earned money, real estate investments might just be your safest bet. If you're seeking real estate properties that will appreciate significantly over time, now is an excellent opportunity to buy in Tagum City as it experience economic dynamism.
As real estate developments, commercial spaces, new attractions, and enterprises spring up in Tagum City, it is giving Davao City a run for its money. Tagum, with countless infrastructure projects and major road systems in place — that provide access to provincial road networks, cities and nearby province — cut travel time significantly.
Tagum is now one of the busiest cities in the Davao region.
Here are some of the reasons why snagging an investment in Tagum City, Davao del Norte is worth considering.
Great Location for Investments
Tagum City connects the suburban Metro Davao with the more rural Davao del Norte and Compostela Valley. The city's advanced infrastructure allows for successful exports. The increase in human resources has significantly aided the city's revenue generation with the influx of people from rural areas.
Travel to and from the city is convenient via air, land, and sea. It is around a 90-minute drive from Mindanao's primary airport, Francisco Bangoy International Airport. The Philippine-Japan Friendship Highway, the road from Davao to Mati (Davao Oriental), and the road from Tagum to Kapalong, make land travel to Tagum a breeze.
The port in Metro Davao is also used by inter-island boats to connect the city to other parts of the Philippines.
Davao del Norte's capital city provides a prime location for the project due to its proximity to the region's hospitals, markets, and educational institutions.
Infrastructure Projects
The city of Tagum focuses on building up its infrastructure. Tagum's local government units are leaning on investing in quality infrastructure such as a new cultural center, bus terminals, and other essential services for the city's expanding urban population.
As most infrastructure are underway through the efforts of the city government, drainage systems, lighting facilities and similar improvements for the residential areas are also taken cared of to make living and business in Tagum City more attractive and conducive.
Today, the city has established infrastructure that elevates the ease and accessibility of living within the city. There is a local road network that connects the city proper to several barangays within the city. These farm-to-market highways are particularly useful because the surrounding area is primarily rural.
Ideal for Start-up Business
Starting a business is more economical in Tagum City. Along with this, settling in the city is also a great choice. There are ample reasons why you should consider Tagum as an excellent location for a real estate investment.
Lower Cost of Living
Tagum City has a lower cost of living and lower business costs than many other regional cities. As a result of this, it is appealing to both investors and potential homeowners. This also means that the costs of other essentials of operating a business, such as raw materials and commercial space, are lower here.
It is possible that in the years to come, Tagum City will become one of the centers for trade, businesses, and commerce; as a result, it is becoming an increasingly attractive place for real estate investments.
There are several real estate developers in the Philippines that are creating and offering reasonably priced house and lot packages as well as condominiums, and townhouses for sale. Despite the fact that there are many options available to you, picking the one that's best for you can be quite a problem.
Peace Ordinance in Tagum City
The city occasionally has police officers on foot patrol; they were given brand-new, light cars to use in their efforts to keep the city's peace and safety under tight watch. In addition, there are specially trained civic security officers stationed in public spaces like parks, shopping centers, and night markets to watch out for everyone's well-being.
Another thing nice about the provincial government of Tagum city is that they are in the process of enforcing a "No Smoking Ordinance" throughout the city. This ordinance makes it illegal to smoke inside government buildings, hospitals, and churches, as well as public transportation vehicles. People are only permitted to light up in certain parts of hotels, pubs, and dining establishments.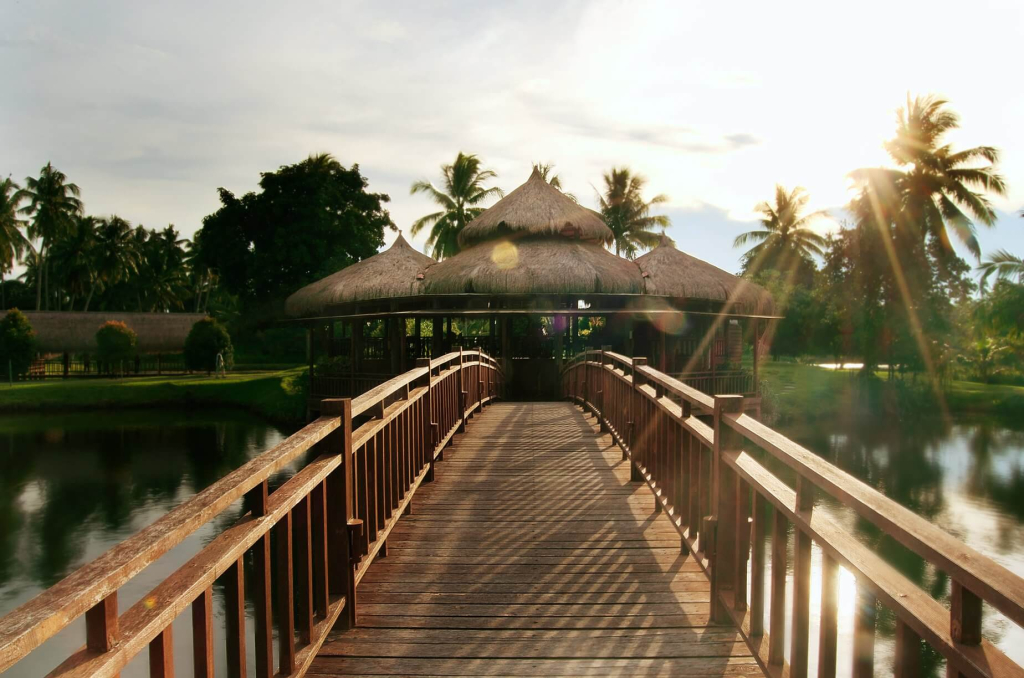 Tourism
Tagum City, geographically positioned in the southern part of the Philippine archipelago, is quickly becoming the Davao region's premier tourist destination because of its abundance of exciting and unique attractions and world adventures. The city's palm tree lined highways are enough to captivate any visitor.
Some must see destination you should definitely visit on your next trip to Tagum are The World's Largest Rosary, Banana Beach, San Agustin Botanical Park, Tagum Night market, and many more!
The climate of the city can be described as either equatorial or tropical rainforest, and it does not experience dry seasons. The dry season only lasts for a short amount of time.
People who live in an environment like this will have the opportunity to take advantage of the year-round summer like conditions that prevail.
Make Safe Investments: Securities and exchange commission on investment scams
If there is one thing investors should look out for, specially those investing in properties for the first time, it would be investment scams or fraud. According to reports submitted by the securities and exchange commission, (SEC) there has been an increase of investment scams in southern and central Mindanao.
The agency and the city government both extend an effort in releasing an advisory regarding investment frauds and ponzi scheme where individuals or organizers solicit new investors by promising to invest funds in opportunities claimed to generate high returns with little or no risk. But no worries, there are ways to spot whether or not an investment opportunity is deceptive or not.
Some of the ways to spot a scam is by doing an extended research regarding the company, more often than not, scammers come up with fake companies that often has little, to no online presence. Second is to steer away from opportunities that are "too good to be true." Con artists usually entice their victims with words like "risk-free", "quick/high returns" or "easy."
They often promise instant and guaranteed wealth. Truth is, risks are part of any investments and the more you invest, the more risks you have to manage. One thing to remember though – when you plan to invest, always feel free to ask questions from people you trust most or professionals in their field.
By asking relevant questions, you can evaluate if the offer or opportunity is legit. Plus, you would also be able to fully understand the terms and risks that come with every offer. Another thing to do is to verify if the company is registered and if the person you are in contact with is licensed.
Luckily for those looking for an excellent and legitimate real estate investment opportunity, Camella, one of the Philippines top real estate development companies, purposefully expands its geographical reach to allow filipino families to settle and live in their dream home and ideal community.
Invest in Camella Tagum
Camella is an excellent option for a property investment in the Philippines for Overseas Filipino Workers (OFWs) and citizens. Camella has a long history of success in the real estate industry.
In addition to its excellent value for the money proposition, one of the best things about living in a Camella community in Tagum City is the presence of resort-themed amenities that are strategically located close to vital establishments like schools, transportation hubs, commercial spaces, and other business needs. This allows you to make the most of how you live in the city.
Just like in any Camella communities, Camella Tagum is equipped with CCTV cameras and has round the clock security that ensure the safety of the neighborhood. To extend its security, the property is enclosed in a perimeter fence with well-trained security personnel.
As a major player in the Philippine housing market, Camella offers potential investors a great return for their money.
Celebrate Life's Milestones in Camella Tagum
House and Lot for Sale in Tagum, Davao Del Norte