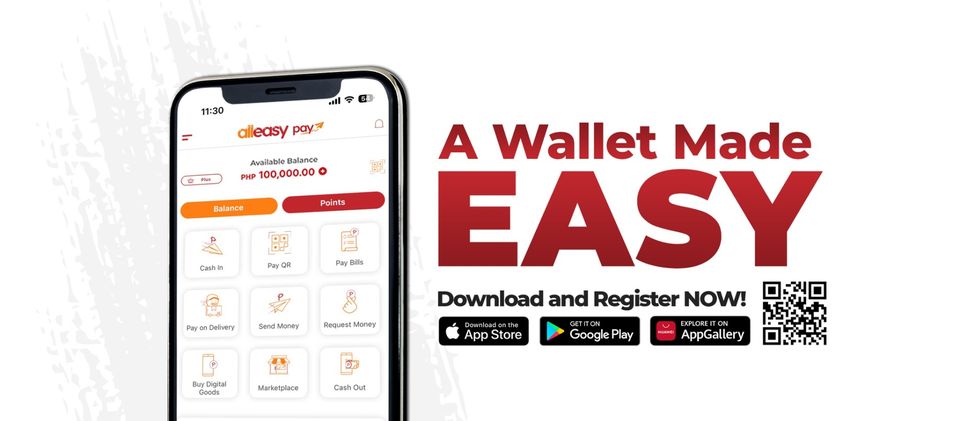 In recent years, the Philippines has witnessed a rapid growth in adopting digital wallet apps or mobile wallets, and other forms of contactless payments — transforming how people manage their finances. The stats further escalated at the onset of the COVID-19 pandemic when a notable percentage of the population went cashless for the first time as the pandemic lockdown pushed people and businesses to search for contactless payments alternative to pay bills, send money, and accept payments.
Despite the development in the protocols, the burgeoning of digital transactions shows no signs of stopping. This is mainly because a considerable number of Overseas Filipino Workers (OFWs) found better convenience in sending money to their families in the Philippines digitally over banks and one-stop money shops. The ease of tapping on your mobile device strikes out long queuing lines and hefty additional charges.
However, even with the prevalence of mobile wallet users, some people still opt to make cash payments because of several reported online frauds that threaten the financial safety of every user. This year, especially, Filipinos are restless to find the best digital wallet app that ensures both safety of their bank account information and convenience.
As every user deserves to enjoy peace of mind knowing that their financial information and physical wallet is safeguarded, we have compiled a list of trusted digital wallets for your trouble-tree digital life.
Several top-notch digital wallet apps have emerged, offering convenience, security, and a wide range of features. Among them, AllEasy's preeminence as one of the leading digital wallet apps is revolutionizing the way Filipinos make payments, send money, and handle their day-to-day transactions.
In this article, we will explore AllEasy's features and benefits and highlight other notable digital wallet apps that have gained trust and popularity in the Philippines in 2023.
AllEasy: A Wallet Made Easy
AllEasy has gained immense popularity in the Philippines due to its user-friendly interface, extensive features, and robust security measures. With AllEasy, users can seamlessly link their bank accounts, credit cards, and other financial instruments, allowing quick and hassle-free transactions.
The app enables users to make payments, send money to friends and family, pay bills, and even shop online with just a few taps on their smartphones and android devices.
One of AllEasy's striking features is its wide acceptance across various merchants in the Philippines. Users can simply scan a QR code or use the app's near field communication (NFC) capabilities to make payments at partner establishments, making it a versatile and convenient payment solution.
Furthermore, AllEasy offers cashback rewards, exclusive discounts, and promotions, enticing users to choose it as their preferred digital wallet app.
AllEasy is also handy for riders meandering the Philippine expressways like NLEX, SCTEX, CAVITEX, C5 Link, and CALAX through Easytrip RFID. Users can quickly swipe their auto-sweep RFID by simply buying a load from any telecommunication provider for their Easytrip account.
Security is a paramount concern for any digital wallet user, and AllEasy addresses this concern through cutting-edge encryption technologies, multi-factor authentication, and secure tokenization. The app also employs fraud detection mechanisms to ensure users' financial information is always protected.
Other Best Digital Wallet Apps in the Philippines to Ensure a Trouble-Free Digital Life
While AllEasy has made a significant impact, other notable and best digital wallet apps in the Philippines have garnered substantial user bases. Let's explore some of these apps:
Google Pay
Google Pay is a popular digital payments platform developed by Google that allows users to make secure and convenient transactions through mobile payments or payments via compatible devices. With Google Pay, users can link their bank account, credit or debit card, and other payment methods to their Google account and make seamless online and offline payments.
The platform supports various transactions, including in-store purchases, online shopping, peer-to-peer transfers, and bill payments. Additionally, it enables users to make payments within multiple apps and websites that have integrated the Google Pay API, further enhancing the overall payment experience. The platform employs multiple layers of security measures to protect user information and ensure safe transactions.
When a payment is made, Google Pay generates a unique virtual account number for each transaction instead of sharing the actual credit card details, adding an extra layer of security. Users can also enable fingerprint or face authentication to authorize payments, adding an additional level of protection.
PayEasy
PayEasy has established itself as a reliable digital wallet app, offering a seamless payment experience. Users can link their bank accounts, credit cards, or prepaid cards to PayEasy and make payments at various partner merchants.
The app supports peer-to-peer money transfers, bill payments, and mobile phone top-ups. PayEasy's intuitive interface and comprehensive transaction history make it an appealing choice for users looking for a straightforward digital wallet app.
CashMaster
CashMaster stands out for its focus on personal finance management. Besides offering basic digital wallet features like payments and money transfers, CashMaster provides detailed spending analytics, budgeting tools, and financial goal tracking.
Users can gain insights into their spending patterns, set savings targets, and receive personalized recommendations for better financial management. CashMaster empowers users to make informed financial decisions and achieve their financial goals.
Cash App
Cash App is considered a good mobile payments app for several reasons but it distinguishes itself as a digital wallet app that provides a platform for investment. The app offers a range of additional features, including the ability to buy and sell Bitcoin, a popular cryptocurrency.
Users can easily invest in Bitcoin directly within the app, providing a simple entry point for individuals interested in cryptocurrencies. Cash App also allows users to buy stocks through its service. With as little as $1, users can invest in various stocks and exchange-traded funds (ETFs) directly from their Cash App account.
This feature makes investing accessible to a broader audience and simplifies the process of buying and selling stocks.
QuickPay
QuickPay is known for its versatility and convenience. Users can link multiple bank accounts, debit cards, or credit cards to QuickPay, making it easy to manage various financial accounts in one place. The app supports QR code payments, bill payments, and fund transfers.
QuickPay's real-time transaction notifications and intuitive user interface keep users updated on their financial activities.
Coins.ph has been a prominent digital wallet app in the Philippines for several years. It allows users to send and receive money, pay bills, purchase prepaid mobile loads, and even buy cryptocurrencies. Coins.ph has been a trailblazer in providing financial services to the unbanked population, enabling them to access digital financial transactions easily.
With its extensive network of partner merchants and agents, Coins.ph has become a popular choice among Filipinos.
Paymaya
Another leading digital wallet that has emerged as a top player in the digital payment industry is Paymaya. PayMaya has distinguished itself by offering a range of value-added services. Users can quickly load their digital wallets through various methods, including bank transfers and over-the-counter payments.
The app also provides features like bill payments, mobile phone reloading, and even virtual prepaid cards, adding convenience and versatility to the user experience. Additionally, PayMaya has been proactive in forging partnerships and collaborations, enabling users to enjoy exclusive discounts, cashback rewards, and promotional offers.
GrabPay
Lastly, GrabPay is a prominent digital wallet that has gained significant traction in Southeast Asia, particularly in countries like Singapore, Malaysia, Indonesia, and the Philippines.
As part of the Grab ecosystem, which started as a ride-hailing platform, GrabPay has evolved into a versatile and widely accepted payment solution. One of GrabPay's key strengths is its seamless integration with the Grab app. Users can easily access GrabPay's features within the app, making it convenient for both existing Grab users and newcomers.
Whether paying for rides, ordering food, or shopping online, GrabPay offers a comprehensive range of services catering to various aspects of daily life.
Evidently, the digital wallet landscape in the Philippines witnessed remarkable growth and showcased continuous buildout, offering users a plethora of choices. AllEasy has emerged as a leading digital wallet app, providing its users with convenience, security, and exciting features.
As the digital payment system and ecosystem continues to evolve, Filipinos can enjoy the benefits of these best-in-class digital wallet apps, transforming how they manage their finances and transact anywhere in the Philippines.