By: Abishai Maprangala
Capiz is well known as the seafood capital of the Philippines. You can taste the best tasting seafood here in Capiz, where the main menu of crustaceans in the land is abundant and always fresh.
Contrary to popular belief, there is more to Capiz than just being the seafood capital of the Philippines. The province also has tons of tourist spots and is one of the most relaxing places to retreat in Western Visayas.
So, pack your bags, and we'll guide you to the best spots Capiz!
ALCATRAZ RUINS
The Alcatraz or Ruins is located at Brgy. Culasi, Roxas City. The tourist spot is well known for its vast structure, with its sides as dead-ends. From here, you can see the impressive sea, waves, and seashore. You can unwind, and at the same time, you can go fishing there. If you are looking for a relaxing day, this place is a must in your schedule.
MANTALINGA AND OLOTAYAN ISLAND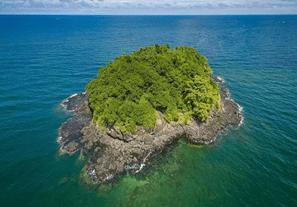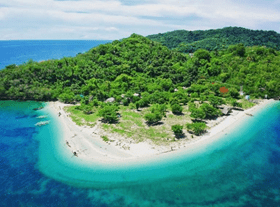 Did you know that you can also do island hopping in Roxas City? There are two iconic islands perfect for this in Roxas: the Mantalinga and Olotayan islands!
Before your plane lands at Roxas City Domestic Airport, you would see the beautiful islands and how calm they are on a clear day if you are traveling by air.
And when you are road tripping or food tripping at the side of Bay-bay Beach of Roxas City, you can see the islands clearly. They are shining and shimmering under the sun, almost as if you could grab them with your hands.
LONG COAST OF BAYBAY
Along the Bay-Bay beach, Roxas City, you can find a wide variety of seafood. Locals and tourists alike visit the coast to try and purchase the tasty variety of dried fish. They may cost more than your regular dried fish staple, but they are sure worth every peso you spend.
THE PUNTA COGON
Going to the North-Eastern part of Roxas City, we can find the beautiful Punta Cogon. It is a coastal village of the city, where the big waves smash the edges of the shore with sounds of plashing beside the bunch of coconut trees. Your visit here is most welcome among locals whose main source of their livelihood is fishing.
THE BASIAO BEACH
Outside of Roxas City, the nearest beautiful beach is Basiao Beach. Here, you can find white sand and a clean beach where you get to enjoy nature's greens. The shore of the beach connects to a big terrain with an elevated area to perfectly compliment the water.
This beach is very accessible as it is only 20-30 minutes of land travel time from the city proper. Here, you can also feel the retro-ambiance of a beach with the accommodating people of Basiao. From the seashore of Basiao Beach (if you do have a private vehicle or want to walk up the hill) to when you reach the top, there is the breath-taking view of the lagoon beach of Basiao.
Basiao beach is nearly 10-15 minutes away from Camella Capiz, a Spanish-inspired community with a selection of house and lot for sale in Roxas City, Capiz. Basiao is part of the municipality of Ivisan that is also abundant in oysters, seashells, and other seafood. When you go to their Talipapa centers or central market, vendors will meet you with their smiles while offering you a product.
PANAY BELL
From Basiao Beach, let's go to Panay, Capiz, where you can find the biggest among the oldest bells in South East Asia. More than the bell itself, being in the center of Panay allows one to glimpse at the Spanish colonization era mirrored in its bustling community. If you are a street food lover, you will enjoy eating at the kiosks around the community center. If you stay and wait until the afternoon, you might witness a beautiful sunset that will surely make its mark in your memories.
PONTEVEDRA CAPIZ
Our next stop is the municipality of Pontevedra, Capiz. Pontevedra is well known for its tasty, Class A tiger prawns or lukon, as locals called them in their dialect. Here you can also find an abundance of crabs and king crabs. Some local businessmen here also export their goods to other countries like Taiwan, Singapore, and Korea because of their high demand. The most common exported seafood are tiger prawns, crabs, and king crabs, famous for their unique taste. Pontevedra also is one of the most high-income municipalities among the 16 municipalities of Capiz. It has three private schools, a State University, two beautiful inland resorts, and lots of relaxing native coffee shops.
PILAR, CAPIZ
Pilar, Capiz is well known for its natural beauty of beaches, mountains, waterfalls, and caves. If you explore Pilar, you should start with cave hopping. These caves have a rich history told by the relics unearthed on the site, like pots with intricately incised designs.
The ancient caves were believed to be a burial site for pre-Spanish Filipinos, hence the relics. And as the locals say, your visit to Pilar is not complete without seeing and visiting these caves.
Aside from caves, Pilar's beaches are also perfect destinations for an outing. Here, the beaches are clean, and if you fancy mountain climbing or trekking, you can also do it in Pilar, Capiz. And guess what? You can refresh in the river or waterfall up in the mountain after your exhausting trekking.
Looking for a home close to these spots?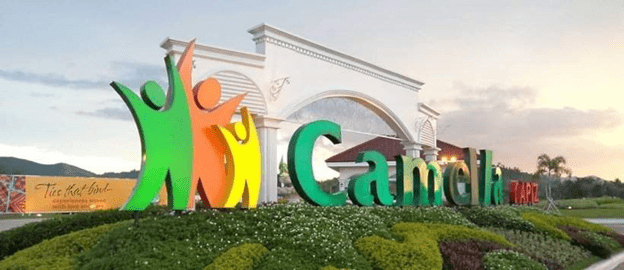 Camella Capiz is strategically located at Brgy. Sibaguan, Roxas City. The master-planned community is the first and only nationally developed housing project which offers house and lot for sale in Capiz. Camella Capiz is along the main road, making it very accessible.
Aside from the previously mentioned tourist spots, Camella Capiz is just 5 to 10 minutes away from malls and markets. It is also 15 to 25 minutes travel from the Roxas airport and under 25 minutes away from the seaport and Bay-Bay beach.
Suppose you are looking for a permanent place near a bustling neighborhood, where you can find almost everything you need. In that case, Camella Capiz is here to offer your dream home. Tuck in a safe and secured community—you deserve a peaceful life ahead.
So what are you waiting for? Dali Na Diri! Check out Camella's catalog of house and lot for sale in Capiz and know more about this master-planned community.