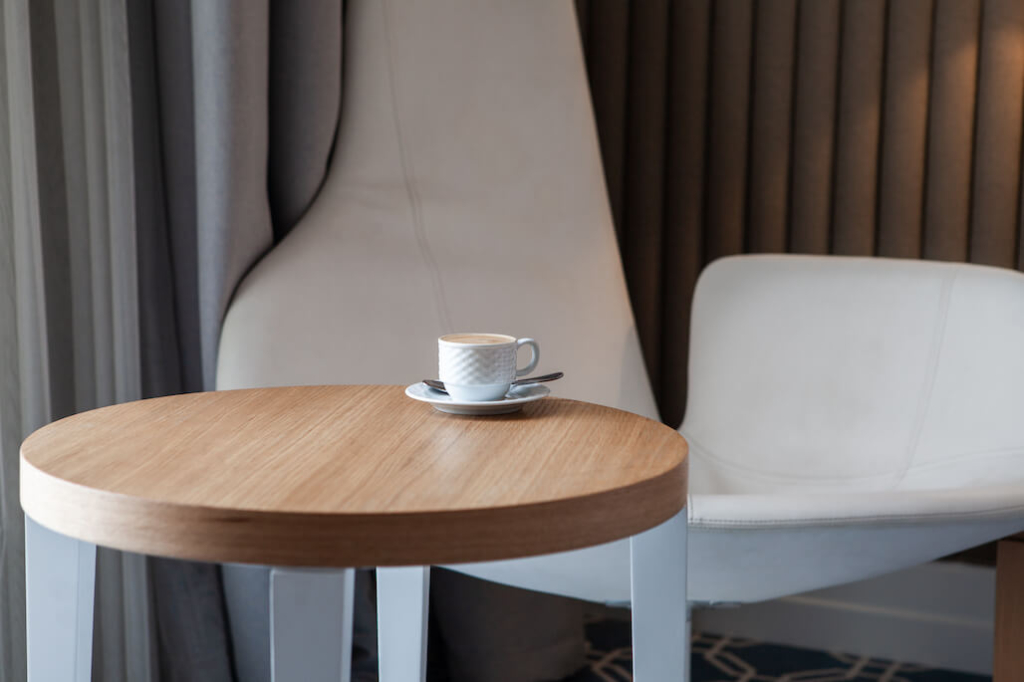 A coffee table comes in many designs and shapes. Other than functioning as a spot to casually put your drinks or where you can display your favorite succulent plant, a coffee table is essential in making your home as aesthetically pleasing as a side table. Your coffee table makes your home look complete, more than just acting as an additional furniture piece.
Styling your coffee table adds life to your living room, and you can decorate it according to your liking, home motif, or how it can complement your home's overall interior. Your modern coffee table can be at the center stage of your living space. Glass top and wooden coffee tables can be used as a table for extra seating. The good news is that you can buy coffee tables in thrift stores or malls.
How to Style a Coffee Table
Coffee tables, just like a dining table, can create visual balance in the living room. Whether you are going for a cocktail table, wooden table, or upholstered coffee table, your coffee table is not just for placing a round tray or a scented candle. There are different ways to style a coffee table.
You can do many things to a coffee table aside from putting your cup of coffee or topping it with a house plant. You can stack some magazines for your guests, display your favorite book, or decorate it with a vase and a charming flower arrangement. You can do many design ideas to accentuate your coffee table impeccably, and you can do it yourself effortlessly with these best coffee table décor tips and ideas!
Keep it simple or minimalistic
A simple rule to remember when styling your coffee table is to keep it simple. Limit your coffee table accents from 1 to 3 items like candles or flowers.
Tapered candles are a good option for a minimalistic yet classy look on your coffee table. They can add height and accentuate levels on your coffee table. You can also incorporate a woven-themed styling, where you can put rattan coasters or a handmade rattan basket.
A woven-themed style invokes a vintage yet simple vibe to your coffee table, as long as it blends in with your sleek living room interiors. You can also play with simple patterns using a plain white table runner or use a minimalist centerpiece like a simple black tabletop decoration in the middle.
One thing to remember on how to style a coffee table is simplicity. Simplicity is the best in whatever style preference you want for your coffee table.
A simple touch in brainstorming coffee table ideas can help you to avoid a cluttered or overdone style. Try to decorate it. A styled coffee table induces a calm vibe and a clear mind to help you chill while you relax in your living room.
You can put a small coffee table tray
Many interior designers recommend using small table trays to keep your things organized while styling your coffee table. You can put small items like a TV remote, a coffee cup, a souvenir item, or a small book. You can also put in handy things like a pen or a coaster as long as it complements the color or style of your coffee table.
See to it also that these items look good regarding colors and shapes. Coffee table décor ideas with trays or boxes are a good tip to organize and avoid clutter on your coffee table.
Trays or boxes are stylish and practical in your coffee table style. A tray or a small box also adds symmetry or enables space on your coffee table. Make sure to put only small items on the tray, stack them, or organize them side by side like they are 'floating' on a boat.
Avoid over-putting small items.
Instead of putting all those decorative items side by side, try stacking them for a cleaner and more organized appearance. You can stack books and place a small vase of flowers on top. Opt for individual stacks so they can appear less cluttered, and you can save space.
If you want to place small items like your favorite collection, artwork, or handicrafts, remember to choose at most four items so it appears manageable to the eyes. Style your coffee table so that it still does its function but not so much that it becomes a dumping spot of unnecessary items that don't piece together in one place.
Choose a small, low-maintenance plant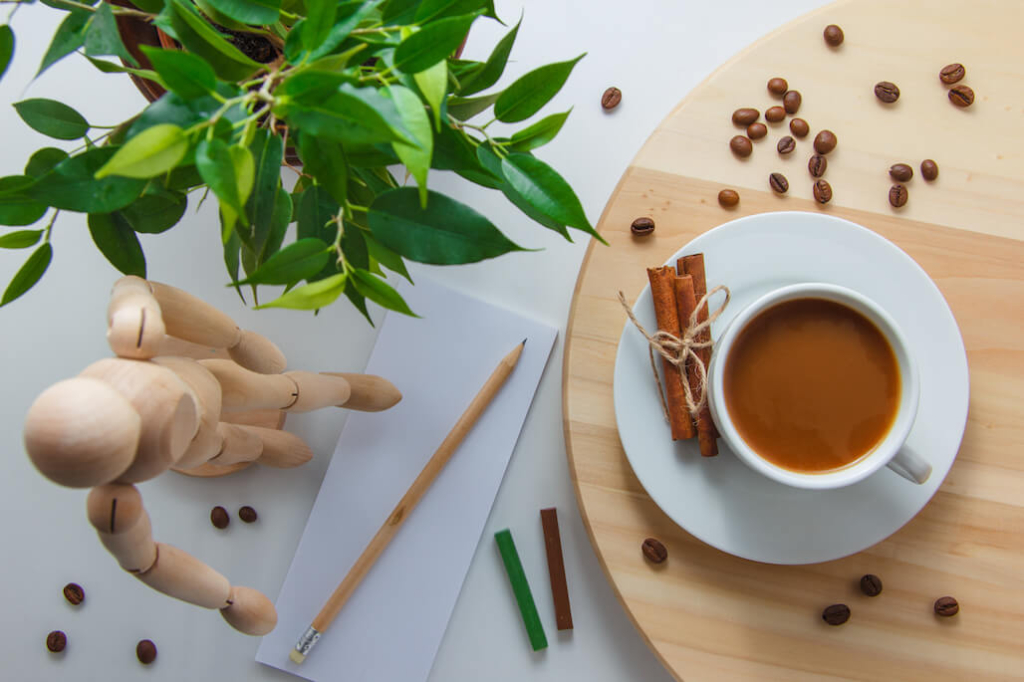 Plantitas and plantitos will love and relate to this tip. Go green for your coffee table style by adding a charming succulent plant or fresh flowers. Some interior designers say, ' No coffee table is complete without flowers.' Others prefer a more organic and natural element to their coffee table styling. Your living room is a casual space wherein you can put a simple flower arrangement like a bunch of pink tulips or calla lilies.
You are not only limited to putting flowers, though. A small potted plant or a bowl of tropical leaves on snipped branches can bring the relaxing vibe of nature inside your home. Put moss-laden earth for a little greenery on your coffee table, or go larger with pencil cactuses or aesthetic wood branches, which are fit for larger coffee tables. Deciding on a low-maintenance plant or a bunch of beautiful artificial flowers can bring life to your coffee table organically and stylishly.
You can leave your favorite book open.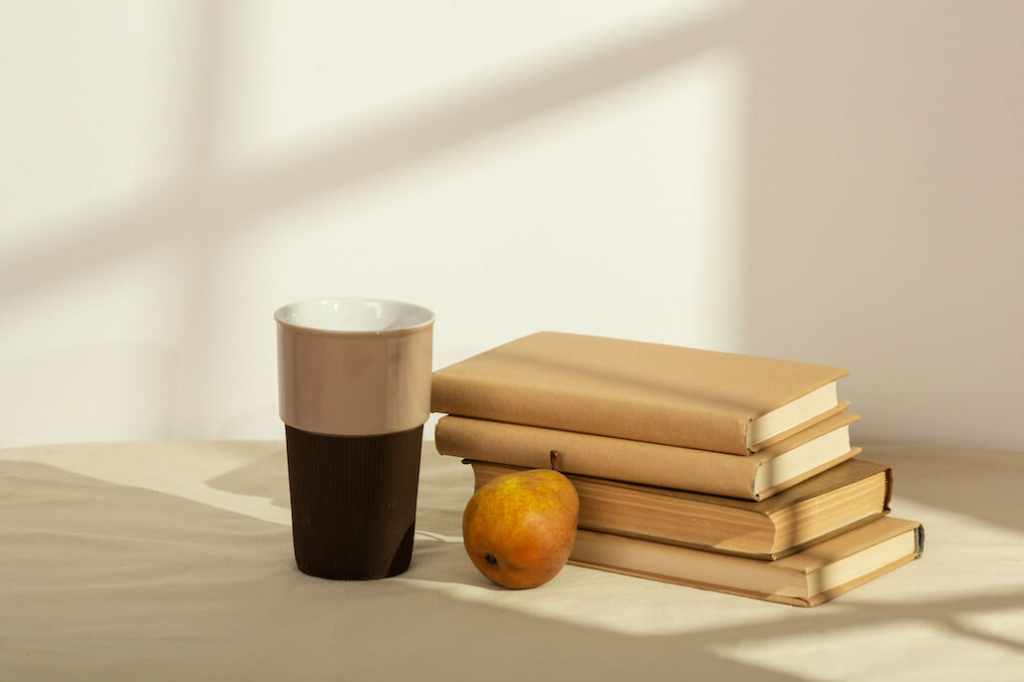 In a brightly lit living room with the windows open, a few stacks of your favorite books for a more personal touch to your coffee table. You can feature a page of your favorite poem or open a page from your most-loved novel with a highlighted quote.
You can also pile up your favorite books following a color scheme or a specific book genre. Look for 'coffee table' books. These books are designed to be displayed, yet it does not compromise an insightful and encouraging read.
Remember that it's your coffee table, so it is up to you if you choose a pile of books according to your favorite author, favorite color, or favorite book genre. You can share some of your personally regarded collections with your guests for their appreciation.
Look at all angles
On a square-shaped coffee table, you can imagine dividing four mini squares or quadrants and creating an arrangement of four decorative objects. You can go for a tall plant, a stack of your favorite books, or a themed souvenir collection. This way, your coffee table can be organized in grids while highlighting its dynamics.
Move and explore your chosen items until you develop the best arrangement for your display. When choosing what items to style your coffee table, consider how they will look from multiple angles. For instance, a photo frame will only look good from one angle, so you can opt for a potted succulent instead.
For larger-sized coffee tables, choose only one side to style so that you will only overdo your design which can appear cluttered. Make sure to save a functional space to add other personal items.
Round coffee tables are trickier than how to style a rectangular coffee table, but one hack you can do is to use a round or square table tray, place your chosen items, and put it as the centerpiece of your round coffee table. Try out the 'stylist's triangle' hack, wherein you can pick a taller item, a smaller item, and one that heights in the middle of the two for a more natural display.
Personalize and express yourself.
A nicely styled coffee table feels livelier and complete inside your humble abode. Don't be afraid to express yourself with personalized trays, your favorite plant, family memoirs, souvenir items from your travels, and more! There are endless possibilities when styling your coffee table according to your personality.
Are you fond of collecting miniature action figures, or are you a collector of antique items? Think outside the box and create a personal impact for your guests by incorporating your personality into your coffee table style.
Let your simple coffee table decor create a compelling story about you and what you are passionate about, or put something that flashbacks a memory. Put some interestingly unexpected objects. Set up a chess board game. Add a unique personal twist. Nothing is more enjoyable than styling your coffee table with the things you love that can resonate a happy vibe in your home.
Camella Offers Flexible Home Designs for Every Preference
Camella offers the most beautifully designed houses in more than 147 cities and municipalities in the Philippines. Find the dream home you deserve at Camella, where homes serve as avenues to memories that families can cherish for a lifetime.
Houses at Camella properties across the Philippines offer dream-like homes where moments are nurtured within a community with upscale amenities. All Camella communities are envisioned to enrich every homeowner's experience as it supports an evocative and healthy lifestyle in lush green landscapes in conveniently strategic locations.
Choose from more than ten house models fit for every growing family, a young professional, or a retired OFW. Each house model serves as a sanctuary you can call your home.