Are you ready to vote in the upcoming elections? If you are not yet a registered voter, you may have many questions about the voter registration process. Especially now that we are in the middle of a pandemic. If you are discouraged by long lines, waiting, and the virus threat, worry not because the Commission on Elections (COMELEC) has expanded its operations to satellite registration sites on malls near you.
But before you go to your nearest local COMELEC office or mall branch, below are the questions that first-time voters often ask.
Until when is the Voter Registration Period?
The last day for the voter's registration period is on September 30, 2021. For possible extensions, the COMELEC says it is unlikely since there are more things to prepare for the 2022 election timeline.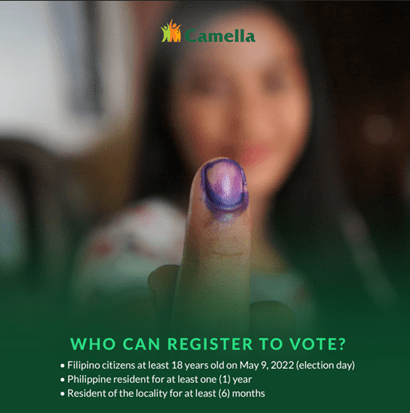 Requirements for voter registration.
Who can register to vote, and what are the eligibility requirements?
To be eligible, you must be a Filipino citizen who is at least 18 years old by the day of the election on May 9, 2022. You must also be a Philippine resident for not less than a year and also a resident of the locality where you plan to vote for at least six (6) months.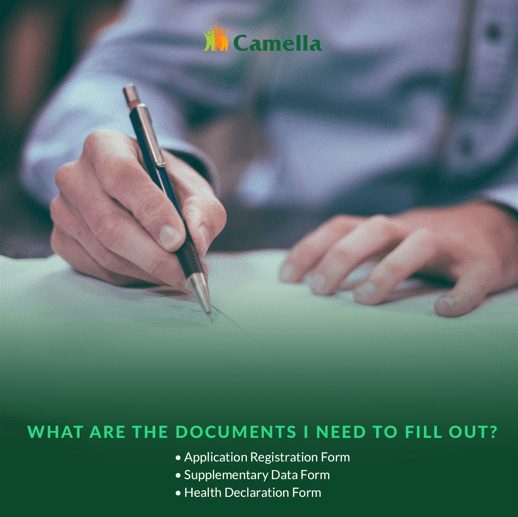 Documents you need to fill out on registration day.
What voters' registration requirements do I need to bring?
The COMELEC requires registrants to fill out their complete list of application forms and bring a valid ID as proof of identification.
The list of documents includes an Application for Registration form, a Supplementary Data Form, and a Health Declaration Form, all of which are downloadable from the COMELEC website online.
You have the option to print out the documents back to back in an 8″ x 13″ (Folio) paper and fill them out legibly. Make sure to only input the initial required information and do not put your thumb mark without the presence of an Election Officer or an Authorized COMELEC Representative.
Alternatively, you may get the required documents from the Office of the Election Officer (OEO) of your local government unit (LGU).
After filling out the documents, you must submit the accomplished form and supporting documents to the OEO, where you want to register and wait for further instructions.
What to bring on your registration day?
Are there options for online registration?
New voters may fill out an online application form via COMELEC's iRehistro web app for paperless options. The online application forms are straightforward, and you only have to select the most suitable options for you. However, to complete your registration, you must still go to your local COMELEC office based on your appointment date and proceed with the next steps.
What are the accepted Valid IDs for voters' registration?
Any valid ID, not just the national ID, is accepted by COMELEC. Bring at least one of the following valid IDs with a photocopy for submission.
Employee ID
Postal ID
PWD ID/PWD Discount ID
Signed Student ID or Library Card
Senior Citizen ID
Driver's License
NBI Clearance
Valid Philippine Passport
Unified Multi-Purpose ID (UMID)
Integrated Bar of the Philippine (IBP) ID
Professional Regulatory Commission (PRC) License
Certificate of Confirmation from (National Commission on Indigenous Peoples) NCIP
Should any of the IDs listed above be unavailable, check with your local OEO for your alternative options.
Where can I find the local COMELEC office?
Your local COMELEC offices are usually near your LGU centers like the municipal hall. The national COMELEC has also made a directory of all the local commission office addresses on their official website. For September 2021, the COMELEC has also posted a list of satellite office schedules where new voters can register.
Are there COMELEC registration sites in malls?
Yes, for the last month of registration, the COMELEC has partnered with malls across the Philippines for satellite registration. You can find the list of participating malls and their schedules on COMELEC's September 2021 list.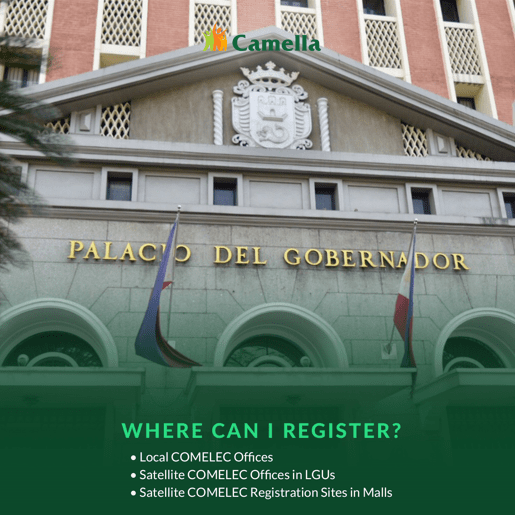 List of sites where you can register to vote until September 30, 2021.
What are the steps I need to expect on the registration site?
Upon arrival on your registration site, you will need to present your health declaration form and fill out a contact tracing form before proceeding with the actual registration process. Below are the major steps that you can expect:
Application Review: An authorized officer will review your forms and check for any errors. You will also need to sign and/or attach your thumbprint in front of the officer.
System Log-In: Your application will be filed digitally in the Election Registration Board's (ERB) system.
Biometrics: The biometrics include your photo, your digital signature, and your thumbprints.
Issue of Acknowledgement Receipt: Once everything is accomplished, the COMELEC officer will give you a stub with the date of your application as your acknowledgment receipt. Make sure you keep the stub while your application is still pending.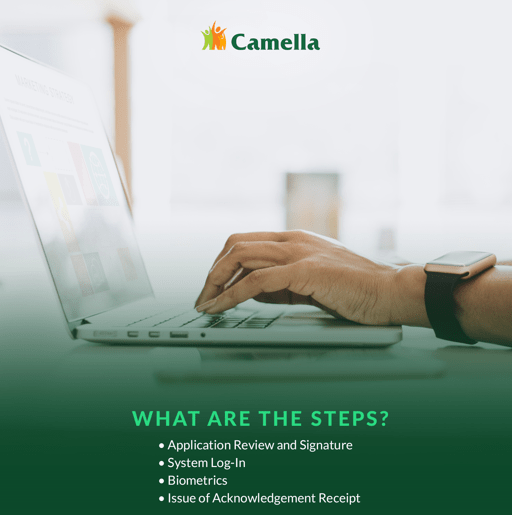 How do I know that I have successfully registered as a voter?
Once you have received your acknowledgment stub with your ID number, that means you have successfully sent your application. But that does not mean you are already a registered voter just yet. It may take months before your application can be approved.
Do I get to have a voters' ID upon successful registration?
The issue of voters' ID has been temporarily put on hold in light of the proposal to unify the voters' ID and national ID.
I have moved to a new place. Do I need to register again?
No. You only need to file a transfer of your voters' registration records from your initial precinct to the new one. You may file your request during the voters' registration period.
I have recently changed my civil status. Do I need to register again?
As with the transfer of voting, you will only need to file a request for an update on your nearest COMELEC office. The same is true for typographical errors in your name or any other information.
I have not voted for a long time. How can I reactivate my registration record?
To update your registration status, you will need to file a reactivation of your registration record with the local COMELEC office in the city or municipality where you are registered.
I am an overseas Filipino worker (OFW) abroad. How do I file my registration?
Filipino overseas workers who are not registered voters abroad can file their application through the Philippine Embassy or consulate to become overseas voters and cast their votes for the Philippine elections.
What are the requirements for OFW voter's registration?
To qualify for overseas voting, an OFW must submit the following requirements:
Photocopy of your valid passport
For dual citizens: a copy of dual citizenship documents (Oath of Allegiance, Identification Certificate, Order of Approval) or proof of Philippine citizenship from the Bureau of Immigration
For seamen: a copy of seaman's book.
I am a person with a disability (PWD). Can I update my registration record to indicate my disability?
Yes. You can update your records through the Supplementary Data Form and indicate your disability and the type of assistance you need during the election day. PWDs and senior citizens can also signify their intent to vote on special polling places oran Accessible Polling Place (APP), so they can be prioritized through an express lane.
Stay updated with the latest updates on registration and voting in the middle of a pandemic. For more information, visit the COMELEC website for more detailed discussions. If you have already registered, stay home and stay safe.
Learn way on how to keep your home safe from Camella. Check out our house and lot for sale, or visit our properties for sale across the Philippines.