Santa Claus is not the only one who is coming to town this holiday season. COVID-19 booster shots, too – a promise of a merrier final quarter of the year as we get additional protection against the infectious disease that spoiled our past Christmastide.
After all, we deserve this good news. And it definitely came one after the other, according to the latest case bulletin and updates released by the Department of Health (DOH). COVID-19 cases are down, quarantine classifications were eased in several areas, including the National Capital Region, and fully vaccinated Filipinos can hope for COVID booster shots very soon.
More and more people are getting protection against severe COVID-19 as the national government targets to inoculate 70 million of the eligible population by the year's end to reach herd immunity. It is indeed a race against time, and you would not want to be left behind in this fight.
If you are still planning to get a COVID-19 vaccine or know someone who is hesitant to get a shot, these facts will help you in your preparation.
What to expect after getting the vaccine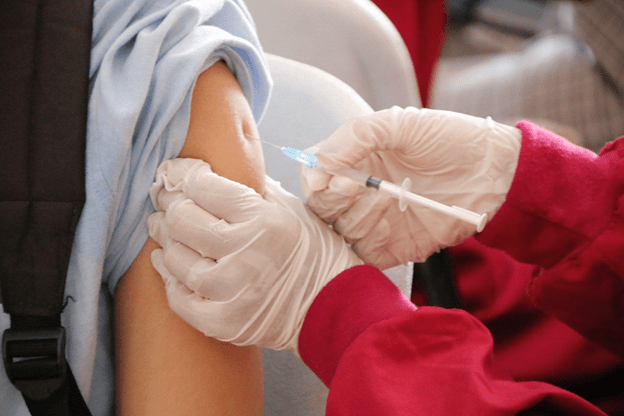 A student is being injected with a vaccine. Ed Us Photo on Unsplash
COVID-19 vaccines develop your immune resistance against the SARS-Cov-2 virus, the World Health Organization (WHO) explained. When you have immunity, you lessen the risk of developing critical disease and its costs.
Since the vaccine teaches your body to establish protection against the infection, you might experience side effects. There is no need to panic as WHO said that is just your body's way of responding to the antigen and proves that the vaccine is working.
COVID-19 vaccination common side effects include:
Pain at the injection site
Fever
Tiredness
Headache
Muscle soreness
Chills
Diarrhea
If you experience these side effects after vaccination, WHO said you can take painkillers. But the health organization clarified that taking paracetamol or other pain relievers before getting the COVID-19 vaccine to prevent developing side effects is not recommended.
Filipinos aged 18 and above were the first to become eligible for a vaccine shot. Adding to the latest wins against the pandemic, the vaccination rollout of Pfizer and Moderna vaccines to minors aged 12 to 17 years with comorbidities has also started. The COVAX facility has also stabilized the vaccine supply in the country, allowing more arrivals with vaccine brands like AstraZeneca. Unlike Pfizer and Moderna, WHO says the AstraZeneca vaccine is not recommended for people aged below 18 years as safety studies' results are still pending.
You can get vaccinated against COVID-19 only at government-run vaccination centers. The Department of Health (DOH) says that only the government is authorized to buy and dispense the vaccines, and it is therefore not for sale at any private clinics or pharmacies.
What's next after a complete primary series?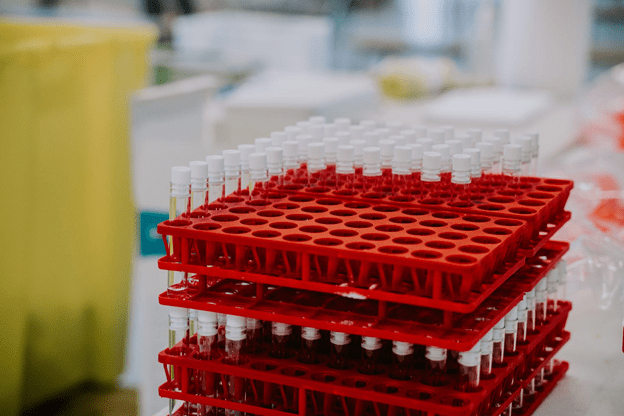 Public health experts continue to assess the fast-moving science and record more data on vaccine safety and effectiveness. After completing your single-dose vaccine regime, if you got Johnson & Johnson's Janssen or a two-dose primary series, you might keep your vaccination card with you as developments arise.
The Food and Drug Administration (FDA), for one, has authorized booster shots of vaccine brands Pfizer-BioNTech, Moderna, and Janssen for eligible populations. The agency's Center for Biologics Evaluation and Research director said that the inclusion of a single booster dose was done according to the FDA's advisory committee members' input.
COVID-19 vaccine's main goal is to protect a person against critical disease, hospitalization, and death. But vaccinated individuals are found by immunological studies to have a steady decrease of antibody levels, a science journal, Nature Portfolio, said. Moreover, there is also an increased risk of breakthrough infections among vaccine trial participants over time, on top of other threats like from the COVID-19's Delta variant.
The fully vaccinated population's immunity and clinical protection rate fall short – now enter the COVID-19 booster shot doses. Waning immunity is the top factor considered by WHO to administer this additional protection. Other countries are offering the third dose of COVID-19 vaccine, including the United States, which recently authorized booster doses for those aged 65 and above, those at high risk of developing severe conditions, and are most exposed to the virus-like the healthcare workers.
When is COVID-19 booster shots coming to the Philippines?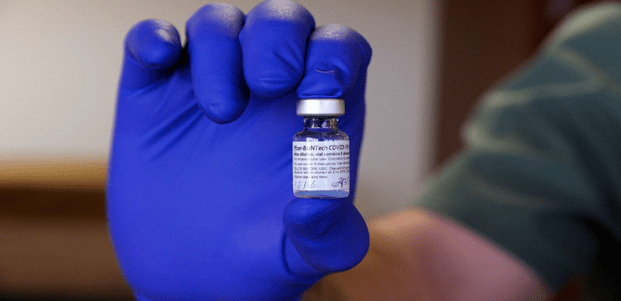 Josiah Jansen, who works in the pharmacy at Presbyterian St. Luke's Medical Center in Denver, holds up a vial of Pfizer's coronavirus vaccine on Wednesday, Dec. 16, 2020. Jesse Paul Photo on Unsplash.
Like other countries, the DOH said the Philippines has approved the administration of third doses of COVID-19 vaccines to fully vaccinated healthcare workers, senior citizens, and immunocompromised adults, as reported by Philippine News Agency. The National Task Force is targeting to administer the additional doses by November.
In a media forum last October 25, DOH Undersecretary Maria Rosario Vergeire announced the ongoing planning on booster doses. The formal recommendation on additional doses will have to be adjusted into a policy with operation plans by the health department.
NTF Against Covid-19 chief implementer and vaccine czar Secretary Carlito Galvez Jr. confirmed that the national government has set aside PHP45 billion for COVID-19 booster shots procurement, as assured by the Department of Finance. Vaccine developers can ship the booster shots to the Philippines toward the fourth quarter this year or early next year.
No matter how we are all excited to roll our sleeves up again to get additional protection, the DOH is yet to release the guidelines on the administration of the third dose. Nonetheless, it will not last long as NTF special medical adviser Dr. Ted Herbosa said that the guidelines are expected to be released by the health department before November 15. While the guidelines are being prepared, DOH continues to make sure that eligible unvaccinated Filipinos aged 12 and above can get the primary series.
The flood of good news is certainly a reason to celebrate but is not an excuse to be complacent. As we gain more positive developments against the pandemic, we should all the more be careful not to slide back again to the spike of infections.
The health department still asks vaccinated individuals to prevent the spread of the virus through:
Opening windows and ensuring proper ventilation and air circulation at home or at the workplace
Maintaining a balanced diet, exercise, and avoiding smoking and alcohol
Monitoring your health and call your Barangay Health Emergency Response Team if you have symptoms and possible exposure to the virus
Staying at home unless travel is essential
Camella, the Filipino's most trusted home builder, offers Healthy Homes that prioritizes you and your family's safety amid the pandemic. You can check Camella's house and lot for sale in the Philippines or check our house catalog to know more.