It's summertime! You have been working hard these days, and unwinding even just for a few days is one of the things you deserve. Spending the rest of your vacation free from stress, workloads, and Monday mornings out of the town would really be amazing, and the thought of going to one of the best beaches in the Philippines to have fun and enjoy your much-needed rest is somehow exciting, right? However, some people don't want to go to the beach on summer days for some reason.
Well, we can't deny that we have the best beaches here in the Philippines, so it is given that most of them are crowded. Moreover, we all know that the popular hobby of the people in Metro Manila is being busy, that is why going outside the region would be a hassle for some, or maybe some urban people don't like the vibe of the beach sometimes, we can't blame them, we all have different preferences.
If you are one of the folks who would choose to swim indoors, then we got your back! Let us introduce to you these Top 5 Indoor Swimming Pools in Metro Manila.
Aqua Sphere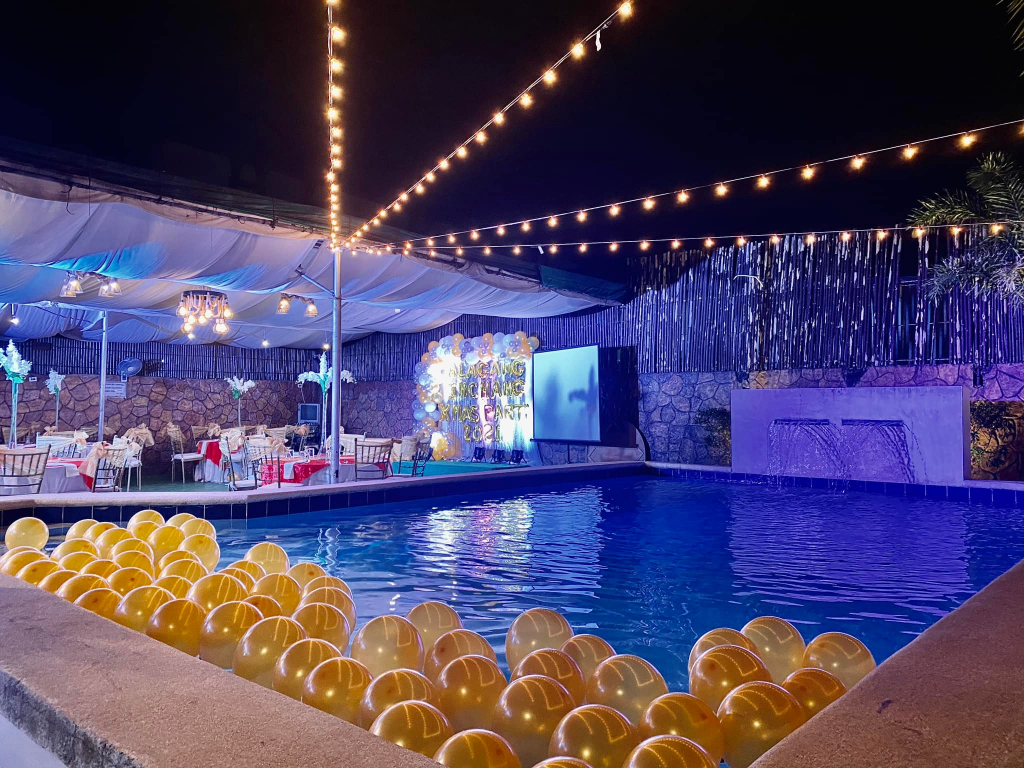 Manila Aqua Sphere, located at Marcelo H. Del Pilar Malate, has been serving as an event venue for all those who need to celebrate special occasions, providing a refreshing view of its perfectly situated pool area and event hall. This is actually a good venue for any pool party events; all you have to do is choose a theme for your party, decorate the place, and everything should be fine because the area can be changed to any atmosphere with your preferences, and the decoration needed depending on the event being held, such as debut, wedding anniversary, reception for weddings, family reunion, and more! It is also a kid-friendly area, making it ideal for families with active children.
The staff is also very friendly, so you won't feel awkward asking for what you need. They also make sure that the area is always clean, which is why people are excited to hold their life events at Aqua Sphere. To reserve the date that you require for your life events and the availability of the location, as well as for other inquiries such as prices, time in and time out, you can contact them by phone, and because they are now gaining popularity, you can see them all over the internet; simply search for the property's name, and it should appear on your devices.
Camella Homes is a construction project near Aqua Sphere. If you haven't heard about their project in Taft, Malate, Manila, let me tell you about it. Camella is currently offering a pre-sale condominium in Taft. The site is ideal not only for those looking to live in a condo but also for students studying in Manila, as it provides a healthy and student-friendly environment. The trusted home builder ensured that the students and other settlers will enjoy their much-needed privacy, and Camella, of course, will never let you down when it comes to amenities.
Owners were promised safety through its 24-hour security guards, CCTV cameras are installed as well, Sky Garden, swimming pool, Function Rooms, Gym for fitness, and the coolest thing of all is the Study Room with a computer available for use. Moreover, the good thing about it is that it is a pre-selling condo, which is somewhat good for students and new investors wanting to invest in a real estate property. What are you exactly waiting for?
Ace Water Spa
Because working so hard can be stressful at times, you may want to relax and allow your body to heal. If you want to relax your body, you should visit Ace Water Spa, which provides hydrotherapy that helps in cleansing, healing, and relaxing the body through the use of water. They are proud of their hydrotherapy massage, which both soothes the body and may be used to treat illness. Customers can select the type of water equipment they want to use, as well as the part of their body that requires more care and attention. They can also use the cool pool after their hot herbal pool massage, which is known as Contrast Therapy Plunge.
The Spa requires its customers to dress appropriately while in their vicinity in order for them to receive the maximum health benefit from their visit to the Spa. Fitted swimwear, such as trunks, bathing suits, and cycling shorts, should be fine; after all, it's for the customers' benefit. They also advise customers to take a shower before visiting the spa area of their choice. That's all they have to bring; the spa already provides everything the customers require. Food and drinks are not permitted inside the spa because the spa wishes to maintain cleanliness in the surrounding area.
They welcome people of all ages. The spa is open daily from 8 a.m. to 10 p.m., and customers can use and maximize all of the facilities for only 600 pesos for adults, 300 pesos for children, and it is for 4 hours of use, which is the ideal length of time for all users. Because walk-ins are not permitted, you must have a reservation before visiting the site.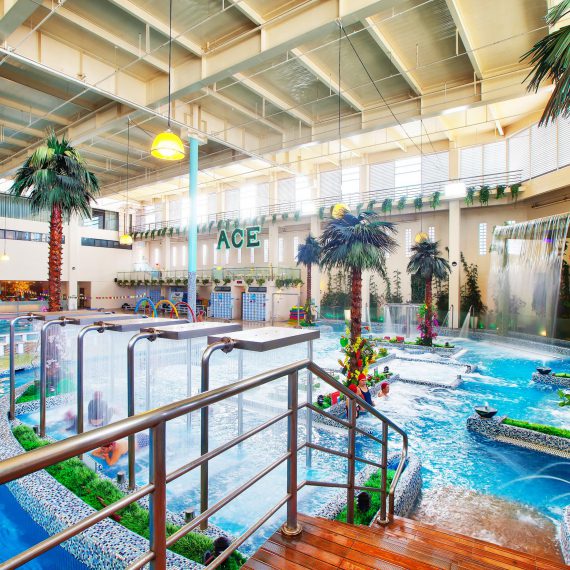 Just a few minutes away from the Ace Water Spa is the site of Camella Glenmont TrailsThis Spanish-Mediterranean-inspired subdivision is located in Sauyo, Quezon City, and has a total land area of 2.1 hectares. The location provides a peaceful urban life in a bustling area of Metro Manila. This community was created for new and growing families because it provides a safe, peaceful, and healthy environment.
The property developer demonstrates that it will provide not only quality homes but also convenience for all of its homeowners because learning institutions are located along with the site of Camella Glenmont Trails, allowing homeowners to enroll their children in schools that are only a few minutes away. Not only are educational institutions present around the Camella site in Quezon City, but also grocery stores and hospitals, which are a top priority for the reputable home builder. All Camella locations have cool amenities and a maaliwalas atmosphere.
All settlers have access to amenities such as a swimming pool, clubhouse, basketball court, shuttle, children's playground, and picnic areas. Safety is also not an issue. Trained security guards patrol the area, and CCTV cameras are installed for neighborhood monitoring. The homebuilder also provides a variety of sizes and house models. If you're looking for an affordable price for a quality home that comes with a sense of convenience, the Camella Glenmont Trails community might be ideal for you if you're looking for a quality life within Metro Manila.
Savoy Hotel Manila
At the Savoy Hotel Manila, you will find the space you require! Consider the area for getting things done, with your feet up and comfortable. The Savoy Hotel Manila is the city's newest urban destination for travelers seeking out-of-the-ordinary comfort and value. It's a place where people can share their experiences and tell their tales. The Savoy Manila Hotel is conveniently positioned immediately across the street from the Ninoy Aquino International Airport. The facility is part of Resorts World Manila, which features a variety of amenities. The Savoy Manila has a complimentary shuttle service to and from the airport, making it a very handy property to fly into and out of. Because the Savoy Hotel is relatively new, the entire establishment seemed quite fresh and contemporary!
The majority of the place was decorated in a business-like manner, but with bright colors as accents. Overall, tourists praised the Savoy Manila Hotel's design and branding. They loved that the hotel also utilized glass water bottles to reduce plastic waste! The Savoy Manila's bathroom had a shower, a single sink, and a toilet. It was a little tiny, but it was adequate for most people's needs. The gym, leisure facilities, outdoor pool, and a poolside bar are located on the second level of the Savoy Manila Hotel. The gym was rather large, with both contemporary machines and free weights. The outdoor pool was beautiful both day and night, and it was a great spot to unwind with its poolside bar. Guests can enjoy a dry sauna and a steam room within the changing rooms.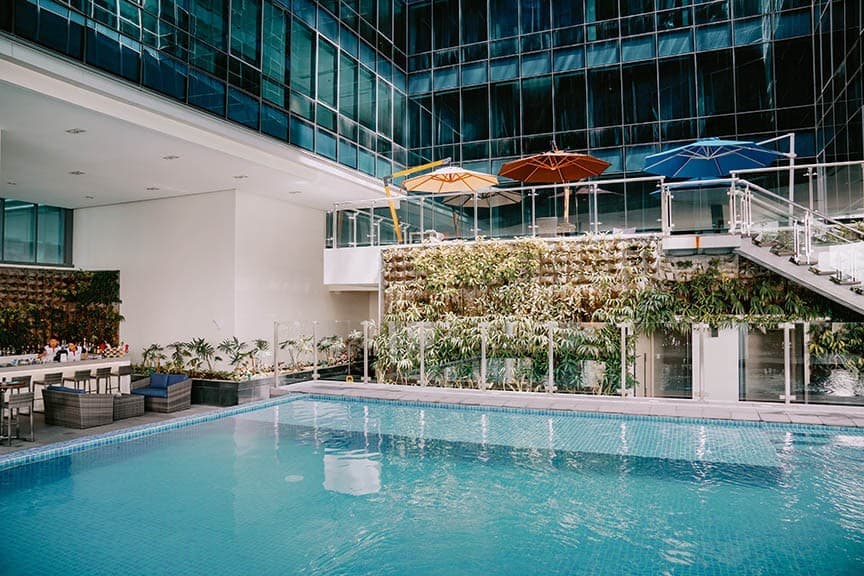 As previously stated, the Savoy Manila Hotel is part of the Resorts World Manila complex, which includes a number of hotels, restaurants, the Newport Mall and Cinema, and much more. You may make use of the free shuttle to visit the Newport Mall and its many eateries. Some visitors to the Savoy Manila Hotel highly appreciate the Silogue Restaurant, which provides Filipino cuisine, but you can also enjoy Ginzadon, Cafe Maxims, and The Terrace.
With a 1 hour and 19-minute drive from Savoy Hotel Manila, you can enjoy leisure facilities, take a break from their swimming pool, and unwind in a resort vibe community, of Camella Manors Caloocan for a cheap cost! It also includes protection that is available 24 hours a day, seven days a week. This condominium, in fact, ensures that you live in a safe, healthy, and secure environment. For those who like to work their body out, Camella Manors Caloocan has a gym just like Savoy Hotel Manila. Simply put, Camella Manors Caloocan has features just like Savoy Hotel Manila has but is inexpensive! Come live with us in Camella Manors Caloocan!
Manila Downtown YMCA
The Manila Downtown YMCA is located in Binondo and is perhaps one of the greatest venues to get your swim on if you want to exercise without breaking a sweat. They occasionally host events such as fundraising for the environment and animals. They conducted a fundraising event for street animals in 2015. The YMCA enables these types of events to take place as long as adequate arrangements, such as permits and letters, are completed at least two months in advance. It's a bonus because they'll let you use the pool if they know it's for a good cause!
The 25-meter pool may be found on the ground floor. It's ideal for laps, too, especially on a Sunday morning when the pool is nearly empty. But be warned: the water is really chilly! People whose bodies aren't acclimated to swimming in these waters may shiver after a while! It is thus recommended that people who are not used to swimming in cold water spend some time in the shower room getting acclimated to how chilly the water is.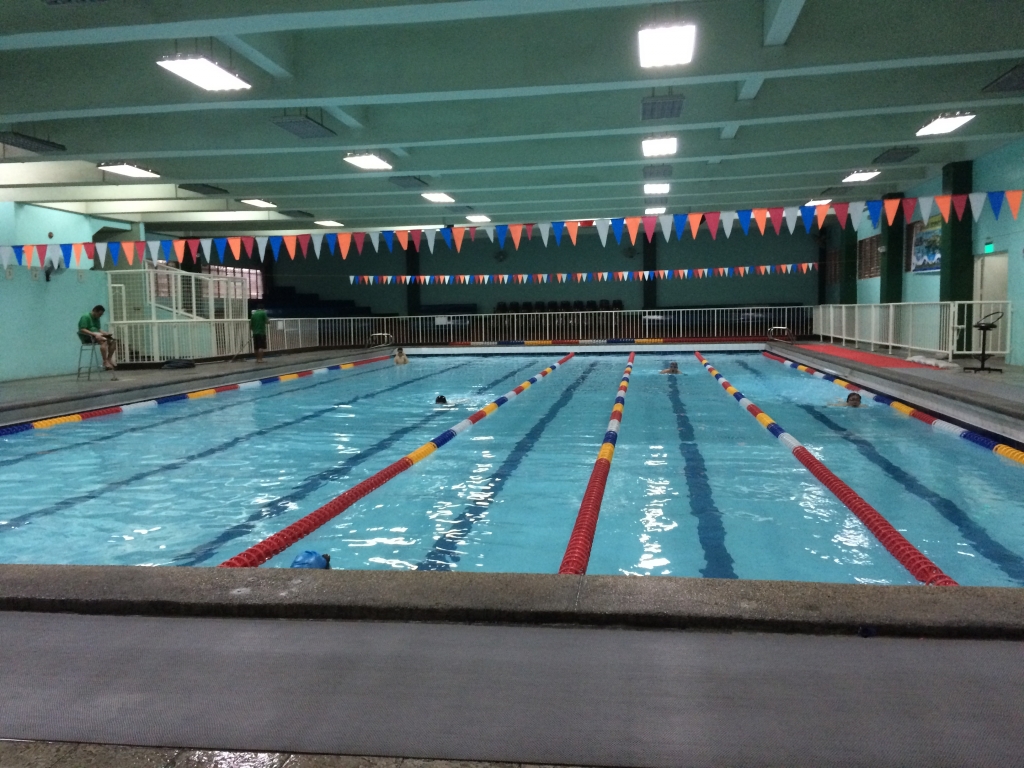 Their swimming pools contain chilly water because swimming in cold water increases endorphins. This molecule is produced by the brain to help us feel good during exercises. Swimming in cold water is also a kind of exercise, and it has been demonstrated that exercise can aid depression. Swimming in cold water gets us near to the pain threshold.
But if you are not into cold water swimming, Camella Manors Caloocan is just a 1 hour and 10-minute drive from Manila Downtown YMCA, Binondo. Camella Manors Caloocan's swimming pool is not that cold due to it being outdoors. But the breeze of the fresh air might get your body shiver a little bit. Swimming outdoors in the vicinity of Camella Manors Caloocan will give you a lot of benefits in the morning because vitamins from the sun in the morning are good for our skin and health. Swimming also has health advantages. It will aid in the development of endurance, muscle strength, and cardiovascular fitness. It will assist you in maintaining a healthy weight, heart, and lungs. It will tone your muscles and increase your strength. Swimming works almost all of your muscles, giving you an all-over body exercise.
Regency Grand Suites
Next up is the Regency Grand Suites, located in Malate, Manila. Situated in the 49-story Birch condominium skyscraper, with excellent facilities and a breathtaking panoramic view of Manila Bay. Guests will undoubtedly appreciate the great service provided by their warm and courteous employees. Amenities include a 24-hour front desk, room service, a fitness center, a swimming pool, baggage storage, airport transportation, and, most importantly, free wi-fi. Regency Grand Suites offers guests a contemporary, clean, and economical environment.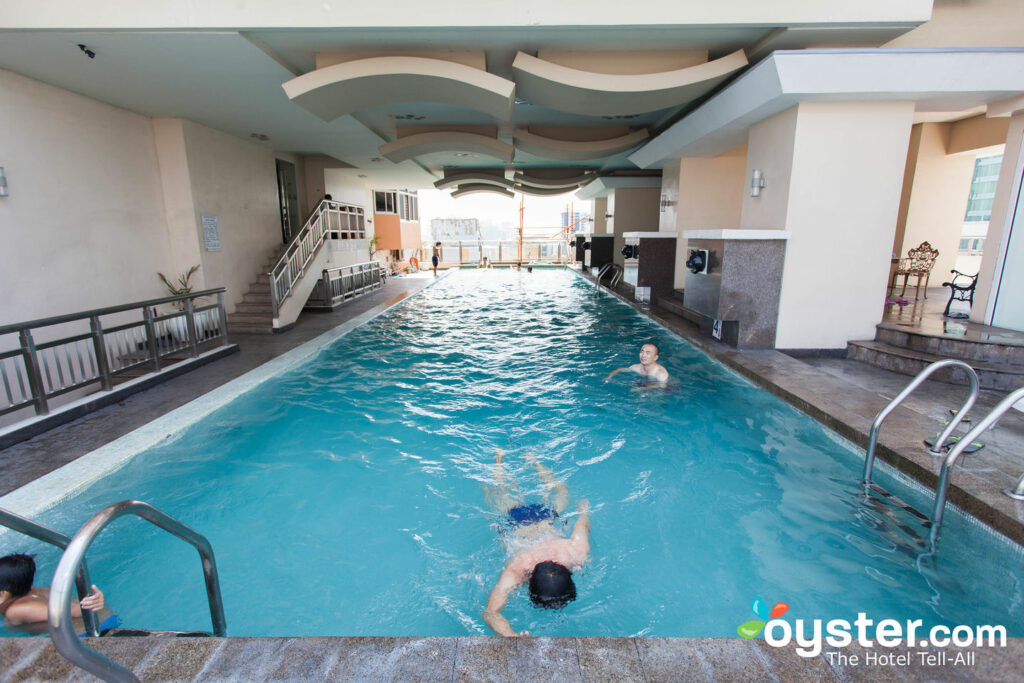 Their guest rooms have everything you need to feel at home, including a quality mattress and plush pillows, a flat-screen LCD tv, a workstation with a coffee station, an in-room safe, USB connections, fast wi-fi, and free bottled water upon check-in. Guests may also have breakfast, lunch, supper, or late-night snacks at Tambayan Express Café, which is located in the lobby, or Tambayan Gastrobar, which is located just across the street. Tambayan Gastrobar serves modern Filipino cuisine with an emphasis on fresh and local ingredients. On the rooftop, you can enjoy local food and well-crafted beverages while listening to live music in an authentic and casual setting.
And, of course, with just a 1 hour and 12-minute drive, you can enjoy the relaxed setting of the environment, friendly neighborhood, and so much more in Camella Manors Caloocan for a cheap price! Camella Manors Caloocan offers a roof deck garden for those who like to unwind with a fresh breeze of air with a breathtaking panoramic view of the surroundings.
To summarize, living with indoor pools is nearly the same as living in the proximity of Camella Homes. Because it provides nearly the same conveniences, privileges, and so forth. With so many stressors in your neighborhood, unwinding in outdoor or indoor pools can undoubtedly help you get rid of the tension you've been carrying for a long time. With all of the advised locations, you may now enjoy your life or swim away from the pressure of mental, physical, and emotional tension. Have a wonderful life!