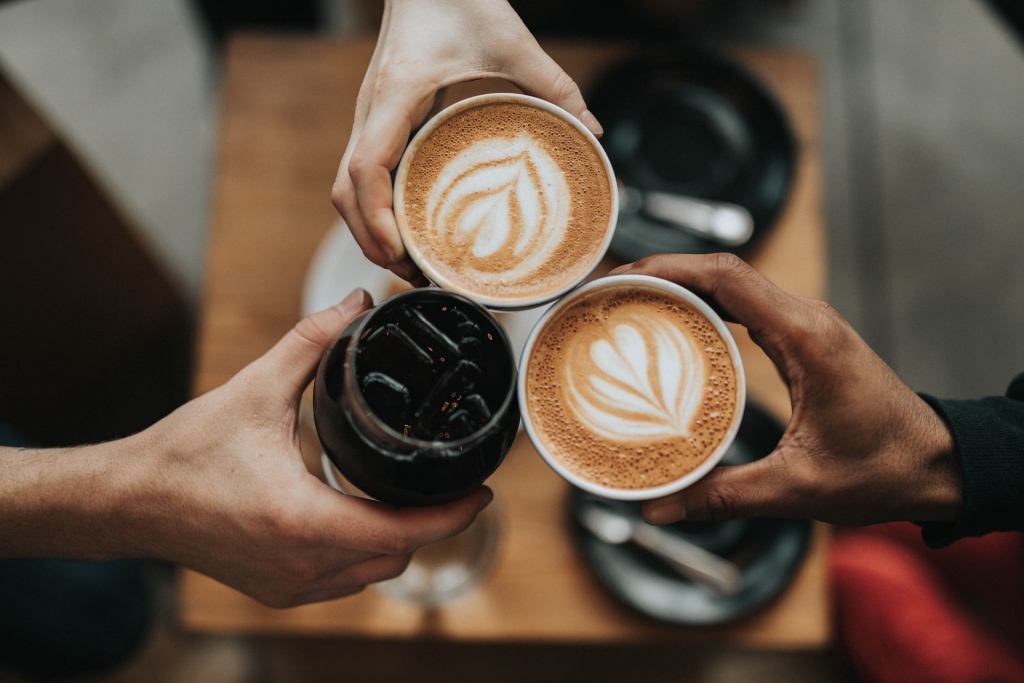 The perfect blend of warm sunlight seeping through the window and the first coffee fix of the day is an excellent way to kickstart your body in doing productive things. Enjoying coffee alone or with a company definitely puts coffee lovers in the best mood, especially with coffee shops that offer more than just good coffee and the serene ambiance and aesthetically pleasing interiors. With this, Davao City offers a wide range of coffee shops that will cater to the needs of both your eyes and soul.
Woods and Coffee PH
Starting southbound, Woods and Coffee PH offers art, coffee, and nature with its view facing the landscapes of Davao City as it is located at Upper Dampa Magtuod, right after Memorial Park, at the left side of The View. This gallery-turned-coffee shop offers its visitors affordable coffee and food and paintings exhibited in Gil Bumanlag Gallery inside the coffee shop itself. Since locals are eager to visit, they only cater to booking reservations earlier than the planned date.
Life Cycle Coffee
Next stop, we have Life Cycle Coffee, serving specialty coffee in Hilltop, Langub Road, five minutes away from diversion road and open from 2:00 pm to 11:00 pm daily. This coffee stall offers a unique blend of coffee and Japanese cuisine cravings since they also serve ramen, yakisoba, okonomiyaki, among others, the best sellers aside from their coffee menu. The place offers more than just satisfying your tummy because the area is intimate and quiet, making you focus on the best things around you.
FLTRD
At Tahimik Avenue, Bangkal, FLTRD is a minimalist specialty coffee shop that proudly stands from a single table set up to wood and white aesthetic interior. They offer a wide selection of coffee and non-coffee drinks for everyone who wants to enjoy a good ambiance without having to drink coffee. As an appreciation to their local patronizers, they reward them with loyalty cards, and you will be able to receive free coffee of your choice after your 20th order. What a great deal!
Purge Coffee Roaster
Purge Coffee Roaster is a micro-roaster shop that offers wholesale and retail coffee beans and provides custom blending and single-origin offerings for imported and high-grade local beans to cater to local coffee shops. This store is located at Unit 3 GM Building, Fuente Villa Abrille Subdivision, Tulip Drive Matina, Davao City. Aside from supplying high-grade coffee beans, local coffee connoisseurs purchase their daily servings of specialty coffee, especially those living near the area.
Paramount Coffee
Paramount Coffee emphasizes its fully integrated supply chain, from seed to cup. Paramount Coffee offers locally sourced arabica beans from the peaks of Mt. Apo, Davao City. They have a pop-up shop near Goldens Dynasty Motors Inc., Riverfront Corporate Center, Diversion Road, Maa, Davao City. This pop-up shop is situated in a grassy park, perfect for the outdoor coffee experience. Paramount Coffee's main branch is located at Star Hotel, Mabini Street, corner Voyager Street, Brgy 9-A, Davao City, just beside Davao City National High School. What makes this coffee shop popular aside from the perfect ambiance both in their main shop and pop-up shop, is their state-of-the-art coffee and non-coffee drinks. Not only will they serve you the best, but they also listen to their customers' feedback.
Kapeweñoz Specialty Coffee Davao
Driving to the heart of the city, Kapeweñoz Specialty Coffee Davao is located at #86 V. Mapa Street, In Front of ACA Pavillion Building, Davao City. The coffee stall may look simple, but they offer more than just coffee, but an unforgettable experience. The baristas suggest their products based on your taste preferences. Locals also love their strong brew and their usage of non-dairy milk. The ambiance of their place is commendable, especially if there are only a few people. Their coffee and non-coffee drinks range from P70.00 to P150.00 for their cold brew.
Fourth Street Cafe
The famous Fourth Street Cafe located at Narra Street, Davao City, is popular for its aesthetic white and wood interior and its wide range of coffee, non-coffee, and pastry offerings. Their menu is divided into the classics; white, black, mocha, affogato, and the innovators; 339, 0104, tropical, summer, DME, and red-eye, all different combinations.
Bitter Bu Coffee Brewery
Bitter Bu Coffee Brewery offers coffee brews, drips, and beans and collaborates with Pepperplate Restaurant, where they sell ready-brews. The brewery is located at 21 Jose Palma Gil Street, Davao City. Bitter Bu offers original cold brew, cold brew latte, hazelnut cold brew, before sunset, and before midnight coffee drips. They may not provide a unique interior and ambiance, but they offer more to their customers by selling DIY cold brew pitcher packs and coffee drips for you to have the caffeine experience in the comfort of your own home. You can also share the experience with a friend or two with their gift packs.
Balay Juice and Coffee Co.
Open from Mondays to Sundays, Balay Juice and Coffee Co. established their goal to elevate the Davao Coffee Culture while serving quality coffee and cold-pressed juice, which originated from the idea of helping out the owner's father to prevent him from getting high uric acid levels. What a story! Now, our local coffee shop offers more than just their original menu, including iced coffee, pour overs, and cold brew. Stories from local brewers make us want to support them even more.
Coffee Fragrance
Ending this coffee journey northbound, Coffee Fragrance is the perfect Korean aesthetic in the locality of Davao City. They offer a wide variety of coffee, non-coffee, frappe, sweet bites, cupcakes, and toasts that are commonly offered by Korean-themed cafes. This wood and white aesthetic cafe is located at Matthewsway Dr, Vincent Heights, Lanang, Davao City. The locals can't help but appreciate their ambiance, coffee variants, and customer service. Indeed, listening to your market would bring you to places.
Coffee Project
As competitive as the coffee shop industry in the metro, we have smelled the aroma of a new coffee shop brewing at Camella's very own Northpoint Davao. Coffee Project, a Vista Land Brand, is finally setting foot in our locality. Located in various cities in the Philippines, Coffee Project will be one of the few commercial developments in the condominium complex. Coffee lovers will surely be delighted to know that Coffee Project is popularly known for its great ambiance, picturesque place, and quality coffee.
Premium Coffee Shop in Northpoint Davao
Not only do they offer quality drinks, but along with its own Instagram-worthy place, Northpoint Davao offers cosmopolitan living that is breathtaking and accessible. In this pine-estate condo, the residents will be rewarded with resort-themed amenities along with the accessibility of the city's most visited destinations.
An excellent way to end the day is to plan for tomorrow, and it makes you look forward to the days to come. Planning for your caffeine fix for the next day will surely keep you motivated and empowered to face the challenges that the world may bring, as long as you get yourself your favorite brew.
Written by: Patricia Naomi Duroja