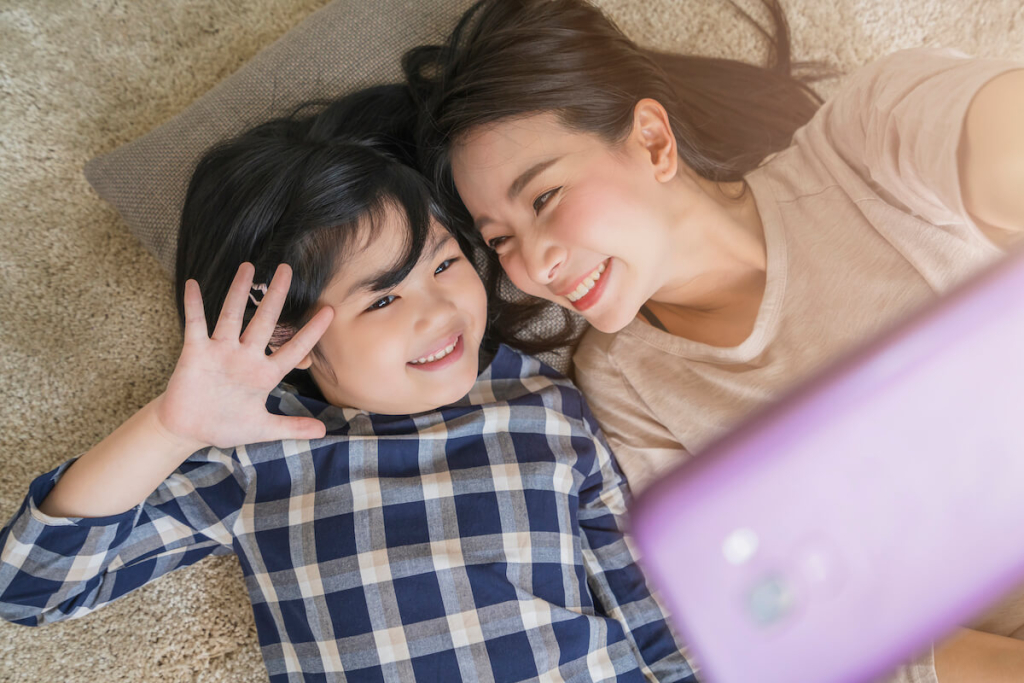 Motherhood is a LEGACY, a precious gift passed down from one generation to another. It is a priceless bequest mothers leave behind for their children and grandkids.
Motherhood as a Legacy
The impact of motherhood is immense and far-reaching as mothers play a crucial role in molding the lives of their children. They teach them integral principles that will take them through their day to day, instill and build their confidence, and provide them a sense of security. Above all, they are their child's first role model. Kids first imagine the future in their mother's eyes, wondering about weddings, having their own kids, and dreaming about what they will be when they grow up — a doctor? a lawyer? an engineer, perhaps?. Most endearingly, if they would grow up to be a person like their Mom. A mother's love and guidance can profoundly influence her children's lives for as long as she lives and long after she is gone. This is because the lessons and values mothers impart to their children are carried forward to future generations, becoming a part of the family's legacy.
In many cultures, motherhood is revered and celebrated. It is seen as a woman's highest calling as she is responsible for nurturing and raising the next generation. Mothers are often seen as the backbone of families, providing emotional, mental, and practical support for their loved ones and keeping them together during difficult times. That said, motherhood is not just a personal legacy but also societal, for mothers help build strong and resilient communities.
Mothers' Societal Legacy
The legacy of motherhood extends beyond the family unit. Mothers who have made significant contributions to society, being political leaders, activists, artists, and other remarkable roles, leave lasting impressions on this world. Their endeavors inspire future generations to strive for greatness and make a positive difference. One great example is Rosa Parks, known as the "Mother of the Civil Rights Movement" in the United States, and has influenced generations of activists fighting for equality and justice.
Motherhood is a powerful force that shapes the world we live in. Indeed a legacy bequeathed from one generation to the next, and it is up to us to honor and celebrate this vital role that mothers play in our lives. We must recognize each mother's selflessness and her nurturing influence on our families and communities. By doing so, we can ensure that the essence and the value of motherhood continues to be advocated and celebrated for generations to come.
Mother's Day by Camella
Camella salutes the extraordinary efforts of every mother and mother figure in the world, their unwavering support, and endless strive to bring out the best in every child, rearing exceptional human beings that make the world a better place. Hence, this Mother's Day, we aspire for these endeavors to be recognized and rewarded not only with material things but with intangible genuine thoughts and actions through memories and music.
Have a heartwarming walk down memory lane with the woman who fostered the greatness in you. Camella is encouraging every mama's person to take part in our Mother's Day competition in pursuit of celebrating and honoring every mother's notable contribution to each of our life's journeys growing up. It's high time to tell your stories through every snap of your moments with your Mom, whether these are special everyday moments or moments of milestones. Join by uploading a slideshow video/reels of your photos featuring your Mom with Sab's newest single for Camella, "Grow Old in Our Home," on Tiktok, Facebook, or Instagram. Use the hashtags #MothersDay2023 #Camella #MemorieswithMOMS
Contest Mechanics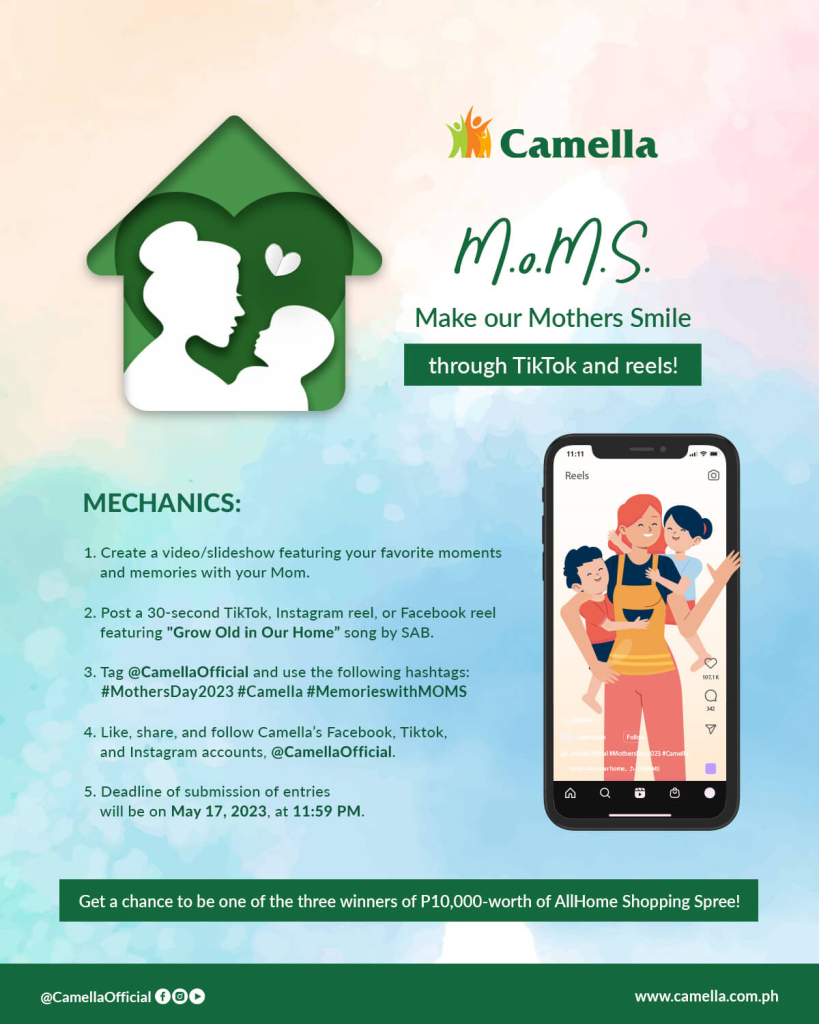 1. Create a video/slideshow featuring your favorite moments and memories with your Mom.
2. Post a 30-second TikTok, Instagram reel, or Facebook reel featuring "Grow Old in Our Home" song by SAB.
3. Tag @CamellaOfficial and use the following hashtags: #MothersDay2023 #Camella #MemorieswithMOMS
4. Like, share, and follow Camella's Facebook, Tiktok, and Instagram accounts, @CamellaOfficial.
5. Deadline of submission of entries will be on May 17, 2023, at 11:59 PM.

*Note: The contest is open to the public, including all Vista Land employees.
There will be three winners of All Home Gift Certificates worth P10,000 each.


Here's the official song you can use for the contest:
Facebook: https://fb.watch/kq-uWGp2DJ/?mibextid=cr9u03
Instagram: https://www.instagram.com/reel/CsDbou8tmhQ/?igshid=NTc4MTIwNjQ2YQ==
Tiktok: https://vt.tiktok.com/ZS8oR3Aqk/


As Sab's song goes, "the seasons may change but our Mom's love for us will always stay the same." This is one among thousand ways and chances to give back that unconditional love. Give us your best shot at Tiktok and reels and have the opportunity to take your Mom on a Mom's Day Out— a shopping spree with ALL HOME gift certificates.
Memories, music, and moms all have one thing in common—they transcend something. Memories transcend feelings, music transcends language, and a mother's love transcends time, thus, a LEGACY.
Sabine Ysabel Cerrado, publicly known by her stage name Sab, is a Filipino singer-songwriter who first appeared on the music scene in 2020 through her first single, "She." Aside from being graced with a euphonious voice, Sab also has passion for writing songs. This 21-year-old recording artist has released six singles and special singles, one mini album and a live album, featured on several official soundtracks, and written multiple songs for various artists in the industry. Now, she's back with another track release for Camella.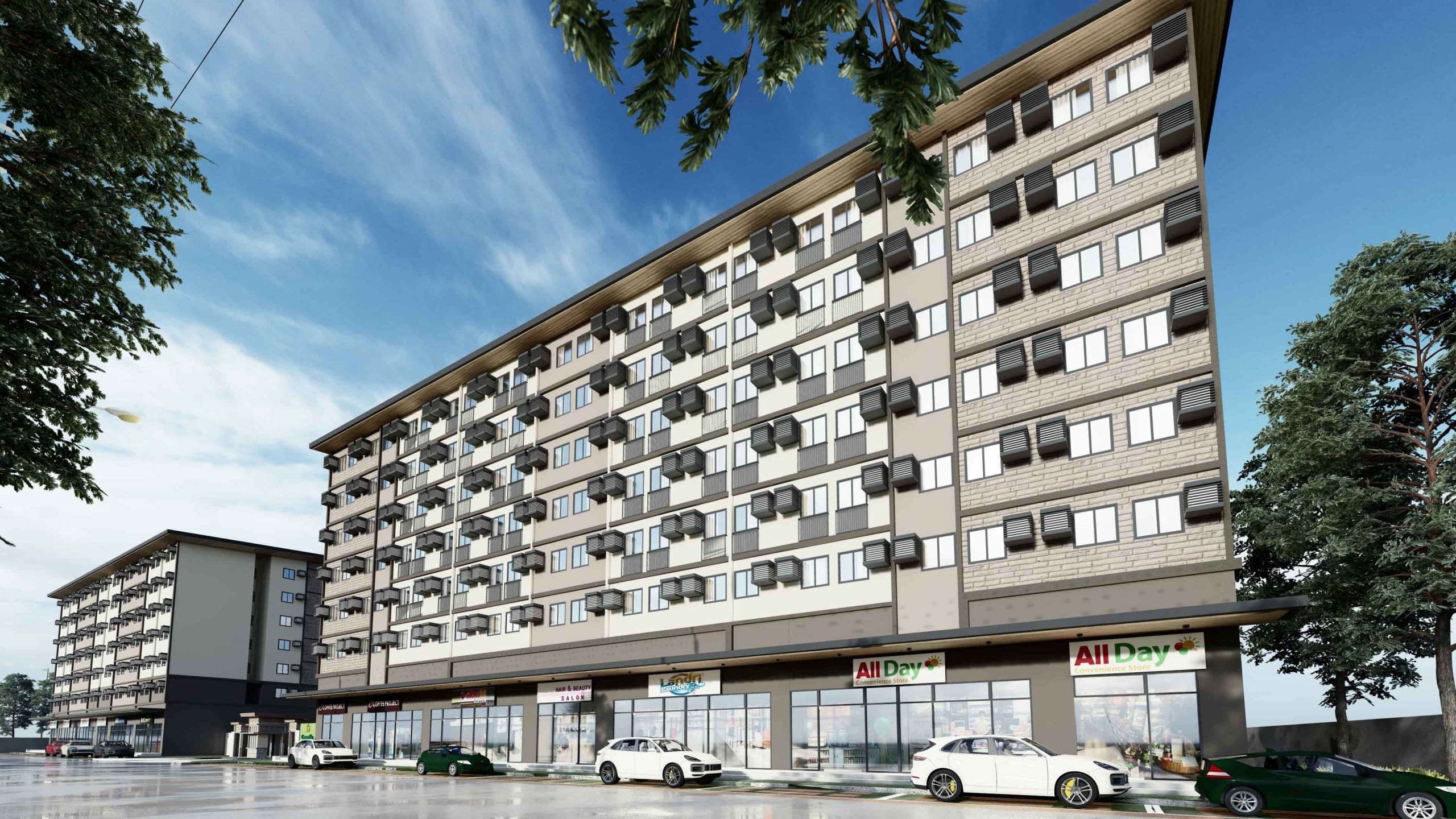 Check out our Condo for Sale Properties
Discover our condo for sale properties in the Philippines