The home was supposed to be the most secure and comfortable place. However, its physical appearance can sometimes give off vibes that aren't always welcoming and comforting. Isn't it true that a decent and appealing home is something we require and desire? Most of the time, we seek comfort.
We are always looking forward to going home because we are all tired from our work, school, or personal agendas every day, so rest is probably essential for us.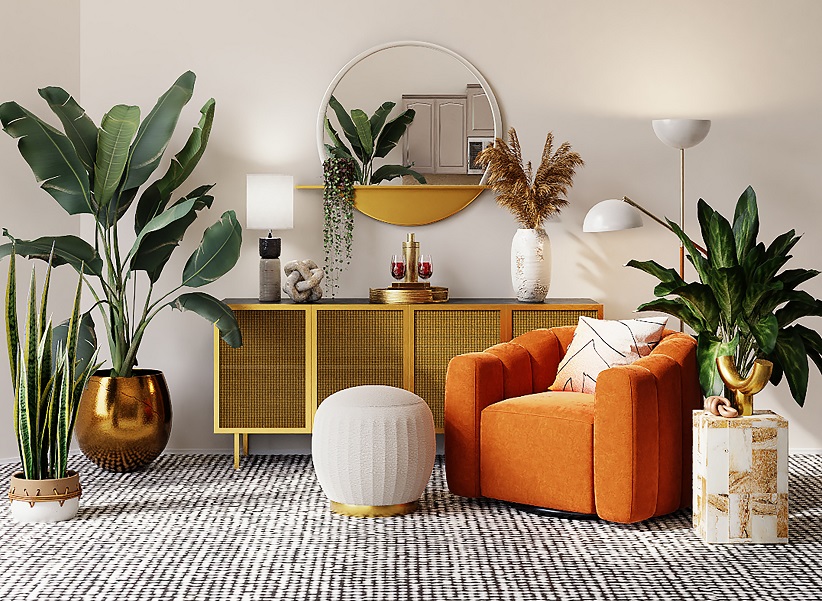 We also invite some friends to come over sometimes, so going home to a presentable and pleasing place that gives off a welcoming vibe where we can get some much-needed rest and a night of sound sleep should be our priority when it comes to shelter. You must consider both the exterior and interior design of your space, regardless of how large or small it is. Few people love to design their homes personally.
Well, of course, we all have differences, that's why we are giving you these few pieces of advice on how to practical dress up your home.
Get Ideas from these Interior Designs
Suppose you have a condo unit in one of the communities of Camella Homes, and you want to dress up your condo, but you don't know what interior designs are available for your unit. Well, you must refer to this blog for more ideas concerning the insides of your home.
Traditional
If you want a more classical and older European atmosphere, then Traditional Interior Design is perfect. The primary material used in this kind of design is wood. This interior design's warm, dark, neutral walls and gold and silver lining color pattern make the place feel comforting and warm. Traditionally designed units are always calming and clean, making them ideal for people who see the home as a comfortable space. Wooden elegant furniture fits perfectly with this kind of home. 
Rustic
The rustic interior design depicts natural beauty, aged but beautiful, and an earthy look. The emphasis on organic texture and wood makes your unit look like a nature-inspired home. Real unprocessed wood furniture would look good in this type of interior design. The color pattern of brown, green, grey, gold and beige provide the same vibe that nature can give. It is calming and relaxing, ideal for people who come home after a long tiring day.
Minimalist
If you are a fan of living a simple life in a simple home, having a minimalist interior design would fit your preference. A home with this interior includes a monochromatic color palette, clean lines, uncluttered, spacious, and airy. There are empty spaces in this type of interior design since it doesn't have much furniture and accessories. The simplicity of a minimalist home shows an aesthetic look that attracts many people today.
How to Dress Up your Unit
Dressing up your place may be a little hard, especially when you just bought your condo unit, since most of the condos for sale in the Philippines are already fixed and furnished, and not many changes are needed. However, we are different people with different personalities and preferences. If you find it hard to dress up and make your condo unit a beautiful home, just read this blog, and you will surely learn a lot. Here are the things you can do to dress up your condo effectively.
Observe your place
The first thing you need to do in dressing up your condo is observed the place you have. You should know the size of each corner of your unit so that it won't be hard for you to manage your space. Check if there is anything that needs fixing or something that your condo lacks. To make an action plan, you must consider checking what kind of environment your unit has and what size of appliances and furniture would fit in your area.
Know what makes you comfortable
Considering your preferences in terms of shelter will help you have a comfortable stay. Think of what features and designs of a home you would like to have and how spacious and attractive to the eyes you want it to be. Decide what color will make you feel like you are at home and what interior design will make you feel safe and secure. Your preferences should be one of the most important things concerning designing your home.
Plan your move
The next thing you must do is make an action plan. Do not aggressively decide to make a change. At least take at least a week to plan for your actions. Make a list of what you must do, look for the area that needs fixing, what corner you should put your accessories in, what interior design you want to have, and know what things you should consider before you make an actual change or renovation.
Estimate the budget
Of course, you have to spend money to dress up your condo unit, so you must see first if you have enough money to dress up your place. Estimate how much you can spend on dressing up your team. At least buy only the things needed for the decoration of your home. Know the prices of the materials you are going to use. Moreover, you must check the costs of the materials you need for the makeover of your condo. It is one of the essential things you need to estimate the budget. If you don't have enough money at the moment, then don't make an impulsive decision to design your home. You have to buy materials and spend money on fixtures. So if you don't have enough money to complete the process, then save money first and make changes when you have enough money in your pocket already intended for designing your condo.
Choose eco-friendly products
Since then, our world has been suffering due to the materials that have harmful effects on our planet. You can help make the earth healthier and more beautiful by using eco-friendly materials in most things you need to use every day. That's why it is much better if you choose to buy and use eco-friendly products when decorating and designing your condo. Minimize the amount of waste you consume as you make your condo unit good-looking.
Choose Camella
One of the best decisions you can make is to live in one of the communities of Camella Homes. Aside from quality houses and lot, the property developer decided to build a community in the form of condominium buildings all around the country. These communities are in Caloocan, Palawan, Davao, Lipa, SJDM, Bacolod, and Butuan, making them accessible to all Filipinos who want to experience the best services in terms of quality condo units.
Owners have the privilege to use the resort-themed amenities such as Basketball Courts, a Functional Playground for Children, a Garden, and Gym. Moreover, all Camella projects are located near the places of convenience; you are just a few steps away from your needs! Rest assured that you are safe inside your unit because the trusted home builder will always provide security.
A home that you need is inside the community of Camella Homes. If you are looking for a condo, consider Camella, and it will prove to you that it has the best service when it comes to shelter.