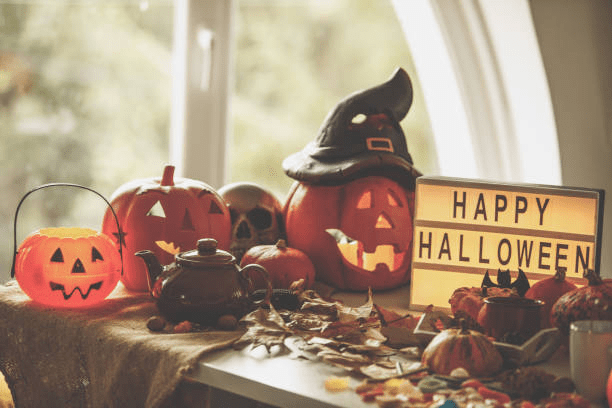 It's October, do you know what that means? It means it is spooky season. Bring out your spooky scary skeletons and your witch hats, because it is Halloween!
Arguably the most awaited event of the year (at least, to a certain section of the population), Halloween spells horror and pumpkins and pumpkin spiced lattes.
As a holiday, it is not native to the Philippines. Halloween or Hallowe'en is a contraction of "All Hallows Eve" is a Western Christian holiday, and was introduced to us much much later. The Philippines does celebrate All Saints Day and All Souls Day, but in a much different fashion. It is certainly not traditional Halloween fare.
But Filipinos, ultimately, are not one to miss out on the hype so we celebrate it in our own way. This comes in the form of Halloween-themed costumes, jack-o-lanterns, Halloween candy selections, spooky stories, and other Halloween entertainment. For horror aficionados, Halloween is certainly one of their favorite events of the year. For the rest of us, Halloween is just a good excuse to have a good time.
However, due to today's climate and current events, it would not do to trick or treat your health. It might be best to keep the plague to a plague doctor costume instead. Consider moving the spooky Halloween celebrations online. This way, everyone and their families can be safe while enjoying all the fun virtual activity events and treats.
How do you throw a virtual Halloween party?
Similar to throwing a physical party, planning is essential to pulling off a successful and enjoyable party. Yes, even if Halloween has a focus on the macabre and the unsettling, this is not an excuse to have a horrifyingly planned virtual Halloween activities.
● Pick a theme
First things first, what theme do you want? Halloween might seem to be a very self-contained and easy theme. But the truth is that a Halloween theme is still a very broad and general theme. Luckily, it is easy to find subgenres and niches that would provide a more cohesive and focused experience to celebrate Halloween in a unique and fun way.
Do you want to focus on zombies? Witches? Vampires? Halloween covers many topics so there will certainly be something to capture your imagination. Was there any Halloween or horror related media that your colleagues enjoyed? Maybe you can theme your virtual team building party after it.
In any case, deciding on a theme will also assist in figuring out what events to plan for your virtual Halloween party.
● Choose a platform for your virtual party
Among the many things to consider is what platform you are using and what kind of communication will be used for your virtual event. Ideally, video call is your best bet. There are many platforms that offer this service and it depends on what you and your group are most familiar with or what is the most accessible to you. Zoom, Discord, and Skype are a few platforms that provide video call services.
Some other factors to think of when choosing a platform is the size of your online parties. Some platforms do better or worse depending on the number of participants on the call, so take that into account.
Also make sure to consider if there are any party goers that would require accommodations because of their internet connection. Check if they prefer voice call only or would need text chat.
Your choice of platform and communication method will also influence what sorts of activities you can prepare for your Halloween party.
● Decide on decorations and other visual goodies
You might be having a virtual party but that doesn't mean you can't have any decorations. Of course, it will be rather limited, depending on your chosen platform and how much effort you want to put into it. Decorations are decorations nonetheless, remember to keep it close to your Halloween theme of choice!
Determine if you want to have any digital backgrounds for the team members, special profile photo frames, or even if you want to send out digital invitations to maximize engagement. These will take time to make and distribute and plan. And if you feel like taking the extra mile, you can always make actual decorations for the room you'll be in for the call. That way you can fully embody the Halloween spirit.
Have you made your initial plans? Great! Now it's time to think about unique ideasto do on your virtual Halloween party.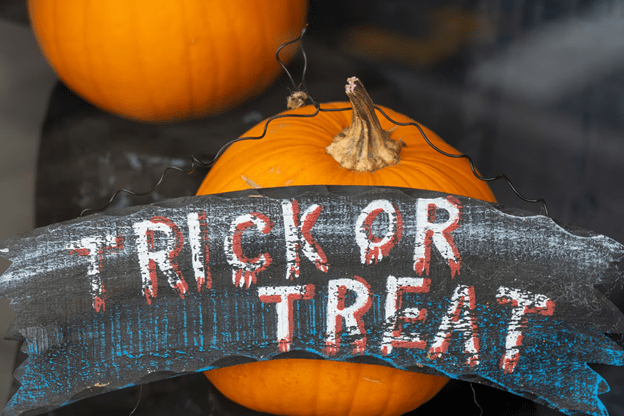 What do you do in virtual Halloween parties?
Just because the Halloween party has moved to a virtual space doesn't mean that Halloween has to suck. The overall experience might look a bit different, but there are still many ways to have some good spirited Halloween fun. Here are a few ideas to help you plan your suitably spoopy Halloween program.
● Virtual Trick or Treat
If you are wondering if you're too old for this, don't. No one is too old for Halloween!
Such sweet treats aren't age locked, especially if the treats in question aren't exactly sweet—in the literal sense.
Instead of going door-to-door with candies like one would on a traditional Halloween, your party can opt for giving each other gifts. The gifts can come in the form of digital goodies such as Halloween-themed wallpapers or even gift card!
Make sure to add Halloween jokes for a special spooky flare.
This activity will surely encourage everyone to interact with others, as well as remind everyone of the nostalgic spirit of youth. Most especially, if you have friends who have celebrated Halloween before.
● Virtual Halloween Scavenger Hunt
Courtesy of the people at teambuilding.com, you can use this sample of a list during your Halloween scavenger hunt. Separate the party into smaller teams and see who can find clues and complete the list first.
Make sure to take advantage of your platform's services to separate the teams into their own chat rooms so they can plot amongst themselves.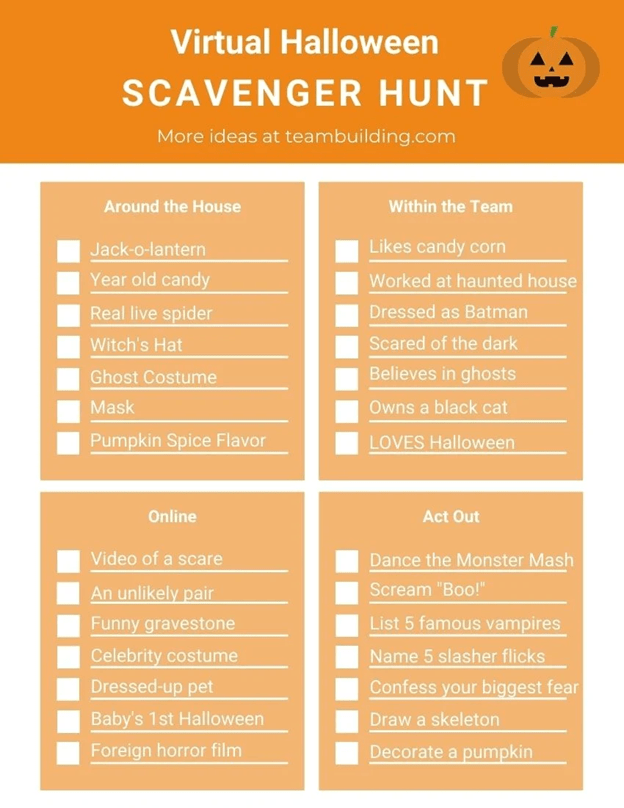 ● Virtual Haunted House Tour
This one is fun and spooky!
There are many real world places and haunted houses that hold virtual tours. You can visit the actual Catacombes de Paris, The Winchester Mystery House, or even look at tours of different haunted houses (youtube playlist).
Maybe you won't be able to walk through a haunted house in real life for Halloween this year, but at least you get to close the video feed of the virtual tour if you're too spooked!
● Halloween Virtual Costume Contest
Who said Halloween costume contests have to be in person? One of the main advantages of using video calls for your party is that you are able to see everyone's Halloween costume. Have everyone show off their work for the camera and then cast votes via polls or private messaging for the best Halloween costume of the year! The winner of course gets a Halloween candy and other sweet treats.
Optionally, and if you have a big enough party, you can opt to add more categories such as "Most Grotesque" for the scariest costume, "Most Magical" for the most enchanting one, nad "Most Quirky" for the funniest costume. You can also add more categories like "Most Based on a Real Life Person", "Most Historically Accurate", or "Embodies the Halloween Spirit".
● Virtual Halloween Movie Night
Is it really Halloween if you don't watch something scary at least once?
Thanks to modern technology, virtual scary movie marathons aren't just a dream. You can now watch the classics or the latest B-horror movie through screen-sharing technologies or stream together platforms that allow you to watch movies together. Platforms like metastream, allow for movie watching with ease.
So, don't hesitate to put on your favorites! Maybe, search for movies that fit the overall theme of your party.
In case your virtual Halloween party doesn't prefer movies, you can always put on a thrilling TV show or web series. Consider "True Crime", "Buzzfeed Unsolved", or even the latest Philippine Horror/Crime animated show "Trese" for your virtual Halloween parties.
● Ghost Stories
A classic mainstay suitable to almost any gathering, sharing ghost stories is the perfect Halloween activity! There's really quite nothing to creep yourself out rather than hearing (allegedly) true encounters of your friends or colleagues.
For extra virtual fun, the one who tells the best spooky story gets a prize. Happy haunting!
● Virtual Halloween-Themed Games
Traditional parlor games might be a bit out of depth for a video call, but that doesn't mean there isn't a fun game you can have. A few more ideas for virtual Halloween games you can play online include:
Among Us: An online multiplayer video game where you try to find the murderous imposter in your spaceship crew.
Werewolf: A similar game but played amongstfriends where you try to identify the murderous werewolf as they kill off villagers one by one.
● Murder mystery games.
Make everyone in your guest list solve puzzles and award winners with sweet treats. In general, there are a whole lot of them online, and it is a simple task of finding one perfect for your general theme.
If you want to try a unique idea, you can always give Tabletop Role Playing Games (TTRPG) a go. TTRPGs might require more preparation beforehand, but playing one invites the players to take on a character and play through a scenario as their character.
Games like Dread, where you play through scenarios similar to slasher or horror movies, or Paranoia, where you play through a dystopian sci-fi world under the control of a powerful AI, are perfect for Halloween Other TTRPGs to try include a Halloween themed Dungeons and Dragons (D&D) oneshot, Vampire the Masquerade, and Mamser, Saan Po Kayo? — TTRPG that has your players play as a taxi driver in Manila being haunted by their passengers.
What's the most important part of a party?
Lastly, but most importantly, have fun!
The purpose of a party is to bring people together, so plan the party according to what suits you and your group of friends the best. If someone doesn't like horror movies, opt for something Halloween related but not as intimidating.
If none of you like dressing up in costumes, then consider leaving out the Halloween costume contest entirely. Take these ideas as a guideline and riff of it until you find the perfect mix of fun activities for everyone to enjoy!
Maybe, just maybe, the real spooky is the friends and team building we've made along the way.
Make Halloween a fun time at home these virtual party ideas. For your home options, check out Camella's house and lot for sale in the Philippines. To see more properties nationwide, you may visit Camella's property page.