By: Hanna Barbara Sillo
August is the most-awaited time of the year for Camella. This year, the country's top house-and-lot and township brand turns 43, and it is extending the celebration to potential investors. Discover the range of promos Camella has in tow for you below!
Camella's August Promos: Favorite Anniversary Treats

Have you been planning on putting your money on a sure investment? With townships beyond the metro that offer convenience, accessibility, safety, and security, Camella makes home-buying more favorable and rewarding with its August set of promos. See the complete list below and avail of them as early as now to get the best deals!
Flexed Favorites
Flexed Favorites features more flexible financing terms on your August reservations. Homebuyers can now avail of easy down payment terms with zero interest payable from 15 to 20 months, varying across projects. Contact the Camella project nearest to you and check out which down payment deal applies!
Lots of Favorites
Investing in lots is one of the best investments you can make this season. Aside from its stable appreciation, owning lots within townships promises you even higher returns. With Camella's August deals, buying a lot now has become even more ideal. Now you can avail of the extended 24-month term on your 20% down payments when you reserve your home with no additional conditions.
Favorite F.I.T. Deals
Camella offers even more options for its For Immediate Turnover (F.I.T.) homes this month. With these relaxed payment options, you can now move-in to your constructed home right away!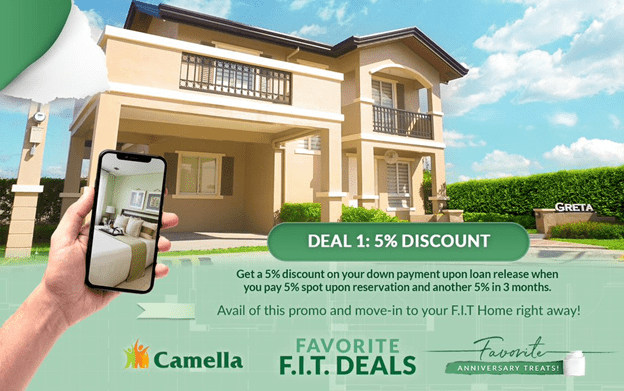 Deal 1: 5% Discount
Pay spot 5% upon reservation, and the remaining 5% within three (3) months, and instantly get a 5% discount upon loan release.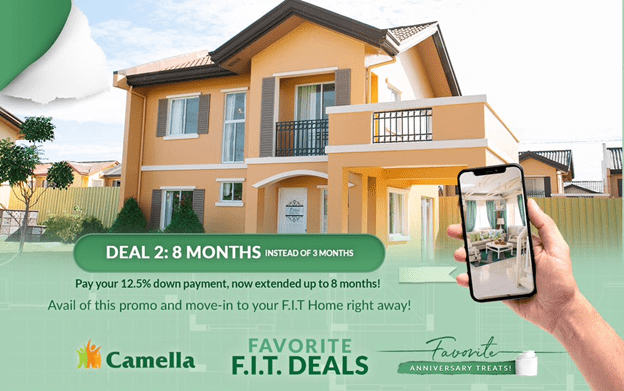 Deal 2: 3% Discount
Pay spot 5% upon reservation, the remaining 5% in six (6) months, and get the 3% discount upon loan release.
Deal 3: 8 Months Extended Down Payment
You can now pay your 12.5% down payment for an extended eight (8) months—that means an additional five (5) months!
Deal 4: Zero Interest
Investors can now also avail of Camella's 24-month zero-interest offer, applicable to all units in all projects across the nation.
For more information and inquiries, contact Camella while promos last until August 31, 2020, only!
Find your favorite township where you could feel safe and bloom. Visit and follow our official social media pages at @CamellaOfficial on Facebook and Instagram. You may also contact us through mobile at (0917) 961 0813 or (0929) 851 0836.