By: Hanna Barbara Sillo
Is it wise to buy a house-and-lot during a pandemic?
Are you one of those people whose home-buying plans got deterred by the pandemic? The quick progression of the COVID-19 virus in the country has put the real estate industry to a standstill. This is traced back to the physical constraints that disallowed site tours and other essential property-buying processes that required physical appearance.
But proving historical data, and with the pivotal efforts of developers to digitize business processes, the property market is picking up and is business as usual. Developers have also been easing up terms to adjust to the market and make property buying more favorable to investors. This means that if you have the resources for that property you've always wanted, there is no better time to invest than now.
Is Camella offering new financing terms?
The answer to this is a double yes. Camella offers not one, but two financing terms that you can take advantage of this season.
EASY PAYLITE FINANCING
As the name suggests, Camella's Easy PayLite deal makes the payment terms lighter and easier for our investors. Now, you can enjoy an extended 20-month payment period with an adjusted load. This option only requires you to fulfill 7.5% of your total 20% down payment on the first 10 months, while the remaining 12.5% is chargeable on the next 10 months. Now, isn't that much easier?
LAX AND LITE FINANCING (Selected Areas)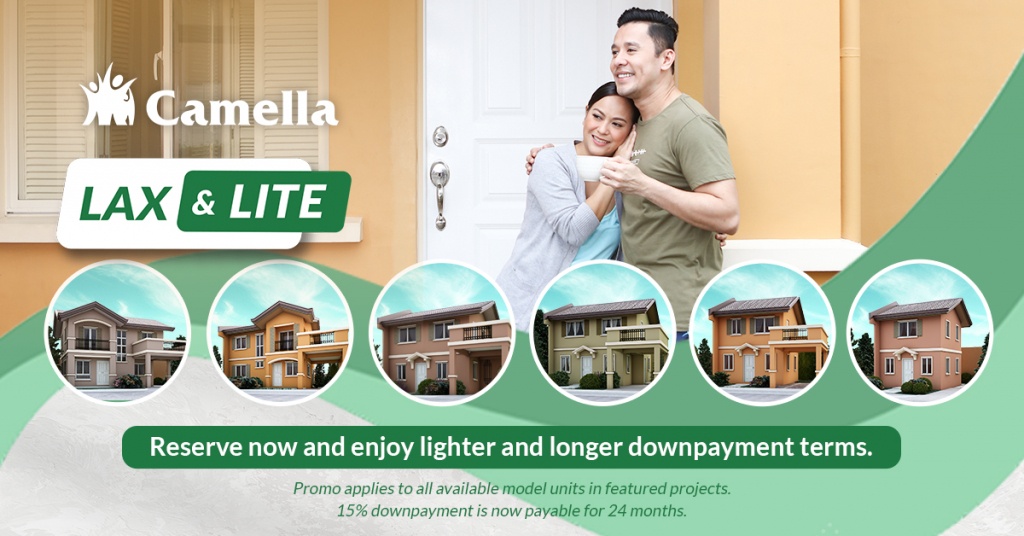 Further adjusting to our investors, Camella relaxes and eases its payment term for select areas. Under the Lax and Lite financing, investors are offered an extended 24-month payment term—that's a total of additional four months!
Sample Computation
| | | | |
| --- | --- | --- | --- |
| PROJECT | MODEL HOUSE | ORIGINAL | LAX & LITE |
| Camella Bataan | Bella | 39,800 | 19,900 |
Sample Computation for Monthly Downpayment under Lax and Lite Promo Financing
How can I avail of Camella's Financing Promos?
We have outlined the steps on how to reserve your home below. Shall you need any assistance or further questions, don't hesitate to contact us on our official platforms.
First Step: Select
Find the nearest Camella project to you and check their house model offerings. For our more tech-savvy investors, you can now have a feel and visit each Camella house model virtually and inspect every nook and corner. You will find it easy to navigate in the virtual community, guided by blueprints and floor plans of each house as you explore.
Second Step: Reserve
Once you have selected a house and location, it's time to reserve! Just fill in the E-Buyer's Information form online with all the required information. With Camella's new roll-out of its improved reservation system, you can now view and select your actual block and lot on the web map. To further guide you in your location picking, you are also provided with pictures of the amenities found in your township of choice.
Third Step: Pay
Once you've locked in the home and township of your dreams, Camella automatically directs you to a payment page where you can pay securely online.
Even without going out, you can now reserve your dream home from the best house-and-lot developer in the Philippines. Camella gives you all the tools and platforms to get a holistic buying experience. Our townships also promise rewarding returns that let you live and profit off your investment.
Find the perfect home for you in our many townships crafted to keep you safe and help you bloom. Stay up to date with the latest news and promos on our social media by following @CamellaOfficial on Facebook and Instagram.